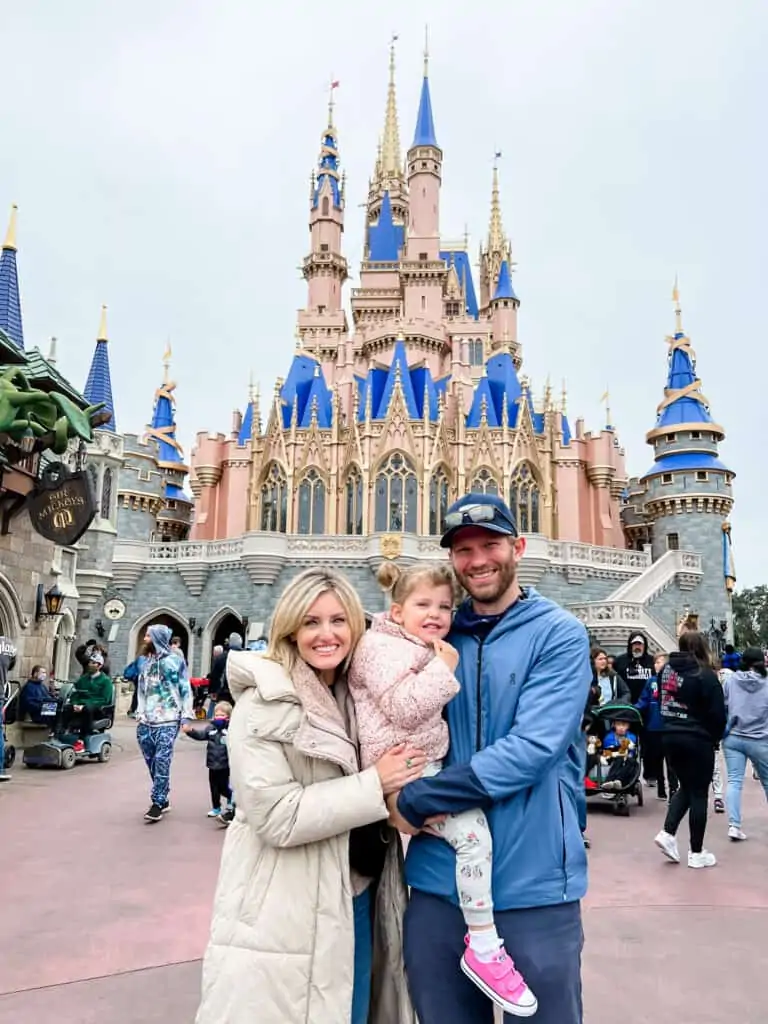 We recently took a trip to Walt Disney World in Orlando, Florida! Now that we have a successful trip under our belt, I thought it would be fun to share what we did, where we stayed and what we wore. Think of this as your ultimate travel guide to Disney with a toddler!
Chris and I knew we wanted to do something special for Collins for her third birthday. Instead of throwing an extravagant birthday party we thought an experience would be more fun. We packed up the car and drove down, just the three of us, to enjoy a few days in the most magical place on earth! This trip was truly so much fun for all of us. Collins was about to turn three, and she was the perfect age for this. Hazel is currently 18 months and in hindsight, she definitely would have been too young to truly enjoy the experience. Our agenda was pretty packed for this trip and with her being little still, she may not have been up for the constant pace that we stuck to.
Listen to the most recent Life with Loverly Podcast episode where we discuss our trip in detail!
DISNEY TRAVEL ITINERARY
Before I dive into all the details of our trip, I have to give all the credit to our amazing travel agent, Lia Nelson. If it wasn't for her, I would have had no idea where to start in planning out a Disney trip with a toddler! You can follow her on instagram @onthebrinkofadventure. Lia booked everything for us, including our VIP tour guide. When I say everything I truly mean everything- our hotel, food reservations, and all park passes!
Working with Lia is a free service. She is compensated through the resort. I always thought working with a travel agent meant an added expense, but that's not the case. I personally know and have traveled with Lia before and would highly recommend using her for any trip, not just Disney!
WHERE WE STAYED
We stayed at The Riviera Resort, a Disney property hotel. We loved our 2 bedroom villa. It has a full kitchen, as well as a washer and dryer. While we weren't cooking meals it was nice to be able to have snacks for Collins and a place to store food if we wanted to eat breakfast in the room before heading out for the day. I also love that the hotel provides cribs at no extra cost. This meant we didn't have to worry about taking the pack and play with us!
The resort is European inspired in style. It has large family friendly pools, access to the Disney Skyliner that takes you to EPCOT and Disney's Hollywood Studios, as well as a coffee shop in the lobby. As a coffee lover, you know I had to give it a try. I would give their lattes a full five stars. They were seriously so good!
FIRST NIGHT
On the first day that we arrived it was late in the day. We decided to drive since it's less than eight hours and allowed us to have a vehicle with us. It's pretty much a straight shot from us to Disney and luckily Collins took a nap during the car ride. The drive is about 7 hours, but it took us closer to eight since we stopped a few times. Once we arrived, we checked into our hotel and then headed over to EPCOT for the evening. We ate at Napoli, a pizza place, for dinner.

DAY ONE

For our first full day at Disney World, we went to Magic Kingdom, Epcot and Hollywood Studios. Yes, all in one day. We invested in a VIP tour guide to maximize the time that we had and ensure we were able to do everything on must-do list! Our tour guide's name was Lauren and she was amazing. We were able to skip the lines, which made a big difference in how much we were able to see and do. For lunch we didn't want to waste any time. We opted for a grab and go lunch while we were at Magic Kingdom. Later that night we went to Be Our Guest for dinner. It was so fun to get dressed up and see just how excited Collins was. The Beast even made a special appearance!

DAY TWO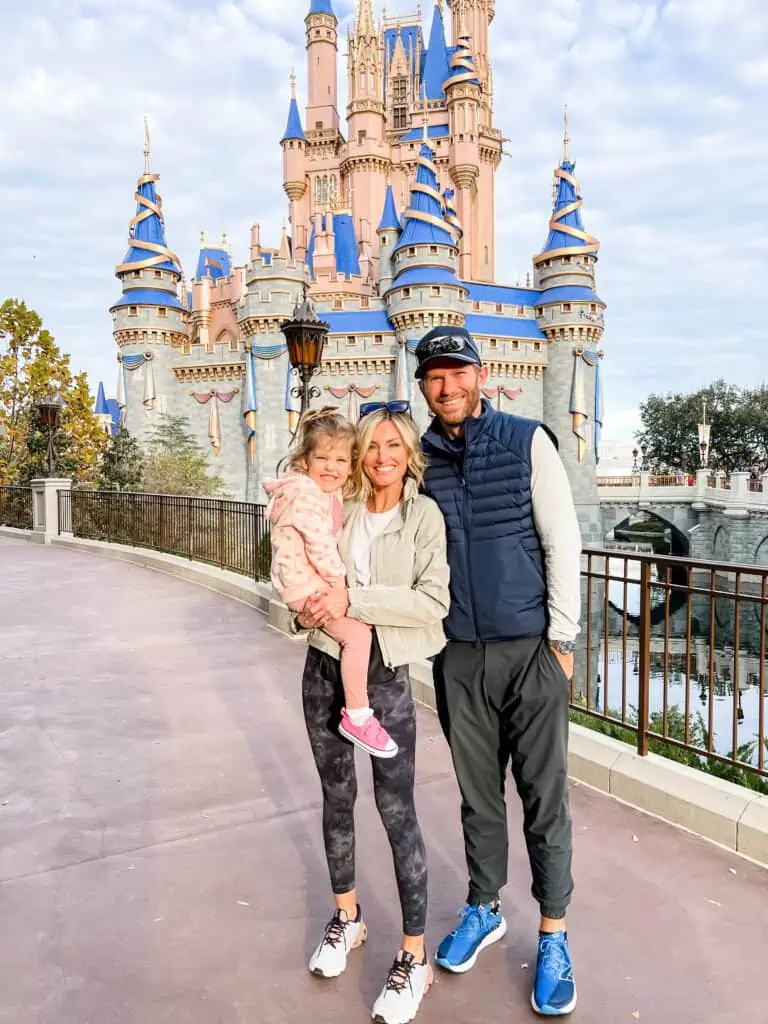 Our second full day we made our way over to Animal Kingdom followed by Magic Kingdom again! Animal kingdom was a little slower pace but still super fun. We ate at the Rainforest Cafe while we were there. Collins absolutely loved it. For dinner, we did a grab and go meal while we were at Magic Kingdom.

DAY THREE

On our third day we ventured over to Disney's Hollywood Studios. We absolutely loved the Frozen show. Collins is at the age where she's really into Disney princesses, so naturally this was a hit with her. The show was so good that it was a favorite of both Chris and I too! While we were at the park we ate Mama Melrose's Ristorante Italiano for lunch then we ventured over to Disney Springs in the evening. Disney Springs is great if you're wanting to do a little shopping, eat dinner and walk around. We ate at Planet Hollywood and loved it!
DAY FOUR

Before we headed back home, we did a character breakfast at Topolinos. We heard it was by far the best character breakfast. While we don't have anything to compare it to, it was a hit in our book! I loved that it was right in our hotel and the food was excellent. The characters spent a good amount of time at each table. It truly was the perfect way to end our trip.


SHOP DISNEY FAVORITES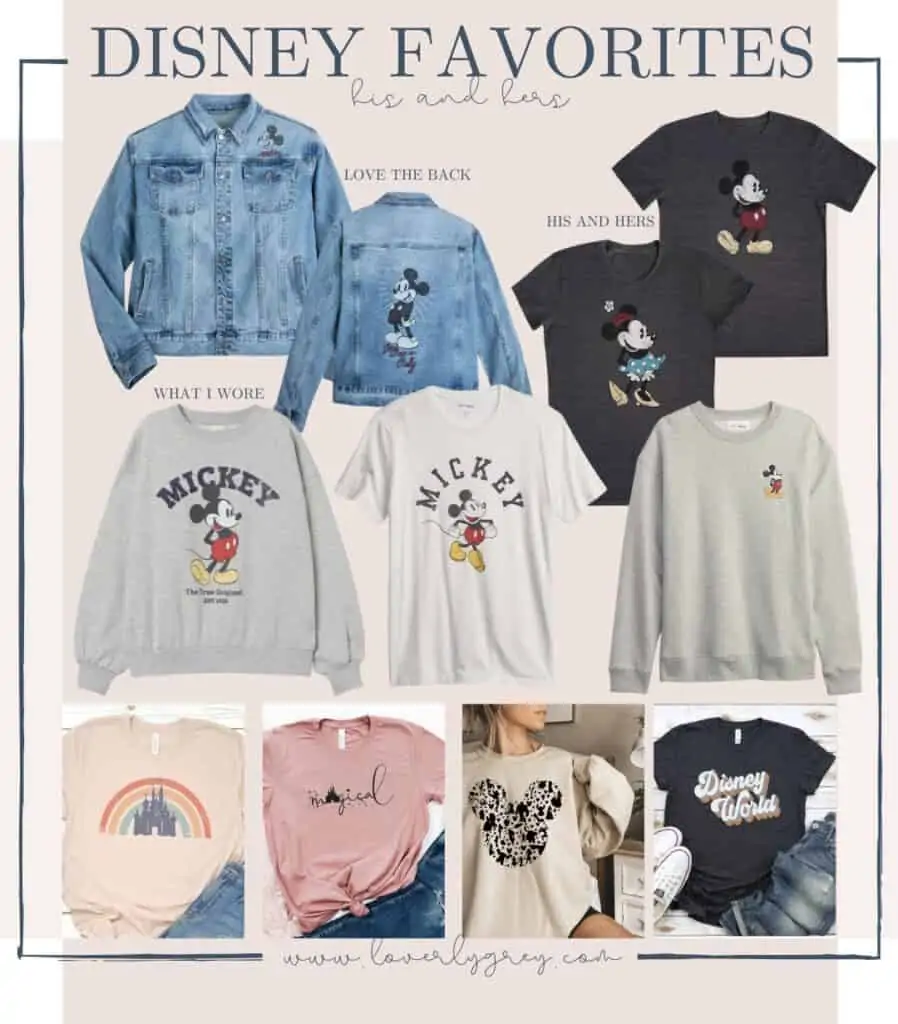 SHOP DISNEY PICKS FOR ADULTS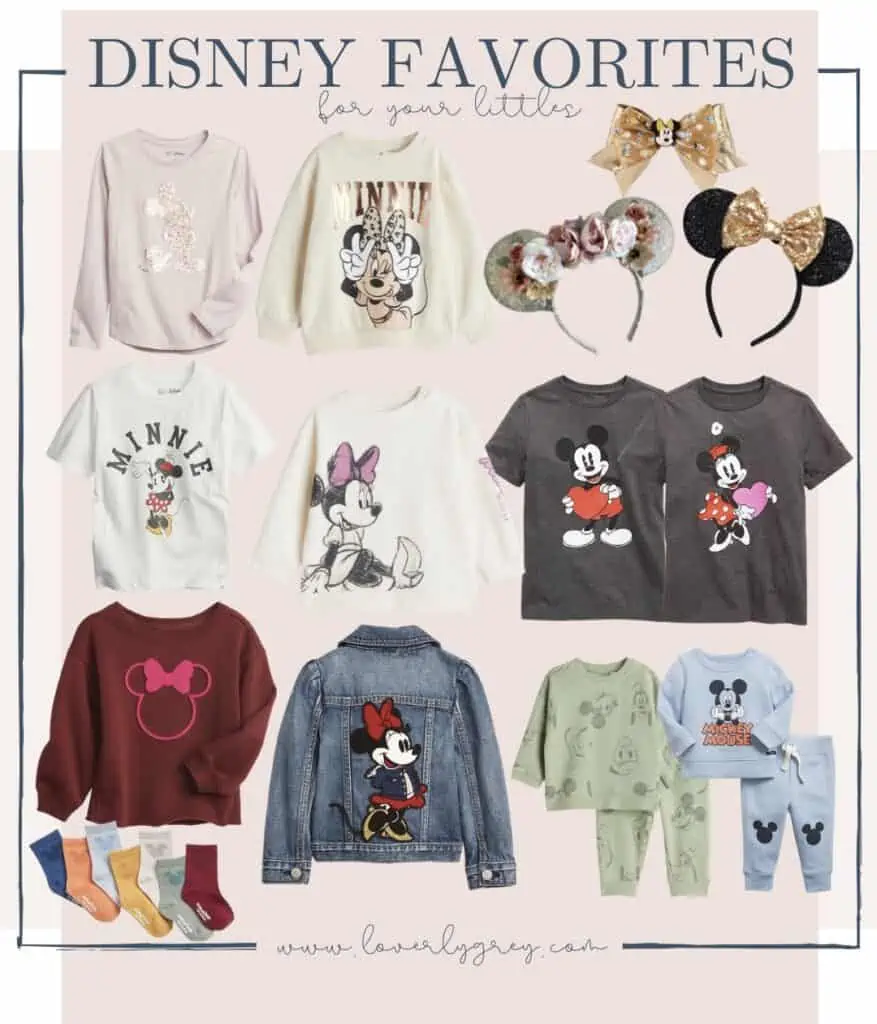 SHOP DISNEY PICKS FOR KIDS

PACKING ESSENTIALS
I highly recommend bringing this Lululemon belt bag. It's super light weight an can hold everything you need!
The Logan and Lenora toiletry pouches are my favorites to travel with. Currently, both prints are available. They are water proof and machine washable. Throw your makeup brushes and everything else you need and then wash when you get home!
Another must have is a large water bottle that fits inside the cup holder of your car. I purchased this one a while back and have been loving it!
FAQ
How did you like the Genie Plus?
We loved it and plan to get it every time we go in the future. It's useful to book rides and then skip the line. If you are a resort guest you can book for the day starting at 7am. There is a definitely a system to it that we had to learn, but it's very user friendly. There were also rides that we picked up later in the day that came available on the genie+. If you're thinking about going to Disney, especially during peak season, I highly recommend!
Were masks required inside the parks?
Masks were required for any ages 2+ indoors and on transportation, this includes hotels and rides. They were enforcing this, but as far as I could tell everyone was complying. Masks were not required while outdoors. I ordered these cute masks off Amazon and Collins loved wearing them! I also picked up these disposable ones too.
What were the park hours?
Parks opened at 9am and close at 8:30pm. If you're a guest on a property resort you have until 9pm.
Did you take a stroller?
Yes, we took a stroller and I'm so glad that we did. Disney is full of families so there are plenty of places to park your stroller while your on a ride or inside an attraction. I loved having it because it gave Collins' little legs a break every now and then and also gave us a place to put our stuff. If you're thinking about bringing a stroller, I recommend taking one with storage.
Was Collins able to ride all the rides?
Collins is 39″ and was able to ride most of the rides, but there were a few she was not able to yet. I would recommend measuring your child prior to making plans. This will also help you as you map out what parks you want to see and what rides you may want to go on.
We found this website very helpful when determining which rides would be a option for Collins. If you decide to book your trip with Lia, she will also send over information on height requirements, along with helpful recommendations!
What did you carry with you?
I carried my favorite Lululemon belt bag and my Logan and Lenora Backpack. I loved having the light weight fanny pack for quick things like my wallet and phone. The backpack was perfect for tucking water, jackets and anything else we might need in there.
How much did the VIP Cost?
The VIP Tour coast varies by day of the week and time of year. The range that we were given for the days we were considering were from $300-$700 an hour. There is a 7 hour minimum. For reference on the time of year, we went to Disney World the third week in January.