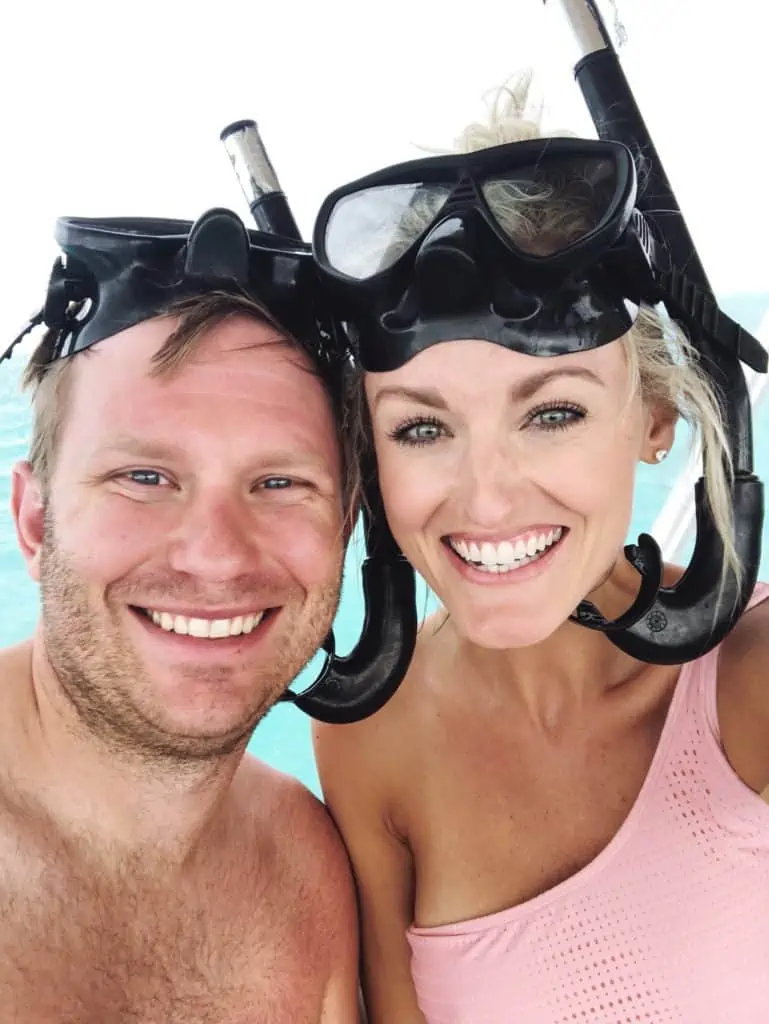 Last month, Chris and I went to Grand Cayman for our 3 year wedding anniversary. If you follow me on Instagram, you know that we originally planned to go to Hawaii for 10 days. Due to the Hurricane that was headed straight towards the Islands, we decided to reroute our trip to the Cayman Islands.
We booked our trip to Hawaii several months ago using our Delta Skymiles and Marriott Rewards Points. Thankfully both Delta and Marriott were very accommodating and allowed us to easily switch our reservations to a new location.
We ultimately decided on Grand Cayman because it's Zika free and since I'm currently pregnant, that was a must for us. We also have friends who recently went to Cayman and loved it so since we were on a tight schedule, we decided to give it a shot! Instead of going Wednesday-Sunday we went Saturday-Sunday and it was perfect!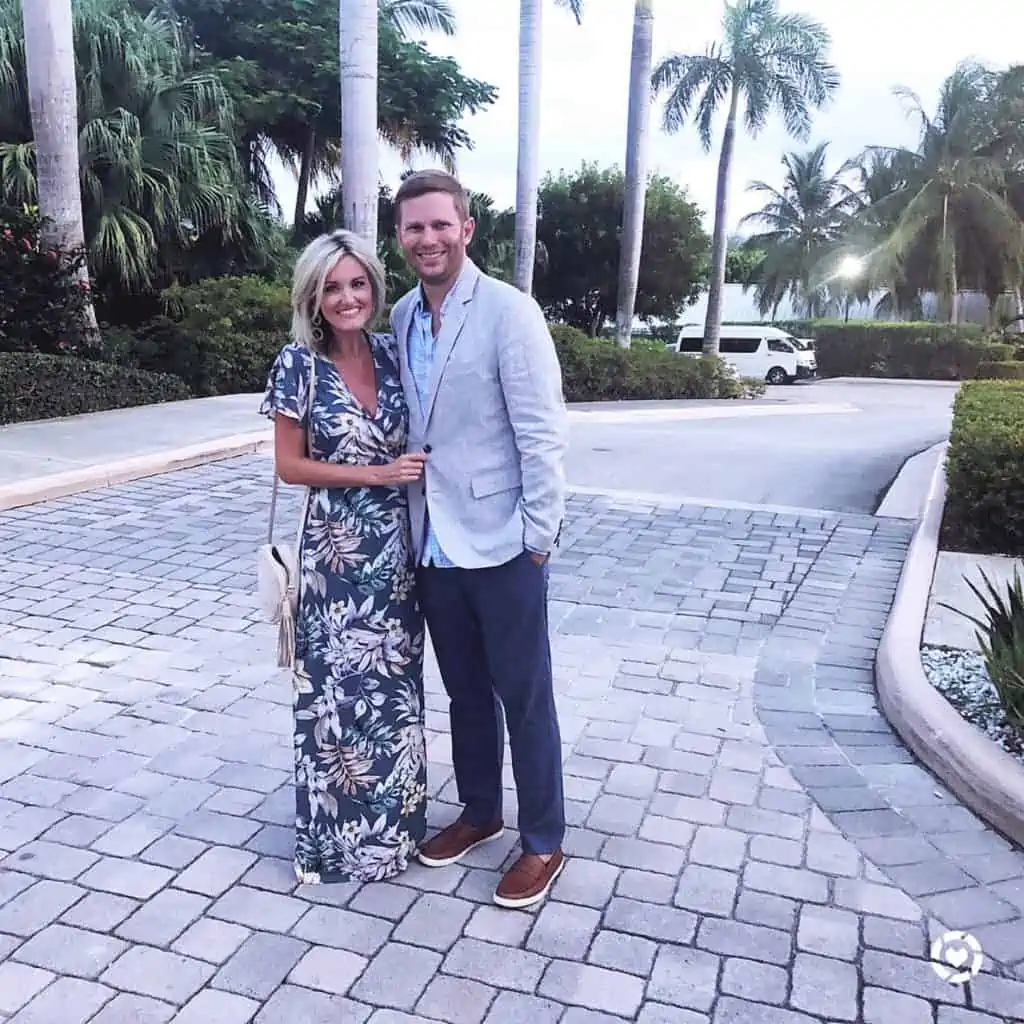 We stayed at the Ritz Carlton located on 7 mile beach. Everything about the resort was more than we could of imagined. The Ritz Carlton has two separate buildings with one facing the Bay and the other overlooking the ocean. There was a crosswalk over the street to connect the two. Both sides of the property had large pools and several restaurants throughout. This property was complete with a 9 hole golf course that Chris played a few times while we were there.
We stayed on the beach/ocean side and had a large room on the first floor. We had a walk out patio that led to the beach. We didn't use the patio or walk out that often because once you were outside, there was no way to lock the door back to your room. We mostly used the main entrance to the beach that was just steps away from our room. I would highly recommend staying on the ocean side if you have the choice.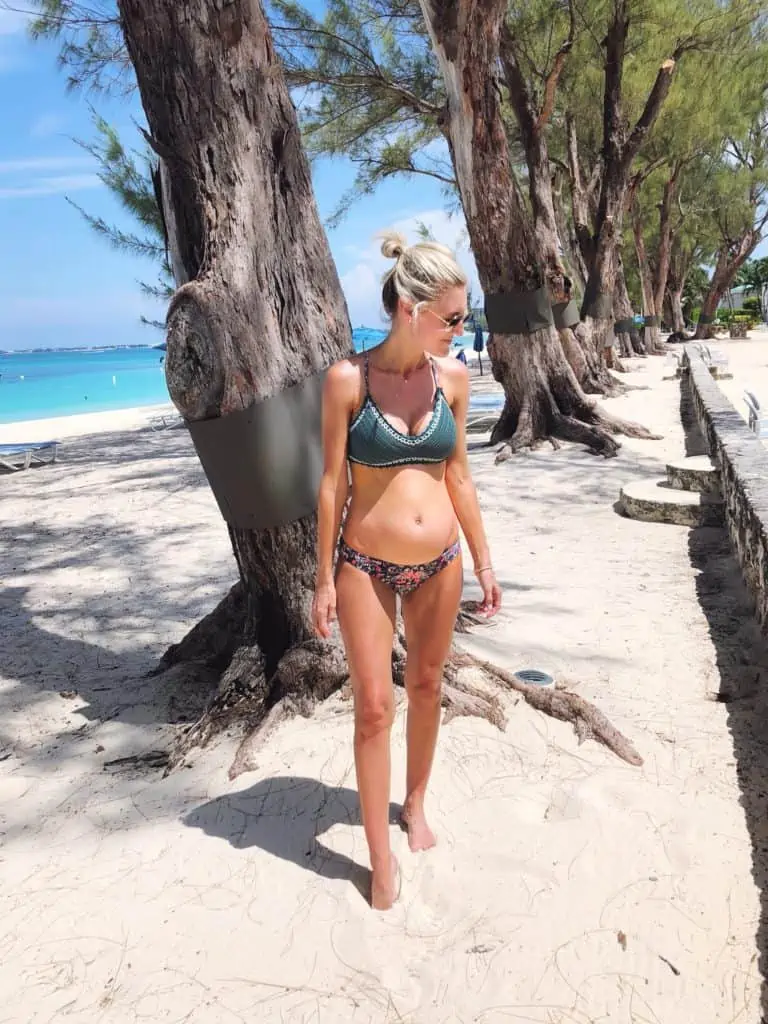 I took notes while we were there about the food/dining and some experiences, like swimming with the stingrays. We mostly lounged on the beach all day  while we were there. It was supposed to be a relaxing vacation after all!
Sunday Brunch: Luca
– Buffet style
– Lots of raw options (sushi, oysters)
– $80/$85 with bubbles (per person)
– Fresh fruit
– Good pasta & meat selection
– Savory breakfast foods were a little dry (crepes, pancakes)
– Would recommend
Seven: Dinner
– Excellent service
– Great mocktails, I had the Lawn Party & think it would be great with alcohol.
– We shared Wagyu tenderloin & sides: twice baked lobster potato, grilled asparagus, loaded baked potato
– Chris says for price of Wagyu it wasn't the best he's ever had.
– Chris had Ahi Tuna for app & I had a Caesar salad
– Dessert to share was good
– Convenience of being located at the Ritz
– $$$$
Morgan's Seafood: Dinner
– View of the water, bay
– Had escargot for appetizer, was really good!
– Chris has seafood crepes – says he liked them and would recommend.
– I had the tuna steak & would also recommend.
– Good prices
– Mom & pop feel, great views!
– Sit outside for sunset!
Sunshine Grill: Breakfast
– Close to the Ritz, we walked & it was less than 5 minutes
– Chris says the pancakes are the best he has ever had!
– Great prices
– Fresh squeezed orange juice was sooo good!
– Ate there twice while on the trip
– Came highly recommend to me by several followers & we would also highly recommend it!
Stingray City & Starfish Beach
– We took the tour from the Ritz $80/person
– Trip advisor has several options but the one our hotel offered was so convenient because they loaded & dropped off at the hotel boat dock
– Was about 3 hours
– We went in the afternoon and it was a small group, also could have been small because of the weather.
– We swam and feed the stingrays!!
– Was so much fun! They were really friendly and the experience was awesome.
– Snorkeled some near the reef
– Went to Starfish Beach, weren't that many starfish but the beach was nice.
– Honestly this trip was worth it because of the stingrays alone!
Ragazzi Pizza: Dinner
– We ordered pizza from a highly recommend pizza place down the street from the Ritz.
– SO GOOD
– They delivered to the Ritz via justdinein.com – literally delivered to our room.
– Delivery charge was $6
– The pizza was amazing!
Blue: Anniversary Dinner 
– Chef Prepared Signature Tasting Menu
– They modified the courses for me that were raw.
– You will need a few hours for this meal because it comes out as prepared.
– The staff was incredible! Very knowledgeable of all the menu items.
– Was very expensive, reserve for a special occassion.
– Located at the Ritz
– Special touch – the manager sent a hand written letter to our room that was there when we got back from dinner thanking us for coming.
Spa at Ritz Carlton
– We went to the spa on our anniversary for massages!
– I had the prenatal massage & Chris has a 60 minute deep tissue massage
– Both experiences were wonderful
– They had several amenities in the spa that you could use before and after your service
– Very nice staff, clean & calm atmosphere
– Would definitely visit again.
Cupboard: Daily Coffee
– Iced vanilla coffee was my fav every day!
– They have several selections for breakfast and lunch like pastries and different selections.
– Great for a quick breakfast
– Inside they also have gifts and items for the beach.
– We bought water bottles here to fill up with water they offer for free on the beach.
– Highly recommend bringing your own water bottle!
Anchor & Den: Dinner
– Located in the Marriott Lobby
– Very cool vibes.
– Lots of options for food & drink!
– Had sushi & edamame to start then moved on to homemade angel hair pasta and gnocchi.
– Crepes & coffee for dessert!
– Good prices, similar to going out to a $$.5 Dinner in the states
Beach House @ Westin: Dinner
– Sat outside
– Great views of the beach, nice for sunset
– Good selection of seafood
– Good service
– Chris had the scallop benedict for an app and I had the kale salad.
– Chris had the Sea Bass for dinner and loved it! I had the 6oz filet with truffle mashed potatoes!
Andiamo: Dinner + Pizza
– Ate here our first night.
– Good Italian food
– Ordered pizza to eat on the beach & loved the crust!
– They also have gelato so we ate that for dessert a few times
– Good for children
BarJack: Lunch Daily
– Lunch on the beach
– Good selection of lunch type foods
– I mostly had the BLT wrap or the cheese quesadilla
– Delivered to your chairs on the beach
– You can also sit up at the tables/bar near the pool
Seven: Sunday Brunch
– Lots of options!
– Sat outside looking over the pool and the ocean.
– You can order from the buffet $40/person or from the brunch menu. A lot of the items are the same on the menu just al la cart.
– Really good and convenient for our last meal!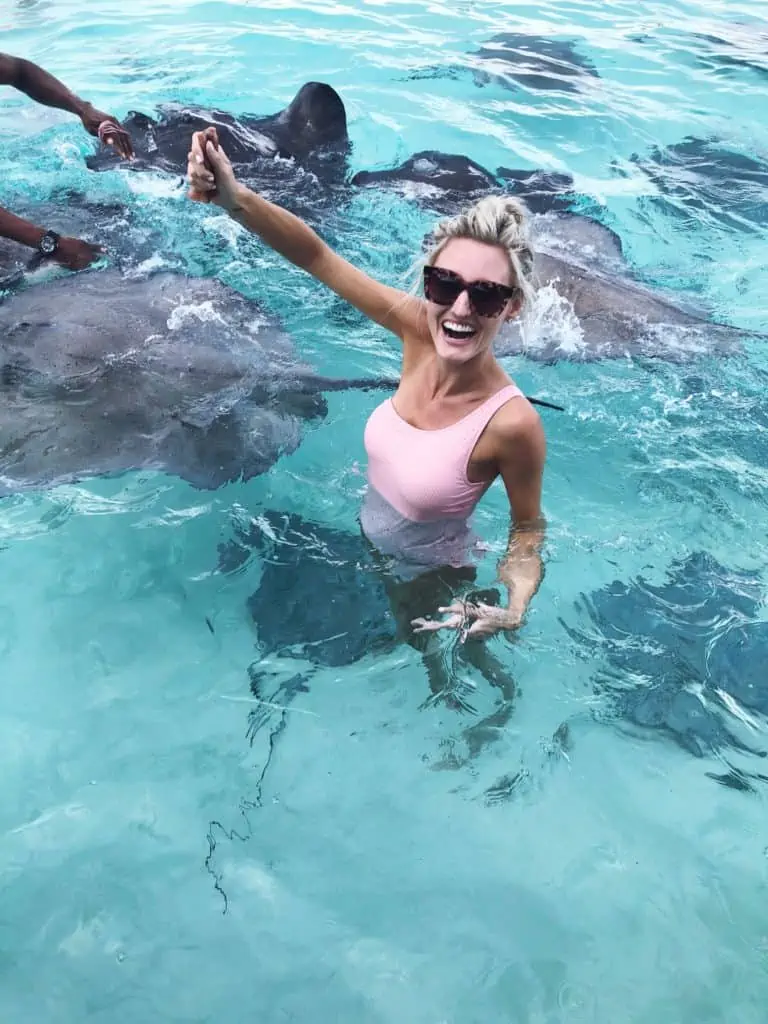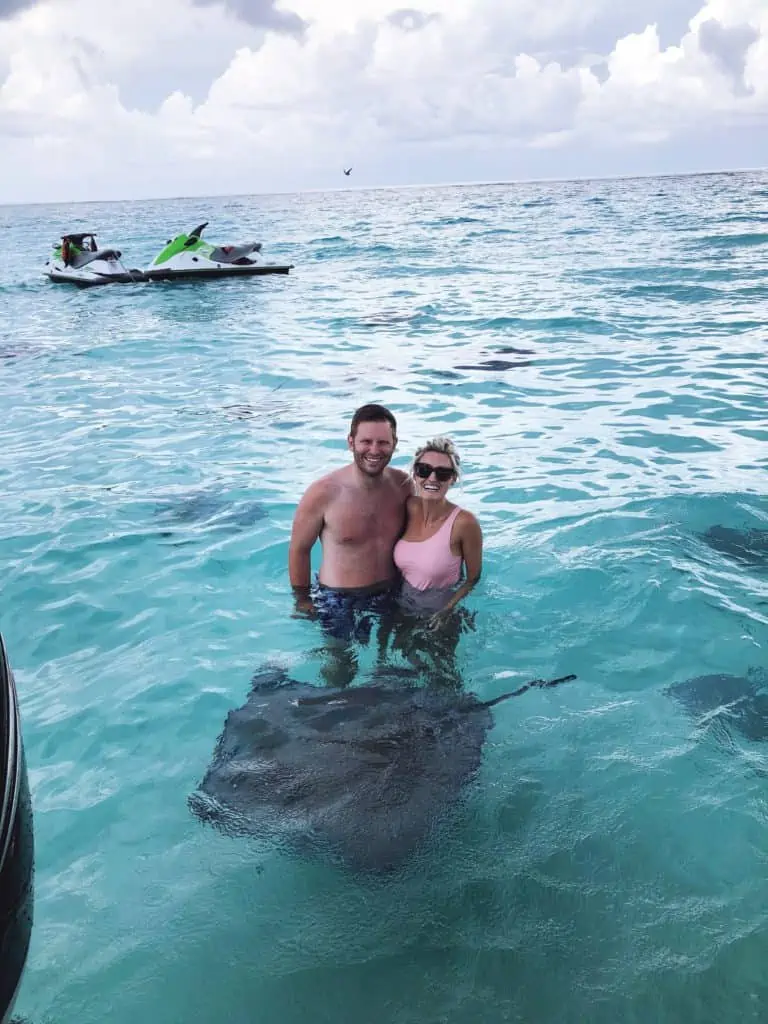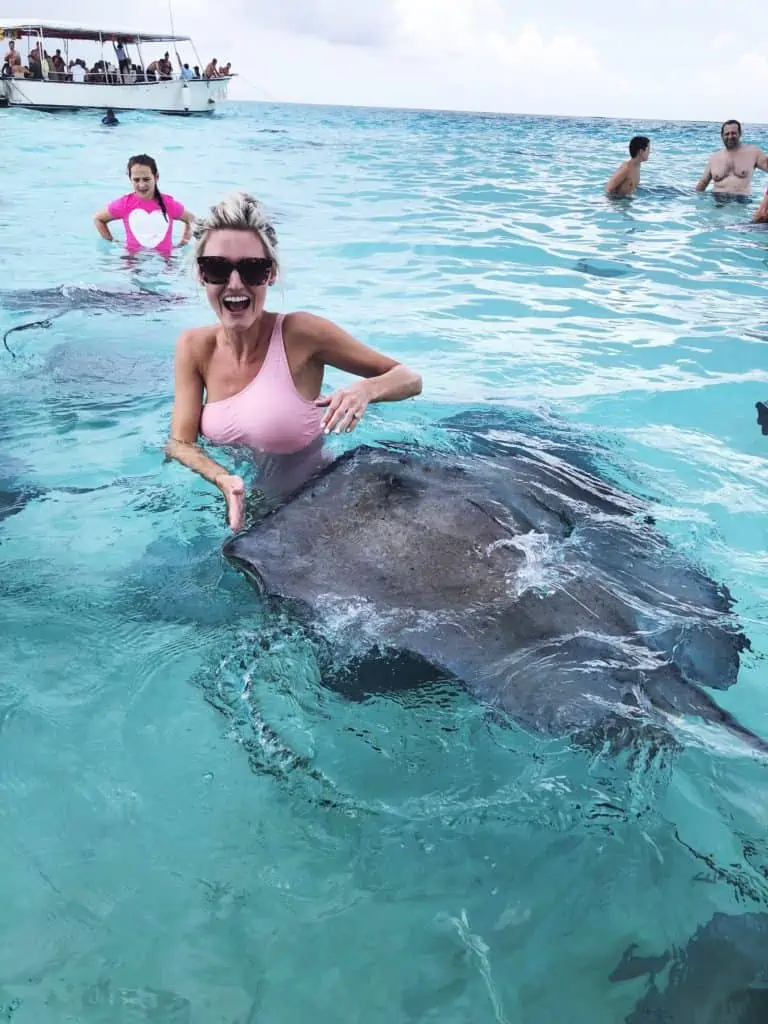 Aside from eating and relaxing on the beach, we went into town one afternoon and walked around. Everything in Grand Cayman was very clean and everything seemed very safe. We took taxi cabs from our hotel if we needed to go anywhere. They all accept US Dollars and some accepted credit cards. I would plan to have extra cash on hand for tips and taxi rides.
Overall I would highly recommend Grand Cayman for your vacation. The Ritz was amazing. One thing that made them stand out from other resorts that we saw was the beach chairs – sounds crazy, I know! But the chairs had individual umbrellas that you could raise up or down depending on how much sun you wanted. Chris likes to stay in the shade and I like the sun so we always have the hardest time getting chairs at the beach. We didn't have to worry at all with umbrellas and this alone was one of the main reasons we would stay at the Ritz again.
We did eat dinner and breakfast once at the Westin, which was just a short walk from the Ritz. This hotel seemed to have a little more nightlife and a better pool area for kids. They had a swim up bar at the pool that seemed great. If they had the beach chairs that the Ritz have, we would maybe give it a shot next time.
 Regardless of where you stay, you can't go wrong with Grand Cayman! Chris and I are counting down the days until we go back. Which probably won't be anytime soon unless we make it a family vacation and take Collins along!
Have you ever been to Grand Cayman? What did you think! Thanks for stopping by and reading today's post.