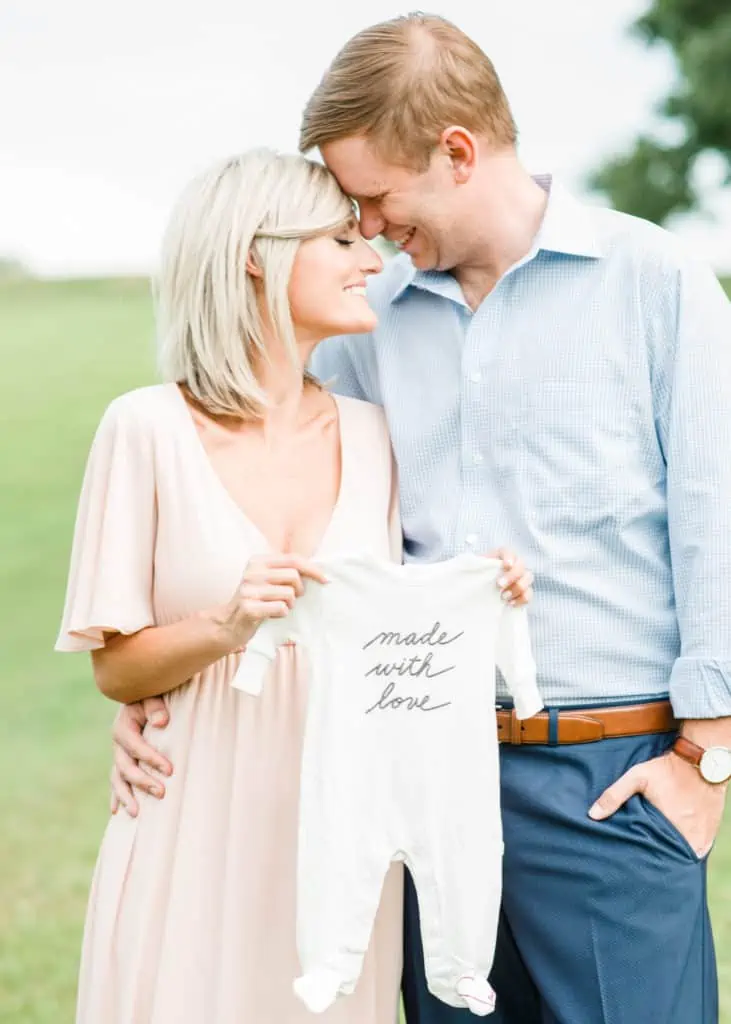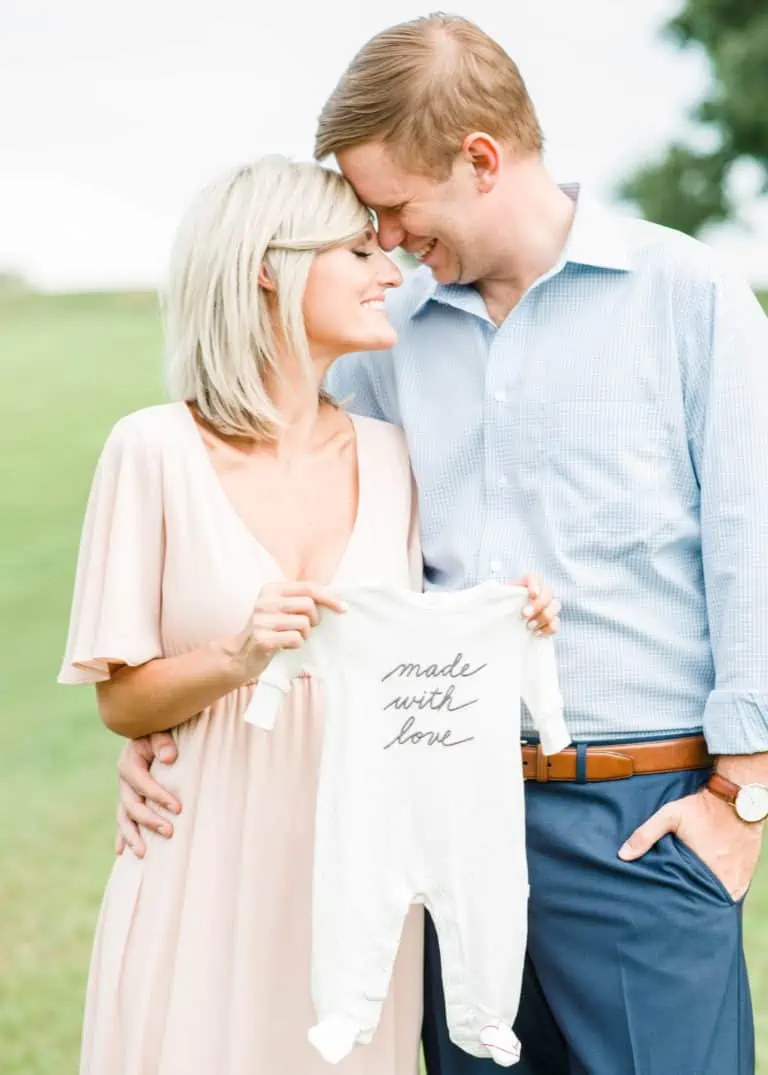 Chris and I have been married for three years and we pretty much started "trying" to get pregnant after about six months of marriage. About four months into our marriage, I had a few polyps show up on a scan and the doctor recommended I have them removed but then said the side effects could make it harder for us to get pregnant. We decided to go ahead with the removal but immediately stopped birth control since we knew we wanted to have a family at some point. We know far too many people who have experienced infertility so wanted to start trying sooner rather than later – especially since we knew their COULD be complications.
I will say that we were just loosely trying at first. I wasn't tracking any dates or special times of the month. At this point we were fine if we got pregnant and fine if we didn't. I always reminded myself that God has a plan and whatever that might be, we are here for it.
Things went that way for the first year of no birth control. In January 2017 we decided to start keeping track of dates and we even started using ovulation kits. Still nothing. A few months of this not working, I started to question, is there something wrong with either of us. By this point, I had been tested and everything was looking good on my side, so Chris was off to the doctor to see if anything was going on on his side. Everything came back great and the doctors said to just keep tracking and keep trying – note, we hadn't seen a specific infertility doctor at this point.
This process was starting to take an emotional toll on us. Especially as every friend around us seemed to be getting pregnant. I remember being so happy on the outside when another friend announced but behind closed doors I would cry and cry and wonder why aren't we getting pregnant? I would say to God, "These people weren't even trying, we've been trying for what seems like so long. Why them? Why not us"? Every time I would be comforted knowing that our time will come and to trust Him.
It was crazy because as much as we both wanted to be pregnant, there was a ton of other stuff going on in our lives. My business was growing and I was given opportunities to travel and projects to work on that I wouldn't have been able to do if I was pregnant. Chris was working on a new project his company had recently won so he was traveling a ton too. As sad as we were that we weren't pregnant yet, other amazing things were happening that we needed to be thankful for. Trust me, that thankfulness was hard but it's just where we were.
In November of 2017, we decided to see an infertility doctor in hopes to get answers. A friend who was going through several miscarriages, recommended Dr. Hasty at Atlanta Center for Reproductive Medicine. She was amazing. We worked together on a plan of how we were going to bring science into the equation of getting pregnant and we left our first appointment feeling extremely hopeful! I don't think it was a coincidence that the timing was right on track at this first appointment to get started with medicine, ultrasounds and potentially move forward with the first step. I think back on this appointment and thank God for his timing for us to start the path to get pregnant.
A few weeks later we did our first IUI transfer (Intrauterine Insemination). If you aren't familiar with IUI, it's a process where the doctor inseminates Chris's sperm into the my cervix in hopes that it gets a "head start" to going through the tubes to meet an egg and implant in my uterus (bet you didn't think you would get a science lesson here today). Once this part is done you continue to take oral medication that helps your chances and you wait until you either get a positive pregnancy test or start your period. Sadly, the first round didn't work so we upped the dosage of medicine and started the process again.
We went through 3 rounds of failed IUI attempts before we decided to move onto IVF. I remember my emotions at this time were all over the place. I was so sad that one of the previous treatments didn't work. In the same breath, I was so hopeful that IVF would work and just kept remembering that God has a plan. Even if that meant saying that out loud several times a day and in between tears as I saw more and more baby announcements.
I am extremely thankful that we were able to move into IVF treatments right away. If you know anything about the cost of fertility treatments, you know that IVF is nowhere close to cheap. Chris and I both have great jobs and we have a joint savings account that we have been working to fill since day one of marriage. This allowed up to start the treatment and preparations for the egg retrieval and implantation immediately.
First came the shots. Boy was this a fun time. To prepare for the egg retrieval, I was on oral medication along with taking daily shots. It was just one shot to start then as it got closer to the time they would remove my eggs, we were doing three different shots each day. All of these shots were in my stomach. I would rotate sides each day because the injections spot would bruise or would be sore for the previous day's shot.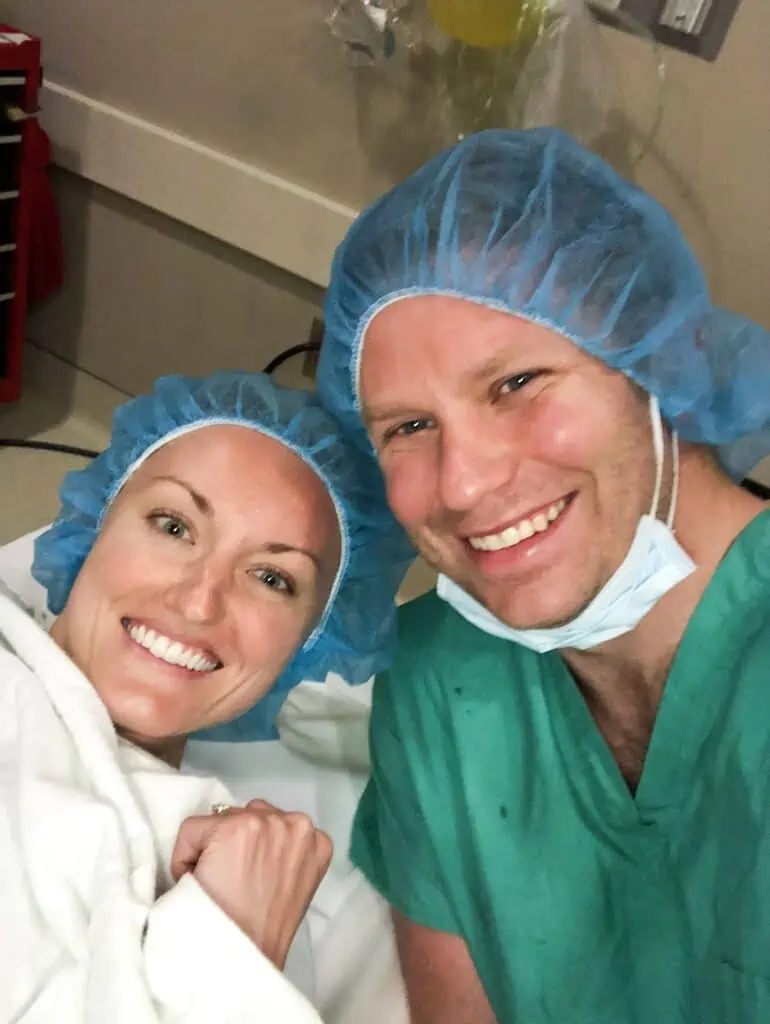 I remember feeling like holding a baby in my arms felt so far away as I was going through this time period. Seeing so many negative pregnancy test results, I wondered if I would ever see a positive. When it got to the day of our egg retrieval, I was scared but so excited to see how many eggs my body made with the help of medicine that month. They put you to sleep for a short time to retrieve the eggs. I was so excited when I woke up to find out that they retrieved 20 eggs!! That's a TON! This was finally so good news that I knew we could work with!
We got a call a few days later that said they were about to make 13 embryos out of the eggs and sperm they had collected. They would watch them grow for the next 5-7 days and determine how many would survive. This is a point where you can either send the embryos off for genetic testing, you can implant them at the 5-7 day mark or you can freeze them to give your body a rest then implant at a later date. We decided against genetic testing of our embyros and deciding to freeze our first round of embryos and give my body a break for a few weeks. My doctor made this suggestion because I am young (at the time I was 29) so she said time was on our side. We ended up freezing 7 embryos which is a great number! I continued shots and medication in preparation for the embryo transfer to my uterus.
On May 21, 2018, we transferred 2 embryos! This was a crazy process. Crazy in the sense that it was sooo cool! Chris was able to scrub in and watch the whole process which made it even more special. We watched on the ultrasound machine as they inserted the embryos into my uterus. We literally saw these little blobs of life get added to my body. It was insane!
The waiting was 100% the hardest part. For the next 10 days we prayed and hoped and prayed and hoped that one or both would implant into my uterine wall. I remember starting to feel like something was happening in my body. I just had this feeling. On the 9th day, which was the day before we were supposed to go back to the doctor for blood work, we decided to take a pregnancy test that night. I was against the idea because I didn't want to be disappointed but Chris convinced me we needed to know! So there in our bathroom, we sat for the longest 2 minutes of my life to see if the test would read PREGNANT. Chris looked first and told me to look and we both broke into tears as we read those amazing words on a plastic stick. We cried and held each other for a good ten minutes in shock that it was finally our turn to be parents. I'm crying as I write this right now because this time was so incredible and it's something I will never forget.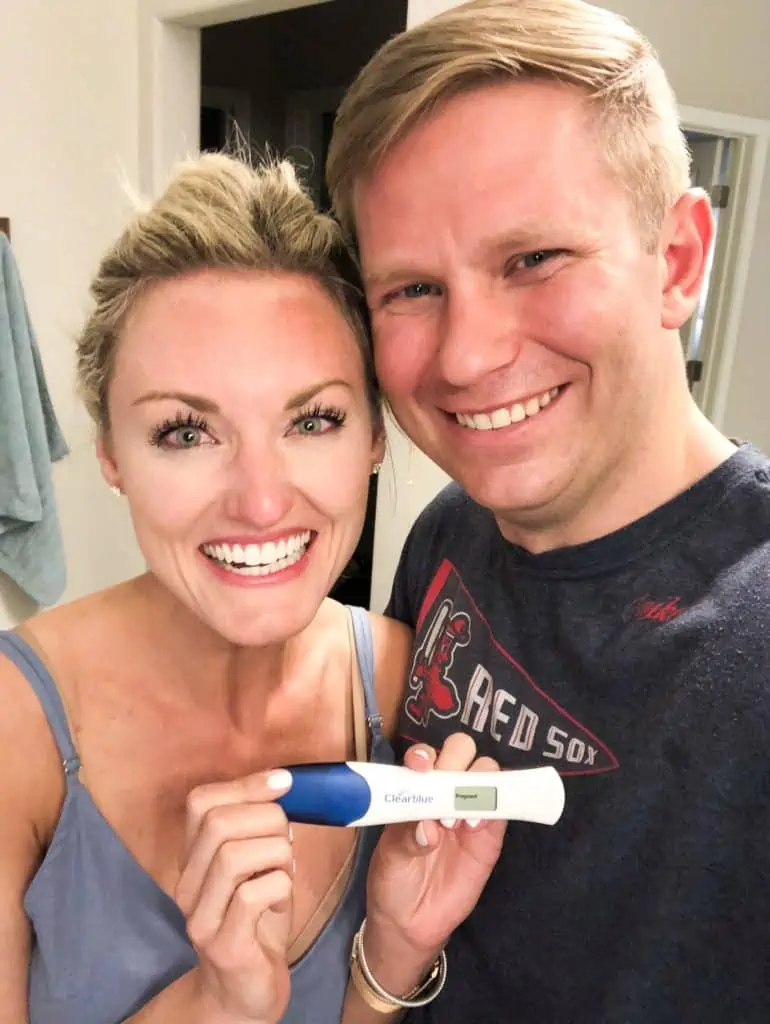 WE ARE PREGNANT!!!
We did the blood test the next day to confirm the results and hearing the doctor's smile through the phone as she told me the news made me emotional all over again! All the tears and struggle and uncertainty was finally over. We were pregnant!!
We had an ultrasound at the 6 week mark to see the baby and to find out how many babies we were having. Again, we transferred 2 embryos with the hopes that at least one would implant. As the doctor pulled up the screen, we saw one sweet little heart beating. What a precious miracle!! I was a little sadden that both didn't make it. It was bittersweet because our numbers from all the blood work during the previous 6 weeks led us to believe that we were more than likely having twins. Regardless, we knew their was a risk that they wouldn't both implant so the fact that one did is amazing!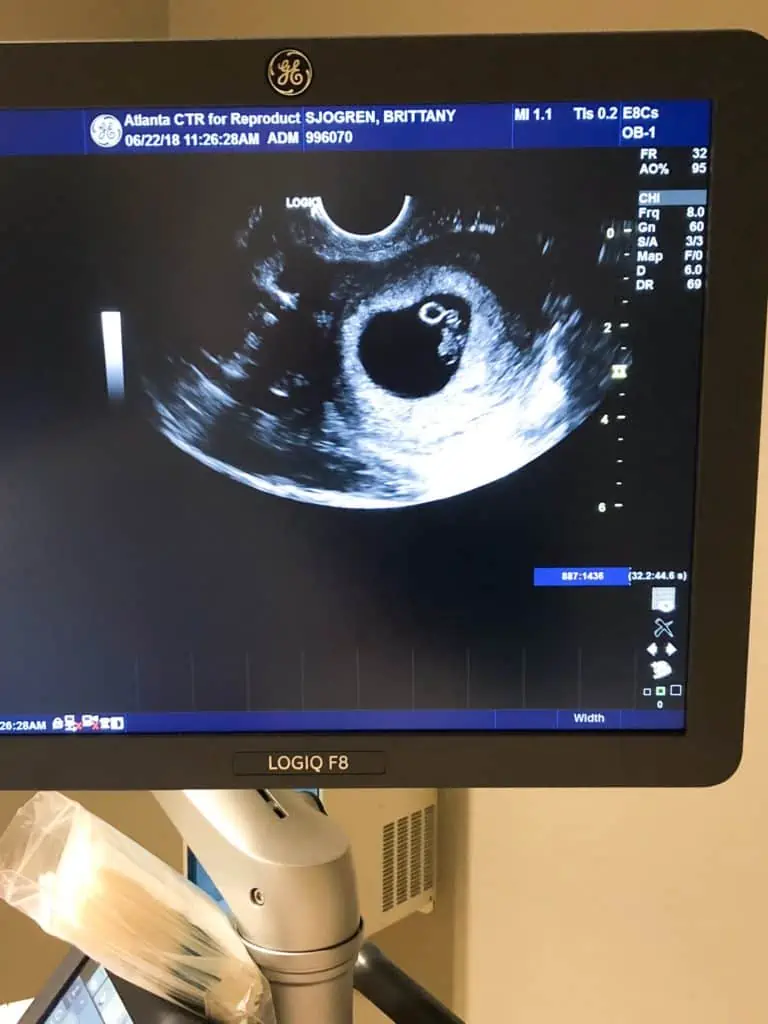 One thing I didn't realize is that you continue taking some of the shots until you are 10 weeks pregnant. These were progesterone shots that helped the baby grow healthy over those first few weeks. So every night, Chris would give me a shot in the bum. Although these shots hurt each night, I was so happy to take them knowing they were helping our baby grow.
Today, we are 25 weeks pregnant. 25 weeks of growth has happened in my body. The thankfulness and love I feel for this baby girl every single day is something I cannot explain. We are 15 weeks away from holding this sweet miracle baby. These feelings of love and joy and happiness didn't come easy. It's been so incredibly hard to know the pain of infertility and to see other get pregnant with ease. Although, I never thought I would experience infertility, I've always known that the Lord would provide and that my strong desire to be a mother would one day become a reality.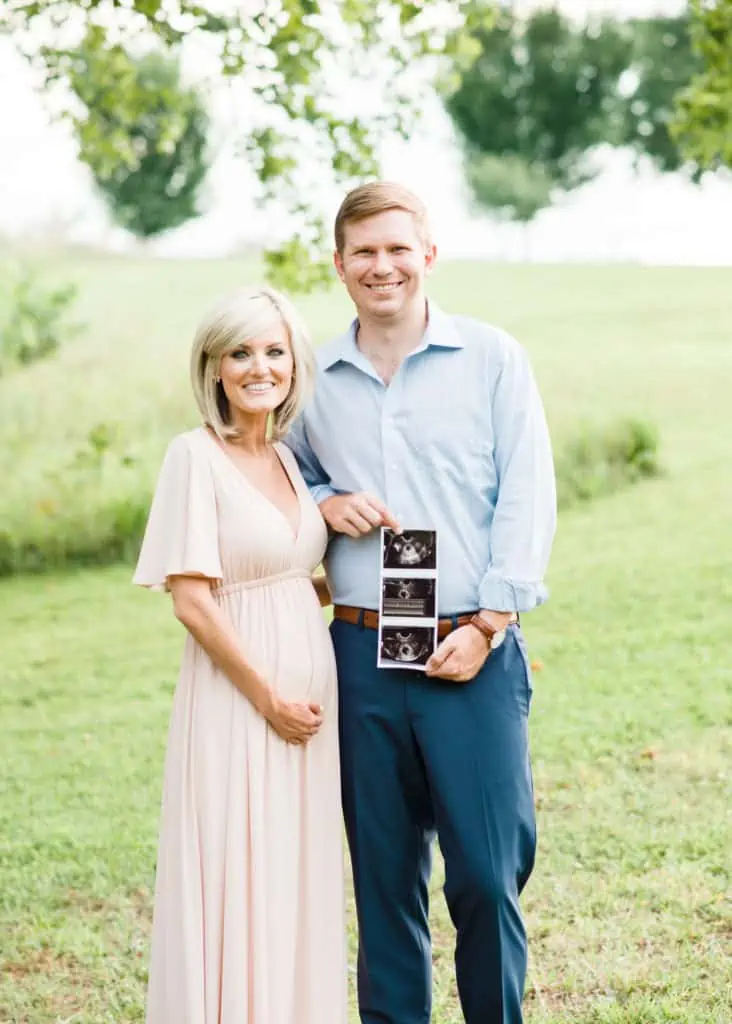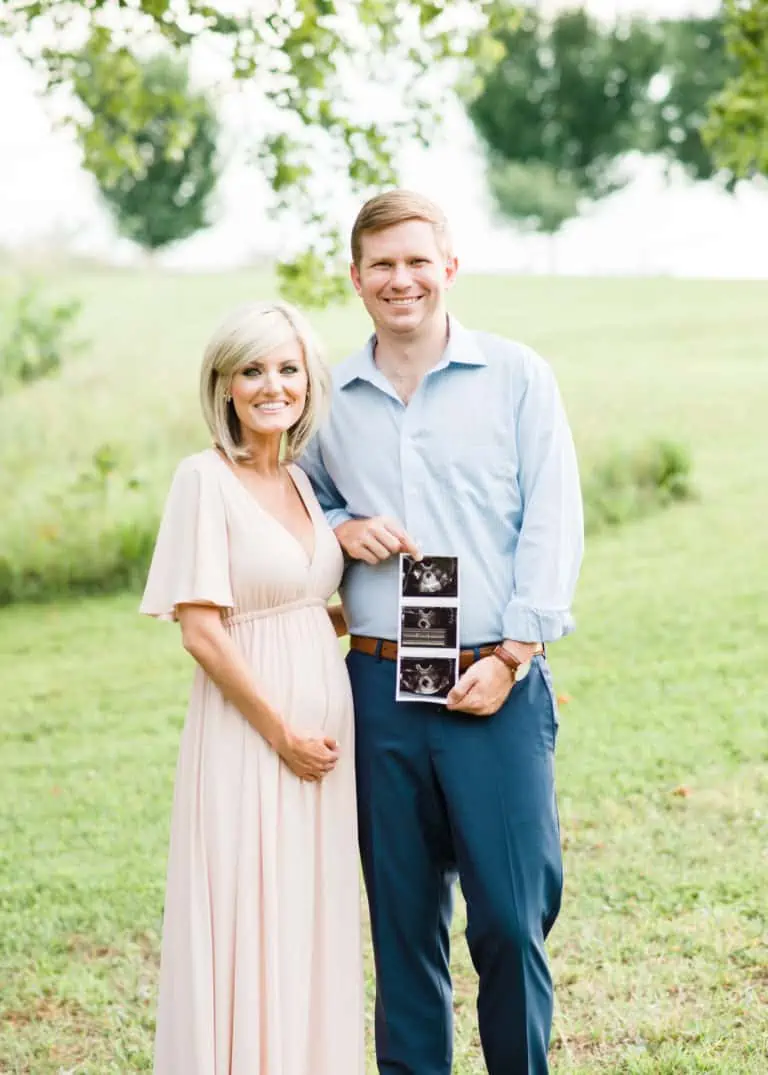 My hopes in sharing our story is that it will give others courage and hope to know you aren't alone. Through this journey, I've found that talking with friends and being open about our journey really helped me determine that it's okay that this is our path. If you are in this season, I hope that you find peace in today's blog post. Also know that even though I don't know you personally, I'm praying for you. I'm praying that your prayers are answered and that you too will be able to hold a sweet little one some day.
xoxo, Brittany & Chris