Each Thursday throughout the holiday season, I'm releasing five curated holiday gift guides for everyone on your list.
Click HERE to sign up to receive Loverly's List via email every Thursday throughout the holiday season!
GIFTS FOR EVERYONE ON YOUR LIST
Last Minute Gifts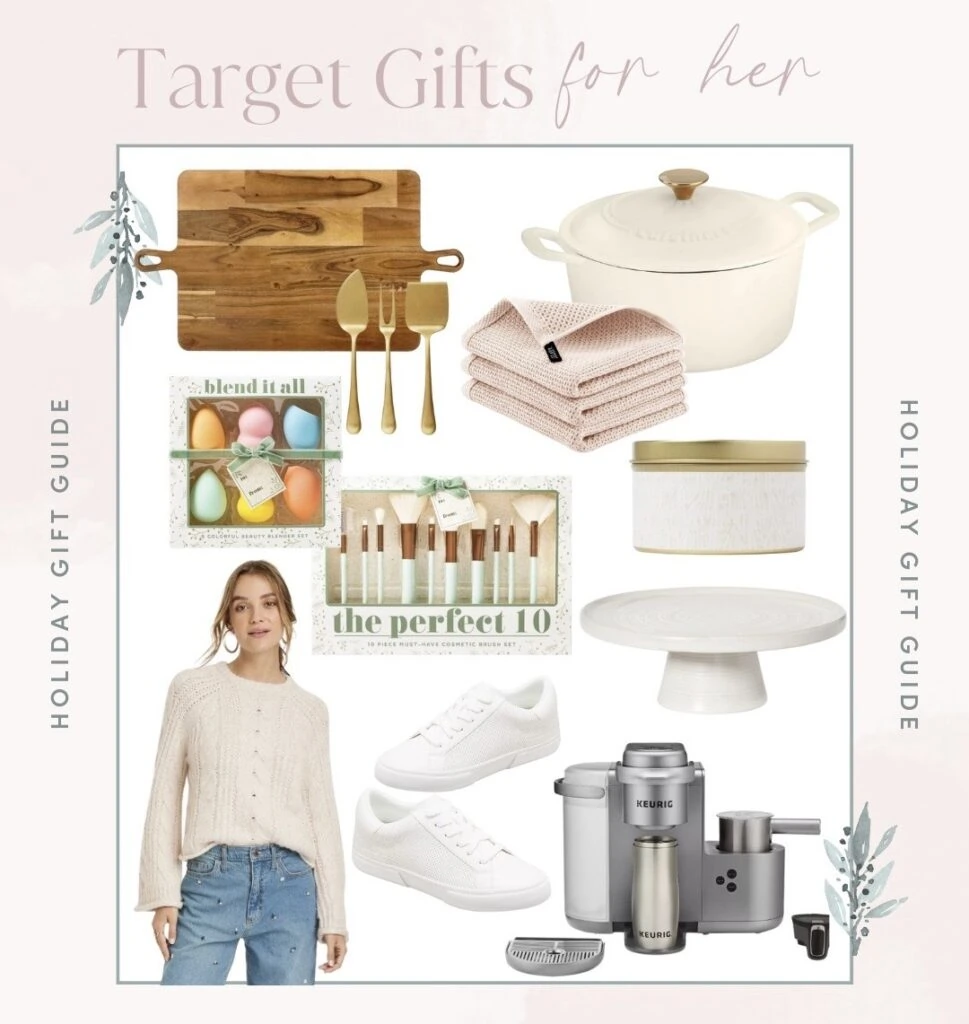 Target has some amazing deals on last minute gifts right now. My favorite Keurig coffee maker is currently on sale for 20% off! I also noticed that all women's sweaters and shoes are up to 40% off!
SHOP THE GUIDE

If you're on the hunt for a last minute gift for him, I recommend checking out the Goodfellow line at Target! I've rounded up a few of my favorites from this line, including a pair of boots, a timeless hat and scarf set, and a beard care kit!
SHOP THE GUIDE

This last minute guide for kids has some of the top rated gift for kids this year. The Tonie's music box, the FAO Schwarz building blocks and tea set, and a cozy bean bag chair are all must haves for kids under 8!
SHOP THE GUIDE

Fill her stocking with a new makeup pouch, her favorite color nail polish or a fabulous pair of earrings! I also love the brightly colored pom-pom led phone charger.
SHOP THE GUIDE

There are so many gadgets that make the perfect stocking stuffers for him. I recommend the headlamp and solar light for the outdoorsy man. If he loves a great cup of coffee, opt for a mug that will put a smile on his face!
SHOP THE GUIDE

Give your little ones the gift of play in their stockings. I love this set of glitter Play-Doh and the tubes of bubbles. I have a feeling the bath drops are going to be a huge hit too!
SHOP THE GUIDE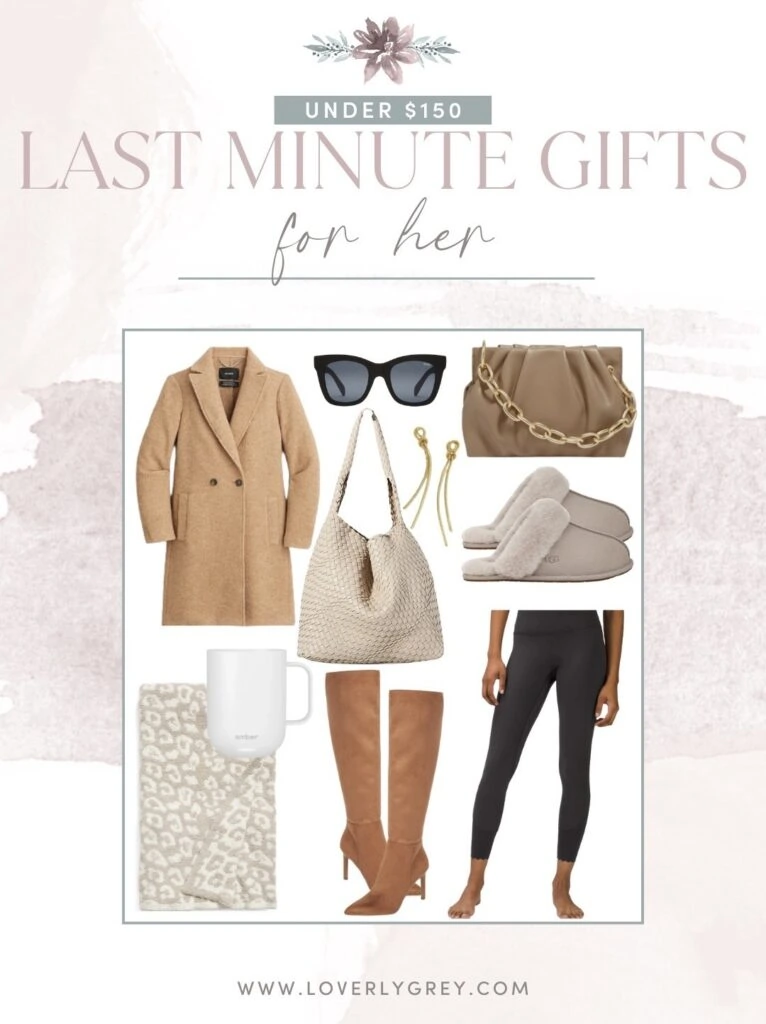 If you're still on the hunt for the perfect gift for her, I've got you covered! Gift her a cozy Barefoot Dreams blanket and an Ember mug, or opt for a cozy pair of Ugg slippers. Another option is to give her a pair of statement earrings and a handbag she can use daily!
SHOP THE GUIDE

Each of these budget friendly gift options are perfect for adding a special touch to a gift you already have. You can't go wrong with a soft pair of pajamas, a cozy blanket or a great smelling candle.
SHOP THE GUIDE

If you have a girly-girl you're shopping for, this guide is for you! Gift her a pair of floral print pajamas and glitter slippers. You can also bundle a few hair accessories, or opt for something larger like a house for her doll!
SHOP THE GUIDE

This curated collection of gifts for boys is perfect for the little one on the go. Whether he loves hopping through puddles or building airplanes out of cardboard boxes, he will have loads of fun with any one of these gifts!
SHOP THE GUIDE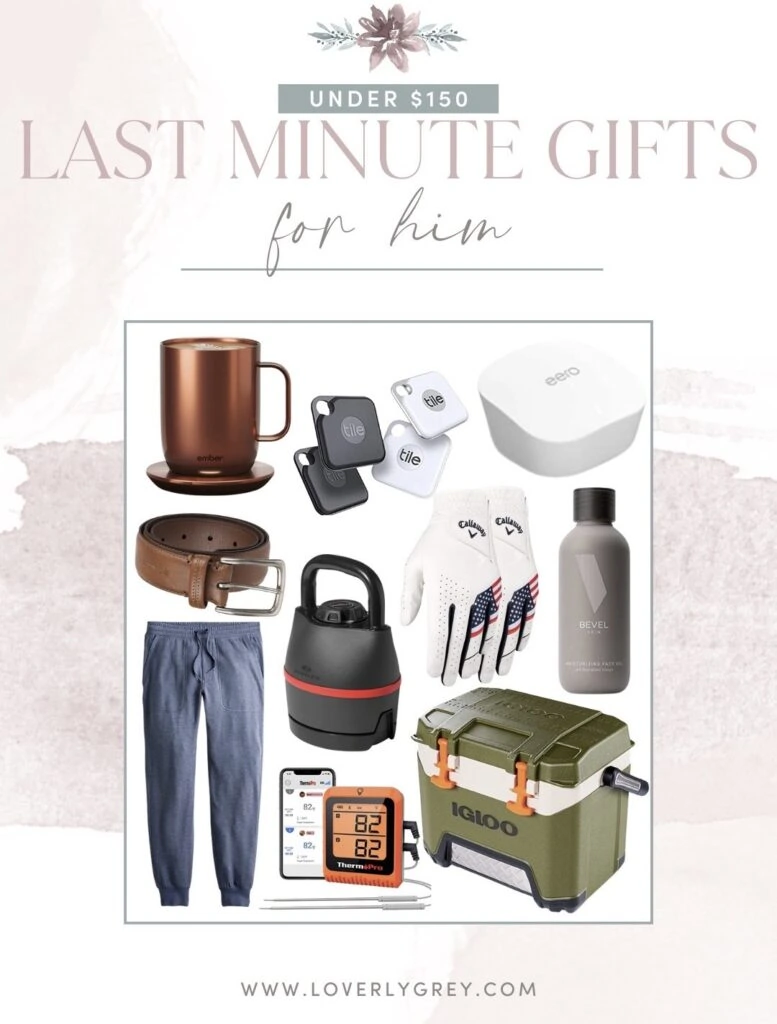 If the man in your life is into tech, I recommend a new Wi-Fi router! This one is less than $100 and worth every penny. If the man in your life is outdoorsy, opt for a cooler or a new set of golf gloves. If you're still stumped on what to get him, I recommend a great pair of joggers or a set of tiles.
SHOP THE GUIDE

Stocking Stuffers
SHOP THE GUIDE

Stocking stuffers can be a fun addition to the holiday presents. This roundup includes a wide variety of items, from cooking to fashion, personalization items and more for him!.
SHOP THE GUIDE

The personalized travel jewelry box is a great gift option for the traveler in your life. You can also include a few self-care items such as the hydrating lip balm or under the eye masks in her stocking! Send this guide to your significant other to drop a hint or two that any of these would be perfect.
SHOP THE GUIDE

Kids love a cool water bottle, especially if it has their favorite characters on them. The Simple Modern water bottles keep drinks cold for a long period of time, and don't sweat or leak. For the art lovers, a Christmas tree activity book or macaroon sidewalk chalk are the perfect little additions to their stockings.
SHOP THE GUIDE

We can't forget the furry members of our families when we open gifts during the holidays. The pet toy bundle will make those tails wag in excitement and provide entertainment for days. A personalized food and water bowl is another fun gift that's functional and cute.
SHOP THE GUIDE

If you're having a tough time trying to figure out what to get your in-laws, I rounded up a few fun and unique gift ideas that will surprise and delight them. The retro record player will send them back in time to the good 'ol days. It's the perfect gift for the music lover!
SHOP THE GUIDE

The holidays are filled with festive parties, dinner with friends, and so many other occasions! I always love showing up to someone else's home with a gift in hand. I've rounded up a few of my favorite items that I like to keep on hand, so I'm ready for any last minute plans that may pop up. I recommend going ahead and popping a bow on these and placing them in a location near your front door, so you are ready to go!
SHOP THE GUIDE

Selecting the perfect gift for my bestie is one of my favorite things to do! I love gifting her something that she wouldn't typically purchase for herself. This can be a great pair of slippers or a fabulous pair of earrings!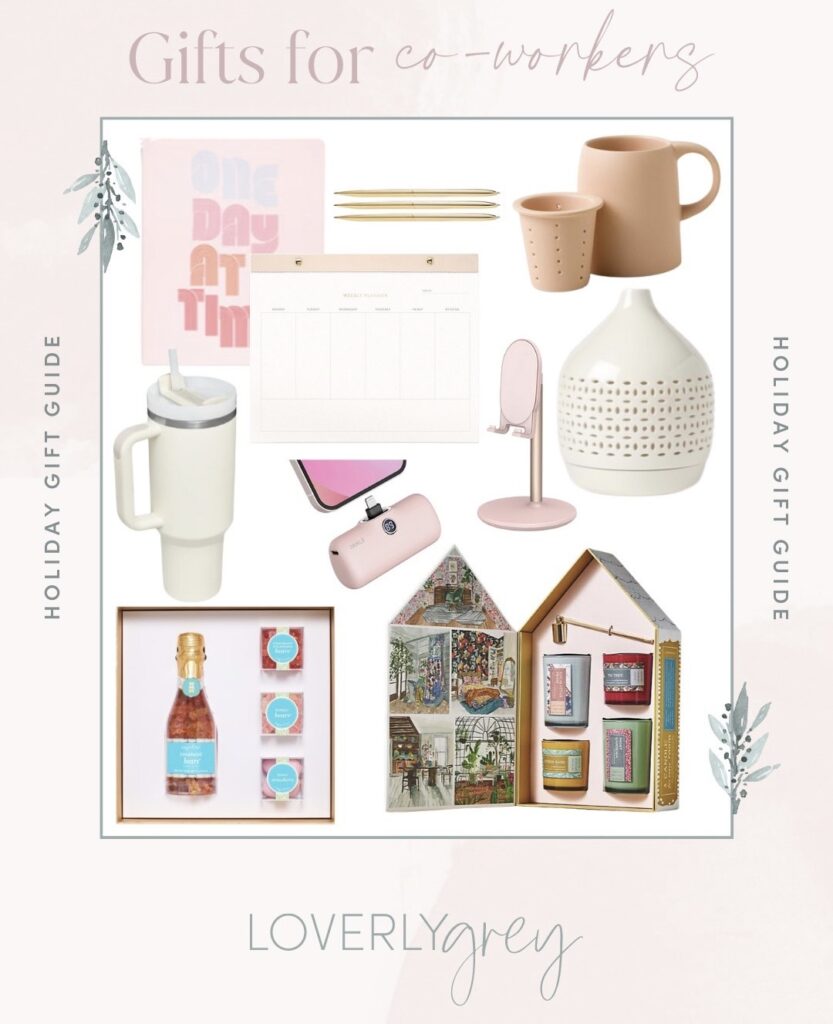 SHOP THE GUIDE

If your stumped on what to get the co-worker that is a little more like family, I've got you covered! I recommend a practical gift like the Stanley cup that will they use daily! I also love gifting pretty box sets like the Sugarfina gummy bears or the Anthropologie candle gift set!
SHOP THE GUIDE

The holidays are the perfect time to say "thank you" to the teachers in our life! I love to create gift bundles with multiple items! You can do this by placing a gift card, lanyard and the Tarte lip set inside the customizable pouch. Another bundle she is sure to love is the Life with Loverly Notebook and mug!
SHOP THE GUIDE

Another idea for teachers is to gift a unique coffee mug and Starbucks gift card! I also recommend a gift set or something more practical like a wireless charger.
SHOP THE GUIDE

One of my favorite holiday traditions is attending a white elephant party! If you aren't familiar with the concept, here is a quick overview. Each person brings a wrapped gift. Everyone puts their gifts in the middle of the room. You have the option to either take a gift from the pile or steal a gift someone else already unwrapped. Trust me when I say, everyone is going to want to steal your gift if you bring anything from this guide!
GIFTS FOR HER
SHOP THE GUIDE

While you are busy crossing everyone else off your holiday shopping list, remember to create your own holiday wishlist! I'm sharing my own list for the holiday season (winking at you, Chris). My wishlist is the perfect combination of splurge worthy and practical gifts. Feel free to snap a picture and send it to Santa!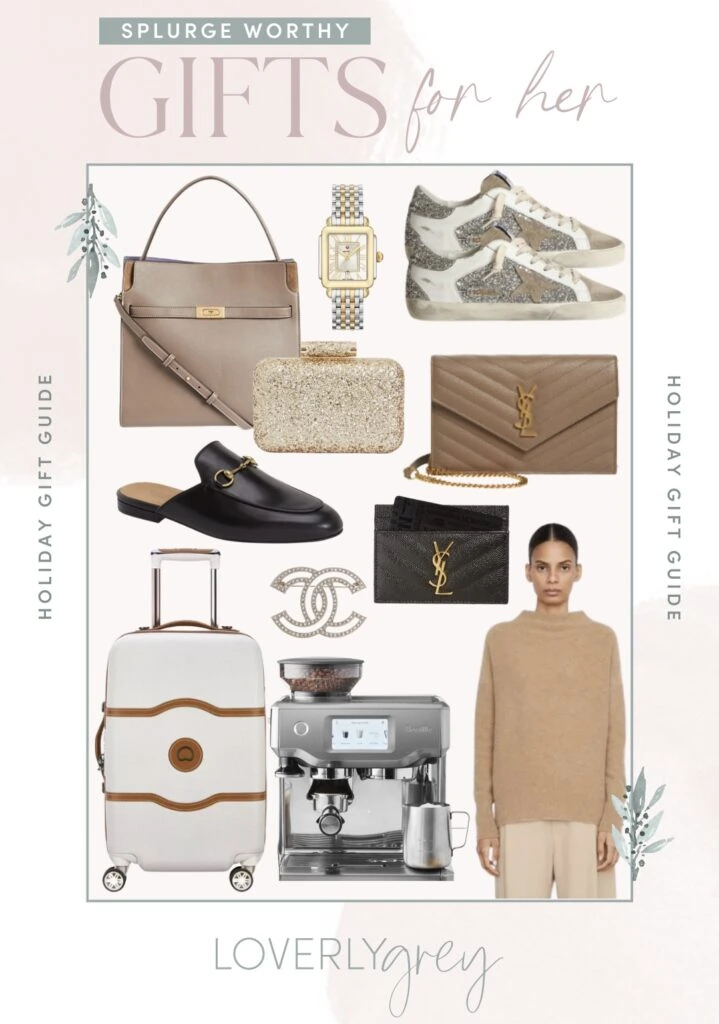 SHOP THE GUIDE

What better time to splurge on a luxury gift for your loved one, or maybe even yourself, than the holiday season! A luxury handbag or a great espresso maker is something that you can use every single day! The cost per use makes the up-front investment totally worth it!
SHOP THE GUIDE

My mom is one of my favorite people to shop for. I love gifting her practical, yet luxurious items that she won't typically purchase for herself. A cozy robe or a new blow dryer is something that she will love and use daily!
SHOP THE GUIDE

Purchasing the perfect gift for your bestie just became a breeze. For the bestie that loves wine, gift her a gorgeous wine holder and blush colored wine glasses. If your bestie has it all, gift her an experience like a spa gift card and wrap it up with a cozy pair of socks or sippers. Let her know that you'll be joining too!
SHOP THE GUIDE

If you're on the hunt for an affordable gift for your mother-in-law, sister or friend, this gift guide under $100 is for you!
---
GIFTS FOR BABIES + KIDS
SHOP THE GUIDE

Gifts for babies are the sweetest! It wasn't hard to round up my favorite baby gifts, but it was a challenge to narrow it down. For babies, I find that some of the best gifts are the ones that grow with them.
SHOP THE GUIDE

It can be so much fun to shop for the little toddlers in your life. At this age they're on the move and are curious to explore the world around them. Gifts that keep them busy are the best!
SHOP THE GUIDE

I've rounded up several of my favorite gift ideas for the kids in your life because sometimes there are so many options, I need help narrowing it down! However, are we sure the pillow chair isn't for adults, too?
SHOP THE GUIDE

Gifts for teen girls look similar to my own wish list! I can't get over how spot on their style is these days. Although teen girls can be complicated, giving them gifts doesn't have to be with these options I've pulled.
SHOP THE GUIDE

Trying to decide what to get the teenage boys in our lives can be a challenge, so I've rounded up some options for us all! The thing about teenage boys is that they appreciate the simple things! You can't go wrong with a new hoodie or an upgraded electronic.
---
GIFTS FOR HIM
SHOP THE GUIDE

Is it just me, or does it seem like runners always have new gear added to their wish lists? Chris is certainly the runner that's always in the know on the newest accessories! If your guy is a runner too, you can show him how much you support him by giving him updated gear this holiday season.
SHOP THE GUIDE

If your guy is a runner, or any of the other guys in your family are runners, then you know they'll appreciate a thoughtful gift to help them accomplish their 2023 running goals. A runner can never seem to have enough cold weather running gear like a quality zip up or a pair of running leggings.
SHOP THE GUIDE

If you thought the last two guides had all the running essentials, Chris came up with even more! In the stocking stuffers edition of the runners gift guide, gifts such as a pair of quality running socks, a running hat that will stay in place, and hydration supplements will certainly be appreciated by your guy.
SHOP THE GUIDE

Chris certainly helped me with this one, and he delivered. Or was he also hinting at what I should get him for Christmas…? Probably! If your guy is a golfer, you can't go wrong with gifting him the latest and greatest golf accessories.
SHOP THE GUIDE

If you're looking to stay under $100, these gifts are perfect for the men in your life. Something like a record player could be a gift that your guy has always wanted but never bought for himself. With guys, you can also play it safe and upgrade their favorite coffee mug they use daily. Either way, they'll love your thoughtfulness!
SHOP THE GUIDE

Why does shopping your dad or father-in-law always seem to be a challenge? I've pulled several gifts for the dads in your life to help! For the dads who cook, upgrading their utensils and cooking tools is always a win.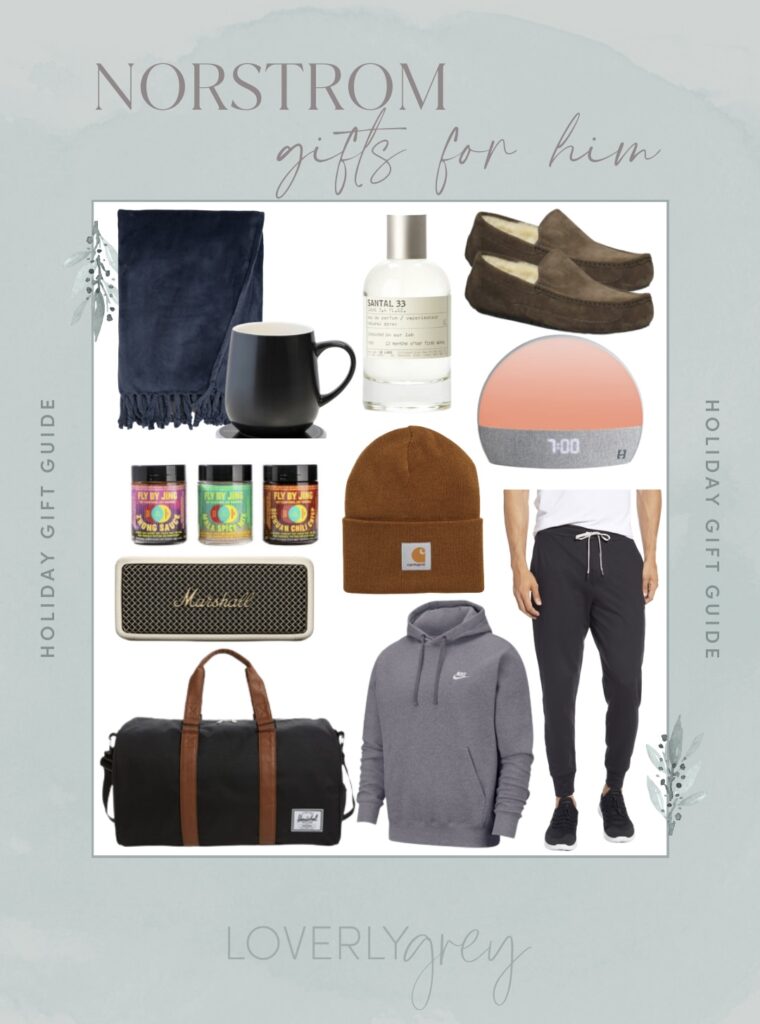 SHOP THE GUIDE

When I start shopping for the guys, I love to start at Nordstrom. They always have a variety of options from clothing, to accessories, to shoes and electronics. Nordstrom also carries many of the brands that your guy already loves.
SHOP THE GUIDE

If your guy loves shoes, then you already know that he would love to add to his collection. If your guy doesn't love shoes, he has to wear them anyways! A fresh pair of athletic shoes for your guy is a great gift idea.