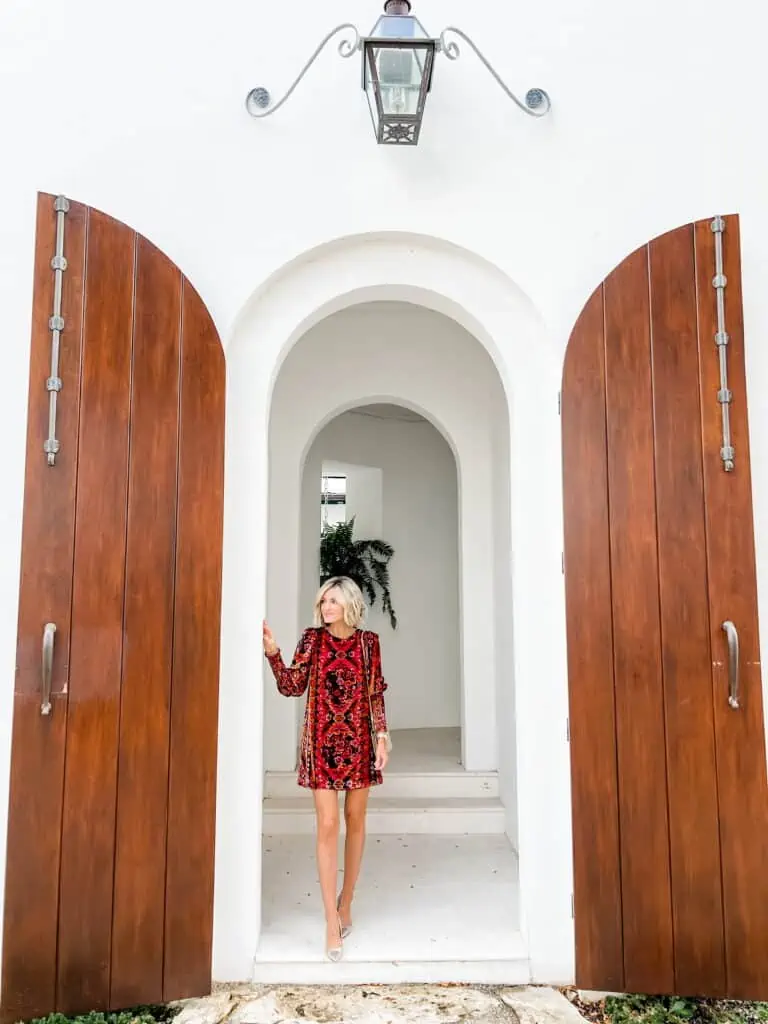 If you've been waiting all year to break out your sequins, velvet, and pops of red, the wait is over! December is jam- packed with holiday office parties, festive outings and more. All of which give you the perfect excuse to shed those sweats, and put on something glamorous. I personally love getting dressed up! It can be fun to mix up your daily wardrobe and put on a fabulous dress that instantly boosts your confidence. Anytime I have an event, I always head to Anthropologie for the best dress selection. I can always count on them to have the best quality pieces and unique styles that I can't find anywhere else.
SHOP THE LOVERLY GREY LOOK

I recently picked up this long sleeve velvet dress from Anthropologie. I can't wait to wear it for the holidays! The crisscross back detail is so fun. It gives an added touch of personality, that is a little unexpected. I'm wearing a size zero, and would say it runs true to size. For a classic look, pair the dress with gold pointed toe heels. I recommend keeping your bag and jewelry to a minimum, since the dress is a statement on its own. I love that the front is a little more on the conservative side, while the back is fun and flirty. This would be a great option for a holiday office party! You could even wear this into work with a black blazer over the top, and shed the blazer for the party!
If you're wanting something a little dressier, I would recommend a dress with sequin details or something that has a hint of silk. If you're wanting to get multiple wears out of your dress, go with something that you know will work for both a holiday party and New Year's Eve! To give you a few ideas, I've rounded up my top options below. These will easily carry you through the remainder of the holiday season!
SHOP LOVERLY GREY HOLIDAY FAVORITES

Anthropologie has an amazing selection of holiday dresses right now. I'm loving all the sequin details, unexpected accents and velvet trim that they've incorporated. If you're on the hunt for the perfect holiday dress to wear to your next event, check out their holiday party shop! It has hundreds of options from the perfect dress, down to just the right accessory. My advice is to go with something that is comfortable to wear and will look great in photos. For me, that was this dress! It has the perfect amount of stretch so that I don't feel constricted. The pattern combined with the puff sleeve detail give it just enough interest to stand out in photos.
ANTHROPOLOGIE HOLIDAY PARTY SHOP
What to Wear to Your Next Holiday Party
I'm rounding up a few of my favorite holiday party options below! Whether you are looking for something to wear to a holiday office party, holiday show, or even just a casual dinner party, I've got you covered. These Loverly Grey approved dresses have been curated with you in mind. This is going to be your best dressed holiday season yet!

If you're on the hunt for even more holiday inspiration from Anthropologie, check out my most recent post with the best gifting ideas, all from Anthropologie!