One of the best ways to capture the moment is with family photos! Early fall is a great time to do this, especially if you're planning to shoot outdoors. The is perfect and the trees are getting brighter. In today's post I curated 8 early fall family photo outfit ideas for the whole family!
We had family photos taken during this time two years ago, and they turned out great! If you want to check them out, click here.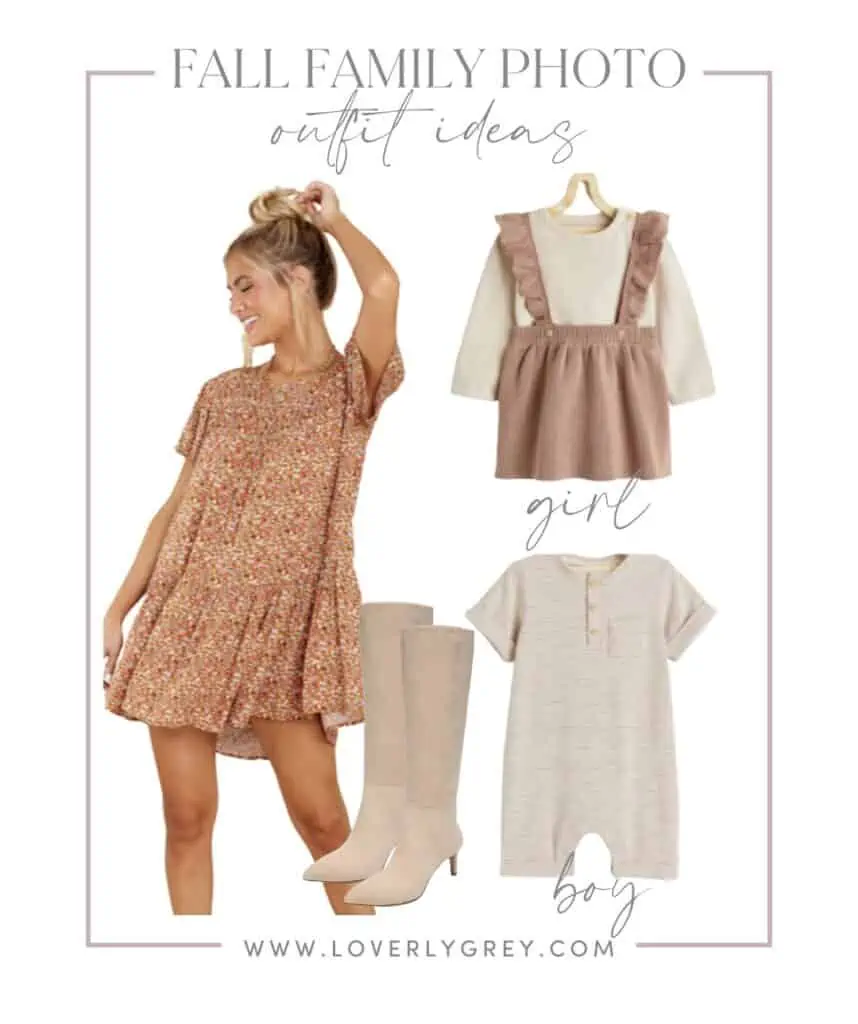 SHOP THE LOOK

Nothing says fall like a warm color palette! This family look is the perfect combination of relaxed and elevated. I love that both the kids' outfits pull colors from mom's dress. If you're pattern mixing, I recommend a thin stripe like the one in the boy's romper. It doesn't distract from the floral pattern in the dress. I recommend having dad wear khakis, or navy chinos, and a tan henley or button down shirt.
SHOP THE LOOK

When thinking about what to wear for family photos, I suggest going with classic pieces that you won't cringe at when you pass by an old picture hanging in your home. One of my timeless favorites is a denim dress. The puff sleeve detail gives it a fun, modern flare that is very on trend right now. I consider denim to be a neutral, so this gives you freedom when it comes to selecting a color palette for your littles! Here, I pulled in a floral pattern and balanced that out with a solid gender neutral one piece. I recommend dressing dad in navy chinos and a cream henley to compliment the blue color scheme.
SHOP THE LOOK

If you're going to be shooting your early fall family photos outdoors, consider incorporating green into the mix. This emerald color will look great against the backdrop of a park or in a garden. For your littles, I love this plaid set. It plays nicely off of the emerald green dress and brings in dimension with the gingham pattern. To keep things cohesive, have your other little one in a while or neutral ensemble. As for dad, have him wear khakis and a white button down.
ELEVATED FALL FAMILY LOOKS
SHOP THE LOOKS

If you're wanting an elevated feel to your fall family photos, these four looks are for you! The key to making your family photos look and feel a little dressier is the fabrics that you choose. Opting for a silk dress, like the two above, is an easy way to instantly give your photos a luxurious feel. Have dad wear chinos or dress pants, and opt for knits and eyelet details for the kids.
SHOP THE LOOKS

I love a blue and white color palette if you're shooting in a studio setting or planning to take pictures at the beach. These two outfit combinations show how you can combine patterns with varying shades of blue to get a cohesive look for the whole family! In both looks mom is wearing a dress, and another option is to wear a midi skirt with a bodysuit heels. If you're wanting a more casual look, have dad wear dress sneakers and style mom in white jeans and a blue blouse!
If you're wanting endless family photo outfit inspiration, I have a feeling you're going to LOVE this section of the blog. Click here to check it out!