We moved into our home last summer and have slowly but surely been completing each room. I'm so excited to share our recent updates to our master bedroom! After finally putting the finishing touches on it with this gallery wall, I have to say, I'm pretty pleased how it turned out!
When we first moved in I shared this space in a blog post. You can read about it here. I started with this Restoration Hardware canopy bed and worked my way out. From a design perspective, I always recommend finding a piece of furniture that you absolutely love and using that as a base to build onto. Although this bed is a bit more of an investment, I knew it was a timeless piece that we could have for years.
MASTER BEDROOM DETAILS
CANOPY BED \\ DUVET COMFORTER \\ DUVET COVER \\ PILLOW SET \\ NIGHT STANDS \\ FRAMED CANVAS \\ BLACK FRAMES \\ LAMP \\ RUG \\ SIMILAR BENCH \\ MIRROR \\ BASKETS \\ SIMILAR WHITE FUZZY RUG \\ OLIVE TREE \\
PAINT COLOR: Benjamin Moore Soft Chamois | RUG SIZE: 9×12
BOLL + BRANCH BEDDING
Part of completely our room was finding the right bedding. I searched high and low for soft sheets and a duvet cover. I finally found the perfect set at Boll + Branch. Seriously, I never thought I would be this excited over bedding. We have the signature cotton sheets, duvet cover and shams. This is one of those purchases I am so glad I made, because it's a lot like sleeping in a cloud.
CODE: LOVERLYGREY for 25% off your purchase
LAUREL + BLUSH PILLOWS
We went neutral for our duvet cover but added a fun pop of color with the Laurel and Blush pillows. She did such an amazing job helping me curate the perfect size, look and texture that I was going for.
CODE: LOVERLYGREY15 for 15% off your purchase
SHOP LAUREL + BLUSH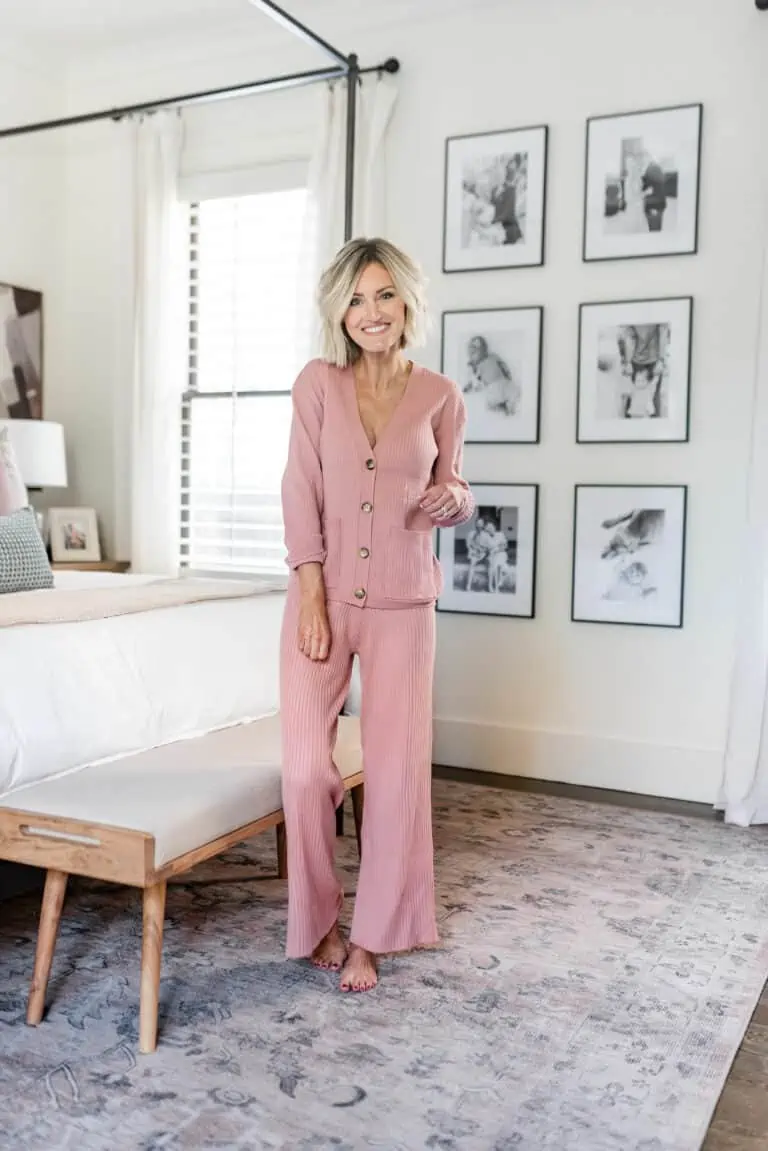 GALLERY WALL
When we were looking for master bedroom furniture, Chris really wanted a nightstand that included a built in charging station. We found these ones from Ballard and are so happy with the look and overall quality.
All that was left was to bring a little life to this empty wall. We opted to display some of our favorite moments as a family. From our wedding day to pictures of the girls, this is by far my favorite wall in the house! The black frames are from Target. We have the 16 x 20 inch ones, spaced out 6 inches apart. We had the photos printed at our local CVS. We simply selected the 11 x 14 poster size and had them printed in black in white. If you download the CVS app it's super easy to do it from your phone. You could also have your photos printed at your local Staples of FedEx and select the poster size as well!
This exact lounge set from Anthropologie is almost sold out. You all know my love for lounge sets runs deep so I'm linking a few others that I'm loving right now, and think you will too!

SHOP THE ROOM
All photos were taken by KVC Photography. Check her out on instagram @kvcphotography.