Every year after the Christmas decor comes down, it feels like my house is empty and bare. I always get the urge to refresh various spaces in my house. This year, my guest bathroom was at the top of my list. I'm so excited to partner with tjmaxx.com to show you exactly how you can refresh your home, on a budget!
GRAPHIC WALL ART | TOWELS | SOAP | CANDLE HOLDERS (similar)
My guest bathroom is a space that I walk by daily, and gets used often. It had been neglected in terms of design since we moved in. I knew that by adding a few key design elements to this space, it would instantly feel warm and inviting. I headed to tjmaxx.com, because I knew they would have the best selection of home decor, that can work in variety of spaces. Plus, I can always find the latest brand name pieces for amazing prices!
SHOP THE LOOK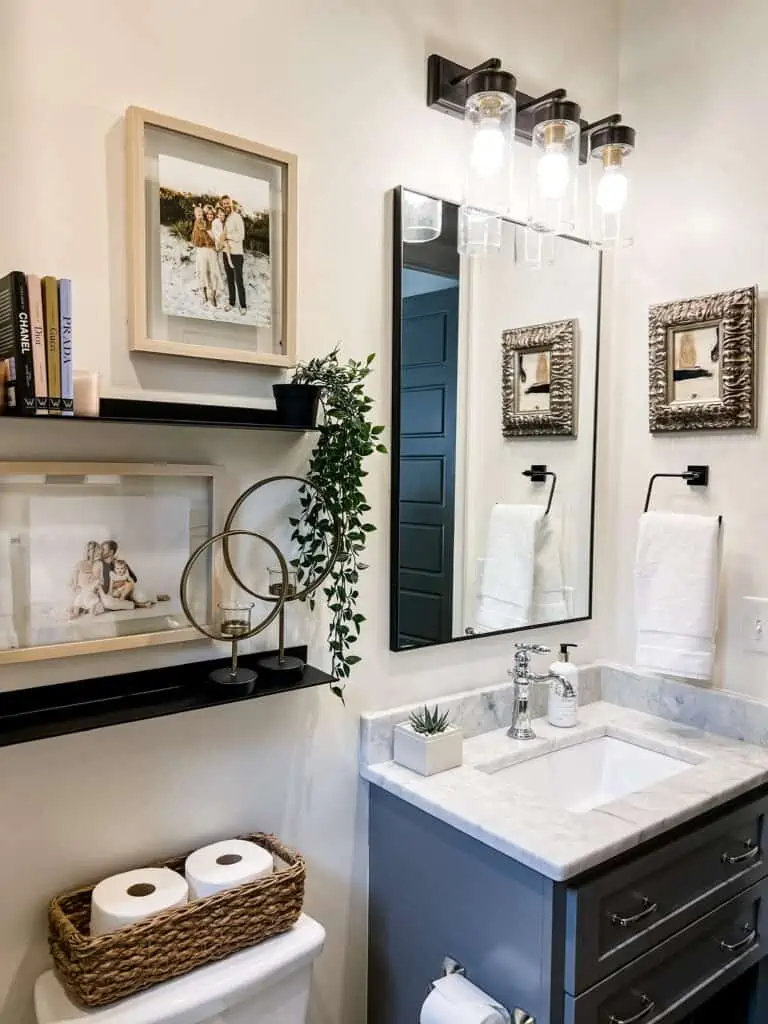 How To Refresh Your Bathroom On a Budget
One of the easiest ways to breathe life into a space is to incorporate varying textures. Don't be afraid to mix metals and different elements in order to create interest! While the hardware in the bathroom is primarily black and silver, by adding pops of subtle brass, this creates a slight contrast. This contract adds interest and holds the eye. I also believe that every space should have an element of greenery. This could be a small plant in the corner, or in this case, a plant that drapes from the shelves and a small succulent on the counter. Finally, I love to incorporate decorative objects that represent your interests. I was able to do this here, with a nice set of coffee table books and framed family photos.
These gorgeous coffee table books and brass candle holders were so popular that they sold out. I'll be sure to keep an eye out for a restock and let you know if they become available again! If you're wanting a similar look, check out this coffee table book or this one, and these gold candle holders! You can even incorporate these pretty marble bookends or amber candle if you're wanting to add another element to your space.
Shelf Styling Tips + Tricks
When it comes to styling open shelving, it's easy to feel stumped on what to put where and how to make it aesthetically pleasing. I used to feel the exact same way. Over the years, I've learned a few tips and trick that make it easy to style any shelf!
I like to start with my larger items first. In this case, it would be these framed family photos. Since I had two, I place one on each shelf. You can lean the frames on the shelf, but I like the way they look when hung on the wall. Next, I added this set of coffee table books. Tjmaxx.com always has a great selection of coffee table books. To check out their current selection, browse this section of their website. I decided to stand them up, but you can also stack them and place the small candle on top. From there I placed the gold candle holders opposite of the books to create balance. Lastly, add an element of greenery to give your space warmth. As you come across more decorative finds, you can always add to your shelf!
Tjmaxx.com Favorites to Refresh Your Home
If you're like me, you likely aren't stopping at refreshing just your bathroom. I love to switch out pillows in my living room, add in some new decor elements and trade out things like blankets and florals for more seasonally appropriate options. I've rounded up a few recent tjmaxx.com finds I have a feeling you're going to love! All of these are perfect if you're looking to refresh your home in the new year!
SHOP THE LOOK

Are you refreshing a space in your home? Let me know in the comments below!