SWEATSHIRT | LEGGINGS | BELT BAG | QUARTER ZIP PULLOVER | JOGGERS
I always love it when Chris makes an appearance on the blog! Today, Chris is joining me to share our new work out looks from lululemon. We started off the year slow with a little time off followed by a quick trip to the Bahamas. It feels like we are just now starting to get back into the swing of things. One of the first things that we wanted to get back to was our weekly workout routines. Chris and I decided to help us get motivated, we would pick up a few pieces from the new arrivals that lululemon just released. I have to say, it definitely worked. There is no better motivation for waking up early and getting a workout in, than knowing you have a great outfit you can throw on!
My lululemon pieces are some of my favorite workout pieces in my wardrobe. I've raved about the quality before, but I'm continually impressed at the technology that goes into making a great pair of leggings. Here I'm wearing the lululemon Align high rise leggings in the 25″ length. I am wearing my normal size, 4 and would say they fit true to size. For a casual look, I paired them with the perfectly oversized cropped crew neck sweatshirt in the color mulled wine, and my favorite belt bag. I have a few other sweatshirts from lululemon and love how soft and cozy they are!
This Everywhere black belt bag is another favorite of mine. I prefer to wear it across my chest as a sling bag, but you can also wear it around your hips. It's a nylon material, so it's super lightweight. It's also great if you're traveling because you can fold it down small in your suitcase!
SHOP OUR LOOKS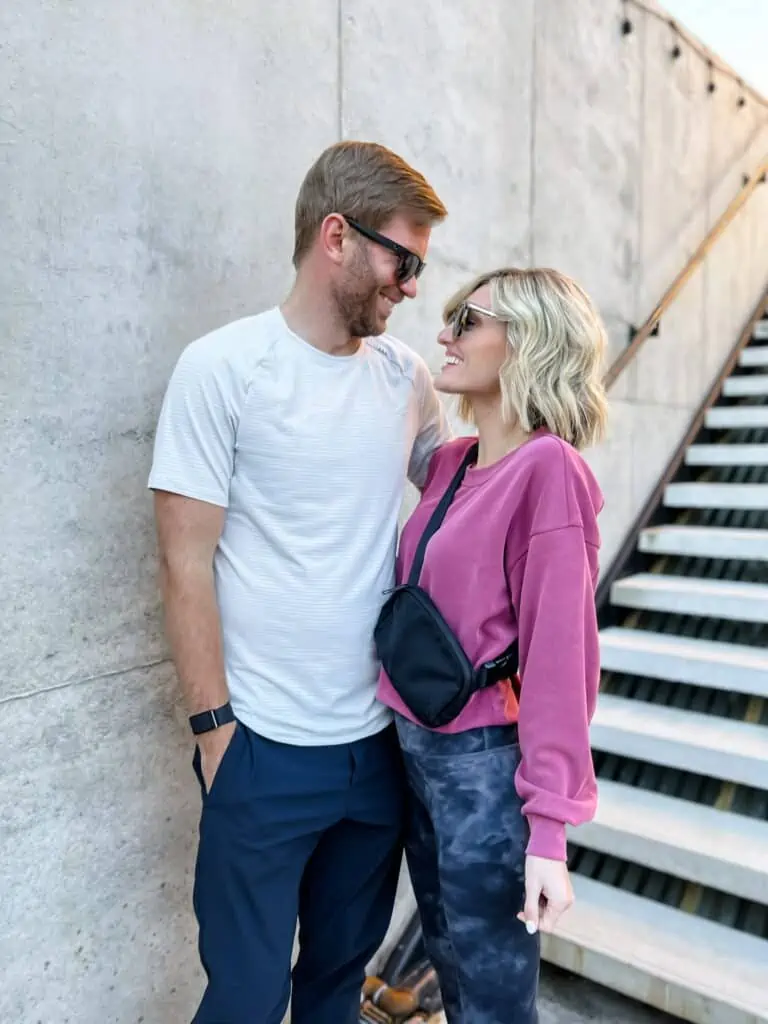 Recently, I ordered a few new pieces from lululemon that I'm excited to wear as the weather gets warmer. I picked up a new color in the Wunder Train leggings, along with a fun new print in the Hotty Hot high-rise shorts. These shorts are great if you're wanting a short that is lined and will stay in place while you're working out. I'll also wear these just around the house with a tank in the summer. I prefer the length of the 4″ inseam, but they also come in a 2.5″ inseam as well. I've rounded up what I ordered, plus a few other items I had my eye on for you below!
SHOP LULULEMON FAVORITES FOR HER

Chris and I both love working out and staying healthy. My favorite workout is going on a long walk, riding my Peloton bike, or doing a workout from an app on my phone. Chris is a marathon runner, so his workouts can be a little more intense than mine. He usually wakes up early, before the girls are awake, and gets in anywhere from a five to ten mile run. When he is training for marathons, his most used workout essentials are always his lululemon pieces. To hear more details about Chris' journey as a marathon runner, check out this episode of the Life With Loverly Podcast, where Brittany and Chris dive into all the juicy details!
Chris also loves that lululemon has a great selection of casual and on-trend pieces that he can wear throughout the day when working from home. He packed this outfit on our most recent trip and was able to wear it casually around the hotel. The material of his Surge Warm Half Zip pullover is lightweight and he didn't have to worry about it getting wrinkled. He also has the Drysense Training short sleeve tee in multiple colors. He loves that it wicks away moisture when he's working out. If you're on the hunt for a Valentine's Day gift the man in your life, Chris rounded up a few favorites that he's sure to love!
SHOP CHRIS' LULULEMON FAVORITES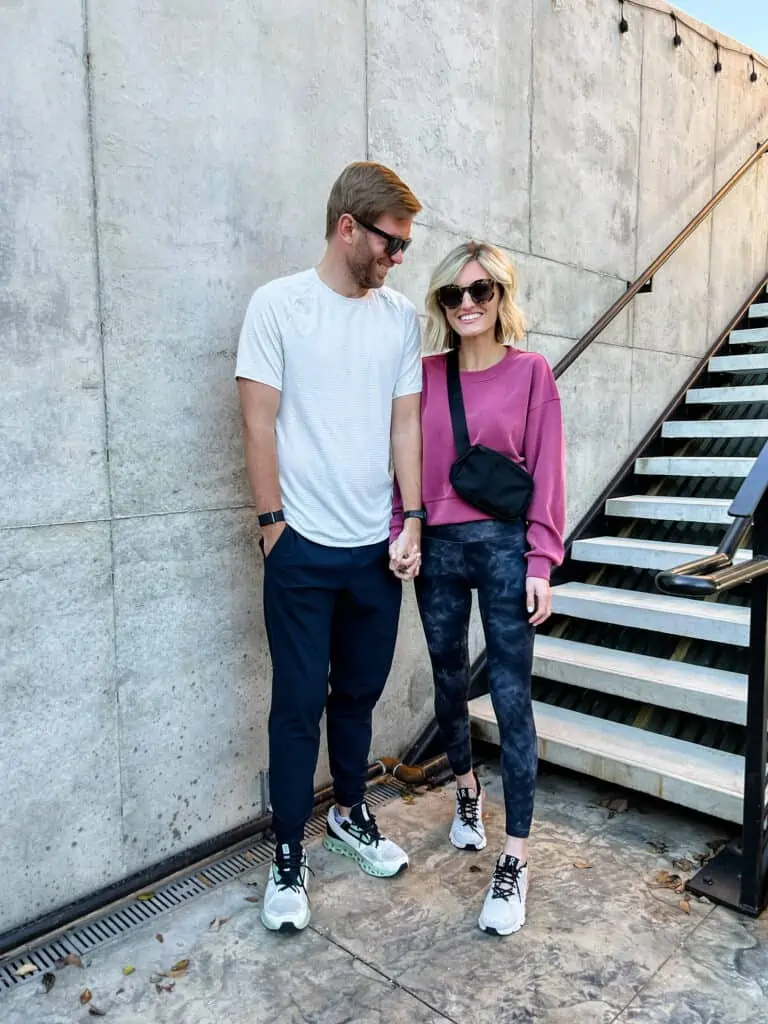 If you've been wanting to invest in a few great workout wear pieces for the new year, we highly recommend lululemon! I've been wearing their pieces for years and love the fit and quality. To see even more of our lululemon favorites, check out this post!
What is your favorite piece from lululemon's new collection?