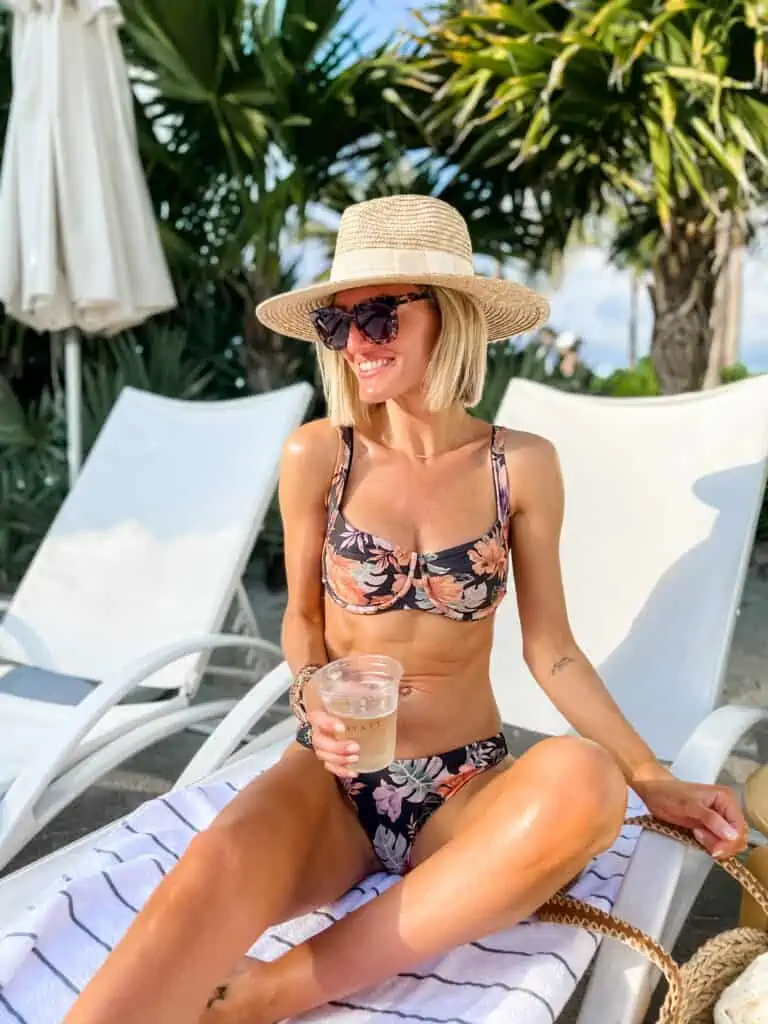 SWIMSUIT | HAT | SUNGLASSES
Chris and I had the opportunity to sneak away to the Bahamas for a few days at the beginning of January. It was so nice to soak in the sun and truly get to relax and recharge. When I was planning for our trip, I immediately went to Nordstrom. They are a one stop shop for beach vacation essentials. I was able to find an amazing selection of bathing suits, hats, sandals, coverups and more! Even in the middle of winter, they offer a great selection of resort wear with a variety of brands. If you're planning for your next beach vacation, I've got you covered. I've teamed up with Nordstrom to share your ultimate guide to resort wear so that you can look amazing for your next beach vacation!
SWIMSUIT | HAT | SUNGLASSES | SANDALS | SHORTS
One of the reasons I love shopping at Nordstrom is the wide selection. I was so impressed at how many resort wear pieces they had. I grabbed this floral two-piece swimsuit in a medium. This brand tends to run a little small. I would recommend sizing up one from your normal size. They also have this pattern in a one piece swimsuit as well! If you're on the hunt for a new swimsuit, some of my favorite swim brands are L Space, O'Neill, Sea Folly and Becca. I've rounded up a few more swim suits that I came across when shopping for my trip below!
SHOP SWIMSUITS

When it comes to planning for a beach vacation, Nordstrom makes it easy and stress-free with free shipping and free returns. A pro tip is to try everything on ahead of time that you plan to wear, so that you know exactly what what to pack. This also makes getting dressed when you're on your trip a breeze. One of my resort wear must-haves is a great coverup. My favorite style coverup is one that can easily transition from the beach to lunch at a restaurant. This makes packing even easier because all you need for daytime wear are your favorite swimsuits and coverups.
SHOP COVERUPS

SHOP THE LOOK

You don't want to forget a few outfit making accessories when packing for your next vacation. I always recommend taking a great straw hat, a straw tote bag that you can wear with everything, a neutral pair of sandals, and your favorite sunglasses! I've rounded up a few of my favorites below.
I was so excited to see that Dolce Vita came out with a flat braided sandal that is just like my favorite heels. I took these with us to the Bahamas and they were super comfortable. I also packed my favorite studded sandals that I've had for over a year! If you're wanting a sandal that is a little more casual and will easily dry if they get wet, I highly recommend these Steve Madden ones!
I ended up bringing a small straw clutch and a straw tote bag. I love that I can use the clutch when going out to dinner or I can tuck it in my tote bag and use it to stay organized. To protect my face from the sun, I packed the Joanna straw hat. Although it was flattened in my suitcase, it popped right back up and looked great! The last accessories that I bought were my sunglasses. These three pairs of sunglasses are my tried and true favorites. I rotate between them all year long, depending on what I'm wearing.
SHOP RESORT WEAR ACCESSORIES

I hope you found this guide to resort wear with Nordstrom helpful as you start to plan your next warm weather getaway! Be sure to check out Nordstrom for even more beach vacation essentials. With their wide selection and on-trend pieces, you're sure to find everything you need for your next trip!
Do you have a beach vacation planned for this year? Let me know in the comments below!