Over the past few years I've tried my fair share of swimsuits. From one pieces to two pieces, mixing and matching and matching sets, I've tried them all. I am so excited that a ton of my tried and true favorites were restocked this year! I'm rounding up all the best swimsuits of the season, including a few new ones I just purchased.
Your Guide To The Best Swimsuits of The Season
SWIMSUIT | HAT | WHITE SANDALS | COVERUP | STUDDED SANDALS
When it comes to selecting the perfect swimsuit for you, consider where you'll be wearing it and how you want to feel! If I'm just lounging by the pool with friends, I may opt for a two piece. However, if I know I'll be chasing the girls around and bending over frequently, I'll grab a one piece with a little more bum coverage. It's all about feeling confident in the skin you're in!
KIMONO | HAT |SUNGLASSES
HAT | SWIMSUIT | SUNGLASSES | COVERUP
What most people forget is that wearing a swimsuit is just like any other outfit, accessories are key! Don't be afraid to add a straw hat and oversized sunglasses. Grab a tote bag and your favorite sandals to complete the look.
SHOP SWIM ACCESSORIES

You guys know I love a great kimono! They are so versatile. You can throw them over a swimsuit as a cover up or add to your shorts and a tank for a more elevated feel. It's an instant outfit booster. I've rounded up a few more of my favorite kimono and swimsuit coverups below!
SHOP SWIM COVER UPS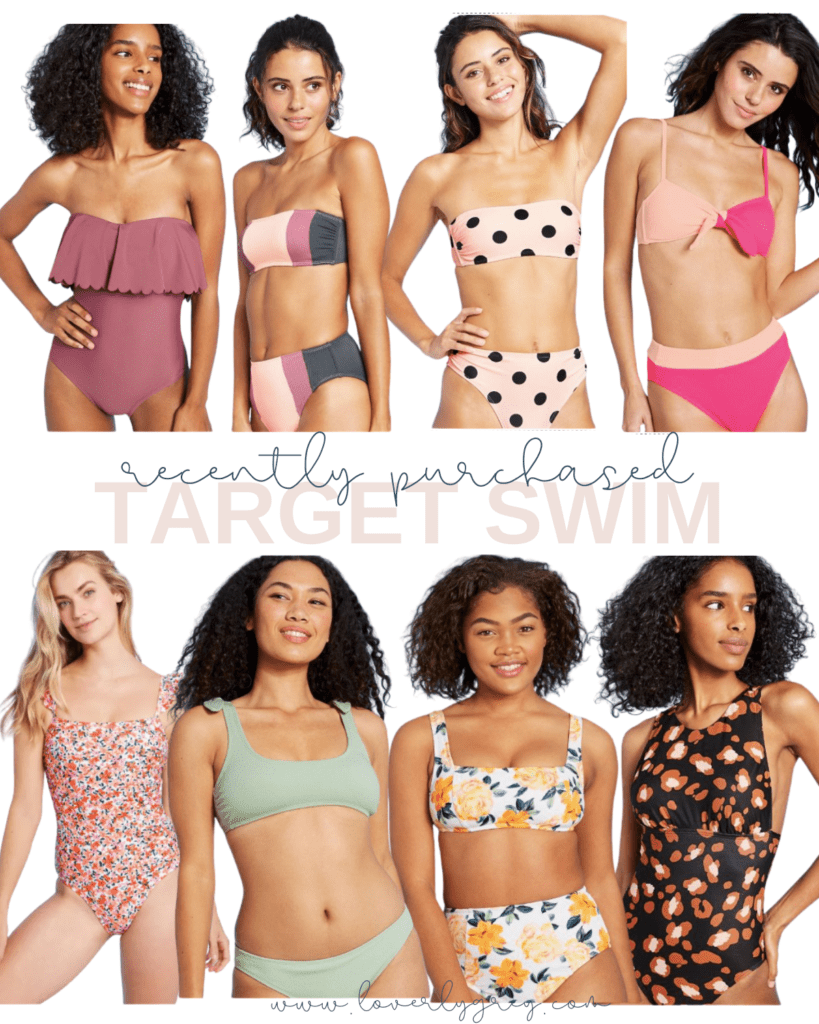 I recently made a huge swim purchase and will be reviewing how the fit and overall quality of each swimsuit is. These are all from Target's swimwear brands. If you want to see the full review, hop on over to Instagram stories. I'll be sure to save the try on haul to my highlight, in case you miss it live.
SHOP TARGET SWIM

I came across to many cute one piece bathing suits this season! Some of these are one's I have from past years and some are ones I can't wait to try. I am so glad that one pieces made a comeback in recent years, they are flattering and perfect for post pardum. Plus, many of these you could wear if you are expecting by just sizing up!
SHOP ONE PEICE SWIMSUITS

I go back an forth between one-pieces and two-piece swimsuits. To be honest, I don't have a favorite, it really just depends on how I'm feeling and what the day looks like in terms of activities planned. However, I love that all of these two-pieces look secure and like everything will stay exactly where it needs to be. A must for a mom!
SHOP TWO-PIECE SWIMSUITS

Below you'll find all the best swimsuits of the season, all in one place! I'll be updating this post over the next few months, so be sure to bookmark it and check back frequently! Oh, and if you need some vitamin C, check out our beach house for your next vacation!
THE SWIM SHOP