Trying to choose the perfect gift for an expecting mama and her bundle of joy can be challenging. That's exactly why I created, your guide to the perfect baby gift. Whether you are attending a shower or starting your holiday shopping early, this has all the best baby gear, in one easy to shop place! This is my complete list of the best baby products that we have tried and loved, with both Collins and Hazel!
Shop Our Looks

When it comes to picking out gifts I usually like to go with practical items that I know both mom and baby will get a lot of use out of. For instance, you'll want to stay away from designer items, things the baby won't ever use or wear and just simply don't serve a purpose. And always, always always provide a gift receipt. There is always the possibility of duplicates or an item not working out, so to be safe, tape the gift receipt to the bottom of the gift or simply place in the card envelope.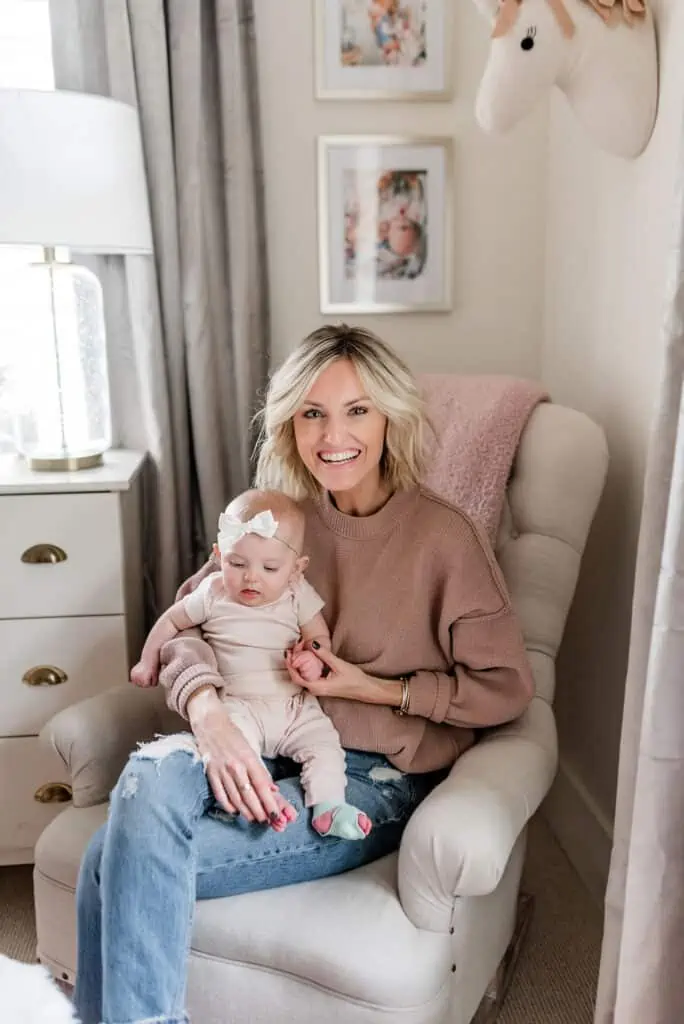 10 IDEAS FOR THE PERFECT BABY GIFT
When selecting the perfect baby gift, I recommend picking a theme and going from there. What do I mean by a theme? It's a collection of items that make sense together and should compliment each other! Below I've given you a ton of examples of how you can mix and match items based on the registry, what's on mama and baby's wishlist and what fits into your budget.
1. FEEDING: Grab a few silicon bibs in some cute colors or patterns, our favorite bottle system, spoons, and silicon mat. If you are opting for a larger gift or splitting the cost with others, you could also purchase a highchair to complete the feeding theme.
2. DIAPERING: You can purchase a box of diapers, wipes, diaper rash cream, diaper refill bags and a diaper pale. This is a great practical and useful theme that mama and baby will be so thankful for!
3. SLEEPING: Purchase the moms on call book, a swaddle, pajamas, sound machine, and a soft blanket. You could even have the baby's name embroidered on the blanket for a personal touch. Be sure to ask about the colors of baby's room first though!

4. DIAPER BAG: You could also do a stock the diaper bag. For this one you will purchase a diaper bag off mama's registry (I'm using the Fawn and love it!) and stock it with everything she needs. Think diapers, wipes, creams, hand sanitizer, portable changing pad, hand and face wipes, boogie wipes, burp clothes, extra set of clothes.
5. SKINCARE: Purchase clean products for both mama and baby! We love using BEAUTYCOUNTER for this. Their products are completely safe and non toxic so we can rest assured both mama and baby will love it!
6. BATH: Grab a baby bathtub, washcloths, towels, baby soap, a baby bath cup to pour the water, and a rubber duck to round out the collection.

7. NURSERY: You could help complete the nursery by purchasing crib sheets or the changing pad and scale. If you are wanting to go with a larger ticket item, we love the Newton Baby Mattress because it's 100% breathable! Use code LOVERLY50 for $50 off!
8. ESSENTIALS: You can always stick to the basic and go with diapers, onesies or pajamas, burp cloths, muslin blanket and a teething ring, and pacifier.
9. ENTERTAINMENT: If you're looking for something more fun you can gift a baby play gym or even a subscription box for educational stem based learning toys. This is one of my favorites!
10. THOUGHTFUL: Lastly I would suggest sending a meal service, or a cleaning service for the first month or two after baby is born. This is one of those thoughtful gifts that you can't register for, but would be amazing to receive!

Below is a list of all of our favorite baby items as well!. If you are interested in learning more about the products we use and love for Hazel or what my daily routine with her looks like be sure to check out THIS post!
No. One | No. Two | No. Three |No. Four | No. Five |No. Six | No. Seven | No. Eight | No. Nine | No. Ten | No. Eleven | No. Twelve | No Thirteen | No. Fourteen | No. Fifteen | No. Sixteen | No. Seventeen | No. Eighteen | No. Nineteen | No. Twenty | No. Twenty One | No. Twenty Two |

BABY GEAR WE CAN'T LIVE WITHOUT
Kiinde Bottle System – It's an investment up front but it literally has everything you need. I especially love that it comes with the rack to hold the pouches, great for freezing or keeping in your fridge!
Owlet Sock and Monitor- This is one of those items that gives us peace of mind as parents. The owlet monitors your baby's hear and oxygen levels and will alert you if they drop.
Snuggle Me Lounger – This is one of my favorite things to gift new mamas! I love that it resembles a hug for babies and I can place Hazel in the snuggle me while we are relaxing on the couch or all snuggling in bed!
Graco Pack 'n Play Set – We used this with Collins as well and it's been so great! Not only for travel but we keep it in our main living space for an easy changing station.
Nuna Rocker – Hazel LOVES being her rocker. It's nice to have a safe spot that she can lounge and play in during her wake time. It's so sweet Collins will come over to her and "chat" while she's in her rocker.
Sound Machines – We have both the dohm portable and regular and would highly recommend both! The sounds machine is essential to the sleep training process so having one you can take on the go is key!
Newton Baby Mattress – As a mom, it can be so stressful, causing you anxiety when your baby sleeps. After purchasing the Newton mattress I felt so much more confident in knowing that Hazel and Collins would both be safe if they did roll over because the mattress is 100% breathable. Not to mention, it's comfortable and easy to clean! Use code Loverly50 for $50 off your purchase!
Bottle Drying Rack and Bottle Brush – I found these two on Amazon and love them. They are simple, yet pleasing enough to look at on my counter. Definitely recommend over the green grass option!
Nose Frida – I thought this was gross at first but it's amazing how often we used this when her little nose os stuffed up. Definitely a baby product I couldn't live without!
SwaddleMe Swaddles – These are our favorite swaddles for Hazel. They are the only ones that she stays in and didn't wiggle out of. They are easy to wash and come in several different sizes!