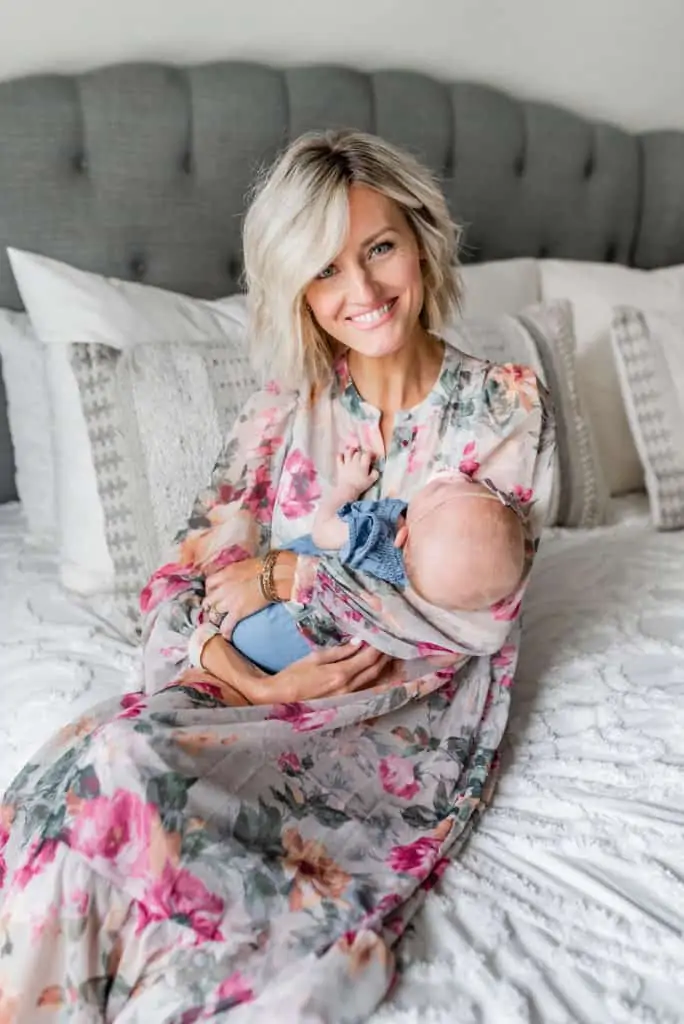 Can y'all believe that Hazel is three months old? As I'm typing this, I'm sitting here shocked that so much time has already gone by since her arrival. Today I want to share an update on how things are going with her, items I'm loving for Mom and baby and her sleeping schedule!
For the most part, Hazel is pretty chill. While she mostly just eats, sleeps and poops, she's starting to get a little personality that is so sweet. She definitely has some sass and a nice set of lungs to let us know when she isn't happy. She's been smiling a cooing a lot lately. Collins is starting to be more interested in her and loves saying "Hazel, it's okay" when she hears her crying – honesty, melt my heart!
We just recently moved Hazel upstairs to her room and she's been doing really well. The first few nights were a little touch and go with her waking up wanting the paci but lately she's been sleeping through the night with 0-1 wake ups.
She was sleeping in the Snoo Bassinet in our room for the first 10 weeks. We used the Snoo with Collins and then again with Hazel since we had it. Both times, we never turned the Snoo "on". We had full intentions of turning it on when we bought it before Collins was born. When she arrived, she seemed to be sleeping fine without the soothing features so we never tried them out. Partially because I didn't want to worry about the transition to the crib. I love how breathable the Snoo is with the mesh lining. Would I buy it again? Probably not, but only because it's an expensive bassinet to not use all of it's functions.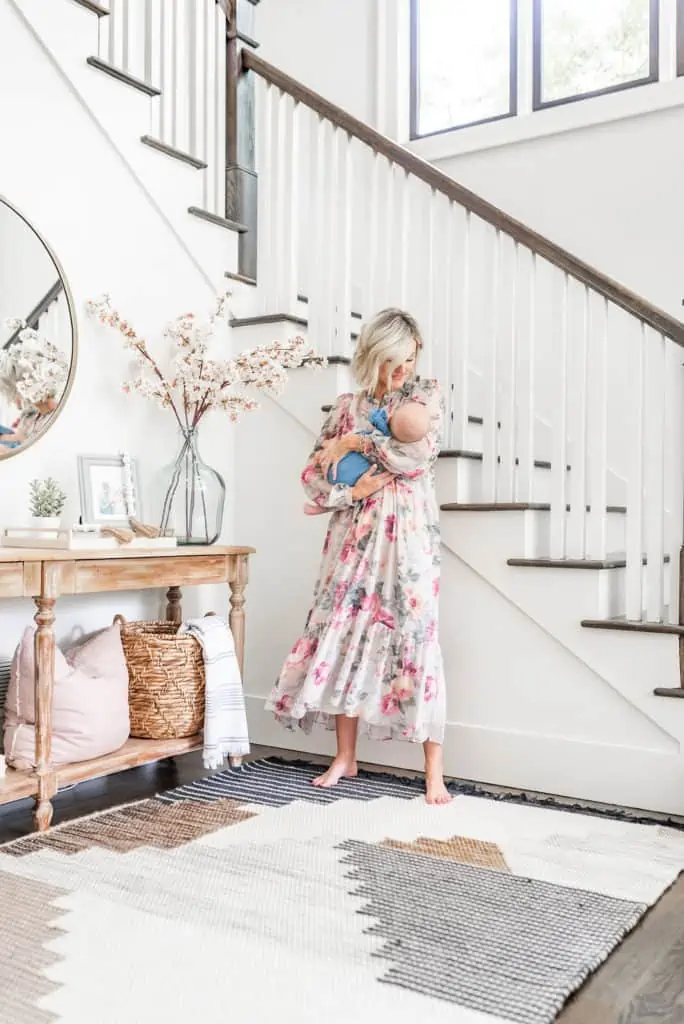 While Hazel was in our room, I got her down to one feeding then eventually sleeping through the night without any feedings. She would occasionally wake up needing to be soothed but nothing the paci couldn't fix. This was all approved by my doctor since she has been gaining weight steadily. We follow the Moms on Call sleep schedule and LOVE the program. I'm incredibly thankful that she is 12 weeks old sleeping through the night and know it's possible because of this schedule.
MOMS ON CALL
I've talked several times about the schedule we are using with Hazel on my Instagram Stories. We follow the Moms on Call books written by two pediatric nurses from Atlanta. Several of our friends recommended this book with their kids and seeing them sleeping through the night at an early age gave me hope. We implemented it with Collins and now with Hazel and cannot recommend it enough!
Because I work for home, having a schedule to our day is important to me. I also like knowing that from this time to time Hazel will be eating or sleeping. I like to eliminate stress where I can and with the challenges that come with being a new mom, having some structure makes me happy. And honestly, keeps us all sane around here!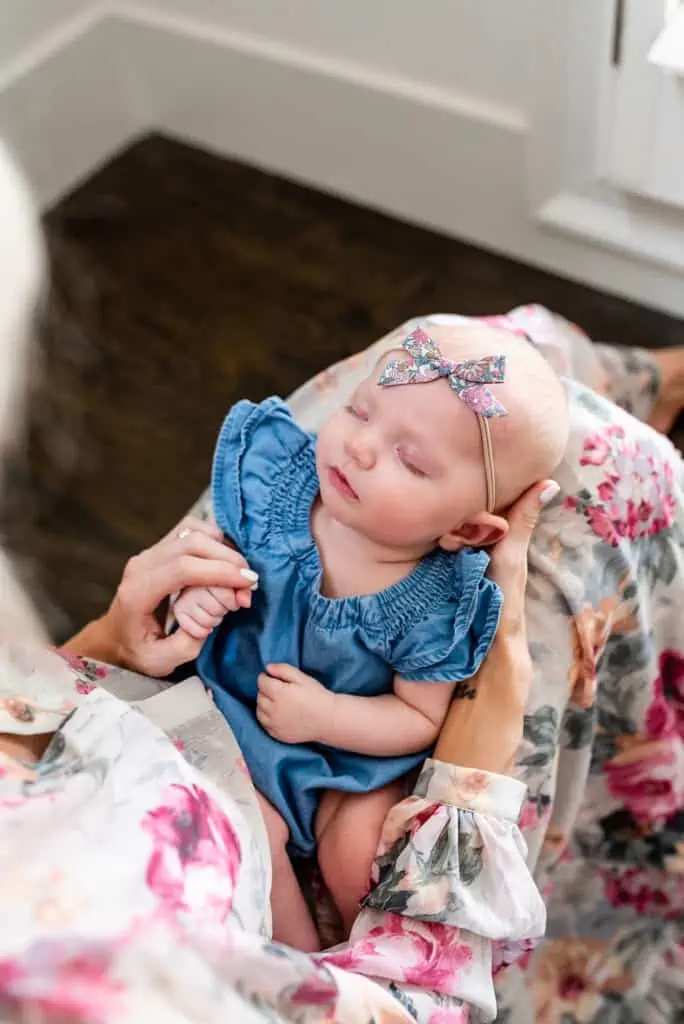 The Moms on Call book has a TON of really good information. We originally bought it because of the schedule advice. It also gives you the run down on things like bathing, bowel movements, what to have in your medicine cabinet for a baby and how to clip their fingernails. They have other sections for illnesses, feeding, sleeping and safety. The first book talks about what a typical day should look like starting at 2 weeks to 6 months. I read the book all the way through (think of this book as a guide – a very easy read) before Collins was born then again before Hazel's birth. We implemented the schedule when both girls were 2 weeks old. As a new mom you have so many questions so having a book that can give you quick advice is nice!
CURRENT DAILY SCHEDULE
Currently we are on the 8-16 week schedule and it looks like this:
7a – Wake and eat, some playtime until first nap – usually on play mat
8:30a – Sleep
10a – Eat and playtime
11:15a – Sleep
1p – Eat then playtime – lots of talking to her and listening to her "talk"
2:30p – Sleep
4p – Eat. She usually stays up after this feeding until we do bath, bottle, bed but sometimes she takes a short nap before bath.
6:30p – Bath. No matter what the rest of the day is like, this part of the schedule is the most important to keep in tact. I truly think she sleeps the way she does at night because of the consistency of the night time routine.
7p – Eat
7:30p – Sleep. She will sleep from this point until 7a. She started sleeping through the night at about 10 weeks. Our pediatrician okayed her to do so and said she was at a healthy weight and could go 12 hours between feedings from night to morning.

This schedule will shift a bit when we introduce solids but the bath, bottle, bed portion will stay the same. Collins is on the same night schedule with bath at 6:30p then bed at 7p.
You can purchase the Moms on Call book HERE!
MOM + BABY ESSENTIALS
There are sooo many baby products on the market and trust me when I say, you DO NOT need them all! With the second child, it's funny how little you actually need. There are a few items I'm loving for Mom and baby that I would highly recommend and products that we loved with both girls.
Our favorite baby item and the one product I HIGHLY recommend is the Owlet Monitor. Our nephew had several breathing and oxygen related issues when he was born through his first two years. We weren't sure if this was something we should be worried about and thought it was best to be safe than sorry. We use the Owlet sock every night on Hazel and did the same for the Collins for her first year. Having peace of mind is 1000% worth the cost of the Owlet.
I am currently nursing Hazel and have loved these Amazon nursing tanks and nursing bras. They are comfy and what I wear daily. I'm thankful that our nursing journey has been going really well. I would say better than my journey with Collins. I feel much more prepared this time around. I try to nurse her at every feeding but there are times that she gets a bottle if I'm not around.
I have exclusively used the Elvie breast pump with Hazel and LOVE it. I used a Medela pump with Collins and hated the fact that it wasn't portable or hands free. You can read more about my The Elvie has been amazing to wear while I play with Collins or do other things around the house. At this point, I'm only pumping once a day (unless I'm not with Hazel during her feeding) at night before I go to bed. I was pumping an additional time each morning to store extra milk and release the oversupply my body was making. I will continue to share my feedback on the Elvie pump as we go.
COUPON CODE
If you are interested in one for yourself, my code LOVERLY15 will get you 15% OFF your purchase.
MAMA MUST HAVES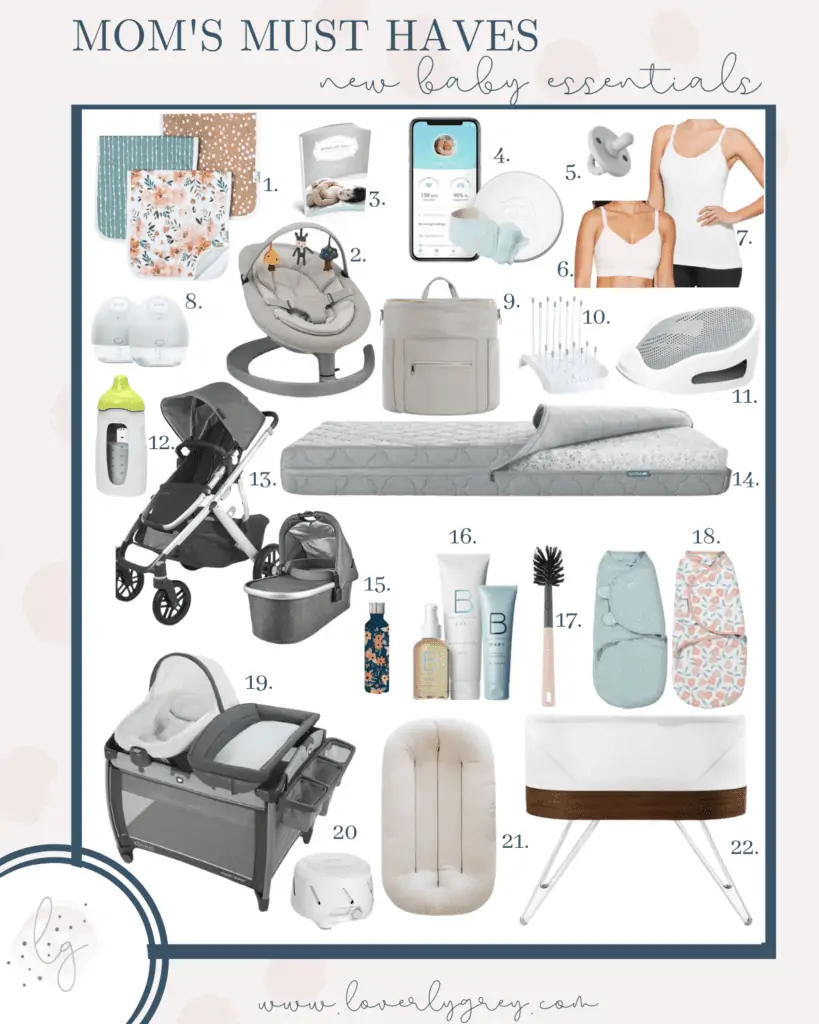 No. One | No. Two | No. Three |No. Four | No. Five |No. Six | No. Seven | No. Eight | No. Nine | No. Ten | No. Eleven | No. Twelve | No Thirteen | No. Fourteen | No. Fifteen | No. Sixteen | No. Seventeen | No. Eighteen | No. Nineteen | No. Twenty | No. Twenty One | No. Twenty Two |

BABY GEAR WE CAN'T LIVE WITHOUT
Kiinde Bottle System – It's an investment up front but it literally has everything you need. I especially love that it comes with the rack to hold the pouches, great for freezing or keeping in your fridge!
Snuggle Me Lounger – This is one of my favorite things to gift new mamas! I love that it resembles a hug for babies and I can place Hazel in the snuggle me while we are relaxing on the couch or all snuggling in bed!
Graco Pack 'n Play Set – We used this with Collins as well and it's been so great! Not only for travel but we keep it in our main living space for an easy changing station.
Nuna Rocker – Hazel LOVES being her rocker. It's nice to have a safe spot that she can lounge and play in during her wake time. It's so sweet Collins will come over to her and "chat" while she's in her rocker.
Sound Machines – We have both the dohm portable and regular and would highly recommend both! The sounds machine is essential to the sleep training process so having one you can take on the go is key!
Newton Baby Mattress – As a mom, it can be so stressful, causing you anxiety when your baby sleeps. After purchasing the Newton mattress I felt so much more confident in knowing that Hazel and Collins would both be safe if they did roll over because the mattress is 100% breathable. Not to mention, it's comfortable and easy to clean! Use code BrittanyS50 for a discount on your purchase!
Bottle Drying Rack and Bottle Brush – I found these two on Amazon and love them. They are simple, yet pleasing enough to look at on my counter. Definitely recommend over the green grass option!
Nose Frida – I thought this was gross at first but it's amazing how often we used this when her little nose os stuffed up. Definitely a baby product I couldn't live without!
SwaddleMe Swaddles – These are our favorite swaddles for Hazel. They are the only ones that she stays in and didn't wiggle out of. They are easy to wash and come in several different sizes!
OUTFIT DETAILS
Dress runs a little big, wearing size XS. I would suggest going down a size if in between.
If you're a new mama or currently expecting (congrats) be sure to check out THIS post for nursing friendly tops! And be sure to follow along on stories, as I share daily tips , tricks and some mom fails too!