Charleston is my favorite city in the South. I've been visiting Charleston religiously a few times per year since I was 14. We've had special family vacations there, shopping adventures and of course, my bachelorette party. Today I'm going to share my most recent trip with you. Anna and I went to Charleston a few weeks ago for Charleston Fashion Week. I went in 2017 and loved seeing emerging designers pour their heart and soul into their work. When it was time to decide if we wanted to attend in 2018, it was a no brainer for me!
I'm also going to get into details about where to stay in Charleston and few restaurants that we loved. There is so much to do in Charleston and if you've never been before, I highly recommend taking a girls trip or romantic adventure there soon!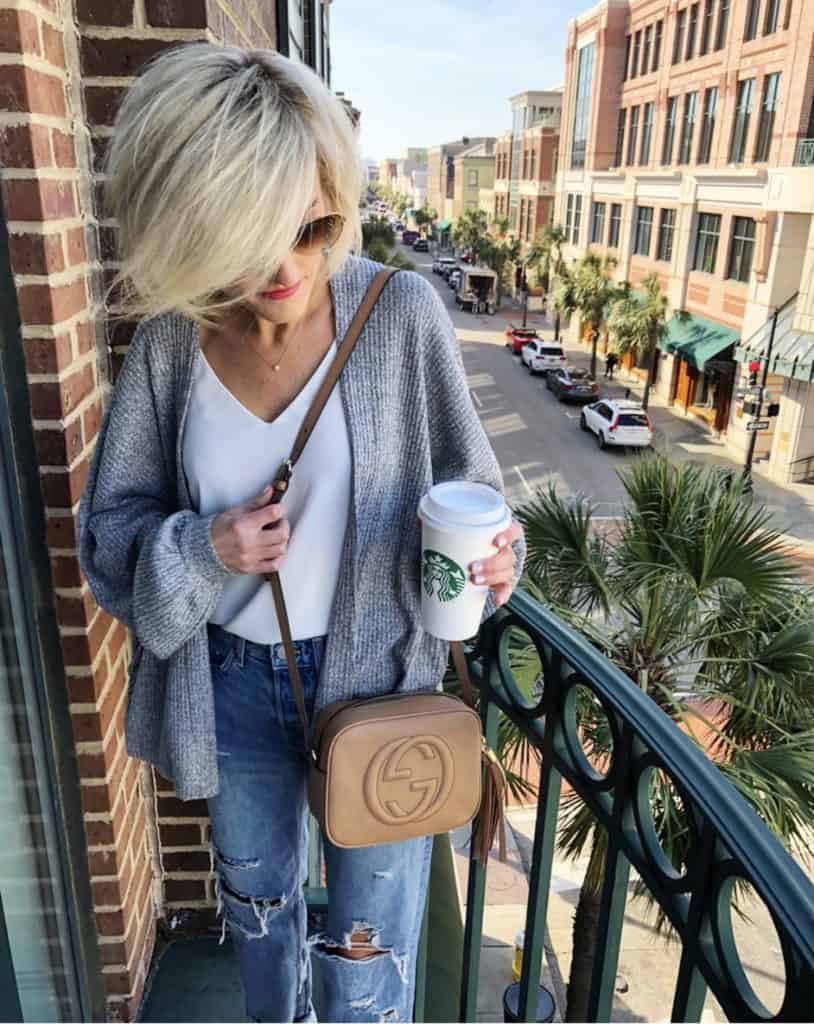 Where to Stay
We stayed at the Belmond Charleston Place on this trip and absolutely loved every second of it. Charleston Place is located right in the heart of the Historic District and right off King Street. One thing I love about Charleston is that you can walk everywhere if you pick a hotel that it central to everything. The Belmond was exactly that for us on this trip.
We got all checked in and had a lovely King Room with a Balcony overlooking King Street. The view was amazing! We opened our balcony door every morning while we were getting ready to hear to early hustle and bustle of King Street. The room was amazing. It was spacious with plenty of room for two people. The bathroom looked to be recently renovated with marble countertops and a large walk in shower.
The Belmond Charleston Place just renovated their spa. Although we didn't experience a treatment for ourselves, we did take a peak inside and I know I'll be booking a service on my next trip. They have a stunning indoor, heated Olympic size swimming pool and quaint hot tub. They also have a large sun deck on the rooftop that overlooks King Street. This is the perfect spot to relax after a day of shopping!
We absolutely loved our stay and will definitely be back to the Belmond Charleston Place this year! You can see more of what this stunning hotel has to offer in our Vlog that's live on my Youtube Channel!
What to Eat
If you were following along via Instagram Stories with us while we were in Charleston, you probably would have thought we went to Charleston for a food tour instead of Fashion Week. Charleston is known for it's incredible food scene with new restaurants opening weekly. I have my favorite spots that I must go to every time I'm in town, like Stars Bar and Grill & Amen Street Oyster Bar, but I'll give the new eats a shot too!
We ate dinner on night one at the Darling Oyster Bar and my oh my was it good. Their cocktails are amazing, the ambiance inside the restaurant is inviting, yet modern and their food was something to write home about. We enjoyed oysters, hushpuppies, the burger and shrimp and grits. Then we topped it off with their s'mores dessert. Trust me when I say you need to try it!
On Wednesday brunched at Miller's All Day. Let me start out by saying any restaurant that claims to serve breakfast and brunch all day is my kinda place. We were lucky enough to be one of the first people to eat at Miller's. They had only been open about a week when we were there and we couldn't wait to try out their unicorn grits. Honestly they had me at pink grits but add unicorn and I'm all in! At Miller's we tried several items on their menu including their brunch cocktails and pie. The food was everything we wanted a more! The inside was incredibly Instagram worthy, including their all pink bathroom! Add this spot to your list of places to eat when you come to town!
If you are looking for a spot to grab cocktails and watch the sun set, you will want to check out The Watch. We had small bites and champagne before the shows one night and loved the views from this spot. You can see so much of Charleston from this rooftop. I'm a sucker for a good rooftop bar and could spend hours taking it all in. This would be the perfect spot for pre dinner cocktails or a post shopping glass of champagne!
Other restaurants I would recommend are: Caviar and Bananas, Coast Bar and Grill, Halls Chophouse, The Macintosh, The Ordinary, Cannon Green, Callie's Little Hot Biscuits, Eli's Table and Magnolia's to name a few.
Charleston Fashion Week
Each night while we were there we attended Charleston Fashion Week. They do a great job of showcasing local boutiques and up and coming designers. Everything about the designers, the entertainment before, after and during the show makes this event one I will continue attending each year. Charleston Fashion Week is always open to the public and you can easily purchase tickets to attend. I was able to meet a few readers each night and loved spending time getting to know them. You can also shop around in one of the tents before and after the shows to get a little taste of what the shopping in Charleston has to offer!
I can't wait for our next trip to Charleston! Every time I'm there I discover new things I love about the city. I am secretly hoping that Chris's company will open a location there and we will one day be able to call Charleston home. Until then, I'll continue to visit and hope you will do the same!
Don't forget to check out my YouTube Channel to watch our Vlog from the trip!!