Today I'm sharing a few spring beauty and skincare finds with you from Walmart. Who doesn't love a good drugstore makeup haul every now and then!? I love designer beauty products just as much as the next girl but you never know when you might only have drugstore options to choose from. I wanted to share a few of my favorites with you to reboot your skincare for spring!
Some of the products I use daily to take off my makeup and refresh my skin are part of this post. I've done several makeup tutorials on my Instagram stories but haven't shared what I use to take my makeup off each day! My absolute favorite makeup wipes are the Nuetrogena grapefruit makeup removing wipes. I've been using them for the last five years and love them. After I remove my makeup with the wipes, I use a charcoal bar to wash away all the excess dirt. I have acne prone skin so the charcoal really helps me control acne. Another product that I use daily to keep my skin looking fresh would be Clean and Clear oil absorbing blotting sheets. I like that these because they don't remove your makeup when you blot out the oil.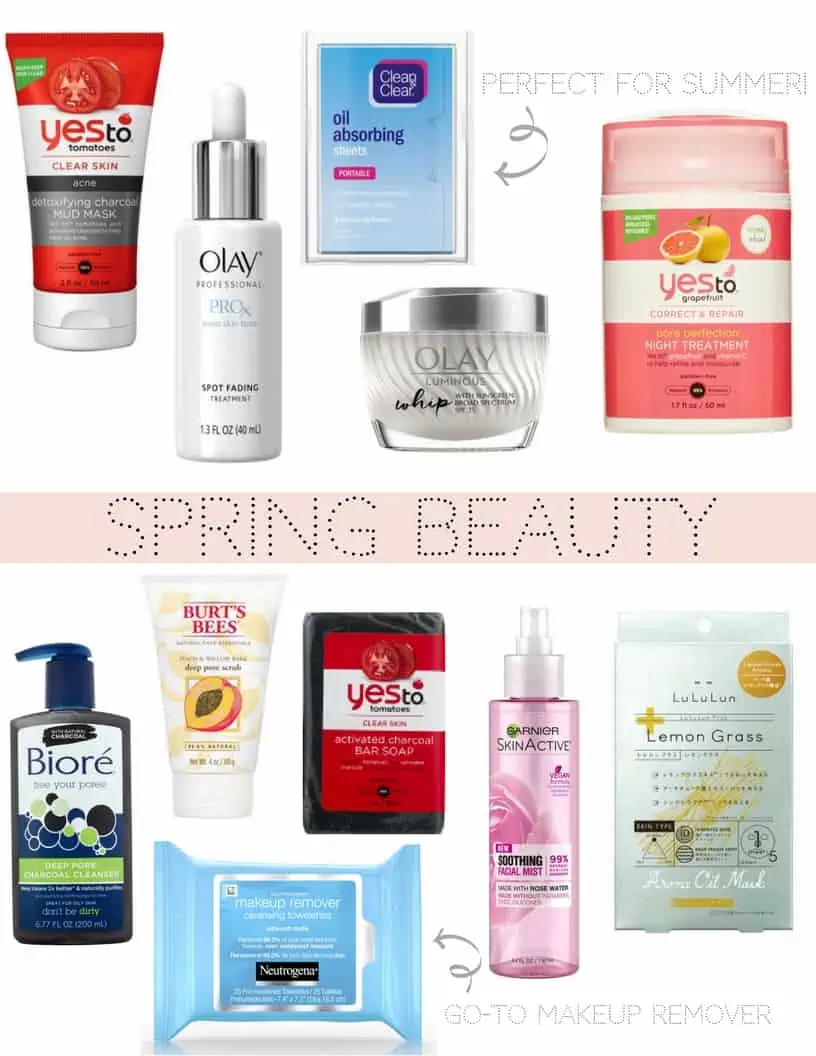 I've also linked a few other products that I would recommend using if you are trying to do a skincare refresh at drugstore prices. I actually just tried the Yes to Tomatoes Charcoal Peel and really liked it. It comes with a cool applicator and was really easy to use. Not to mention, it left my face feeling really clean afterwards!
Next I want to share a few make up products I love from Walmart! Have you checked out their Burt's Bees selection? Every time I'm there I love how many Burt's products they carry. Their lip gloss and BB cream are two of my favorites, especially if you are looking for a no makeup look. I also love stocking up on nail polish from Walmart. Essie nail polish is one of my favorites. I love the color Chinchilly.
I've linked a few other great makeup options that you can purchase at Walmart. I'm excited to try the Maybelline Setting Powder. I'm always looking for something to help control my oily skin that won't break the bank!

What are your favorite skincare products to use when you need a little refresh? Can't wait to hear what you love!! Today's blog post is sponsored by Walmart. As always, all opinions are my own!