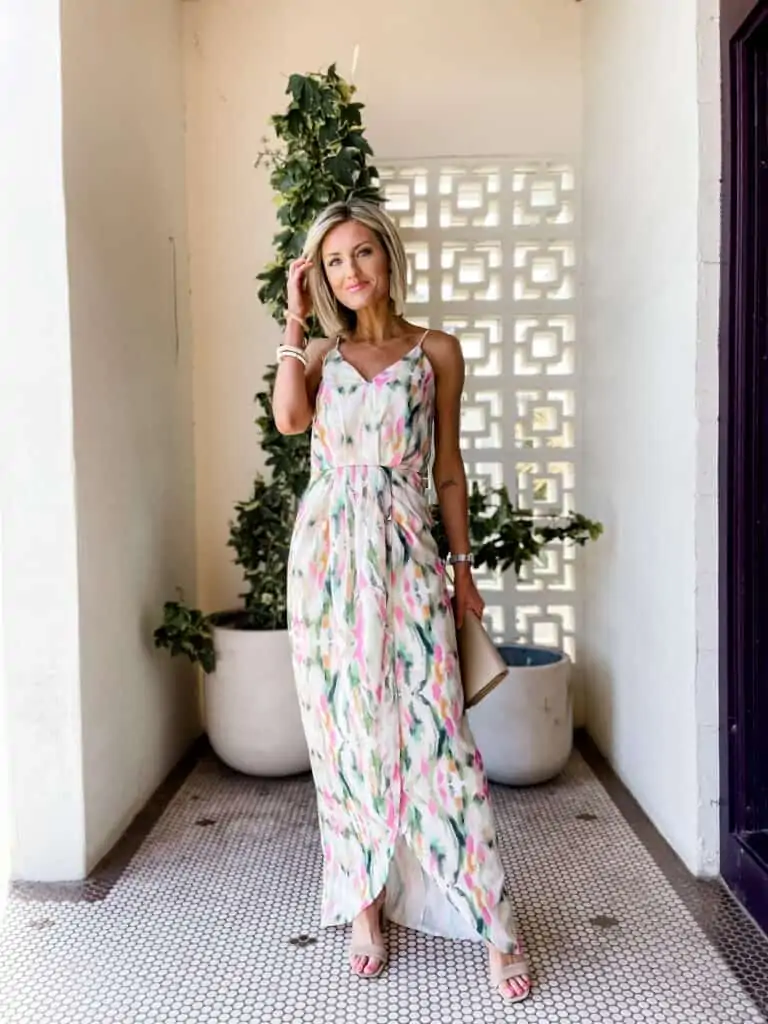 Wedding season is officially upon us! I've heard from friends that this is going to be a busy season for weddings. I've teamed up with Nordstrom to share my ultimate spring wedding guest dress guide, complete with the best spring dresses, accessories and shoes! Anytime I'm on the hunt for a special occasion dress, I always head to Nordstrom. I'm always impressed with their wide selection of on-trend styles and the variety of brands to choose from. I love that you can find something for a beach wedding, casual wedding and formal wedding!
Spring Wedding Guest Dress Guide
I love any excuse to get dressed up and celebrate with friends or family! For a spring wedding I usually gravitate towards a lighter color palette and neutral accessories. If you're attending a casual or semi-formal wedding, I recommend a midi or maxi dress. The key is to look for a dress in an elevated fabric for a dressier look.
This spaghetti strap dress is perfect for a semi-formal wedding! I love the watercolor pattern for spring. The faux wrap top and front pleats are extremely flattering. The slight high-low hem makes it easy to walk in. I also love that the spaghetti straps are adjustable. I'm wearing an XXS. I recommend sizing down one from your normal size for the best fit.
SHOP SPRING WEDDING GUEST DRESSES

I love to bust a move on the dance floor at weddings. I'm not one to shed my shoes, so I always look for neutral heels that are both cute and comfortable. This is especially important if the wedding you are attending is going to take place outdoors. To avoid sinking in the grass, opt for a block heel as opposed to a stiletto.
I've had these Sam Edelman block heels I'm wearing few years now. They are one of my most worn pairs of dress shoes. I also loved the Dolce Vita Pailey braided heels. I've worn both to weddings in the past, and I was able to wear them the entire time. If you're on the hunt for the perfect neutral heel to compliment your spring wedding guest dress, I rounded up a few of my favorites below!
SHOP SPRING WEDDING GUEST SHOES

The final touch is rounding out your wedding guest look with the perfect accessory! I always carry a small clutch or shoulder bag. Last year I invested in a YSL chain wallet, and I'm so glad I did. I've gotten a ton of use out of it. I love that it easily compliments any wedding guest look. You can also grab it when you're heading out for a date night or grabbing drinks with friends. It's pretty thin, making it easy to pack if you're wanting to take a small bag on a trip with you as well. I also love that it comes with a removable strap. You can wear it as a crossbody or use it as a clutch.
I also love having the option of an affordable clutch or handbag! This faux leather crossbody by Steve Madden is less than $50 and comes in four colors. I love that it's lightweight, and the gathered look is right on trend. Another great option is this neutral envelop style clutch that less then $75! It's perfect if you're wanting something that will easily pair with anything in your wardrobe.
SHOP SPRING WEDDING GUEST ACCESSORIES

If you're wanting to be the best dressed wedding guest at the next wedding you attend, I recommend checking out Nordstrom! They have a wedding shop on their website that makes it super easy to find exactly what you're looking for. I also love that they automatically suggest other similar items you may like, based on what you're currently browsing. They even provide style tips and video walkthroughs of their products!
Are you attending a spring wedding this year?