You guys loved the fall family photo style guide so much that I thought it was only fitting to bring it back! This time I've curated 10 family looks for you, your husband and your littles. These looks are meant to be easy to throw on, and have a casual spring time feel. I've found that if you're comfortable in what you're wearing, you'll be a little more comfortable in front of the camera!
Your Guide to The Prettiest Spring Family Photos

HOW TO COORDINATE MULTIPLE LOOKS
Family photos can be hard, especially when you are trying to coordinate 3, 4, 5 + people's outfits to look cohesive and not like spring threw up all over you. My advice is to start with one print that you love and work your way out from there. For instance, I think this little bubble romper is too cute! I used that as my base and coordinated everyone's outfit's around that. But don't feel like you have to plan around your kids. If you have a dress you absolutely love, plan the outfits around that piece instead!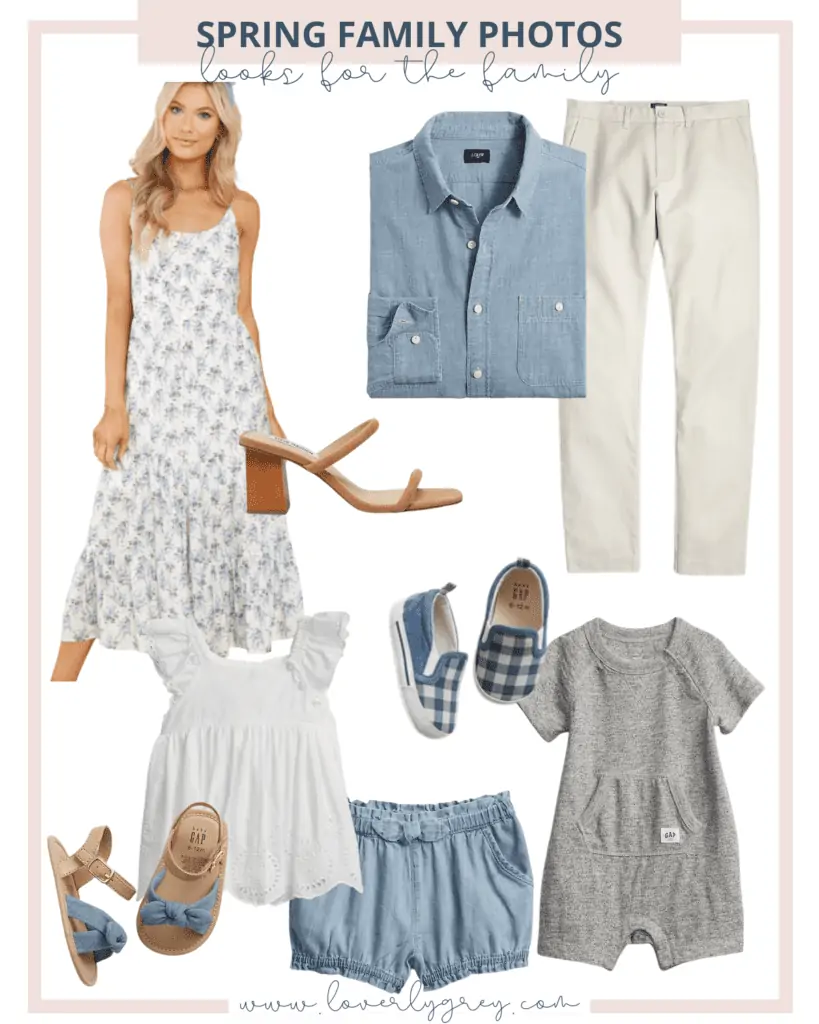 CHOOSING A COLOR PALLET
The trick to choosing a color pallet is sticking with it! You will want to choose one main color and then 1-2 complimentary colors. Too many contrasting colors will be distracting in photos. A great example is this yellow color pallet below! Yellow is the main color but we worked in khaki, white and an olive green as complimentary colors. The yellow is very muted so we choose a muted olive green to play off of that. The baby romper has a touch of red but still ties into the warm color pallet because it has yellow and green within the floral detail.


HOW TO MIX PATTERNS CORRECTLY
The key to mixing patterns in to ensure they compliment each other. Generally you can mix one small and large pattern but not two large patterns together. We were able to do this here with the dainty floral maxi dress and wildflower baby set. The colors play off each other nicely, creating interest as opposed to being distracting. In this scenario, I would have the dad hold the baby and the mom hold the toddler in photos, in order to separate the two patterns.


WHERE TO SHOP FOR THE WHOLE FAMILY
It can seem daunting trying to curate your own looks, which is why I came up with 10 for you! But I thought it might be helpful to share my go-to retailers for shopping for the whole family. I like to be able to knock out the whole family in one trip, so I usually stick with retailers that have adult and kid options. My favorites are Old Navy, Gap (especially for the kids!), H+M, Jcrew and Target!



You guide to the prettiest spring family photos is meant to be used as a resource! Feel free to bookmark this page and come back to it. There are so many great options that could also work for Easter, an upcoming baby shower, maternity photos or even engagement photos!
In case you missed the fall family photo guide you can check it out below!
YOUR OUTFIT GUIDE TO THE PRETTIEST FALL FAMILY PHOTOS