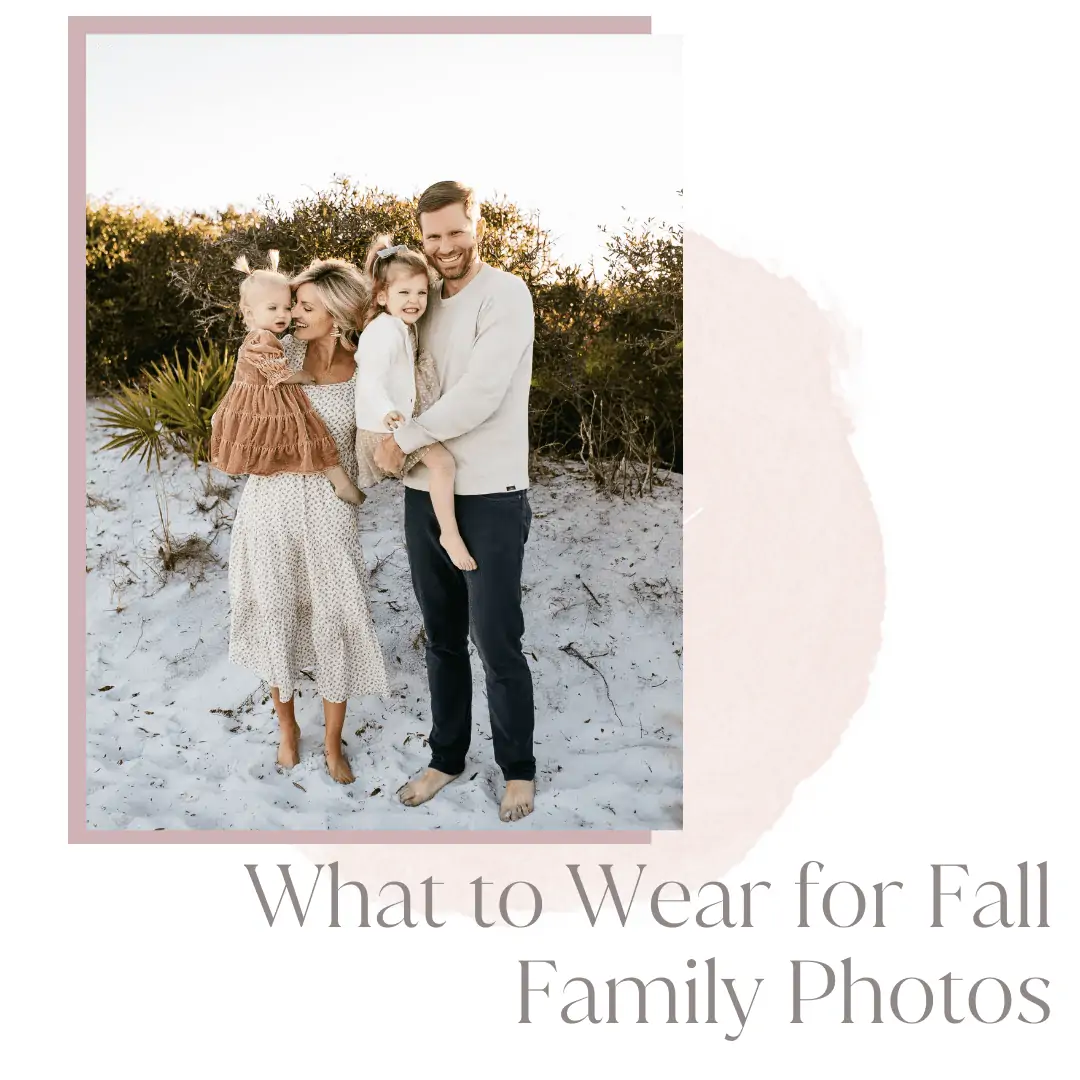 Fall is one of my favorite times of the year to snap family photos. The changing leaves and crisp air make the perfect setting if you opt for an outdoor shoot. In addition to my usual curated family looks, I'm also sharing our very own family photos over the years. If you have been wondering what to wear for fall family photos, this guide is for you! Let this post serve as inspiration for you and your family as you plan your very own fall family photo session.
Throughout this post you'll see my own family photos from over the years. Many of the exact items are sold out. I sourced similar options so that you can recreate the looks!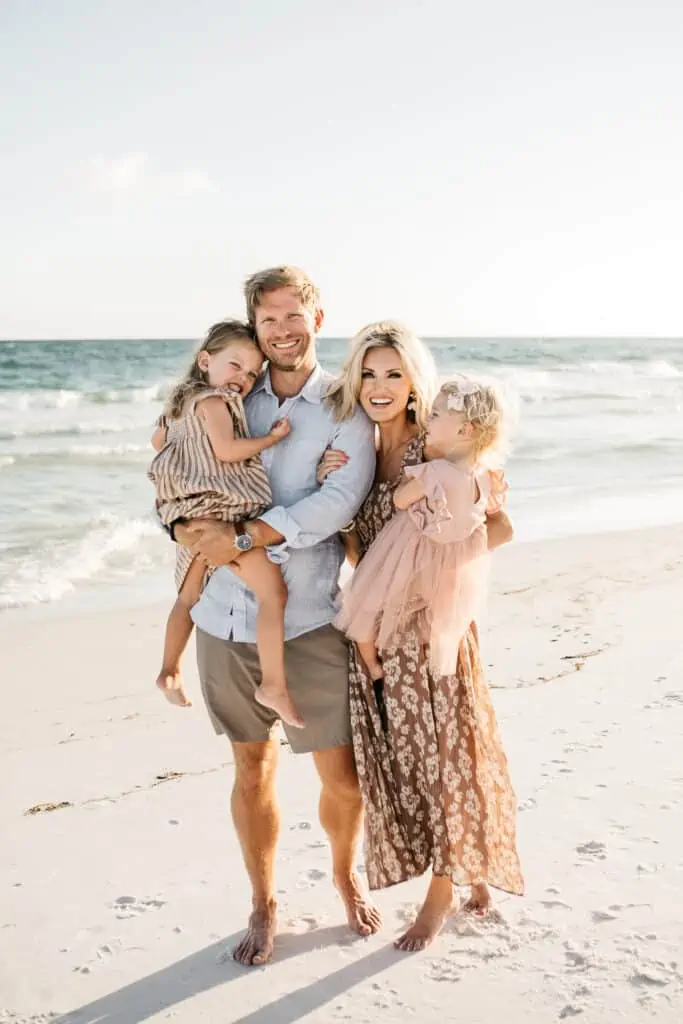 SHOP THE LOOK

The key to great family photos any time of the year is a coordinating color palette. You want to avoid matching or everyone wearing the same color. This can be a quick way to date your photos, as we typically see this in family photos from the same decade as when I was a kid. Instead, you'll want to start with one core color and incorporate varying neutral shades and textures to tie the looks together. You'll see an example of this throughout this post!
SHOP THE LOOK

Oftentimes, when we think of fall family photos, we think of pumpkins and mums galore. However, your fall family photos don't have to look seasonal! We snapped these photos in the fall of 2021 while visiting our beach house in Florida over Thanksgiving break. To make these photos feel like fall, we focused on warm neutral colors and lots of texture! I opted for a long sleeve dress with a dainty floral print. I dressed the girls in velvet and sequin tulle dresses to bring in varying textures. My mom pulled the looks together with her mauve sweater dress and suede boots. Keeping with our neutral palette, the boys opted for darker hues to tie the overall look together.
SHOP THE LOOK

In this fall family look, you'll spot varying patterns and shades of mauve, tan and orange. I always recommend starting with one core piece, whether that is mom's dress, dad's shirt or your little one's dress. In this case, we're building out the look from mom's dress. I recommend adding knee high suede boots to give this floral dress a fall vibe. For both girls I opted for dresses. One is a rich tan, and the other is a soft mauve with a dainty floral print. The softer print in the dress doesn't distract or compete with the print in mom's dress. I would plan to layer a basic white long sleeve tee under the jumper dress or a cream cardigan over the top. Dad's shirt pulls out the rust color in mom's dress, tying this fall look together!
SHOP THE LOOK

This photo session was taken in the fall of 2020 here in Athens, GA. I wanted to have beautiful photos that included our entire family. My brother and sister-in-law and my nephew joined in on the fun too!
Coordinating nine outfits for family photos was the ultimate challenge. We decided that pulling multiple colors from the dress was the way to go! The floral print has pops of both blues and pinks. My mom's pale blue dress perfectly complimented the floral pattern, while Hazel's romper brought in a fun pop of color that tied everyone together. My dad coordinated with my mom and we kept Chris and Collins in neutrals. I did a blog post on how to style the whole family, click here to check it out!
SHOP THE LOOK

When thinking about your color palette for your family photos, you may want to also consider the decor in your home. Hear me out, if your photos are bright reds and oranges and everything in your home is blue and pink when you go to hang your family photos on the wall, there is a chance they may look out of place. Let's be honest, half the reason we go through the effort (and investment) of family photos is to enjoy them. It's a way to capture a sweet time in your life and hopefully bring you joy as you look back on them.
If you're thinking about a color palette with blues, this fall family look is easy to recreate! I kept it simple with a blue and white midi dress for mom. To add a little texture, layer this cardigan over top, but wear it off one or both of your shoulders. This gives your photos a casual feel while adding texture. Dad can wear his go-to navy dress pants or chinos with a light grey or white button-down. Layering a blush knit sweater over a tulle dress to gives the illusion of separates! Dress your other little one in a denim dress to bring in another shade of blue to complete the family look!
SHOP THE LOOK

An easy way to elevate your fall family photos is to bring in an element of sparkle! This can be in the form of a dress for mom or for your little one! I especially love that this dress has sequins at the top and a soft tulle skirt on the bottom. In this family look, we let Hazel's dress anchor our color palette, and we all played off the floral pattern in her dress. Collins' skirt and sweater complimented my elevated dress, but because it wasn't exactly the same, it doesn't look as if we were trying to match. I also opted for an eyelash cardigan to ground my sequin dress and give the photos a slightly more casual feel.
Pro-tip, if your tulle skirt or dress is ever too long, take a pair of sharp scissors and cut the bottom! Use chalk to mark the lines of where to cut, so it's the perfect length for what shoes you plan to wear!
SHOP THE LOOK

A floral maxi dress is one of my favorite styles to wear for family photos. This dress would also be gorgeous for maternity photos, a baby shower, or newborn photos! To play off the soft floral pattern, I opted to keep everyone in neutrals and varying textures. I didn't want it to feel like too much white and cream, so I layered a waffle cardigan over my little one's dress, to add in color! Another option would be to ditch the cardigan and swap the cream dress for something pink.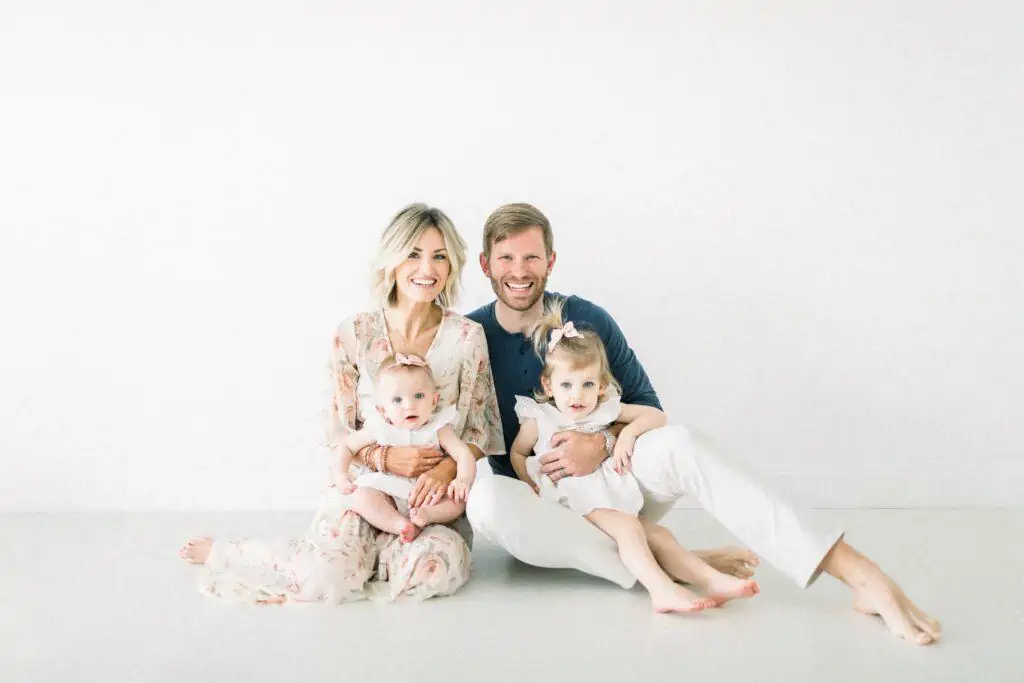 SHOP THE LOOK

These family photos are a perfect example of how to execute a matching moment with your littles! I loved this white dress so much that I ordered it for both girls! To balance out the white and soft florals in my dress, I opted to have Chris anchor our color palette with a navy henley. He paired his long sleeve henley with stone-washed khaki pants to balance the contrast of the navy. If you're not confident in tying together multiple colors, this is a great way to go!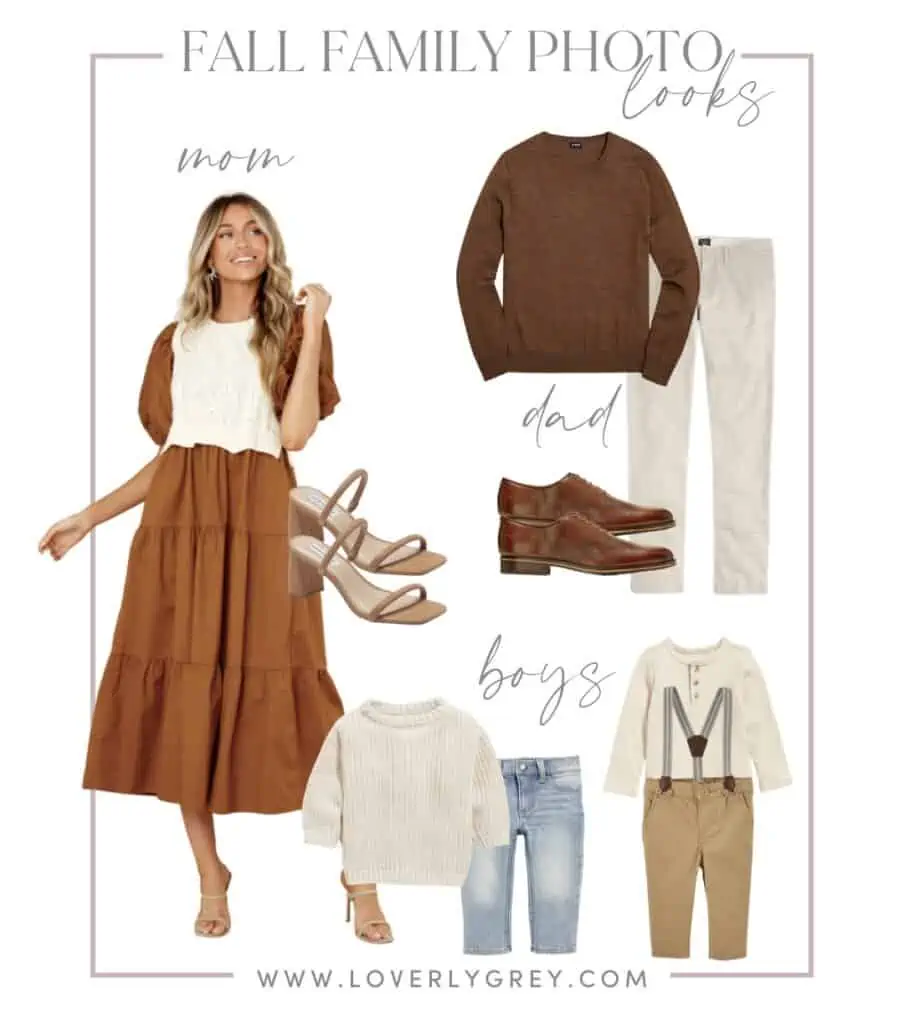 SHOP THE LOOK

For a modern take on a color palette that feels like fall, this is the way to go! I love the rich rust color of this dress. The sweater vest layered over the top is part of the dress design; however, you can easily recreate this look with two separate pieces! For the boys I recommend sticking with varying shades of cream and khaki. The darker tone chino pant plays nicely off mom's dress. I also opted to bring in a brown sweater with rust undertones for dad. You could also find a plaid shirt that pulls the color from mom's dress to add pattern to this look!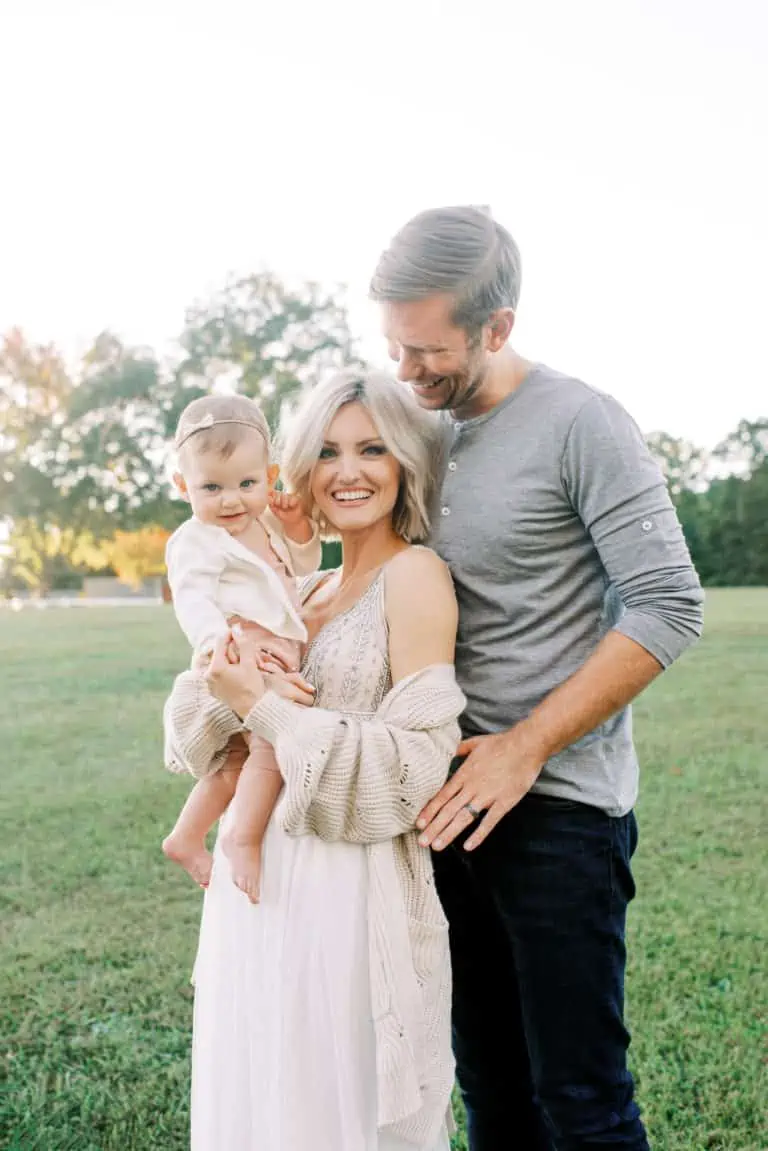 SHOP THE LOOKS

These photos were snapped in 2019 when Collins was just a little one! It's hard to believe that was almost four years ago. In this family photo session, we are going for an elevated yet relaxed feel. We achieved this by incorporating textures such as sequins, tulle, and open weave sweaters. My dress has a naturally elevated feel, so we grounded the look by adding the cardigan and having Chris wear a henley tee and black jeans. To see more photos from this family session, click here!
SHOP THE LOOK

In this fall family photo look, we played with bold patterns and rich colors. The floral maxi dress is the statement piece the other looks are built around. I pulled the pinks and tans from the pattern and added texture with the corduroy dress and waffle sweater. To complete the look, we put dad in a neutral sweater and navy chinos. If you have a boy, you can swap the pink dress with navy pants and a denim button-down to bring out the shades of blue in mom's dress.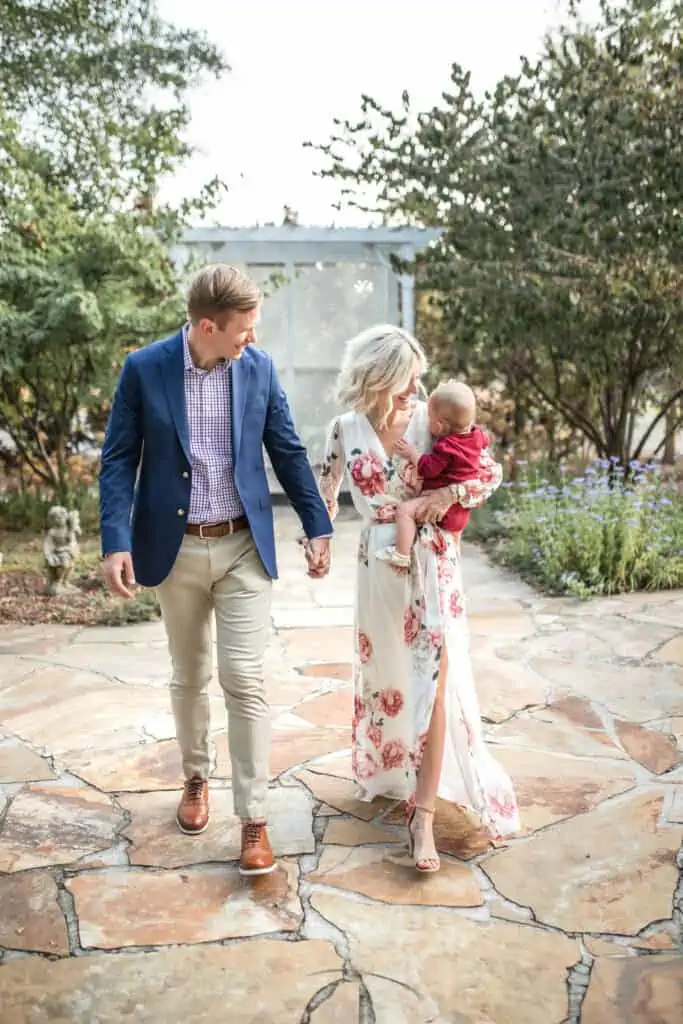 SHOP THE LOOK

We are going all the way back to the start of our little family with some of our first family photos! In these photos we opted for a bold color palette of reds and navy. My maxi dress has a bold floral pattern, so I knew dressing Collins in a bold pattern, wasn't the way to go. Instead, I opted for a romper that perfectly pulled the red from my dress. Chris complimented us in a gingham print button-down and navy blazer. The pattern in his shirt is small enough that it doesn't compete with my dress. This is the key to mixing and matching patterns!
---
If you're wanting even more outfit inspiration for fall, check out THIS section of the blog! I have over 10 family photo guides for every season of the year.
THE FALL FAMILY PHOTO SHOP
SHOP FALL DRESSES FOR MOM

SHOP FALL LOOKS FOR HIM

SHOP FALL OUTFITS FOR YOUR LITTLES