In yesterday's post I was talking all about Collins' schedule and what we do to have a routine in our lives. The one question I got over and over was what is my pumping schedule. I mentioned that we feed Collins a bottle of breastmilk at her last feeding of the night so I'm sure that is where this request came from. I figured since I was sharing a few nursing/pumping friendly styles from JCPenney, it would be a good time to answer this question too!
I'm no expert or even close to knowing what I'm doing when it comes to pumping. In fact, a friend came over a few weeks ago and she is also a currently pumping mom. She had her pump and was getting ready to start pumping and I figured it would be a great time to ask her a few questions since we had the same pump. Turns out I was using mine completely wrong – this was like 7 weeks into me pumping daily. So I guess take everything I'm about to say with a grain of salt.
I started pumping as soon as we got home from the hospital. I did this mostly to get relief between feedings. I didn't really know what my plan for pumping was but I knew that I would need some stored supply for times when I was out or to let Chris feed her so I could shower or nap in the beginning. A first, I was pumping 2-3 times per day but now (Collins is 15 weeks) I usually pump 1-2 times per day.
Collins eats every three hours during the day and I try to breastfeed her each time and then Chris feeds her a bottle at her nighttime feeding. Sometimes I pump while he is feeding her and other times I wait until before bed to pump. Regardless of when I've pumped or if I've pumped in a day, I always pump before I go to bed which is usually sometime in the 10p hour. At this point, I can make it until her 7a feeding so I don't have to wake up in the night to pump. She's been sleeping through the night for a few weeks now and I quickly realized that I didn't want to wake up to pump if I didn't have to. I usually pump 7-8oz at that time and that's what she eats the next night when Chris feeds her the bottle.
In the beginning, I was pumping a lot more and had a good amount of milk stored up. As I've gotten busier with work and started pumping less, my stored milk supply has been dwindling, mostly because we have been using it for her to eat when I am away during the day. I'm actually starting to pump more to get that supply back up since I have a few trips coming up that I won't be with her for.
I wish I had great tips and tricks on pumping but I don't. I am going to try to pump 2-3 days per day and even if I only get a few ounces at a time, that's better than nothing!
A few of y'all have given me tips to increase my supply and my favorites have been oatmeal cream pies – they actually work! Boobie Bars, any drink with coconut water, just drinking lots of water in general and lactation cookies! I also recently had cinnamon rolls that had a lot of yeast in them and noticed that my supply was really good over the next few days. Definitely hit up google for ideas if you are looking to increase your supply!
I'll update this post as things change or if I try something that really works for me when it comes to pumping. I also have a saved highlight on my Instagram profile with lots of nursing and pumping friendly tips and products I love including my favorite pumping bra and the pump I use daily.
Now onto a few tops and dresses that are nursing and pumping friendly from JCPenney. I've been partnering with JCPenney for a while now so it's no surprise that I'm looking to them for these types of clothes. Lucky for me and you if you are in the season, they have plenty of great options!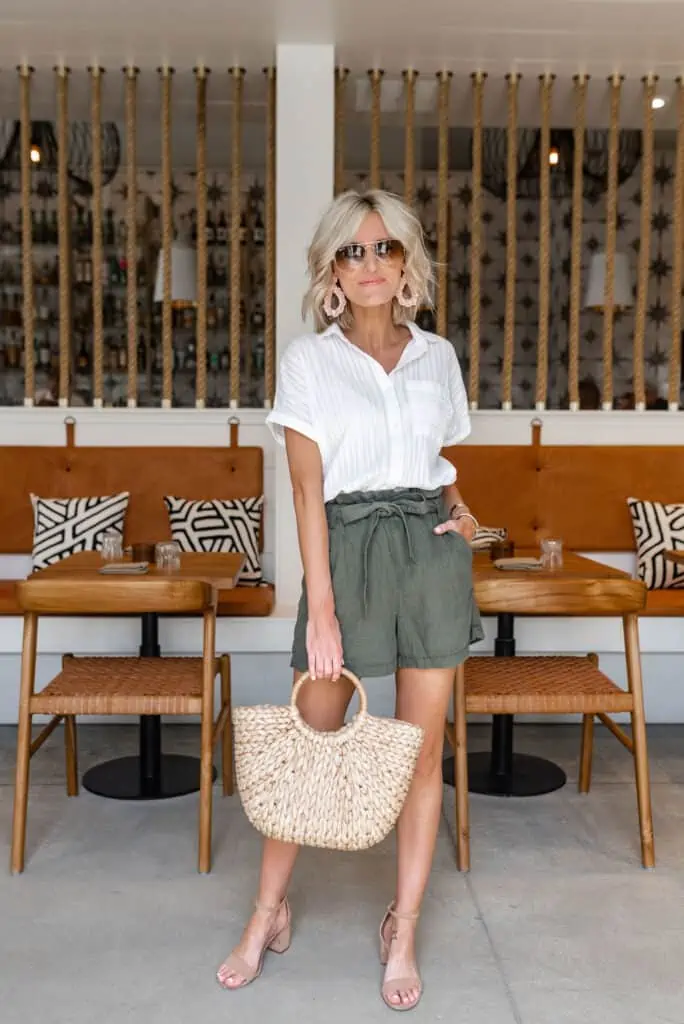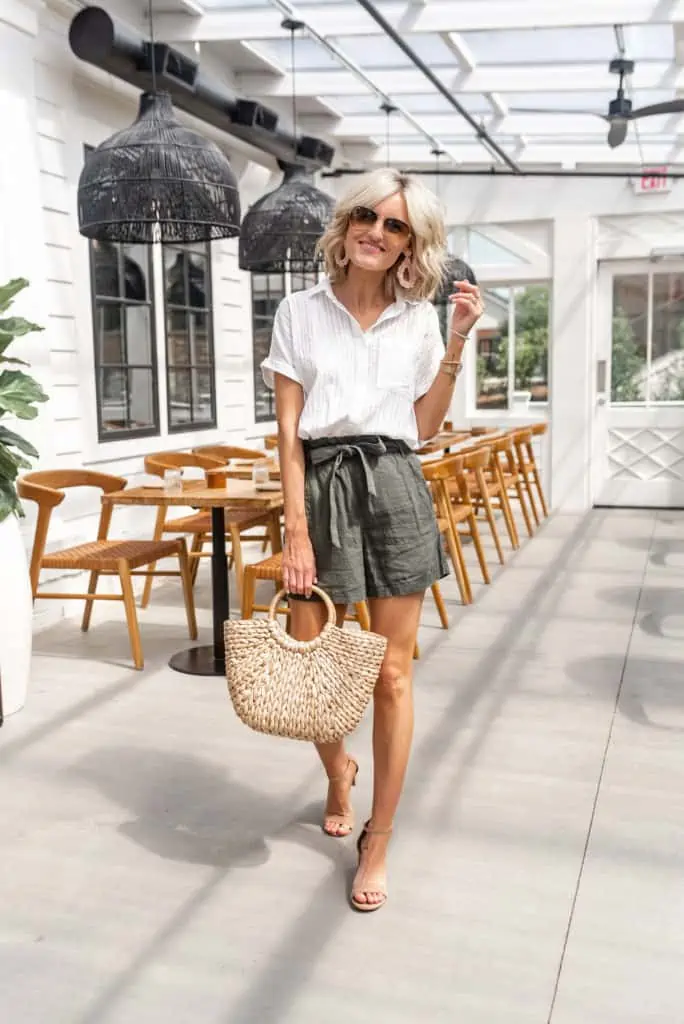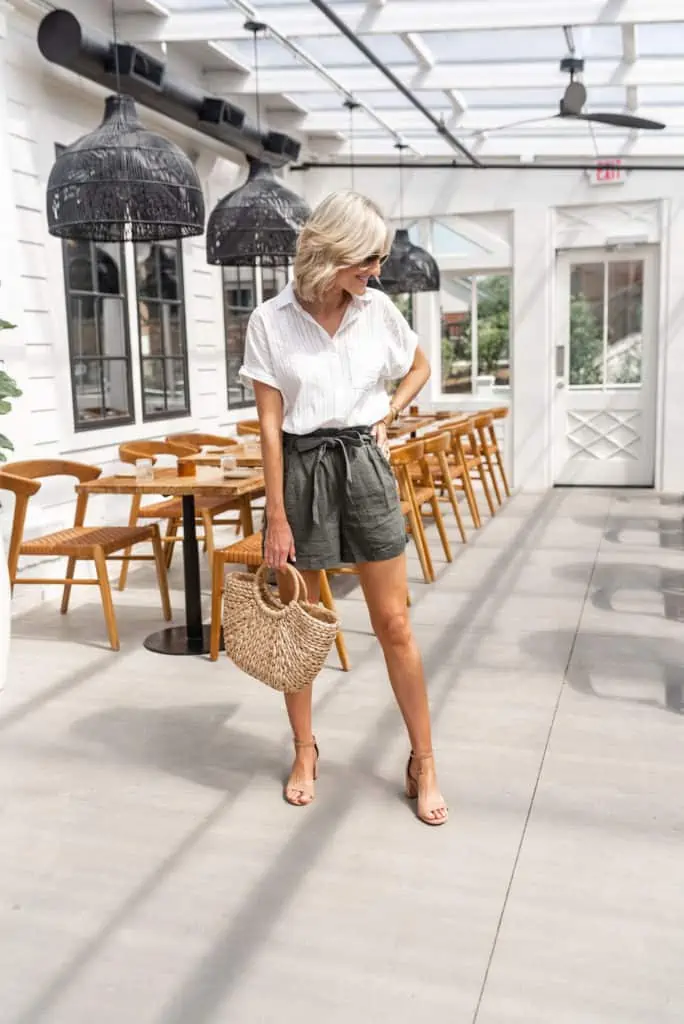 One top you will wear all summer is this short sleeve button down. It's great to wear with paper bag shorts or jeans. I have this top in chambray and a striped option and rotate them all the time. They always go on sale for under $20, which is a perfect time to stock up!
The top is a tad sheer so I would suggest a nude bra or tank underneath. The fit is a little on the oversized side so if you are between sizes, I would size down. I'm wearing XS.
The earrings pictures are from JCPenney in store. I could not find them online but will link similar options!
Thanks for stopping by today! If you have any other questions about pumping or breastfeeding, I can't promise I will know the answer but I'm happy to share what I'm doing with you! Thank you to JCPenney for sponsoring today's blog post!
Photos by KVC Photography