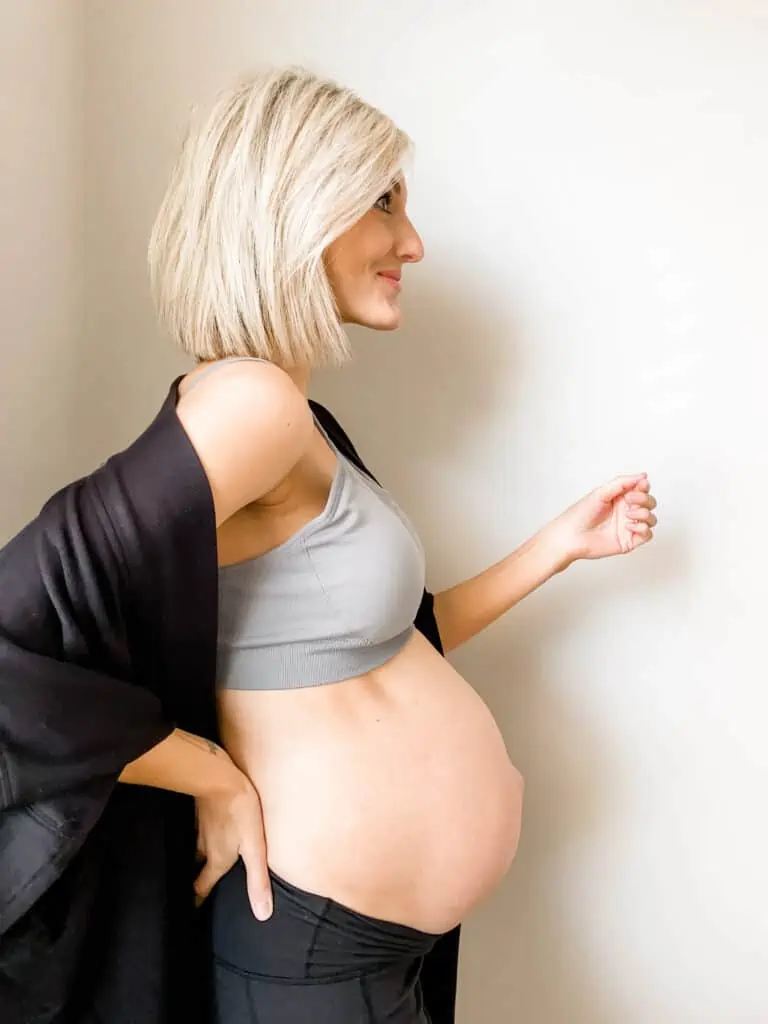 Soma Sport Seamless Ballet Back Bra \\ Fleece Cocoon Wrap \\ Essential Leggings

Hello Friends! Happy Monday – Wanted to give y'all a little pregnancy update. I've been very inconsistent with my bump updates. Probably because this pregnancy also involves running after a tiny human. For the most part, it's been a great pregnancy. I'm so thankful that I can write those words because I know that's not the case for everyone.
If you are new around here, Chris and I found out we were pregnant with baby girl #2 in October 2019 and were completely SHOCKED! We went through infertility for three years before we did IVF to conceive Collins and figured we would have to go that route for all future children. Collins was 8 months old when we took the test and saw those two pink lines. Chris and I are both close in age with our siblings so we are excited to have the girls close in age as well!
YOU CAN READ MORE ABOUT OUR IVF JOURNEY HERE
This pregnancy has flown by. We have been really busy with projects we are working on and raising a toddler. Then add quarantine life in the mix to really keep us on our toes.
One thing that has kept me at peace is knowing that we are having a second girl and knowing that she will be able to use a lot of the same things we used for Collins. I think that's one reason I've been very relaxed about her coming into the world and haven't been scrambling to put together a new nursery just yet. Being 8 weeks (or less) out, things are definitely starting to feel a little more real and I have been doing a little shopping online and nesting to get things organized and re set up.
I am getting to the point where I am pretty uncomfortable throughout most of the day with being pregnant. I feel like Collins was much lower at this point and this baby just feels like she is living in my rib cage. Maybe she just has really long legs like her daddy? I've had more heartburn in the recent weeks but it's been half as bad as it was with Collins. I also forgot how much you have to pee in the weeks leading up to delivery. I feel like I'll go to the bathroom then five minutes later, need to go again! I think this waking me up in the night is just preparing me for the newborn stage.
I haven't really has any crazy cravings this time. I'm also down for ice cream or cookies but I don't think my sweet tooth is any bigger than normal! Every now and then, something will sound amazing that I NEED but nothing too crazy. With Collins, all I wanted was s'mores and mac 'n cheese!
Soma Sport Seamless Ballet Back Bra \\ Fleece Cocoon Wrap \\ Essential Leggings

One item I've loved while throughout this pregnancy, especially in the later months, is the Soma Sport Seamless Ballet Back Bra. This bra has been incredibly comfortable for all day wear. I prefer wireless bras and will wear a sports-type bra any chance I get. This option has removable pads and an adjustable back. The straps are also adjustable so you can tailor it to fit you just right. I am wearing size medium – I typically wear medium in sports bras and wear 34B/C when not pregnant and/or nursing.
Soma is currently running a sale on bras that you cannot beat! All of their bras are 3 for $99! You can mix and match this deal so it's a great time to stock up if you need new bras.
I am not sure which nursing bras I will use this time. As soon as we cross that bridge, I will keep you updated and share my favorites.
Thanks for stopping by the blog today! I'm so excited for y'all to meet our new little girl soon. I think most of y'all are just excited to finally hear her name!
Today's post is sponsored by Soma Intimates. As always, all opinions are my own!
All Master Bedroom decor is linked HERE
Shop the Post