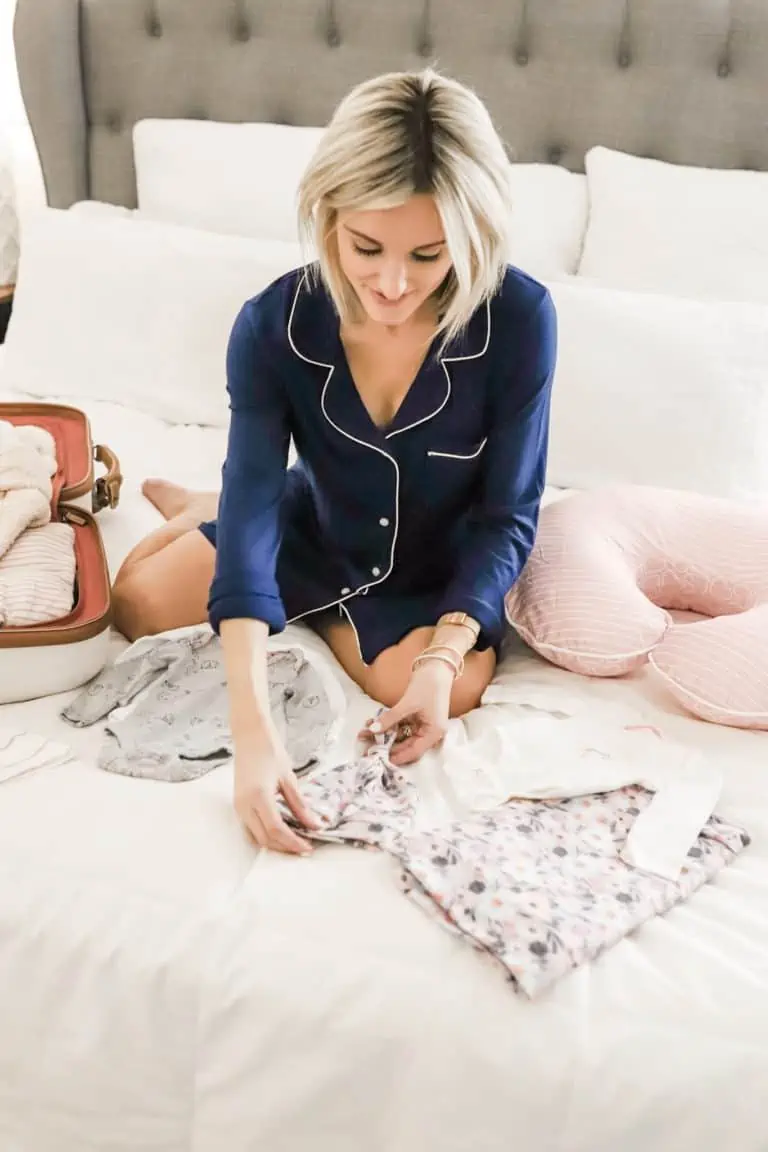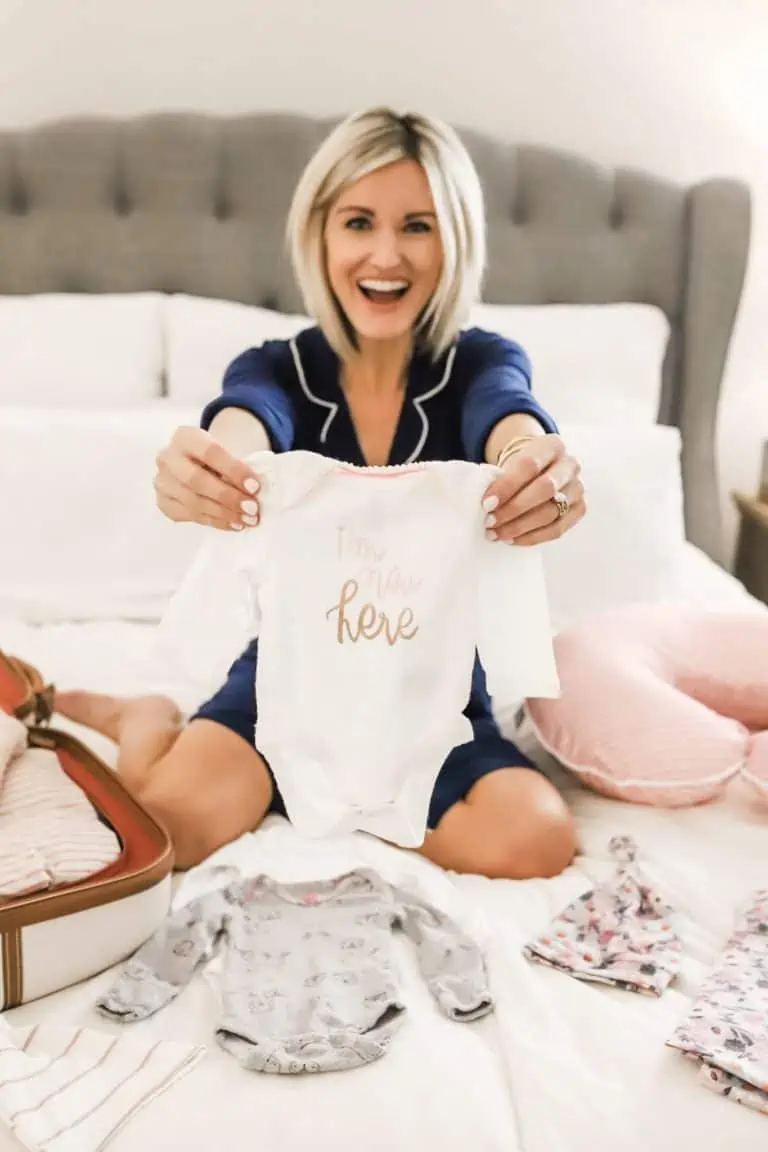 Thanks to y'all I have figured out what I'm packing for the hospital! I'm still in awe that we are already at this point of the pregnancy but I'm so excited that we are so close to meeting her! It's also really weird to see a few packed bags in our room that are just "waiting to go". EEEKKK!!
I came home last night and Chris said he wanted to show me something. We walked up the stairs and took me into Collins' room and said, "Look, I packed my hospital bag"! Heart. Melted. There are probably a few more things I will add for him (my suggestions for the husbands are listed below) but I'm sure it's a great start! And the fact that he packed his bag without me even having to ask makes this story even more exciting.
I did a lot of research and decided to go with the most commonly suggested items and well as a few ideas that I hadn't thought of. For example, someone mentioned I should have a plastic container (something like this size) that we keep in the back of our car but bring in to carry home the flower arrangements that people bring or send to the hospital. I would have never thought to do that until we were packing up!
One of my readers sent me a long list and notes that she made during her second pregnancy that really helped her the second time around. I saved the list and then added to that based on what others told me. I also enjoyed reading Ashley Donielle's blog post on this topic because after she had her daughter, she went back and added what she didn't need and what she wished she had. Another great blog I read on this topic was by Lauren McBride. Both of their posts were extremely helpful as I started to create my list of things I needed at the hospital.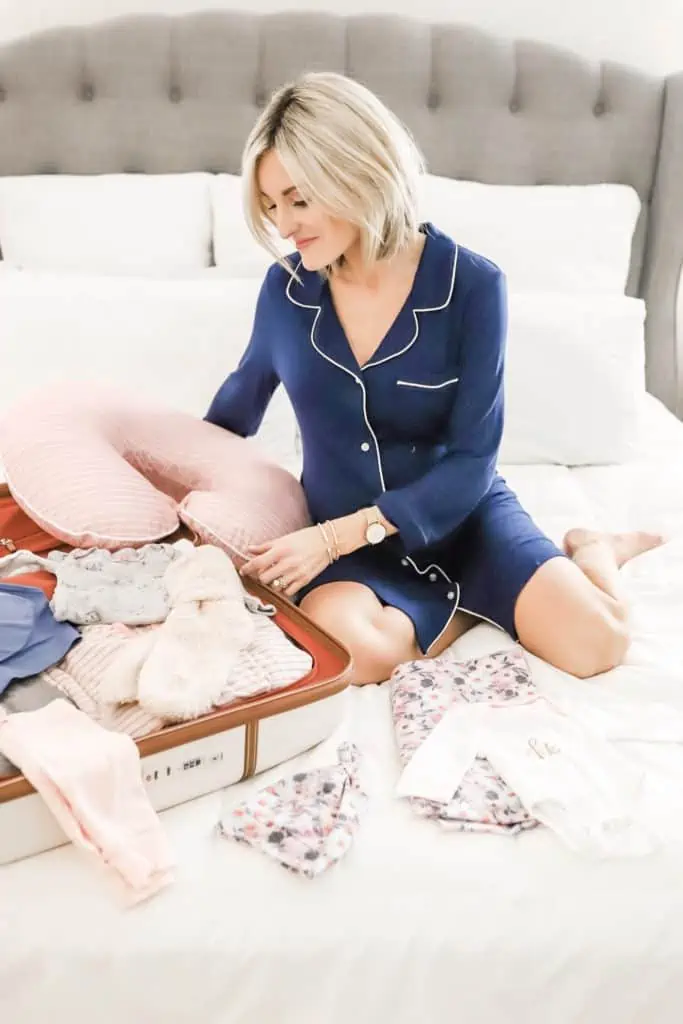 Mama
Robe/Pajamas – I'm excited to wear this robe!
2 pair loose pants – the softest pants ever
2 nursing tops – Just ordered this cami
2 nursing bras – Purchased this bra
Pajamas – I'm bringing this sleep shirt
Go home outfit if different from above
Nursing pads
Cardigan
Flip flops & slippers
Makeup
Facewipes, Deoderant, Lotion
Shower items (face wash, soap, shampoo, conditioner, razor) – I stocked up on several shower sized items
Earth Mama Nipple butter
Hair: brush, ties, blow dryer, dry shampoo
Toothbrush, paste, mouthwash
Tylenol, Tums (heard that some hospitals let you take your own and some do not. They will offer but you also pay for what they give you) / Bringing these items regardless for Chris, if needed
Collace (stool softener)
Dermoplast (spray numb)
Depends/Mesh Panties (I also heard to ask for extra ice pack pads to go home with)
Chapstick – heard this was a MUST REMEMBER
Essential Oils / Diffuser
Your Own Shower Towel – Saw this on Ashley's List and thought it was a great add!
Dad
2 changes of clothes / boxers / socks
Sweats and hoodie / pajamas
Shirt for in hospital photos – something casual
Computer / Tablet for downtime (IF there is any of that)
Toothbrush/Deodorant
Twin Sheet Set
Baby
1 pajamas
1-2 hats – I am loving this hat from Top Knots
1 go home outfit
2 Muslin blankets
Swaddle Sets – Love this one from Copper Pearl and this one from Posh Peanut
Car seat (bring in later, not when you first arrive)
First picture props
Also heard that you should take home as many supplies as you can for the hospital (you are paying for it). Some of our friends told us to bring a separate bag to take home the supplies they bring in each day. I'll share more on this after she is here and we test out the situation!
General
Snacks (trail mix, granola bars, fruit snacks, cheese its)
Snacks / Gifts for the Nurses – I have a few friends who made treats for their nursing staff and thought the idea was really cute and I've heard they really appreciate it!
Drinks: Gatorade for labor, bottled water, Red Bull (for Dad), Yeti with straw
Small extension cord
2 iPhone cords, long if possible
Camera / Charger
Bin to carry flowers home in
Two pillows that we can leave behind (two pack at Target for under $20)
I'm sure there are a few things I'm missing and I'm 100% sure that I will overpack because that's usually what I do. But honestly, I would rather be safe than sorry! I have this items for baby and me packed in my Delsey Carry On and plan to also bring this monogrammed tote I recently received from Pink Lily Boutique – I've used it a few times to go back and forth to Athens and LOVE it!
Can't wait to introduce y'all to little Miss Collins soon!! Let me know if there is anything I'm missing in the comments below.