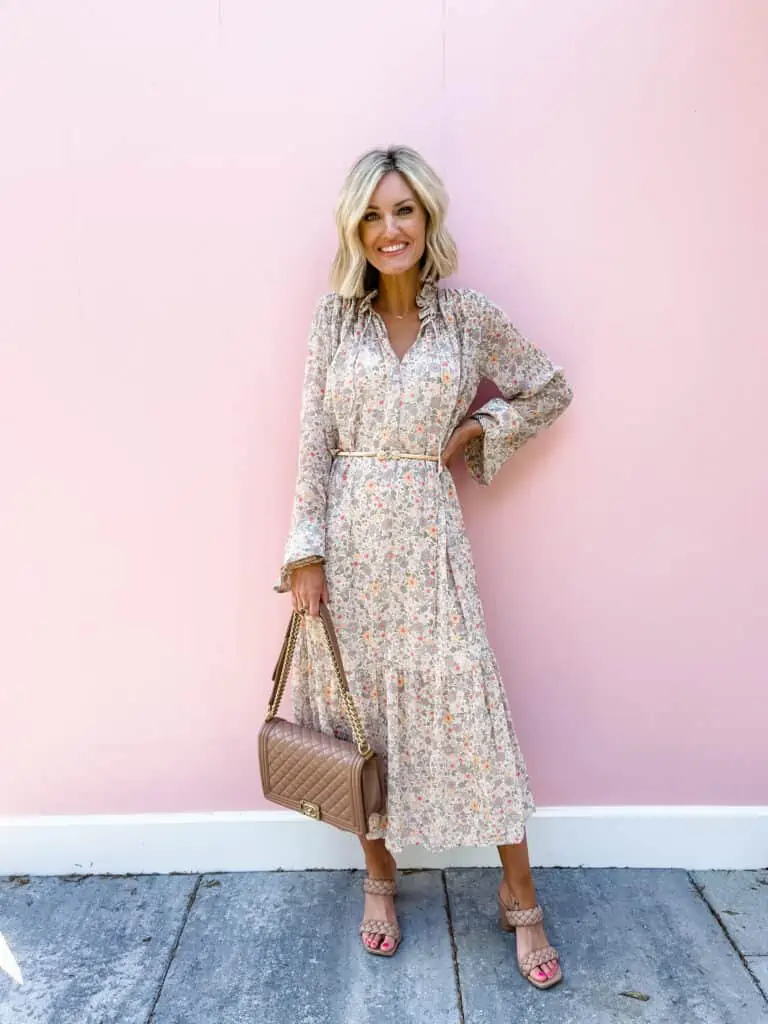 I am so excited to share this season's guide, what to wear for spring family photos. One of my favorite traditions is snapping wall-worthy family photos that we can display throughout our home. In today's post you'll find outfit ideas for mom, dad, brother and sister. I'm also giving you all my best style tips for your dreamiest family photos yet!
When it comes to selecting outfits for the whole family, I recommend starting with your look first! My go-to outfit is a dress that has great movement and is also comfortable. The secret to great looking photos is feeling confident in what you're wearing. This will help you be more natural in front of the camera. I've rounded up a few of my favorite spring dress options for you below!
SHOP DRESSES FOR HER

Eight Outfit Ideas for Spring Family Photos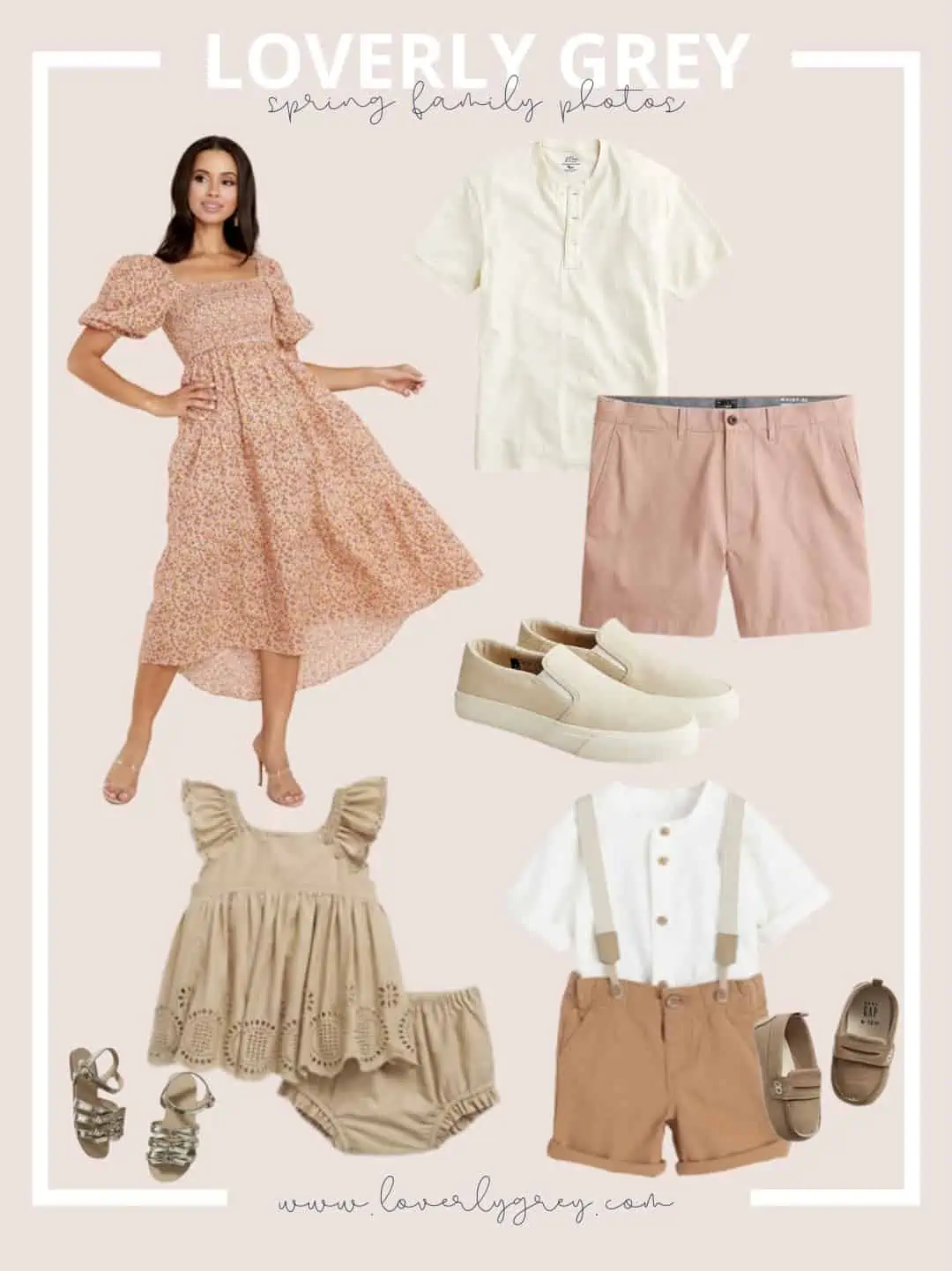 Spring is usually a great time to take gorgeous sun-filled outdoor photos. If your family photos are going to be among lush greenery or fresh blooms, consider a color pallet that is rooted in neutral colors but has hints if color. Tie the color pallet together with a soft floral pattern in your dress. The look on the left features earthy tones, while the look on the right has a bolder pop of color. Both family looks tie together seamlessly because the family looks are pulling from the colors of mom's dress.
SHOP THE LOOK

If you're wanting your spring family photos to have a more elevated look, this outfit combination is for you. I recommend wearing a dress made out of a silk blend fabric and having your husband wear a dress shirt. He can wear dressier shorts or opt for linen dress pants. Have him complete the look with loafers or dress shoes. For your littles, opt for a bubble romper for her and a classic button down and shorts combo for him!
SHOP THE LOOK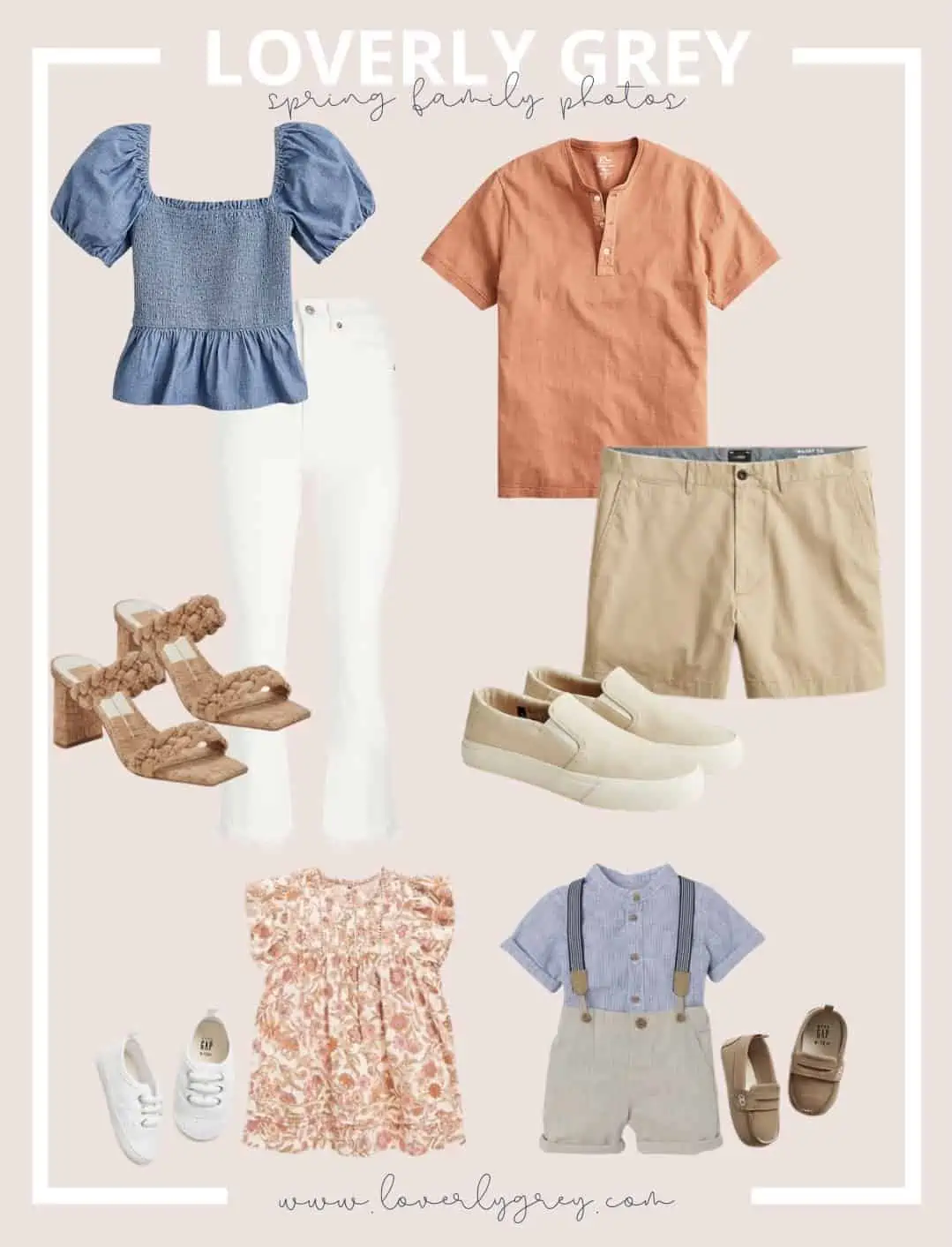 As an alternative to wearing a dress, opt for a pretty floral skirt or crisp white jeans. Either of these options are great for an indoor setting or if you're taking photos on the beach this spring! To elevate your white jeans, I recommend adding a statement top and a heel. If you are wearing a skirt, I recommend keeping your top simple with a plain white bodysuit and adding neutral heels.
As you think about styling the family, don't be afraid to pull in a fun color like I did with the pop of orange in the look on the left. Since your little one's dress has a floral pattern, putting dad in a complimentary color ties the color palette together. By putting him in a chambray button down, this helps pull together with your look so that all four outfits are cohesive.
The look on the right displays another way that you can do this. Instead of bringing in a bold color, the look features navy, chambray and the mauve pink skirt as the main color palette. This allows the skirt to be the main pop of color and the rest of the outfits to easily compliment each other.
SHOP THE LOOK

If your family photos are taking place in a studio, this crisp white and light blue color palette is a stunning option. This color palette has a naturally light, bright and airy feel to it. The dainty floral pattern in mom's dress and the seersucker pattern in your little one's overalls compliment each other perfectly. To complete the look, dress her in a crisp white dress and have dad wear khaki shorts or pants and either a light blue button down or a white button down.
SHOP THE LOOK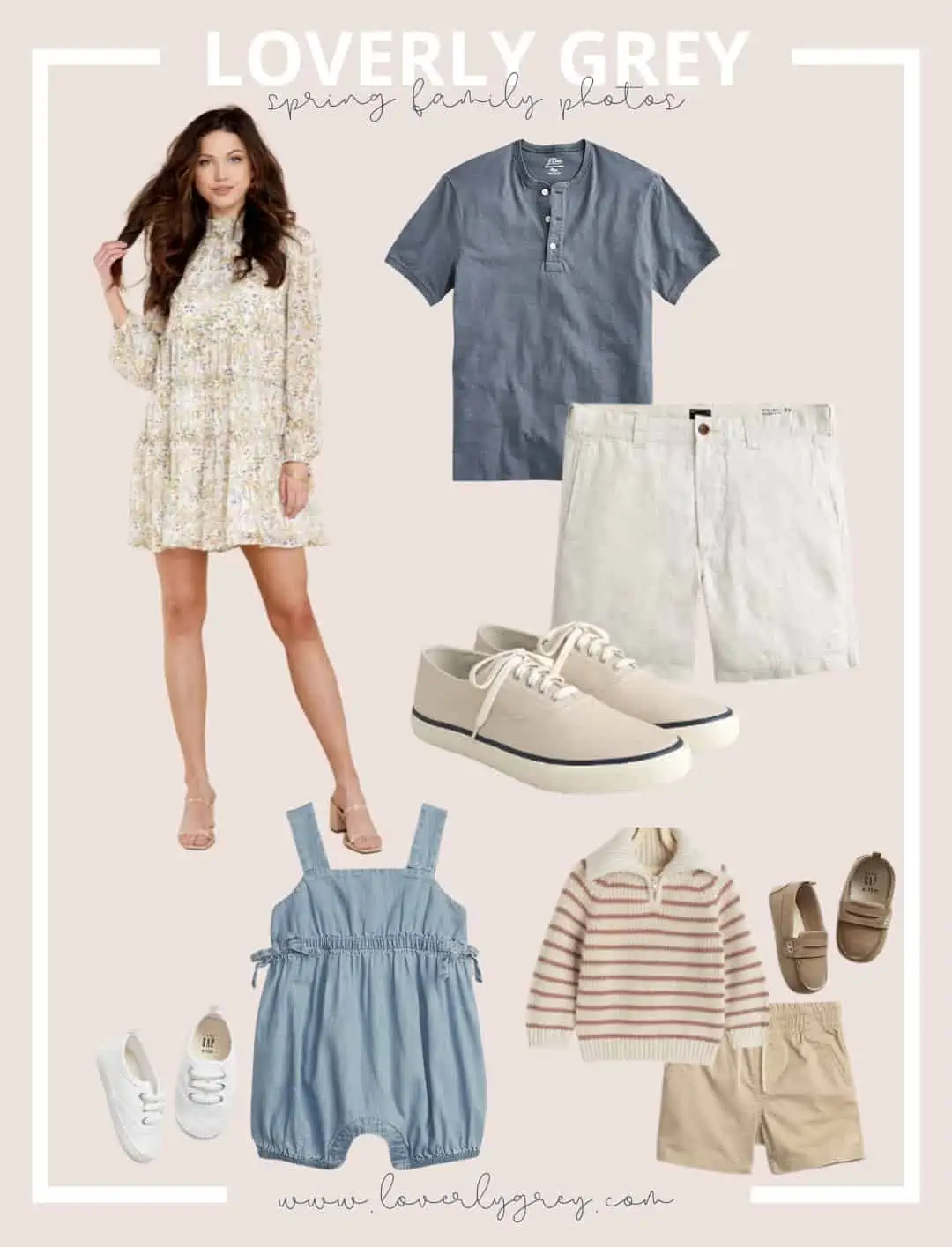 Our final two spring family photo outfit ideas are a great example of how to incorporate bolder colors and how you can mix and match patterns. This family look on the left features an above the knee floral dress for mom and a classic striped sweater and chino look for toddler boy. The two patterns play nicely off each other because the striped sweater helps to pull the color out of mom's dress. Style baby girl and dad in neutral looks that compliment the floral pattern in mom's dress to tie the family look together.
You can also incorporate spring colors, like pink and green, for a bolder color palette. The look on the right is a perfect example of how you can do this without having competing colors. I recommend having one statement piece and one complimentary color. In this case, the statement piece is the little girl's dress and the complimentary color is in the little boy's shirt. To tie the look together, mom's dress is a crisp white, while dad is dressed in neutral colors.
SHOP THE LOOK

As you make your outfit selections for your family this spring, let this post serve you as a guide! Feel free to pin it to your Pinterest board or share it with a friend!