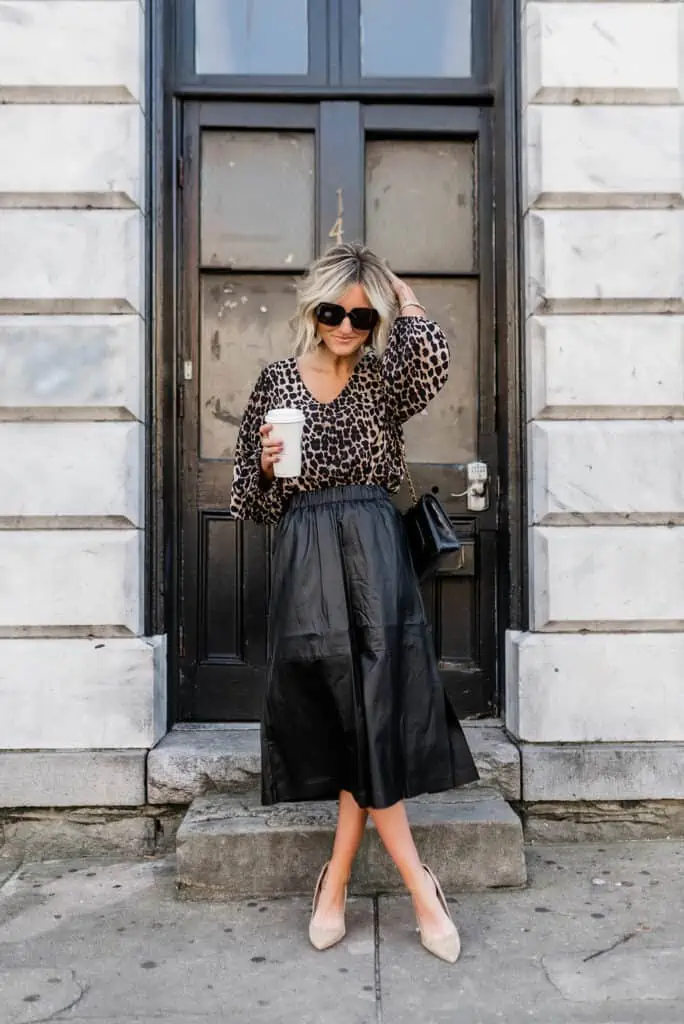 This week's Work Wear Wednesday is featuring how to style a leather midi skirt for work. When I spotted this midi skirt, on one of my many Target runs, I just couldn't resist it! Midi skirts are already chic but add leather and pockets and I feel like I should be walking down the streets of NYC. Plus, did I mention this entire outfit is under $60!

There are so many ways to style a midi skirt for work. You can tuck in a printed blouse like I did here, wear a graphic tee and blazer or even pair a cropped chunky sweater with it. I personally love the look of the black leather with the leopard print blouse. If you aren't a skirt girl, you could also pair this Amazon fashion find blouse with my go-to Spanx work pants and neutral heels to get a similar look!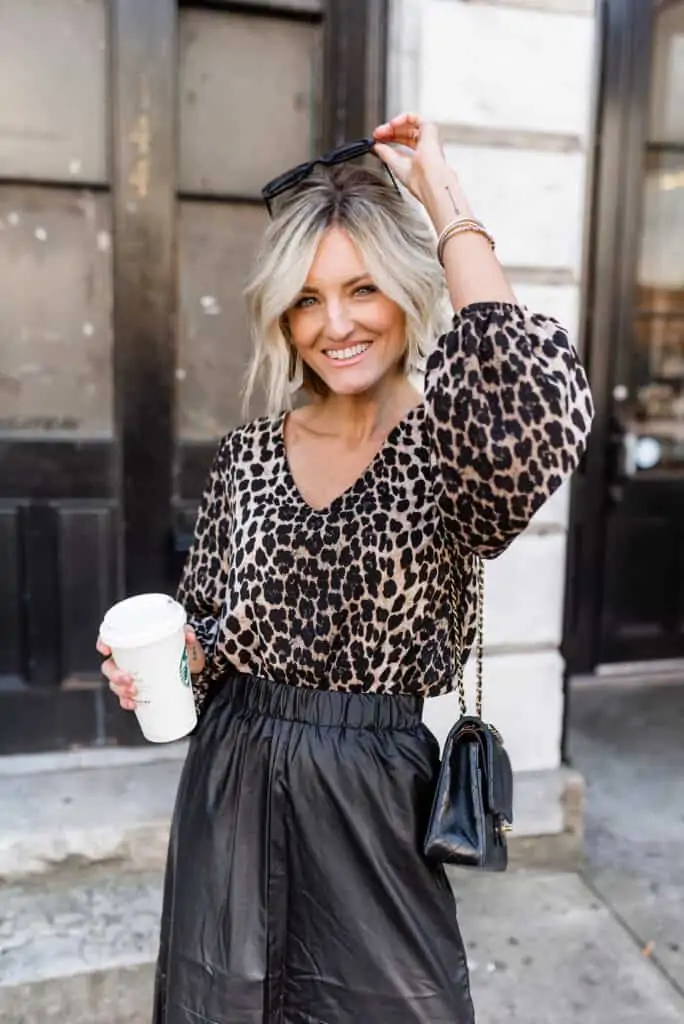 SIZING FOR REFERNCE
TOP: Wearing a size small, runs true to size
SKIRT: Wearing a size XS, runs true to size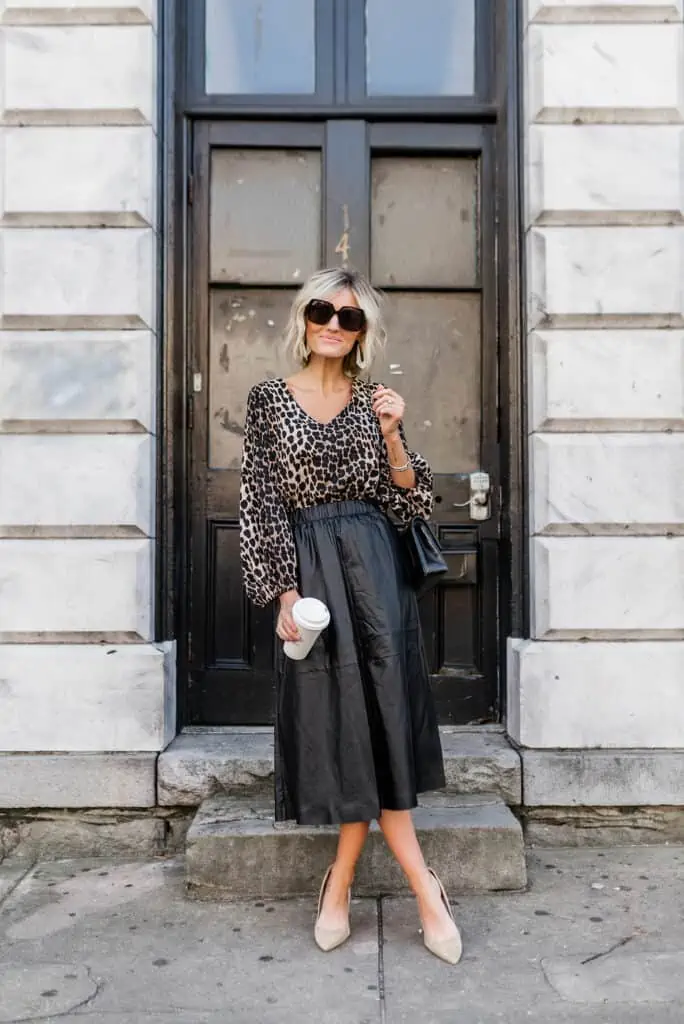 This elevated leather midi skirt for work look came in under $60 for the whole outfit! The Amazon top, which is only $21, comes in a ton of other colors too. I'm definitely guilty of finding something I love and buying it in multiples. Trust me , there is no shame! See all your color options below!

For my fellow mama friends, this top is nursing friendly, a win in my book. The midi skirt also has an elastic waistband and would work if you are expecting. You could pop it right over the bump. It would even be a great piece to wear for holiday family photos or a holiday party. Switch out the cheetah top for something more festive or sparkly, and this skirt is ready for the holidays!
MORE MIDI SKIRTS FOR WORK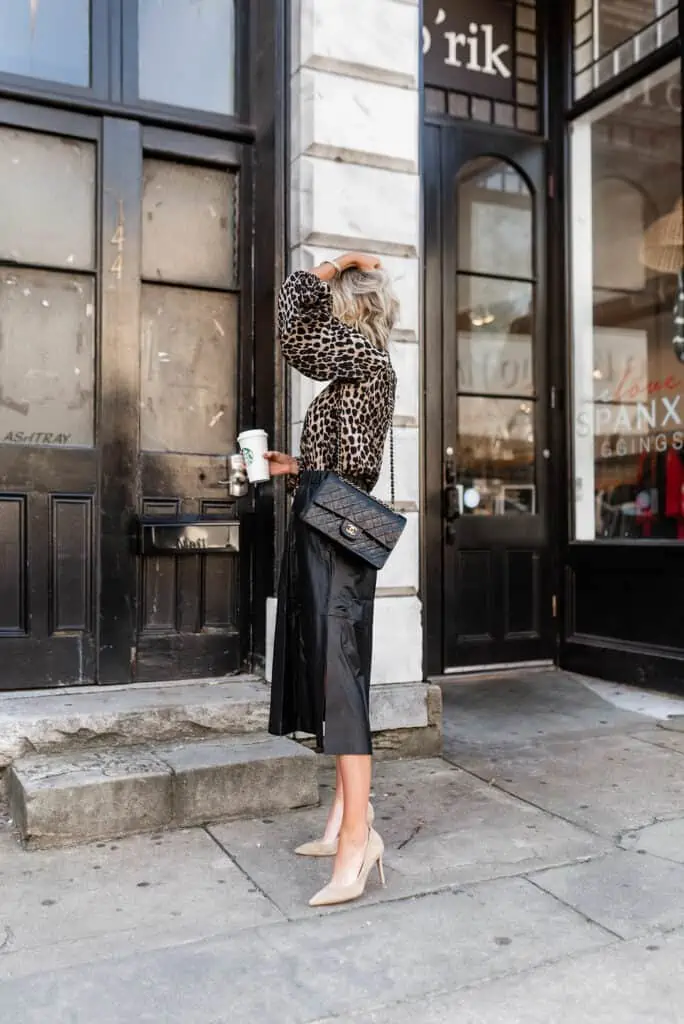 SHOP THIS POST

If you enjoyed this post be sure to check out last week's Work Wear Wednesday wear I rounded up all the best coats for fall and winter!
All photos were taken by KVC Photography. Check her out on instagram @kvcphotography.