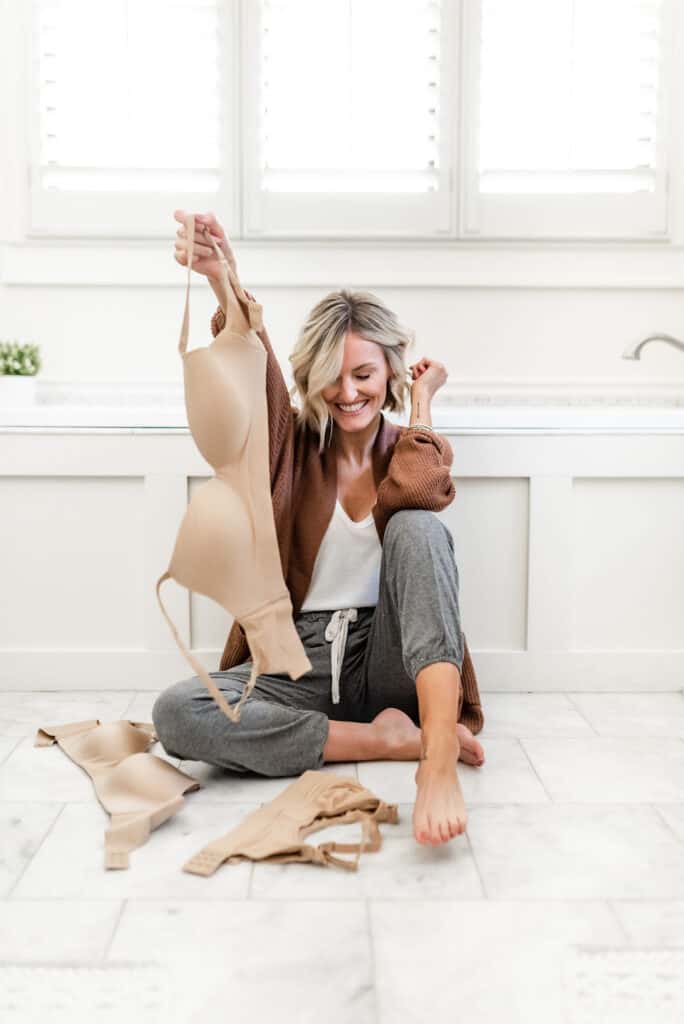 If you've been following along for a while then you know my love for the most comfortable wireless bra, the Enbliss from Soma, runs deep! The first thing I used to do when I got home was shed my uncomfortable bra and slip into something cozy. Now, I forget I'm even wearing a bra, with Soma's Enbliss bra!

Here's the thing, not all wireless bras are made the same. But Soma's quality and support for a wireless bra is excellent. I've washed my multiple times and it's held up great! I have been wearing the Enbliss wireless bra for a few years now but I'm excited to try the other wireless bra options Soma offers. Along with the Enbliss collection are the Vanishing Back and Embraceable Collection.

The Vanishing back wireless bra collection is all about smoothness and comfort. If you are looking for no lines, no bumps and no worries, this is the bra for you! I love wearing bras like this with more form fitting tops and dress, as to not show any lines.
The Embraceable wireless bra is designed with maximum comfort and coverage in mind. I usually wear this bralette style around the house or when I'm wearing a sweatshirt and leggings. It's perfect for those comfy cozy days.
If you've been thinking about trying one of Soma's bras, go for it! They have a risk-free bra guarantee. If you don't love your bra, return it within sixty days and get a full refund. Now that's some good customer service! They also have complete bra guide that will help you navigate exactly what bra you need and how to find your perfect fit!
Soma is known for their quality and comfort. Along with their wireless bras, I love their WKND collection. Their lounge wear line has some of the softest, coziest pieces I've ever tried! From joggers, to cardigans, leggings and more. They have you covered! I've rounded up a few of my favorites below!

If you loved this post be sure to check out more of my Soma Favorites HERE, including a ton of great pieces from Soma's WKND Collection!
All photos were taken by KVC Photography. Check her out on instagram @kvcphotography.