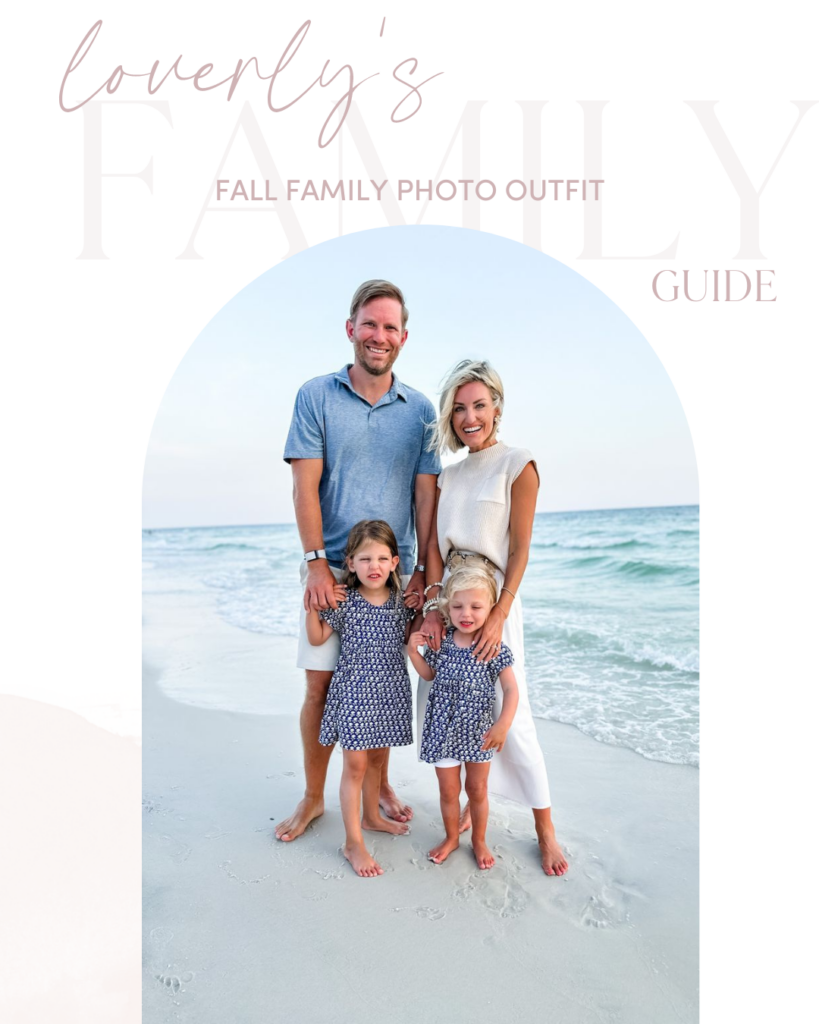 Fall is the perfect season for family photos! The autumn colors provide a gorgeous backdrop for any picture, and the cooler weather makes for an ideal setting. If you have a family photo session planned for this fall, now is the perfect time to start thinking about what to wear! Whether you opt for matching outfits or prefer to mix and match, being intentional about what your family wears can make all the difference in creating beautiful and timeless photos.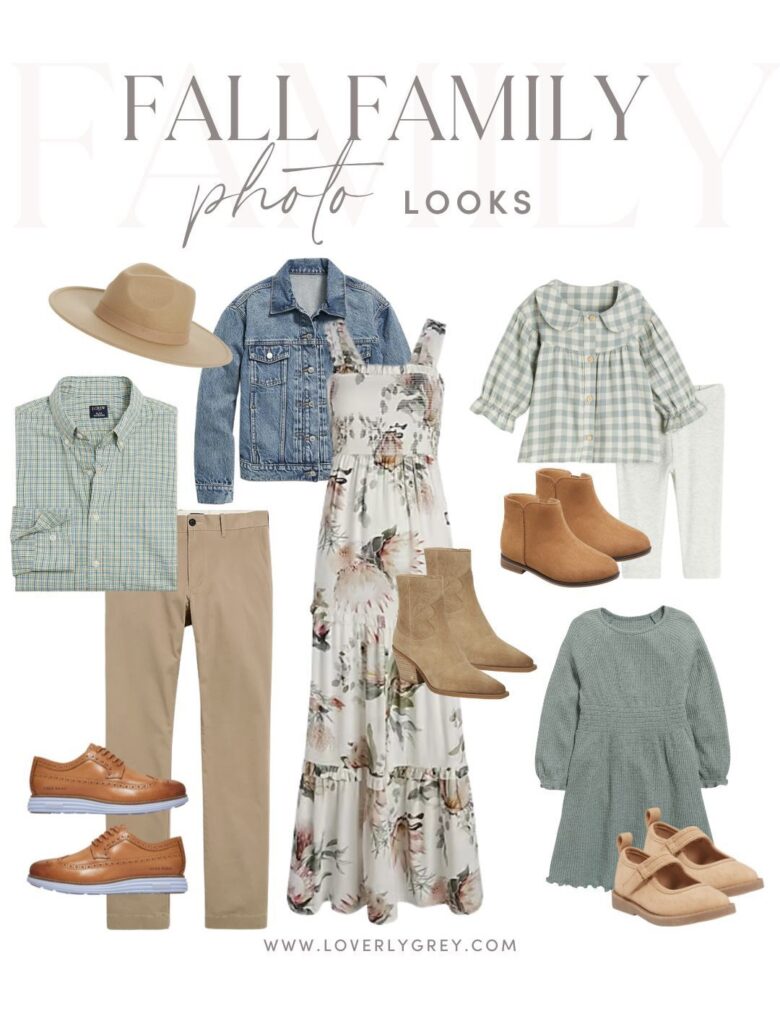 SHOP THE LOVERLY LOOKS

Earth tones are an excellent choice for a natural and timeless look! Khaki pants and a green button-up shirt make for a classic and relaxed look for dad. Mom can step it up a notch in a floral maxi dress paired with a jean jacket, boots, and a fall hat. Coordinate the kids with a sweater or a dress in matching hues. I like to use the kids' outfits to tie the family color palette together.
SHOP THE LOVERLY LOOKS

One color scheme that always looks great together is blush and khaki. We did a similar color palette a few years back for our family photos, and I love the way they turned out! I recommend starting with a cream or oatmeal-color dress for mom. When it comes to the kids, this is where you want to bring in the blush and mauve tones. These pops of color will shine through in the photos. I recommend a coordinating sweater and khakis for dad. Here we paired light grey chino pants with an oatmeal sweater to complete the look.
SHOP THE LOVERLY LOOKS

In this classic family photo look, the plaid little girl dress is the star of the show. I love the variety of colors that the dress offers. From here, you can easily build the rest of the family looks from the plaid dress. I opted to have the toddler girl wear a cream dress and pink mary-jane shoes to bring the color palette together. If you're wanting a casual feel, opt for straight-leg white jeans and a camel cardigan. If you'd rather go for an elevated look, then swap the jeans for a skirt and add heels. I recommend styling dad in all neutral colors, or you can have him wear navy chino pants with a cream sweater!
SHOP THE LOVERLY LOOKS

A black-and-cream color scheme never goes out of style! I recommend starting with mom's dress. I love the smocked top and puff sleeve detail on this midi dress. The fabric is lightweight and has great movement. Now that we know what you're wearing, you can move on to the little ones. You can have fun with the kids' looks by opting for a classic checkered dress or a sweet cardigan and skirt combination. Complete the look with bow-trimmed flats or booties. To tie the black and cream color palette together, I recommend having dad wear khakis and a black sweater.
SHOP THE LOVERLY LOOKS

If you're wanting your fall family photos to pop, consider pink as your main color! I recommend starting with mom's dress and building out from there. This floral maxi dress has a mix of bright pink and soft blush tones. I've pulled out both of these colors in the girls' outfits. When you are opting for shades of the same color, you have to be careful not to overdo it. To create balance, I opted to have dad in a small patterned button-down and khaki pants. This grounds the pink and compliments mom's dress perfectly!
SHOP THE LOVERLY LOOKS

Denim and khaki are a classic combination that screams fall. If you're taking family photos in a white studio, this color palette is a great option! The denim mixed with the varying shades of neutral will create depth and interest in the photos!
If you plan on hanging these photos in your home, this color palette is sure to match any decor style!
SHOP THE LOVERLY LOOKS

This final fall family photo outfit is perfect for outdoor photos that have a casual laid-back feel. The combination of blue and white is a timeless classic that never fails to impress. I recommend strategically mixing and matching who is in denim and who is in white. Add a small pattern, like we did in the toddler dress, to tie the blues together. The key is to be sure you are not varying the shades of denim too much!
If you're wanting more outfit inspiration for fall family photos, check out THIS section of the blog. I have over 10 family photo guides for every season of the year!