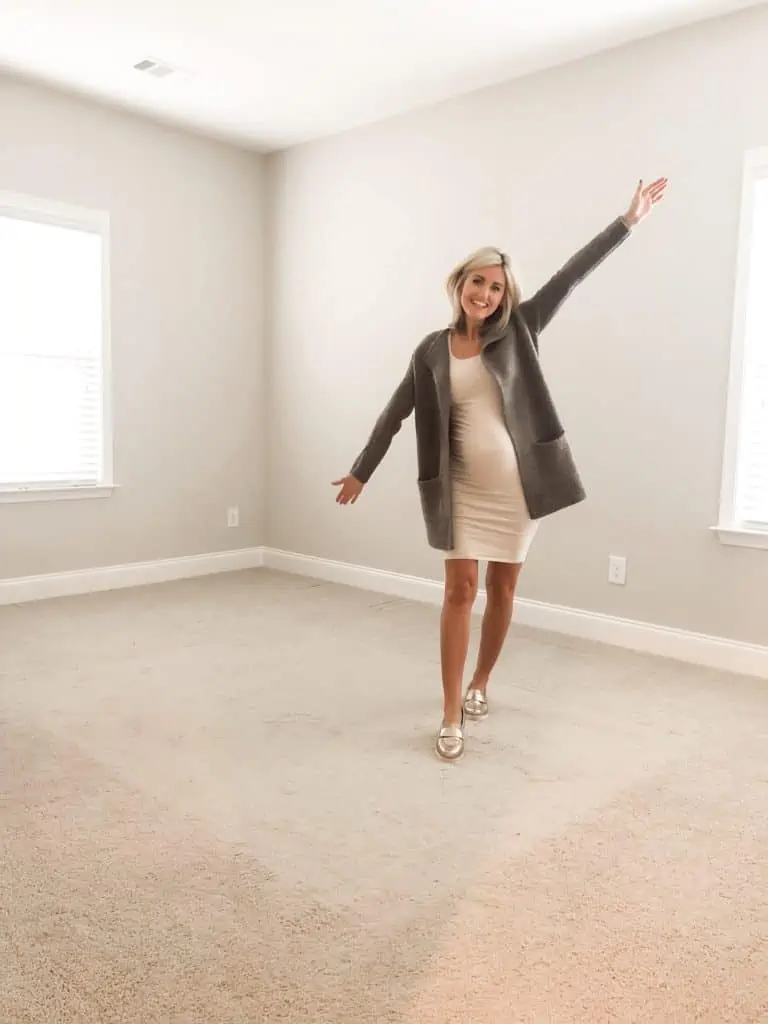 I'm so excited to finally share my closet with you! I teamed up with California Closets to design and build out a custom closet room. This closet is a complete dream come true and has been on my list of projects since I started Loverly Grey.
A little back story for you….when I started Loverly Grey, Chris and I lived in a different house that was older and not ideal for my clothing collection (pre-blogging). We had a few spare rooms so one of them became a room that I kept clothing in on metal rack but there was absolutely no organization to this space whatsoever. When we moved to the house we are currently in in February of 2018, I knew I needed more space for my clothes aside from our master closet. The house we have now has an extra room that we decided (prior to purchasing) would be a closet room/office for Loverly Grey. I wasn't exactly sure what this would look like but I hoped one day it would be fabulous!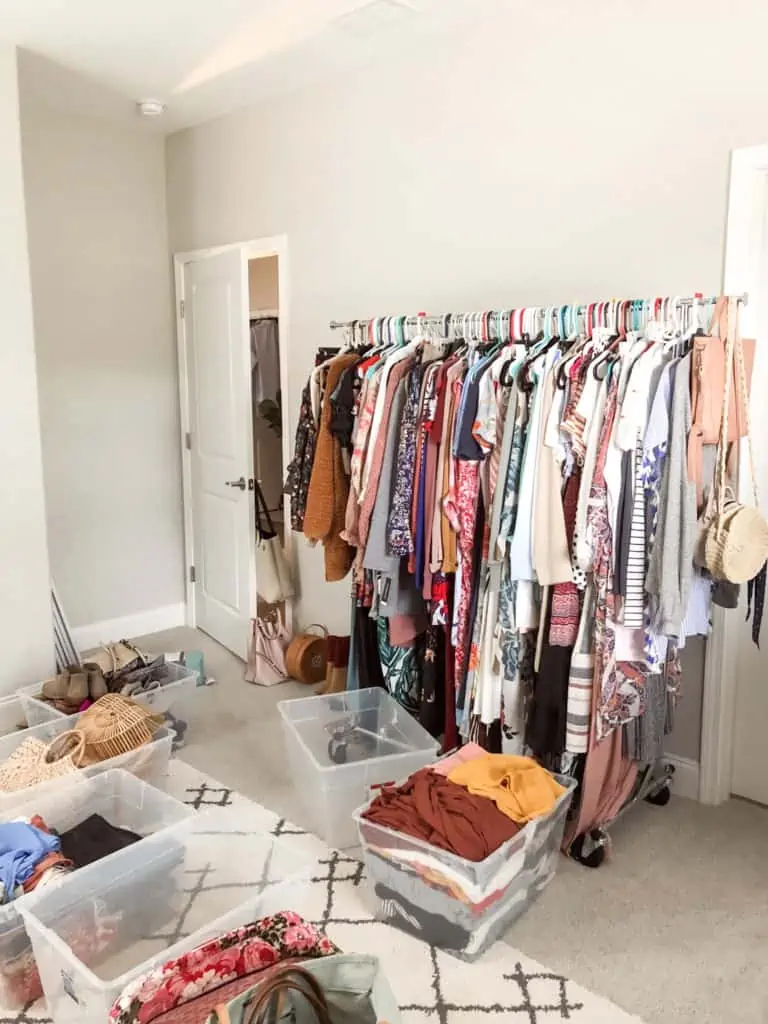 We set up the metal clothing racks and Chris put together two shelves that were used to hold my shoes. It was not organized and kind of became a hot mess. Because creating a closet room can be expensive, we knew we wouldn't be able to invest in that right away so for the first 7 months, I made this set up work! Which honestly, I'm very thankful for that we even had a spare room that I could do this with.
In March, I was approached by California Closets to talk about partnering on a closet build out! I was so excited!! At the time, we weren't in a place to move ahead with the closet design (IVF is expensive so our savings was a little tied up). They reached back out to us in July/August and we decided to learn more about the process and get a quote for what a project like this would look like financially.
Once we ironed out a few details with the PR team, I sat down with my designer, Melody Rosen, to build out the perfect closet. Conveniently we have a California Closets locations close by so meeting with Melody was easy! She came to the house and did a walk through of the space and brought pictures and design inspiration. Melody measured every inch of the room and once she had all the information she needed to design the space, she left and got to work designed the closet room.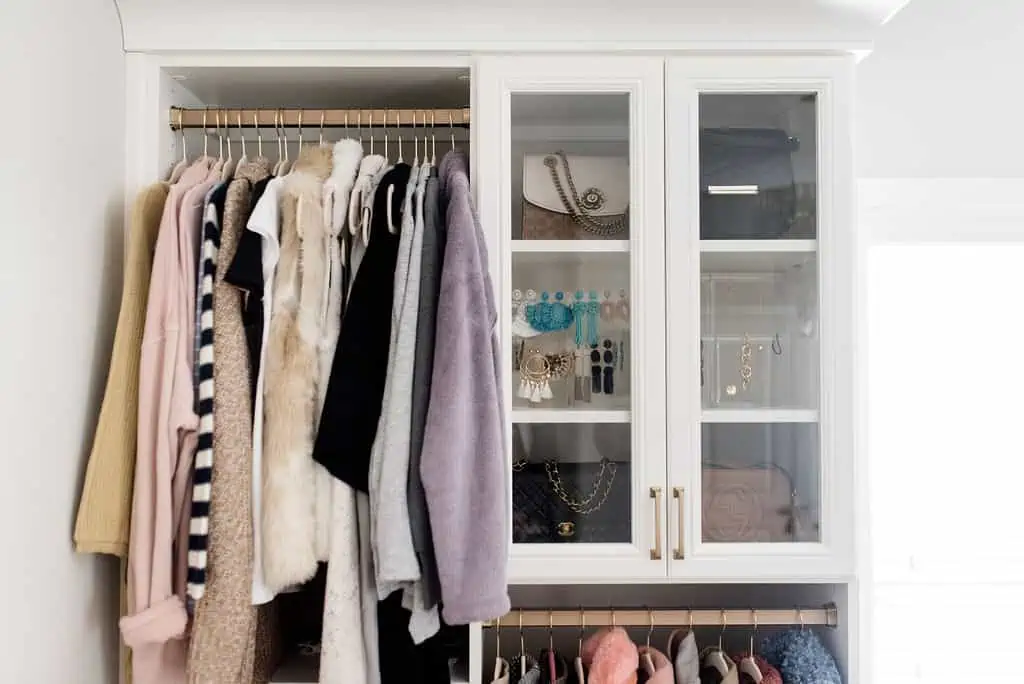 Within a few days we met at the California Closets location in Alpharetta and she showed us what she had been working on. It was really nice being onsite so we could see options for everything in their showroom! We made a few adjustments to the original design, picked out the hardware and sent the final design off for approval!
Once everything was approved, we had a six week waiting period until the install date for them to build out the units. So we scheduled the install date and got to cleaning the giant mess the current room had turned into (see more stories on my Instagram highlight title California Closets for video before and afters of the space).
The install day was a DREAM! The team arrived at 10AM and went over everything they had planned to do that day. I was so surprised to find out that the install would only take one day! I was even more excited when I found that out and couldn't wait to see how the final product would look. They worked hard to install every piece and by 4PM, they were done! Melody stopped by while they were working to check in and she was even excited to see the final product!
Overall, our experience (I say "our" because Anna – my creative project manager and Chris had a big say in the whole process) was nothing short of amazing! Melody and her team brought my dreams to life with the perfect closet room! I now have all my clothing in one spot and can use this room to film try ons and bring you all more content.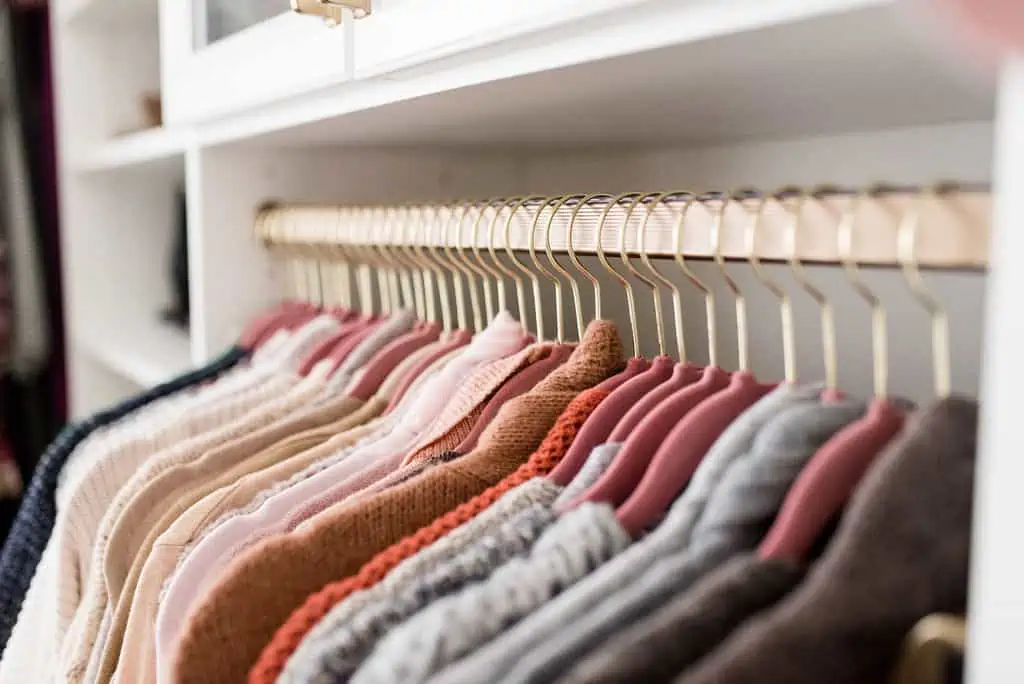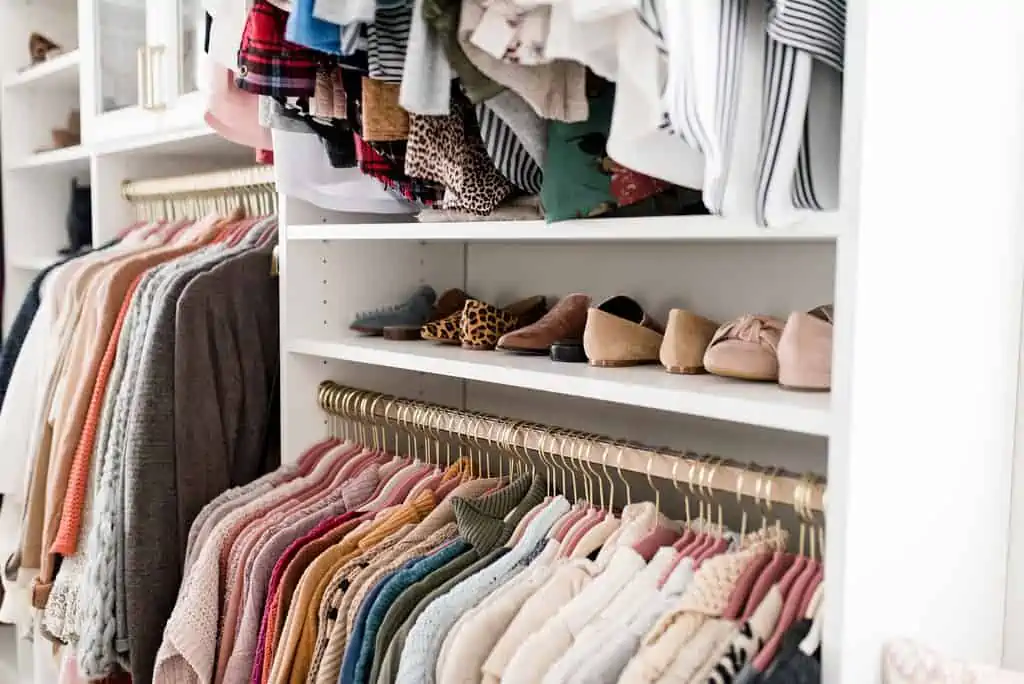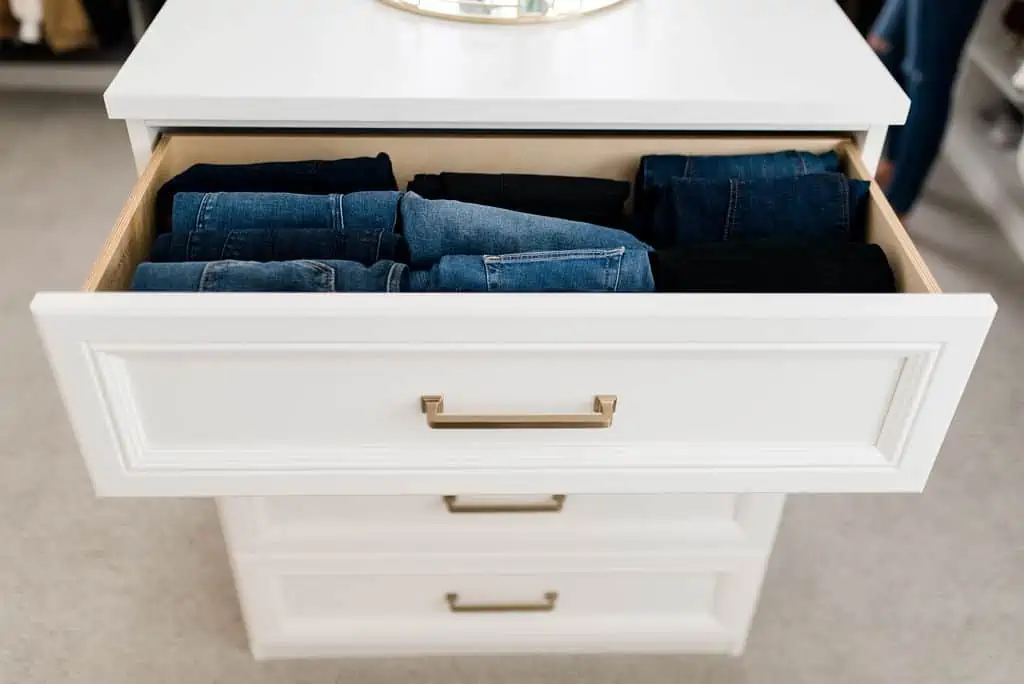 DETAILS ON MY DESIGN: 
I wanted to be able to hang and house as much clothing as possible so that is why you see several hanging racks in the room. They are different heights so depending on if I need more space for longer dresses or hanging sweaters, there are several spots throughout that I can make each style of clothing work. I also wanted room for shoes and a few cabinets to display my handbags. We added a few shelves where there was extra space so we could fit as much as possible! I also wanted to add an island with drawers on one side and cubbies for additional shoes on the other. I mostly use the drawers for pants, jeans, leggings or anything that can be folded up. Side note: I have a dresser in our master bedroom that holds clothing like pajamas, workout clothes and undergarments. Due to the layout of the room and where the windows were built, I knew I wouldn't be able to have every single piece of clothing in that room, which I was 100% okay with.
A few other details I really like about the closet system is the valet bar that pulls out to hang clothing. I have two in the unit and use them for styling outfits and preparing for photoshoots. I also like the hidden belt and scarf holder that is very convenient for extra storage. We also added benches under the windows with additional storage.

PRICING DETAILS:
Every California Closets system is 100% customized to the client so the price varies depending on what you what. You can go above and beyond with the design or you can keep things simple. The retail price for the closet I have was around $7,500. They do have deals they run so I would ask your local designer if they are running any specials. Again, the price changes depending on what you want and how big your space is. No two closet designs are the same!

I hope that you have enjoyed this California Closets review! If you are looking for a California Closets location in the Atlanta area, I would highly recommend talking with Melody Rosen for your design. She is truly amazing!
Today's blog post is sponsored by California Closets. As always, all opinions are my own!
Photos by KVC Photography