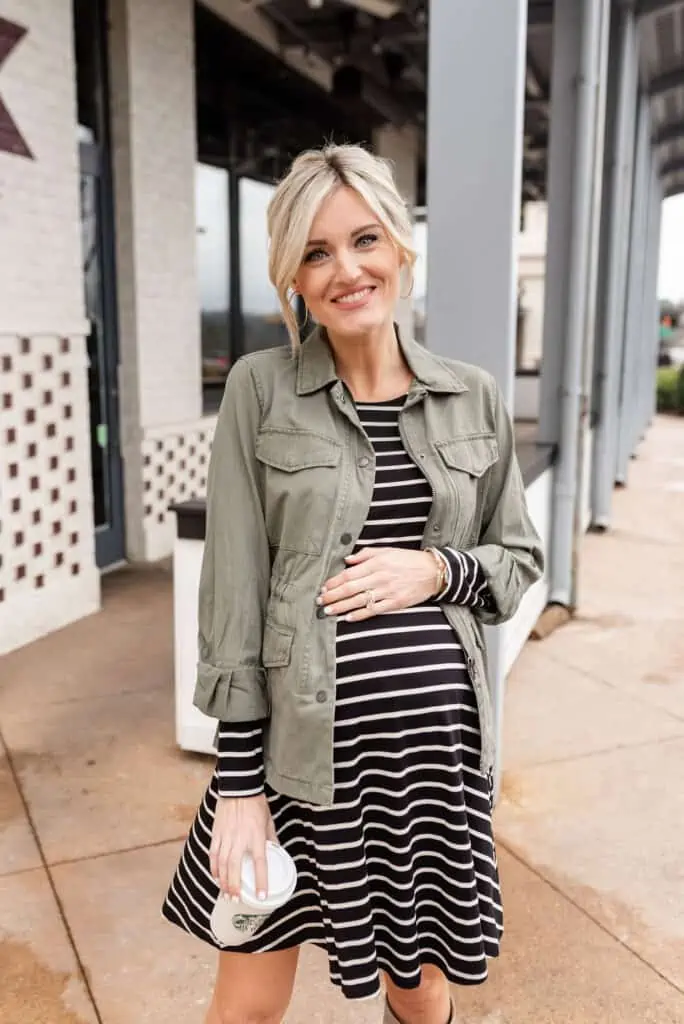 One of my favorite outfit combinations is black and white stripes paired with olive green. This look never ever gets old to me! I try to revamp it a few times each season and if you go back and look through my Instagram page, you will see I've done this a time or two!
I was at JCPenney recently and saw they have several great swing dresses in stock. I naturally went for the striped option but other colors are available. I love dresses that are both comfortable and easy to wear. You can dress this option up or down without a problem. For today, I'm sharing the dress a little more casually by adding an utility jacket! This jacket comes in a few other colors – I really like the pale pink and think option might be in my wardrobe soon! How perfect for spring?
I'm wearing XS in both the dress and the jacket. I would say the dress runs a little big so if you are between sizes, I would suggest sizing down one for the best fit!
I styled this look with knee high boots but think it would look cute with booties too. JCPenney has great options for shoes on their website. They carry several brands and you can always find something for the whole family.
I also wanted to share a few fun Valentine's Day date night ideas with you from JCPenney! Although our Valentine's Day plans will not include getting dressed up and going to dinner this year, I figured it would be fun to share a few ideas I came across! I'm going to link a few of my favorites below.

Thank you so much for stopping by and reading today's post! I hope you will try out the utility jacket this spring as it's a perfect staple to any wardrobe. I'll be sharing a few other ways to wear it too!
Today's blog post is sponsored by JCPenney. As always, all opinion are my own!
Photos by KVC Photography