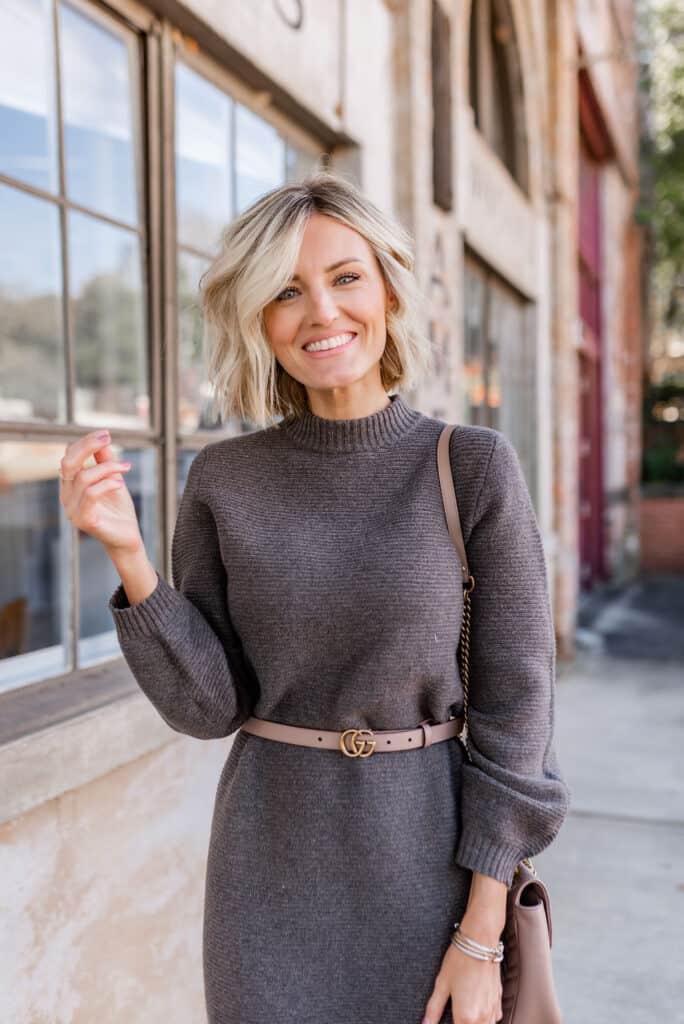 I'm styling a midi sweater dress for this week's work wear Wednesday! Because work wear doesn't always have to mean pant suits and pointed toe heels (although I do love a good power suit). As we move into the winter months, I feel like it can be easy to slip into a rut of black pants and boring tops. Which is exactly why I love mixing it up with a professional take on a sweater dress!
SHOP THIS WORK WEAR LOOK

This midi sweater dress is from Prologue by Target. It fits true to size (wearing a XS) and is perfect for work because of the length. I love the look of the mock neck as a great alternative to a turtle neck, much less restrictive! Did I mention just how comfortable this dress is too? The last thing you want is an uncomfortable work outfit! I came across a ton of other great work dresses from Target and rounded them up for you below!

When styling a midi sweater dress I always recommend paying attention to the cut of the dress. For instance, this one was a little boxy so I added the belt to give my waist more definition. Then I paired it with ankle boots to give it height and draw your eyes up. You could easily throw on a cute blazer if you need a little more warmth, or even a gorgeous long line coat!
SHOP WORK WEAR PICKS UNDER $50

Be sure to check out more work wear Wednesday looks for inspiration as you continue to curate your work wardrobe. Subscribe below for weekly updates and notifications each time a new work wear look is live on the blog!
All photos were taken by KVC Photography. Check her out on instagram @kvcphotography.