I'm so excited to be partnering with Mud Pie to bring you the Ultimate Guide to Friendsgiving, What to Wear + What to Bring. I don't know about you guys, but I am a huge fan of Thanksgiving! It's so fun to be able to celebrate with good food and give thanks, surrounded by friends and family. Although this has been a tough year for many people, we still have a lot to be thankful for. And this holiday is the perfect reminder of just that!
SHOP THIS LOOK

WHAT TO WEAR
When dressing for a Thanksgiving or Friendsgiving I always opt for cute and comfortable. This printed midi skirt and v-neck sweater is the perfect combo for just that! The skirt is flattering while also having enough stretch for a big meal. And it could work for a bump as well! I paired it with this textured sweater to give it interest, while also staying cozy and warm! Add your favorite pair of boots and you're ready to go.
You could easily pair this sweater with jeans as well! I love the look of a flare jean with a statement sweater like this one! If you aren't much for skirts you could always go for a comfortable jumpsuit, a floral dress or more classic with jeans and a sweater. Depending on how dressy or casual the meal is I've done all of the above at past Thanksgivings!
MORE THANKSGIVING FAVORITES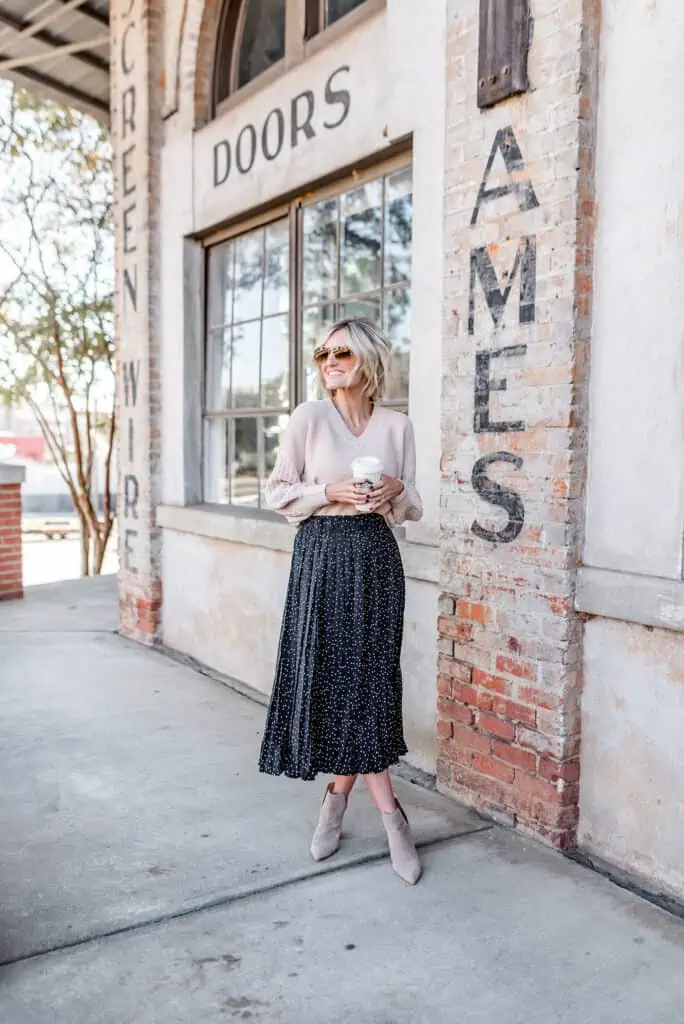 WHAT TO BRING
This may just be my Southern roots, but I always try to bring a thoughtful hostess gift to each event throughout the holiday season. Thanksgiving is no exception. It can be a lot to remember around the hustle and bustle of the holidays, so I recommend to purchase a few hostess gifts ahead of time. That way you always have one on hand, in case something pops up last minute!


If you enjoyed Your Ultimate Guide to Thanksgiving, What to Wear + What to Bring be sure to check out the HOLIDAY page full of outfit inspiration, gift guides and more! You can also subscribe below to get the latest from Loverly Grey straight to your inbox.
All photos were taken by KVC Photography. Check her out on instagram @kvcphotography.