The holidays are right around the corner! It's the perfect time to start planning your family's outfits for holiday cards. Throughout this post you'll find outfit ideas for holiday family photos, attending church and more. These looks have been curated with you in mind. I recommend taking a peek at your closet and seeing what items you already have that you can use to recreate these looks for your family!
If you love this post, check out my fall family photo guide here! I not only share styled family looks, but also my own family photos over the years!
SHOP THE LOOK

If you're into a more neutral vibe, let this be your inspiration! Consider light neutrals across the board for a classic look. Playing off of a staple piece in your closet like a silk midi skirt allows you to coordinate with dad by matching him in a sweater.
SHOP THE LOOK

You can use a statement piece, like a stylish pair of pants, to inspire the rest of the family! If I can offer any advice, I'd tell you to be comfortable in what you're wearing. This allows your confidence to shine through, and your pictures will appear much more natural. If pants are more your speed, go for it!
SHOP THE LOOK

If you are wanting to create coordinating outfits without being too "matchy-matchy", this look is for you! Start by pulling out a main color that can be pulled into everyone else's look. In this look, the silver in mom's dress inspired the other shades of silver and grey for the whole family.
SHOP THE LOOK

If you've been wanting to go for the shimmer, now is the moment! There's room for you to wear the bold dress while still coordinating with the rest of the family. I recommend opting for neutral tones for dad and son.
SHOP THE LOOK

Using the colors of the season to inspire your family outfits will make for stunning photos for years to come! If your dress has a busy pattern, consider making the pattern a focal point by pulling out the colors of that pattern and dispersing them amongst the family!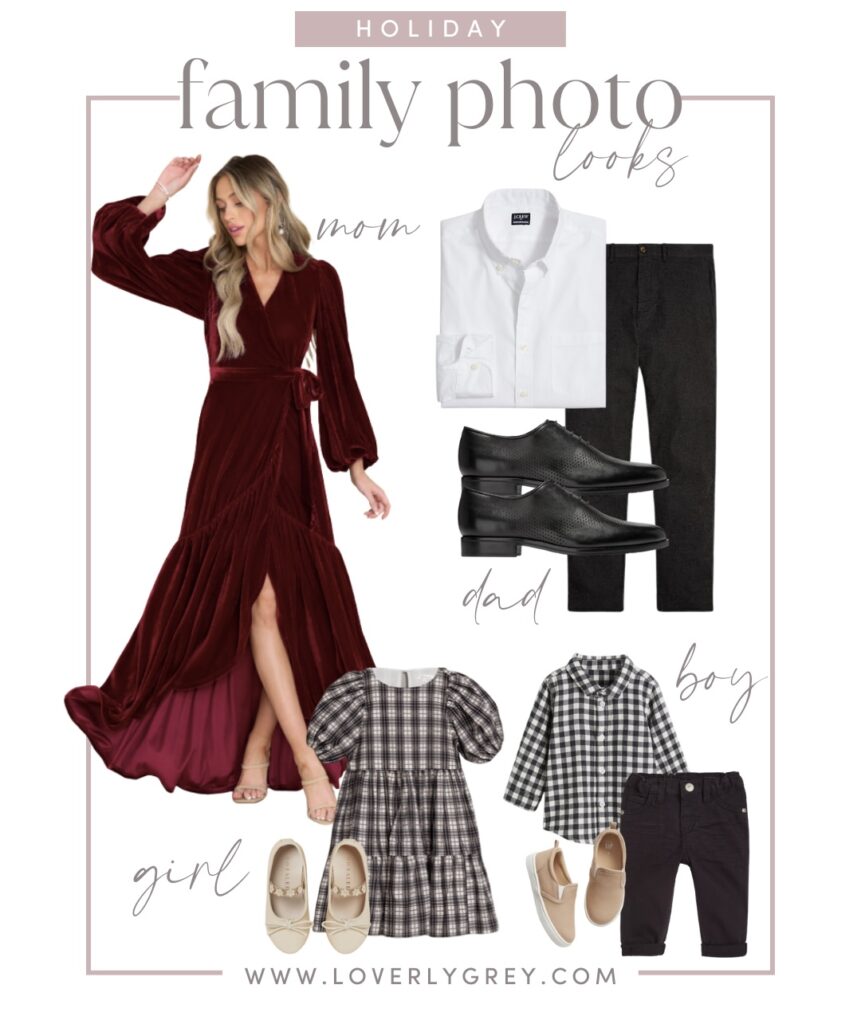 SHOP THE LOOK

For a classic, elevated look, consider going for a deep red or green for yourself, and dressing the boys in blacks and whites! The good news is that your boys might already have these pieces in their closets. I opted to put her in a classic plaid. Another option is to dress her in a matching velvet dress!
SHOP THE LOOK

If you're wanting a classic Christmas vibe, I recommend opting for tartan plaid! This timeless print is the perfect way to bring a little holiday cheer to your family look. You'll want to ensure that the plaid is the exact same pattern when opting for matching family looks. I recommend shopping at a retailer like J. Crew Factory, Old Navy or Gap, so that you can ensure the print truly matches!
SHOP THE LOOK

If you're wanting to put a fun spin on classic plaid, mix in velvet to give your holiday family look a luxurious feel! The velvet dress will pull the green out of the plaid print nicely. I love how the velvet blazer for him adds an extra level of interest to the family look!
As your calendar fills up for the holiday season, refer back to this post for inspiration!
Which of these outfit ideas for holiday family photos is your favorite?