I don't know about you all, but I love attending weddings! After planning my own wedding, I realize just how much work goes into everything and it's nice to just be able to show up as a guest and not worry about floral arrangements or and table numbers. As we get further and further into fall, it seems like there are more and more weddings to attend! Which is exactly why I put together your outfit guide for fall weddings. It had everything from a variety of dresses, to the best clutches shoes and and what to layer over your dress in case you run chilly.
The first set of dresses I'm rounding up is dresses under $100! These range from above the knee dresses to maxi dresses. Most of these also come in multiple color options as well. If you're attending an evening wedding, you can usually get away with a darker color palette. However, If you're attending an afternoon wedding you may want to consider a blush pink or even a pretty mauve color.
SHOP DRESSES UNDER $100

When it comes to fall weddings, the weather can vary greatly. I've been to October weddings that are in the eighties and November weddings that are in the low sixties. Depending on whether you are going to be inside or outside, and what time of day the wedding is, this may dictate your choice of dress. For an evening wedding, I usually opt for a midi or maxi length dress. For a Sunday brunch wedding you may want something with florals that is slightly more casual or even an above the knee dress I've rounded up a few of my favorite for you below!
SHOP SHORT DRESSES

SHOP MIDI DRESSES

For more casual wedding guest outfit inspiration, check out this post!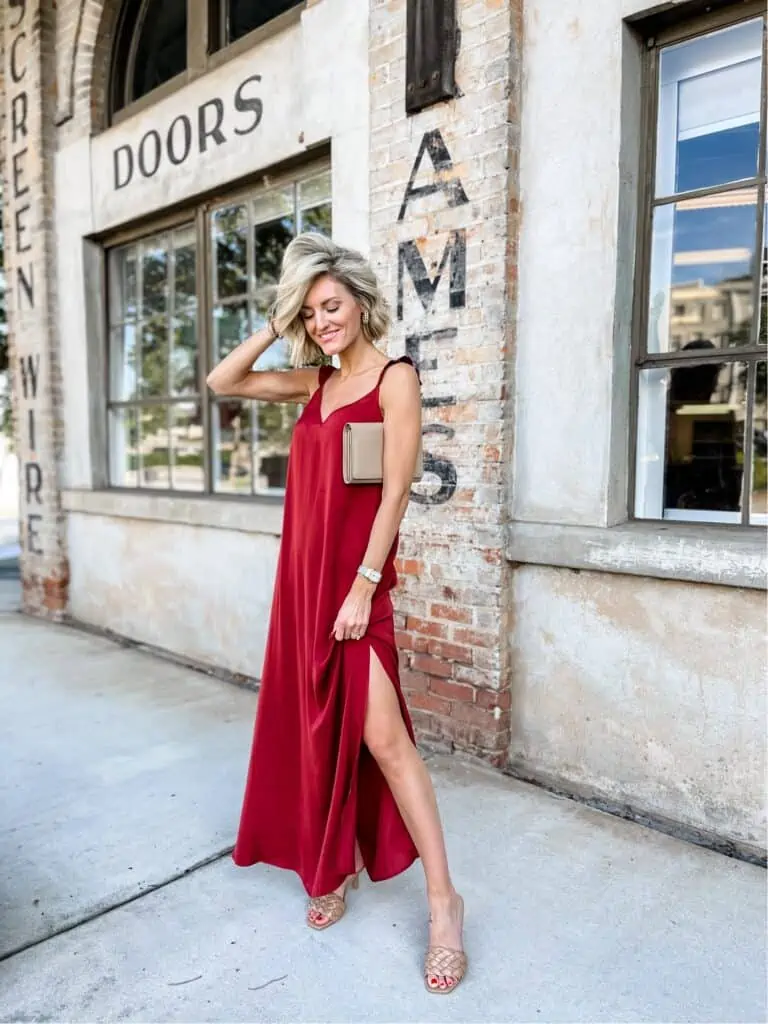 Sometimes it's worth investing a little extra money in a great dress that you love! I know I'm willing to spend a little extra on a piece if it's something I'll wear for multiple occasions and is great quality. I personally have amazing luck with Nordstrom and ASOS when it comes to finding a mix of splurge worthy and affordable wedding guest dresses. Whether you are wanting to opt for a pretty floral pattern or maybe a classic silhouette, you can't go wrong with either.
SHOP SPLURGE WORTHY DRESSES

Now that you've found the perfect dress, it's time to accessorize! Below you'll find the best clutches, wraps and shoes to pair with your dress. I always advise going for a lower heel if you plan on dancing the night away. I also recommend bringing a smaller bag like a quilted shoulder bag or a small clutch so your don't have to worry about toting around something large. While most weddings take place inside, some ceremonies are outdoors in the evening, which means you may want to consider a light wrap. I've rounded up a few great staple options below!
SHOP SHOES

SHOP CLUTCHES

SHOP WRAPS

Are you attending a fall wedding this year?