A spring trip to New York was the perfect getaway for us to take a break from the norm but to also encourage new thoughts about what the future holds. We couldn't shut Loverly Grey down completely so we added a few meetings to the mix to keep the creative juices flowing. Reaching out to brands and pitching Loverly Grey for meetings was just what my inner sales person needed! Since I'm sure you are really here for the travel and restaurant recommendations and what to do while in the city, I'll save the business stuff for another day!
Per usual we took the 7:30 flight into LGA which was convenient considering we had a meeting pretty much as soon as we arrived! Our arrival time coincided perfectly with brunch so we made a last minute reservation (normally they book far out but we got lucky), dropped our bags at our hotel and headed straight to Sarabeth's for brunch. Here's a pro tip for you: if you're traveling with a girlfriend, one of you order something sweet while the other gets a savory and split It so that you each get the best of both worlds! At brunch we had the fat and fluffy French toast and an omelette, It was the perfect start to our trip.
We chose to stay at The Roger New York because the decor was SO on point and It was in the same vicinity of all of our meetings and appointments. We luckily got a bigger room, which is good because otherwise It would've been a tight fit! But hey, that's New York for ya.
We were supposed to have a photoshoot after our meeting but It ended up not working out with our schedule. We took the opportunity and extra time to have "happy hour" at Shake Shack in Madison Square Park, which was just a couple of blocks from our hotel. We sat, drank milkshakes, ate fries and took in all of the beautiful weather that NYC was showing out with.
Our night one dinner spot was at Fig & Olive! We ate here in December and It was the perfect spot to have drinks and small bites, they're crostinis are incredible! We tried their new Meatpacking District location and It did not disappoint. There was a DJ, beautiful decor and the environment was as chic as It was welcoming. Get the crostini but you MUST include the goat cheese, It is to die for. We also tried the cheese board, and that would've been the perfect amount for the two of us. If you try any of the entrees, try the Risotto! After a long day of traveling we headed back to the hotel to call It a night.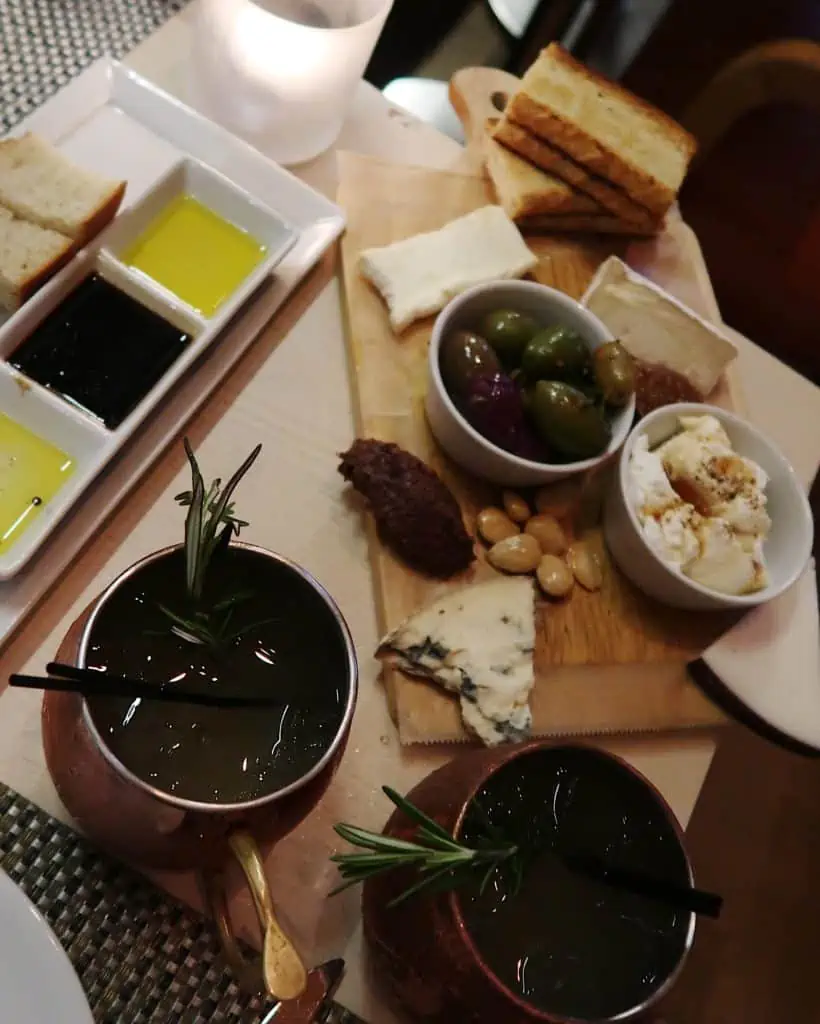 First thing Thursday morning we had another meeting to head to, but not before grabbing some Bantam Bagels! We love these things when we are home so as touristy as It was, we had to see the original spot! Our next meeting was all things products and beauty, you'll see a lot of these things coming to a blog near you.
We headed to lunch at The Smith after this, another favorite spot of ours! In the past, we have been brunch go-ers at The Smith so we couldn't wait to get our hands on the lunch menu. It started with oysters and ended with s'mores, does It get any better? Here's what our favorites were from the menu:
Apps:
Oysters
Fried Green Tomato Rings
Mac + Cheese
Main:
The Smith Burger
Avocado Toast
Dessert:
S'Mores In A Jar
We had yet another appointment to get to after they rolled us out of The Smith. Our next meeting was in Trump Tower and we'd be lying if we said we didn't feel cool rolling up in there with places to be. Afterwards we were free women! An afternoon coffee was in order before changing and heading to our plans for the evening. Leaving our hotel, we placed a to-go order at John's (on Bleeker) because if you don't go to New York and get pizza…did you even go? After a cab ride pizza dinner we got to the Chelsea Piers for a sunset champagne cruise with Classic Harbor Line. Unfortunately the weather wasn't looking great so we decided not to go on the cruise. We didn't have a plan b but we knew we wanted champagne and a view, so we headed to the Rainbow Room. We got both of the things we wanted and loved every second. Because we were at Rockefeller, we stopped by Magnolia Bakery to grab banana pudding to cap off the night.
We had a meeting in SoHo the next morning but were both dying for a good bagel, so we found one close to our hotel and It was so good (and cheap). After our meeting we had ONE more meeting until a little bit of sights we wanted to see. We grabbed a quick lunch at Pret (they're everywhere in NYC) and it's great if you're wanting to grab something quick. After our last meeting of the trip we headed straight to the Upper East Side! Our first stop was Central Park followed by Laduree and ended up at Gucci on Fifth Ave. It was the quintessential Brittany and Anna afternoon. When we first arrived to the city we had a follower reach out that worked at The Met who offered to show us around the museum! It was a great experience being shown everything by somehow who knew ALL the things. They have the BEST view of the city and Central Park on the rooftop, it's a must.
That night we headed to Park South Hotel because we heard rumors of a good rooftop bar. After convincing the bouncer that we were in fact supposed to be there, we were snuck up a side door to the top by a friendly face. The view was great and they had some really fun tropical drinks, which was unexpected…but so delish. Afterwards we had a reservation at Covina and OH MY was It amazing. It was Mediterranean and we tried just about everything on the menu and can vouch for how incredible It was. Here were some of our favorites:
Hummus
Wagyu Skirt Steak
Spicy Honey Pizza
Bucatini
The next morning was our last and we grabbed a quick coffee, checked out and headed to the airport. This trip was the perfect amount of business mixed with pleasure. We have a few fun surprises up our sleeves and can't wait to share with you the new things that are coming to Loverly Grey!
Make sure to check out our Vlog from the trip on the Loverly Grey YouTube Channel.
 Today's blog post was written by both Brittany and Anna. Thank you for stopping by!!