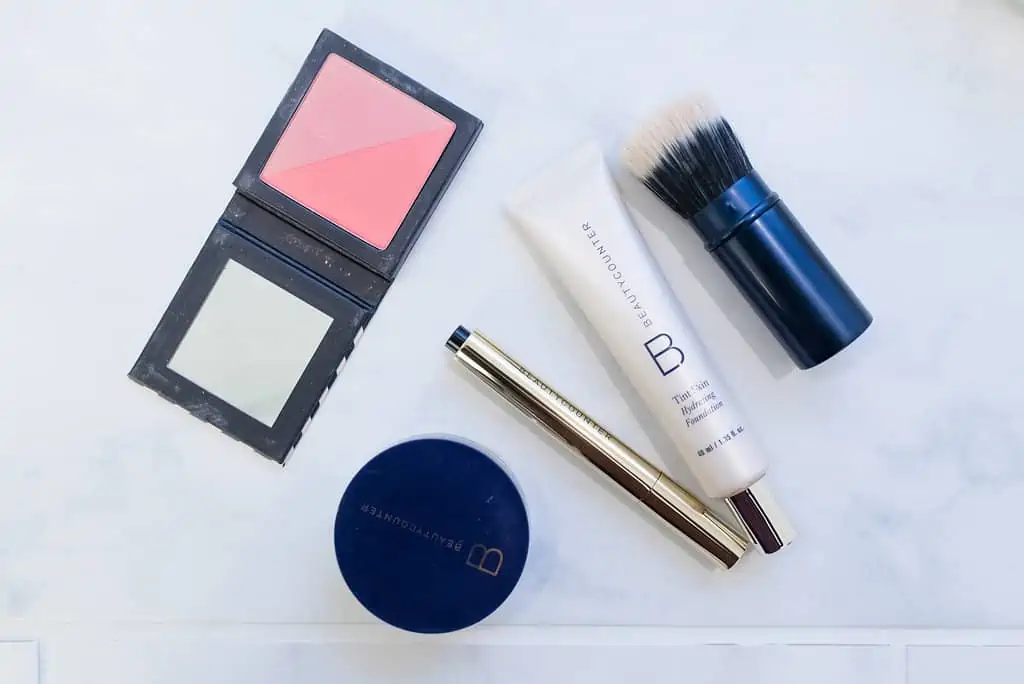 Hi Friends! I've been getting a few questions recently on my makeup so I wanted to round up all the products I use on the daily and share them with you! Ever since I switched my hair part last week, I've been getting more questions about my makeup…maybe it's because you can see more of my face these days! Speaking of hair…I'm still trying to figure out what I'm doing as far as curling my hair goes. Some days I like the closer to the middle part and other days I want my swoop back. I guess time will tell on what option will be the best for me!
Okay back to the makeup…
I use two different foundations depending on the day. I use Giorgio Armani Luminous Silk Foundation on days that I have photoshoots or events. It's great coverage and makes your skin look amazing. It's kind of pricey but thankfully it does last for a long time. On every other day or days I don't have much going on, I use Beautycounter Tint Skin Foundation. I love this foundation because it's a clean beauty product and doesn't have tons of harmful ingredients. This foundation provides medium coverage but allows your to build on that if you need or want more coverage. I apply both of these foundations with my Bobbi Brown Foundation brush…LOVE THIS THING!
The next two products are my two favorites – Beautycounter Concealer Pen and Beautycounter Mattifying Powder. I use the concealer pen under my eyes everyday to help brighten them up a bit. The color I use is fair. I suggest going one shade lighter if you are wanting your under eye concealer to brighten your eyes. The mattifying powder is amazing! I have naturally oily skin so any help mattifying the oil is much loved over here! I also notice that my skin doesn't get as oily and I hardly ever have to retouch my makeup throughout the day.
I then move on to eyes. I know some people start with their eyes and then go from there but I've just always gone in this order. Whenever I remember to try eyes first, I've already put on foundation so I'll just keep doing what's working for me, ya know? I use the Anastasia Brow Whizz Pencil to fill in my eyebrows. I really want to get my eyebrows microbladed but haven't pulled the trigger on that yet. I previously used her Dip Brow Gel and although that lasts for much longer, the pencil is much easier to use in my opinion. I then add eye shadow and eye liner. My ride or die eye liner is by Kat Von D, the tattoo liner. It's seriously the best eyeliner I've ever used. That's also probably why I've been using it for the last 7+ years.
Next up, I apply bronzer, highlighter and blush. I've been using the Anastasia Contour Kit for about a year now and love it. I actually just go an Urban Decay Contour Kit so I'll try that one out and let you know my thoughts too. I've been using Beautycounter Blush in Flamingo and really love the pigments. Plus it lasts all day and again it's healthy for your skin!
At this point of my makeup routine, I add my mascara then lipstick and I'm done! I use a ton of different mascaras but they are almost always a volume boosting option. I really like the Benefit BADgal Bang Mascara and L'oreal's Voluminous Volume Building Mascara. I'll link a few other options below that you might want to try too!
That's pretty much it! I will film a new makeup tutorial soon so y'all can see the step by step process! Everything I'm currently using is linked below. Let me know if you have any specific questions about the products. I'm always happy to help!
PRODUCTS:
Links for the Beautycounter products I use. You can also find them (along with several others) under the BEAUTYCOUNTER tab on my blog