DRESS | HAT | SANDALS | FANNY PACK

I am so excited to be able to partner with Logan and Lenora to bring you all the Loverly Grey print in a brand new product, a fanny pack! This has been a highly requested item over the past year and a long time in the making, but it's finally here. In case you are new to the fanny pack trend or aren't sure exactly how to work it into your daily wardrobe, I'm showing you 10 ways to style the Loverly Grey Fanny pack!
USE CODE LOVERLYGREY10 FOR 10% OFF YOUR ORDER!
SHOP THE LOVERLY GREY x LOGAN + LENORA COLLECTION

DRESS |SWEATER | SHORTS | FANNY PACK
When it comes to styling a fanny pack, I love to mix up how I wear mine! I'll throw it on with an easy summer dress or an oversized beach sweater and my favorite Agolde shorts. You can wear it across the front of your body or simply sling it over your shoulder. If I know I'm running errands and have the girls with me, I'll wear it across my body. I love that it allows me to be hands free, while also being able to access my items easily. I find that if I'm in a hurry and I'm by myself, I'm more likely to throw it over my shoulder.
TOP | SHORTS | FANNY PACK
Another way to wear the the Loverly Grey printed fanny pack is to place it across your waist. This is a more traditional style, but is perfect if you're on the go this summer. If we're at the beach, and walking to get breakfast with the family, this is one of my go-to looks. I especially love that the fanny pack strap is adjustable so that I don't have to worry about it pulling at my running shorts.
JUMPSUIT | SUNGLASSES | SANDALS | DRESS | FANNY PACK
These next two ways to style the fanny pack are exactly what I would wear for an easy travel day look! If you're going to be going through an airport, being hands free is a must! This allows me to have all my items secure, where I can see them and easily accessible. To see even more travel looks, check out this post!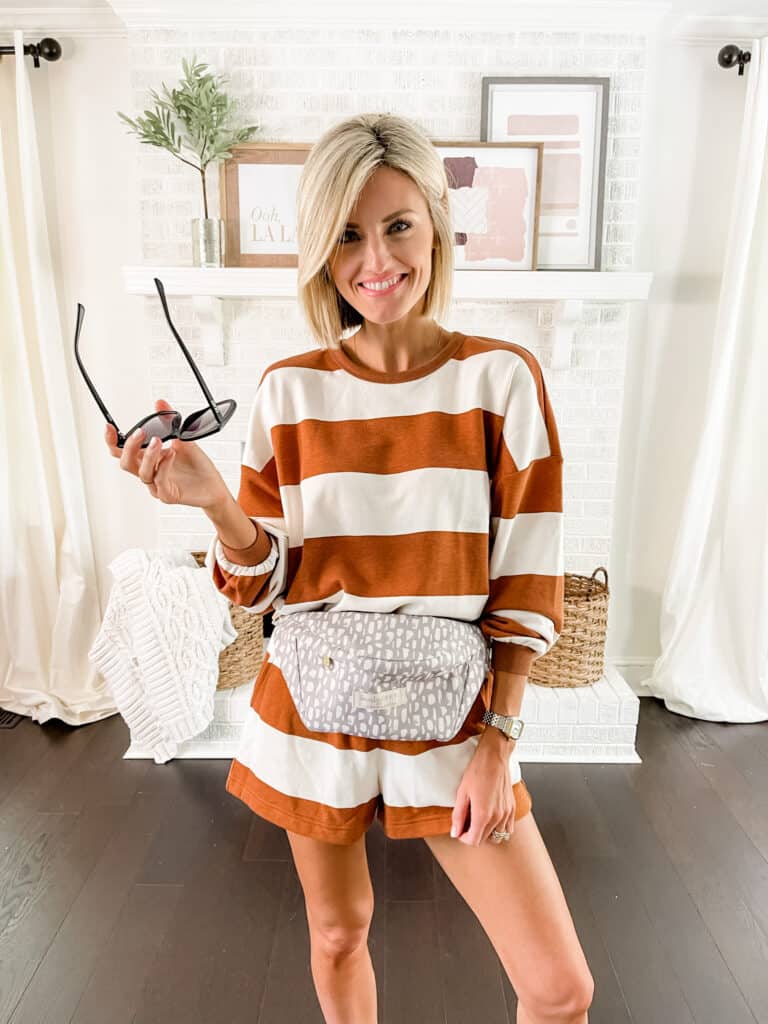 TOP | SHORTS | SUNGLASSES | WATCH | FANNY PACK
You all know I love a good matching set! I even rounded up a ton of my favorites in this post. Here, I've used the fanny pack to create a more defined waist line. I love that it break up the pattern of the bold stripes while also being functional. This is a great way to elevate a more casual look!
TOP | SHORTS | WATCH | DRESS | FANNY PACK
For an easy summer look, add the fanny pack to your denim shorts and crop top outfit. This would be great if you are going to a festival or outdoor event, and don't want to bring a huge bag. Some stadiums even require smaller handbags, making this the perfect option. You could also wear it over the front of a crisp white dress to give your look a fun pop of color!
TOP | SHORTS | WATCH | FANNY PACK
Finally, if you're just lounging around or out and about on a weekend, and want to be comfortable, add a fanny pack to your bike shorts and tank. You could even add a denim jacket over the top if it gets a little cooler or if you're wearing this look when traveling.
USE CODE LOVERLYGREY10 FOR 10% OFF YOUR ORDER!
Be sure to drop your email below so that you never miss a Loverly Grey product launch. We have some fun things in the works right now, and I want you to be the first to know!