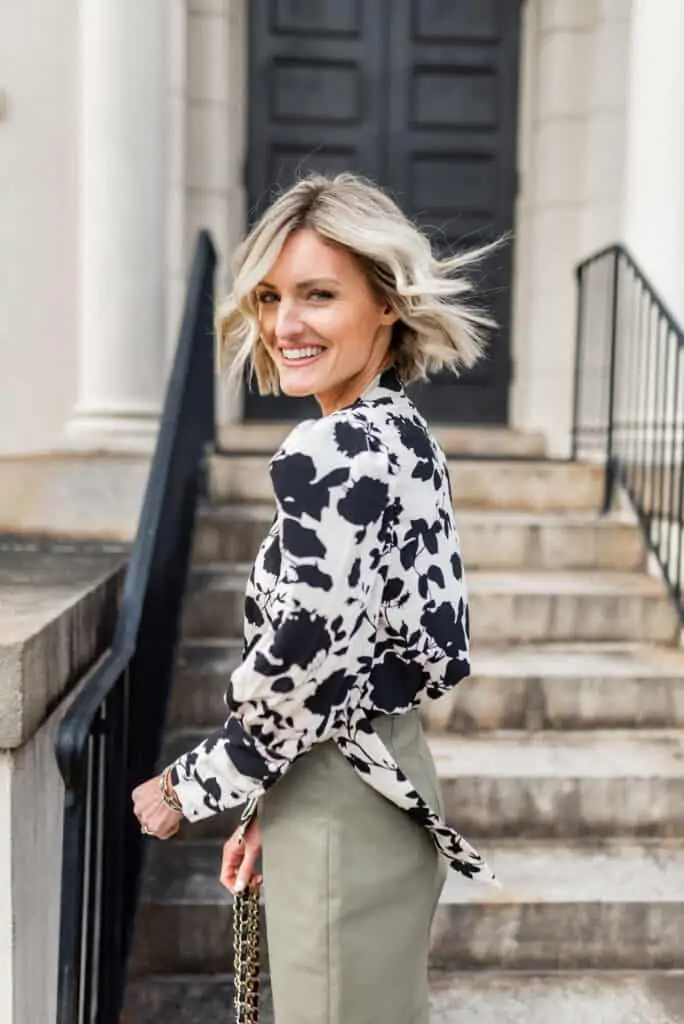 When I worked in corporate I was definitely guilty of wear the same few outfits over and over. We stick with we love right? Today, I am diving into how to stretch your wardrobe further by bringing in pieces, like this leather skirt, over from your "weekend" wardrobe to your work wardrobe. I'm also showing you how you can pair these two pieces with other items you likely already have in your closet!
SHOP THIS LOOK

You likely have that item in your closet that you love but save for the weekend. Maybe it's a leather jacket, a fun sweater, or a knee high boot. Whatever it may be, I'm sure with the right complimentary pieces you can pull it off, while still looking professional, for work! The key is to bring in a more professional, conservative piece to pair it with. For instance, I paired this skirt with a more conservative professional blouse to give it a work vibe. Had I paired it with a tee and sneakers it would send too casual of a message.
TWO MORE WAYS TO STYLE THESE LOOKS
GET THE LOOK

You can pair the faux leather skirt, which is under $20 by the way, with a neutral sweater and knee high boots for a pulled together work look. Need an added layer of warmth? Add a neutral blazer like this one to tie the look together! Now take that same fun patterned top from Target, which comes in a few other colors, and pair it with my favorite amazon work pant. You have a whole new look for under $50! As we move into spring, trade out your favorite black pants for a white pair or even a fun color!
If you enjoyed this post be sure to drop your email below to stay up to date on all work wear inspired posts! Then head over to this page, filled with work wear inspiration for every season.
All photos were taken by KVC Photography. Check her out on instagram @kvcphotography.