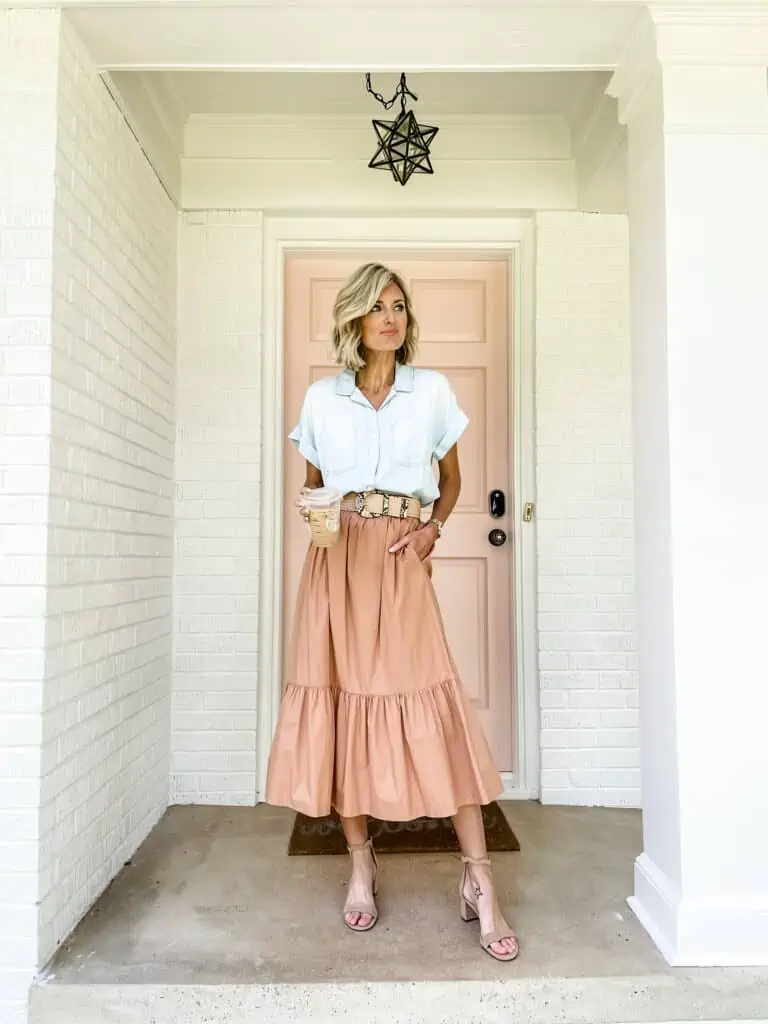 Is it just me or did summer seem to fly bye? Here in Georgia, kids are already back in school, along with all my teacher friends! As much as we hate to leave summer behind, entering a new school year in style might be just what you need to put that extra pep in your step. I'm so excited to share 30+ teacher outfit ideas for your most stylish school year yet. The best part, these pieces were all hand selected as affordable, wardrobe staples that can carry you throughout the school year.
I encourage you to use this post as a resource. Peak in your closet and see what you already have that you might be able to use to recreate some of these looks. There is nothing better than breaking out that dress or blazer that is tucked in the back corner of your closet and breathing new life into it. And if you're not a teacher, don't worry, these looks are perfect for going back into the office or even working from home.
SHOP THE LOOK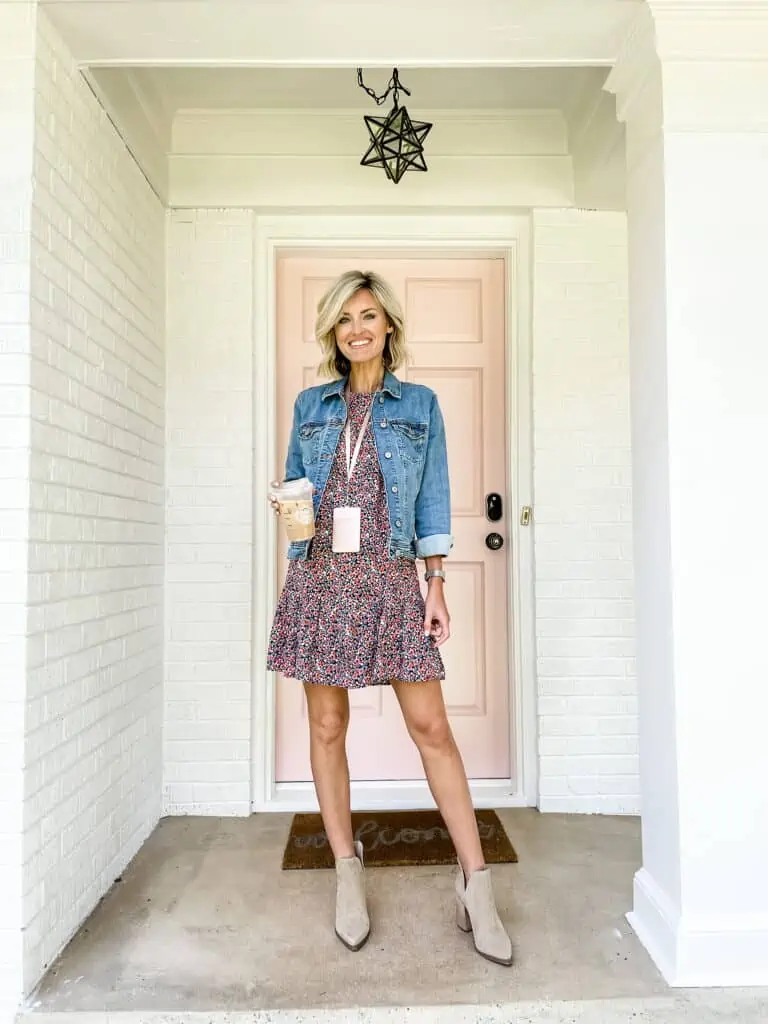 For a casual fall look, pair a floral printed dress with a denim jacket. Add suede booties for added texture. As it gets a little cooler, trade out the booties for knee high boots and a sweater coat!
SHOP THE LOOK

SHOP THE LOOK

To stretch your work wardrobe a little further, grab a summer dress and layer a cardigan over the top! I love how the taupe color plays well off of the yellow tons and blends nicely with the blush handbag. One of my favorite looks in the fall is to pair knee high suede boots with an above the knee dress. You can layer a denim jacket over the top or even a chunky cardigan!
SHOP THE LOOK

When in doubt on what to wear, grab a black blazer and and black pants. Layer a pop of color under neath and you're ready for the day ahead! This is an easy and quick outfit that you can throw together in just a few seconds. Or you can add a statement making top to these classic black pants and round out the look with mules! I rave about just how must I love these pants in this post!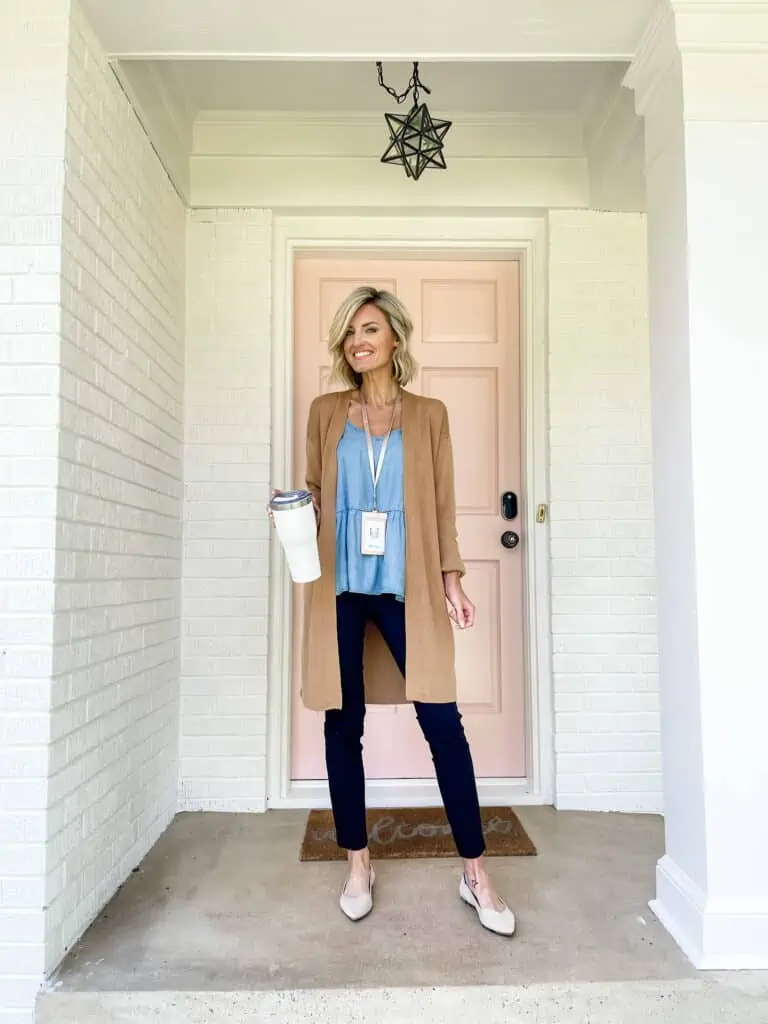 SHOP THE POST

I love a long line cardigan in the fall! The color of this one is especially pretty. Pair with a denim tank or even a white tee for a casual work wear look.
SHOP THE LOOK

One of my favorite work wear pieces is a blazer! I especially love the pop of color that this purple one brings to a more traditional look. This blazer is such great quality and comes in a few other colors as well! I paired it with one of my favorite Logan and Lenora Daytripper bag. It's perfect for work because it's light weight, large enough to hold everything, and it's machine washable. This way you can wash your bag every weekend and get rid of germs or any spills that may have occurred throughout the week.
Use code Loverlyrey10 for 10% off your Logan and Lenora purchase!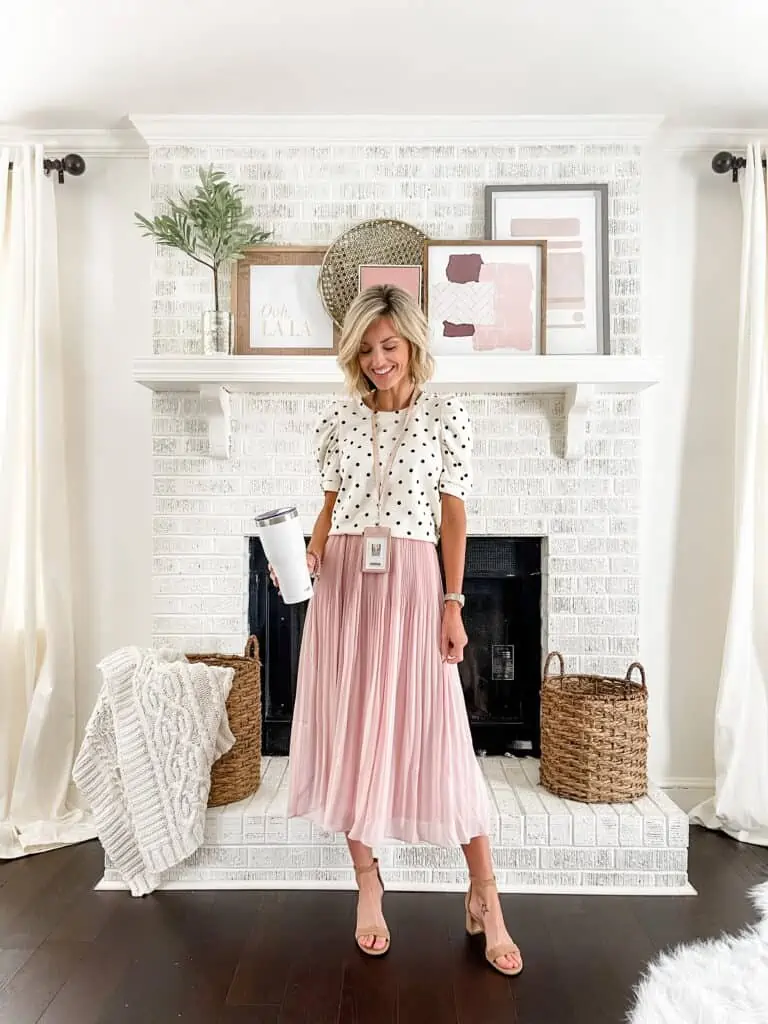 SHOP THE LOOK

For a more feminine look, pair a pleated midi skirt with a puff sleeve polka dotted top. These are both pieces that you could easily pair with other items in your closet as well. I'd also pair this top with black pants and flats. You could even add an oversized sweater to this midi skirt and switch out the open toed heels for booties in the fall.
SHOP THE LOOK

A pleated midi skirt is so versatile as a work wear piece. Pair it with a statement top or layer a blazer over the top of a silk tank if you're headed into a day of full of meetings.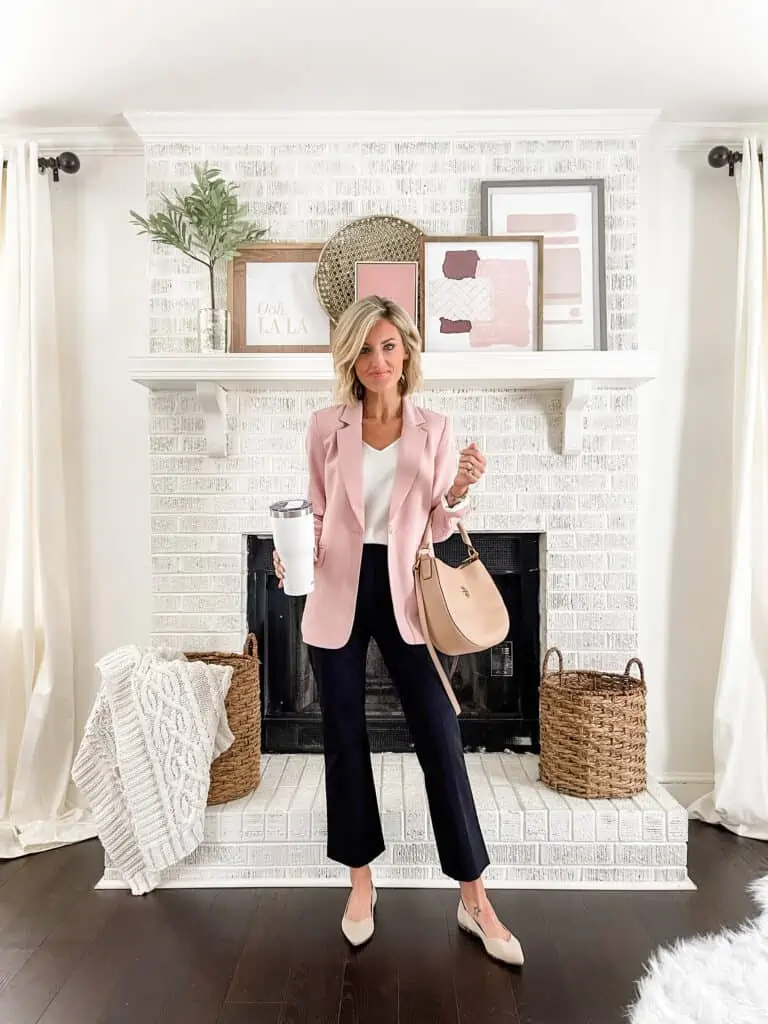 SHOP THE LOOK

For a slightly dressier look, pair cropped flare dress pants with a silk blouse and pink blazer! I'm loving the fit and quality of these black dress pants. They run true to size and feel like they are going to last a long time. I added a blush handbag and neutral heels, however you could trade those out for heels for booties in the winter.
SHOP THE LOOK

If you're wondering how to wear a statement top, here is a great option! This top has a larger puff sleeve detail so I like to keep it simple with that I pair it with. I added a pair of black pants to compliment the warmth of the top. I also love the look of these pants with a graphic tee and denim jacket for a casual Friday look.
SHOP THE LOOK

As a teacher, a great cardigan is a wardrobe staple! I love both of these because they are neutral enough to be paired with just about anything in your closet, while also adding an extra layer if your office or classroom is more like a tundra.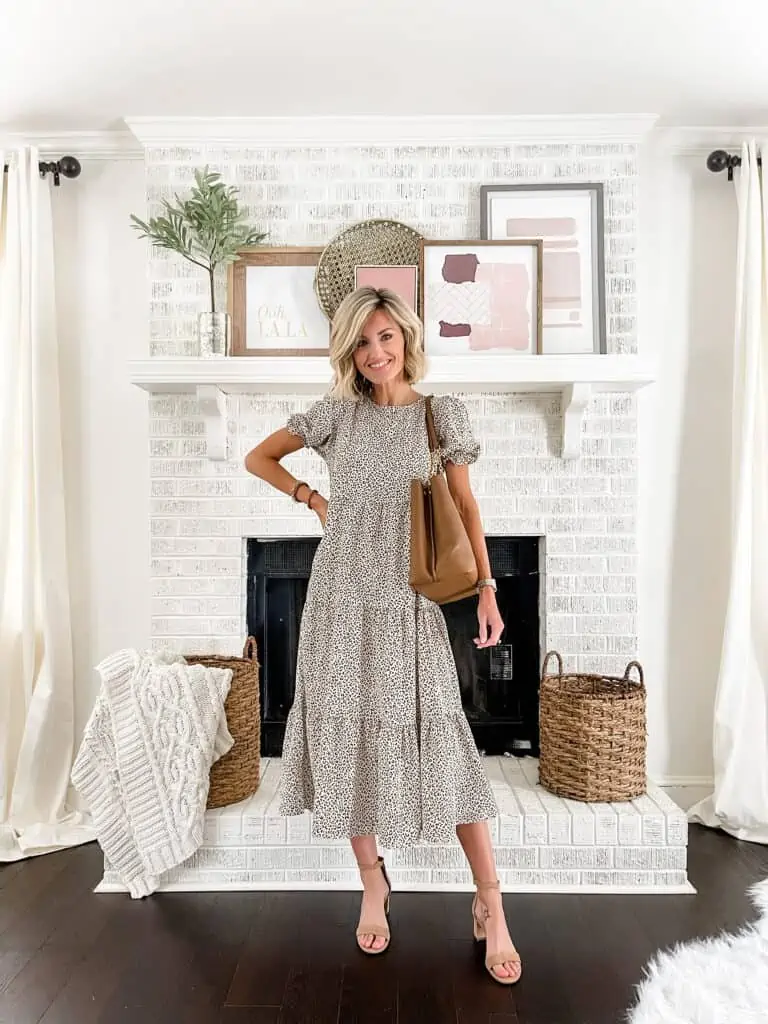 SHOP THE POST

The subtle animal print on this dress makes it perfect for work! The sleeve detail gives you enough coverage where you don't have to add a layer. However, if you are chilly I would add a black or white blazer over the top!
SHOP THE LOOK

This floral midi dress is the perfect summer to fall transitional piece. The floral pattern and fun color make it feel summery, but when paired with suede mules, it instantly has that fall vibe. You could easily add a fall hat for a date night look and switch out the mules for sneakers on the weekend. It's a little oversized, so it would work great if you are expecting this fall.
SHOP THE LOOK

You all know I love a great midi dress! When paired with a denim jacket and heels, this can be a great work option! Plus, a dress is great for those days when you need an outfit quickly, so that you can get out the door, and still have time to grab coffee on the way into work! You can also style it by layering a sweater over the top and adding a skinny belt.
SHOP THE LOOK

You can't go wrong with a little animal print in your wardrobe! I love this dress because you can pair it with heels and wear to work or switch them out for sneakers and wear on the weekend. Plus, this is something that I would leave on after work and meet up with friends for dinner!
SHOP THE LOOK

When in doubt on what to wear to work, still with an all neutral look. Whether you are wearing a neutral cardigan or a little black dress, you're sure to feel confident and ready to tackle anything that might come your way!
SHOP THE LOOK

Here I've styled the same polka dotted sweater top from above with these fun colored dress pants from Target! This is a great weekend look for when you're counting down the days until the weekend and need a little mood boosting look!
SHOP THE POST

These pants are a must have! Not only is the color super fun, but the material has a great amount of stretch to them. If you are teaching little ones and on the floor, these would work great. Or if you're sitting at a desk for longer stretches of times, these would be super comfortable to wear!
SHOP THE LOOK

This teacher outfit idea is not only cute, but comfortable too! These Spanx pants are super flattering. They have the perfect amount of stretch to them, while still holding their shape. Plus, the white is not transparent in the east bit!
SHOP THE LOOK
Don't be afraid to add a little color to your work wardrobe. I recommend starting out with a solid piece like a statement pant or blazer. Pair with a neutral top to maintain a level of professionalism. Round out the look with flats and a tote bag!

SHOP ALL 30 TEACHER OUTFIT IDEAS