It's time to ditch your classic black pant you've been wearing on repeat all winter and trade them in for the perfect high waisted paper bag pant. Trust me when I say, those black pants are going to be jealous. Because once you slide into these, there's no going back. I have a feeling this spring work wear look is going to be one you pull for week after week!
GET THE LOVERLY GREY LOOK

I've shared a high waisted paper bag look before here, but these Target pants are not only affordable, but the perfect spring time material. They are light weight and breathable. Plus they are super flattering and very comfortable if you are sitting at a desk the majority of your day. I'm wearing a size extra small in the pants and they are still a little loose so if you're in between I would size down. These pants also come in a few other color options if you're wanting to grab more than one pair!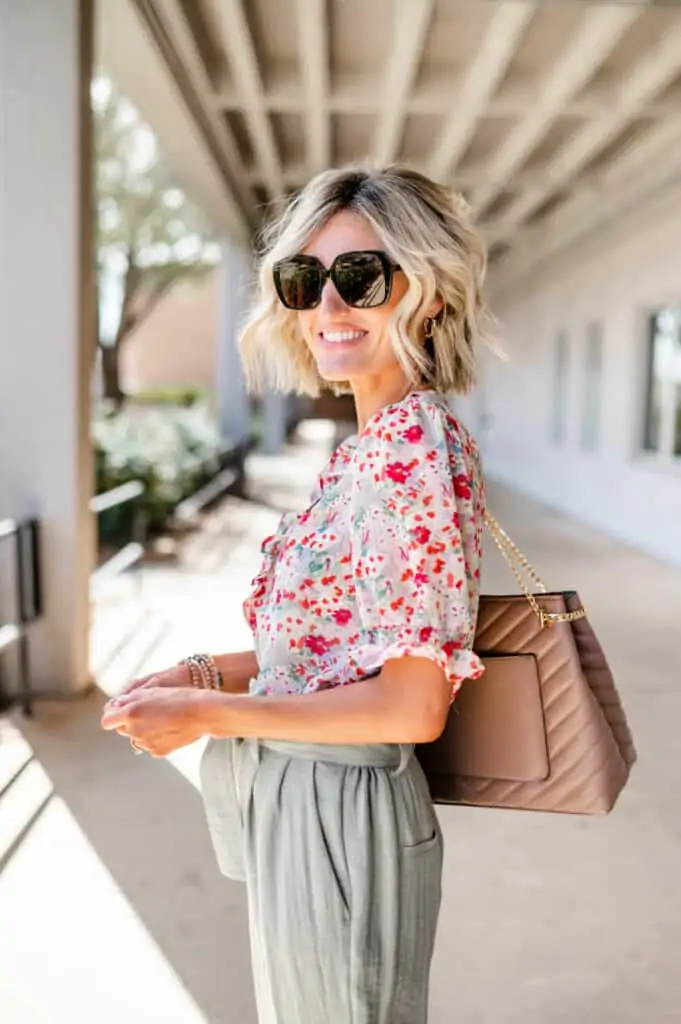 When styling high waisted pants, and ditching your classic black pant, I typically like to tuck in a blouse or pair it with a body suit. Since these pants have a lot of volume, I usually opt for tops that are super oversized so that it doesn't look like you're swimming in your clothing. This floral top perfectly matched these green pants, so I couldn't resist pairing them together. This top isn't online in the white yet but I've linked the navy below along with a few more of my favorite floral work tops!

To elongate your legs and avoid looking frumpy, I would suggest pairing this look with a heel. I personally love the look of an open toe block mule or heel for spring. However, if heels aren't your thing then I would opt for pointed toe flats to give the elusion of height. I've rounded up a few of my favorite spring work shoe options for you below!

For even more work wear inspiration, be sure to check out the Loverly Grey work wear shop on the blog! And be sure to drop your email below so you can get exclusive content delivered directly to your inbox, from yours truly.
All photos were taken by KVC Photography. Check her out on instagram @kvcphotography.