Now that the new year is in full swing, its time to level up your workwear wardrobe. When I have an outfit that I'm looking forward to putting on in the morning, I'm always more excited about the day ahead! Whether you're on the hunt to add new workwear pieces to your closet, or you're looking for different ways to style the pieces you already own, I hope these winter workwear outfit ideas inspire you this season!
SHOP WINTER WORKWEAR FAVORITES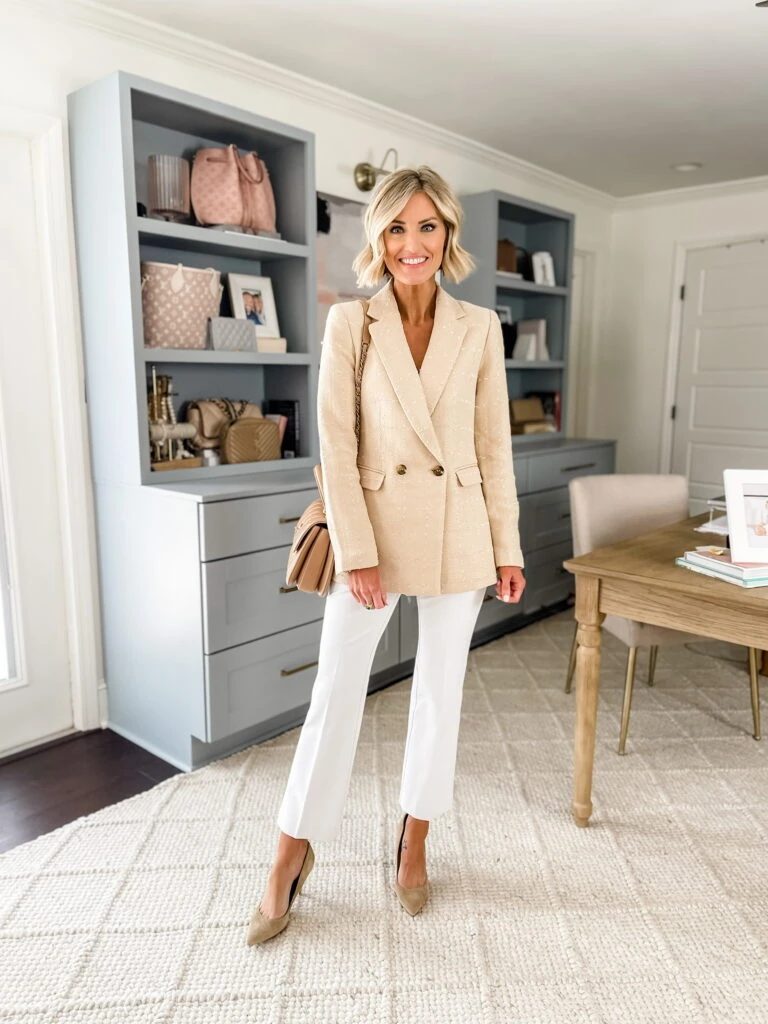 Kicking things off with this stunning tweed blazer! Now that neutrals have confidently made their way into winter looks, this khaki colored blazer has year-round "closet staple" potential. Pair it with white flare pants and a nude heel to complete the look. High quality white pants can be hard to track down, and these are the perfect pair! They hold you in, and they pass the see through test!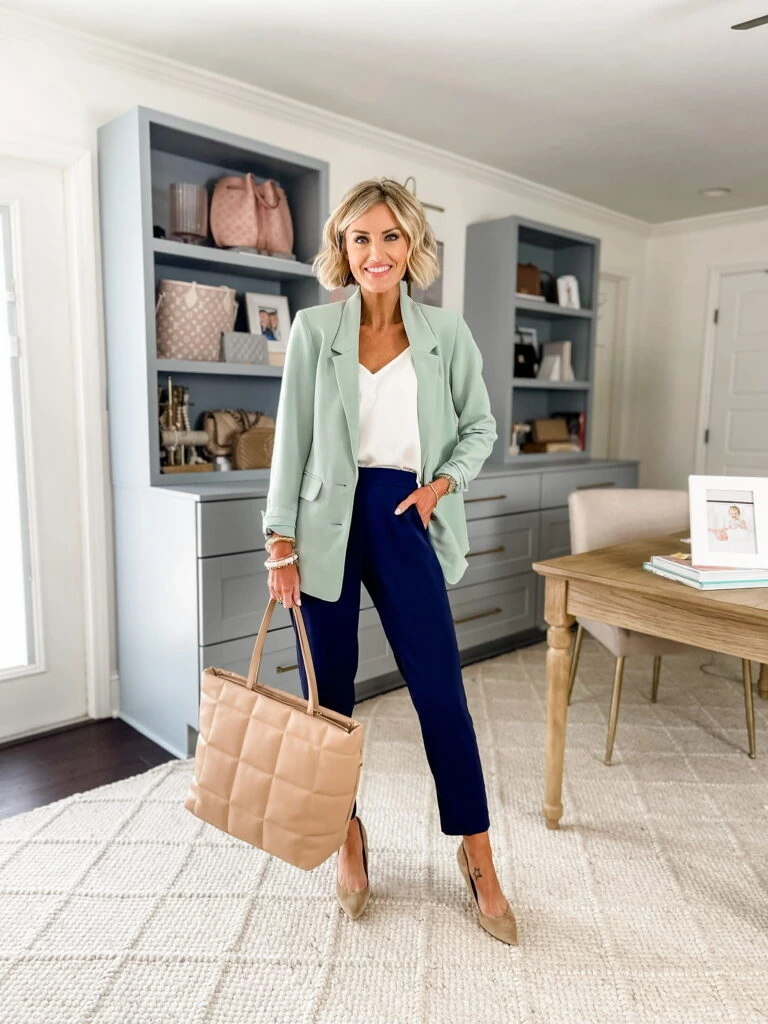 TOP | BLAZER | PANTS | HEELS | BAG
As we inch toward warmer months, consider adding a colored blazer to your winter workwear looks. Having a good white top on hand is helpful for styling with color. Round out the look with a toned down pair of pants, such as navy, and add neutral shoes and accessories!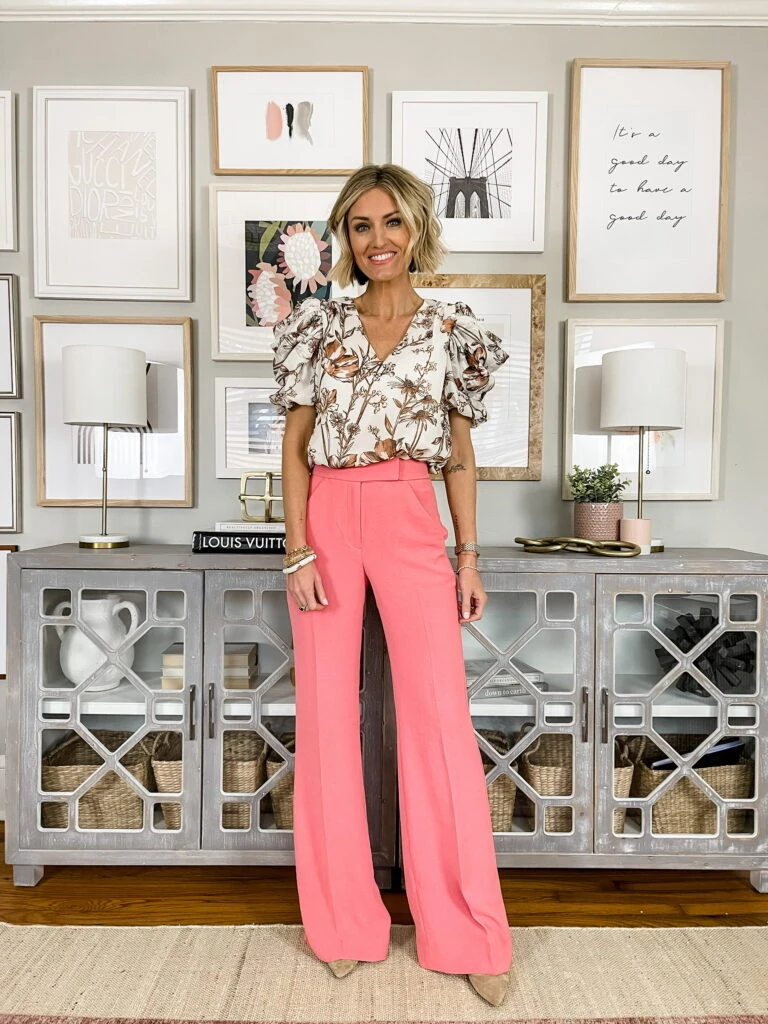 Hello, wide leg pink pants! Personally, I love to incorporate bold items in my winter workwear wardrobe to keep my closet fun throughout the cold season. Don't be afraid to pair a bold color with an equally bold print.
If you're ready to stand out, consider wearing a bright color head-to-toe. The best part about having a matching blazer and pants is that you can wear them together or separate to create even more outfits. This white top is a great way to bring texture into the look, while still balancing the bright pink.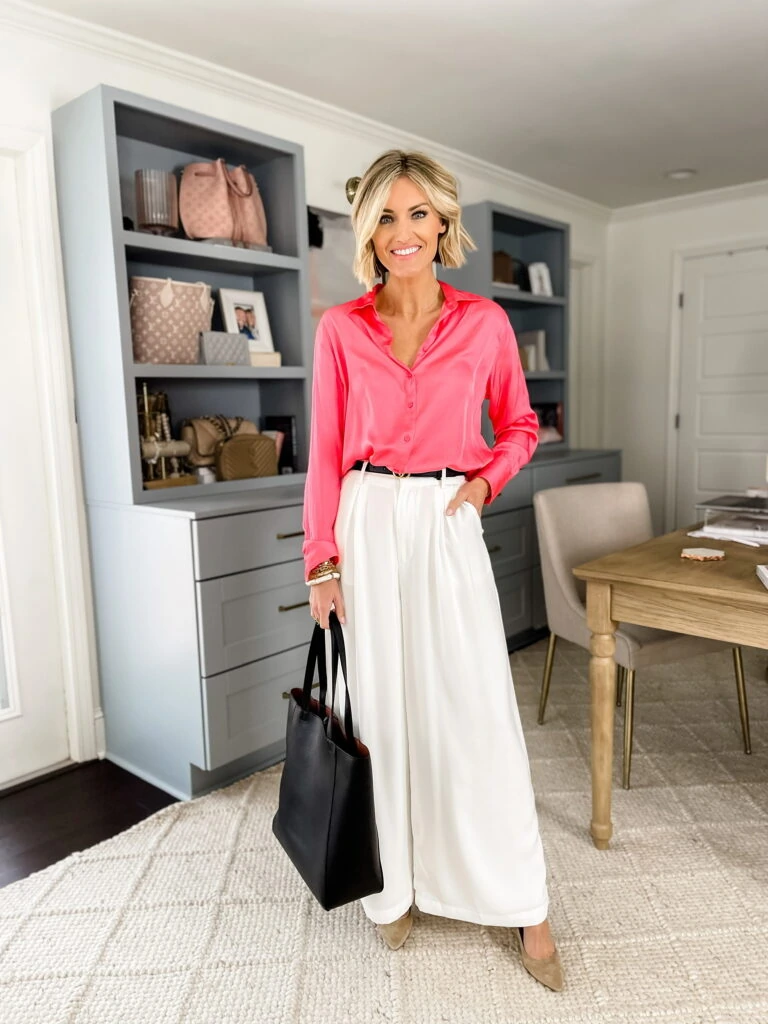 TOP | | PANTS | BELT | TOTE | HEELS
Have you tried a pair of super wide leg pants yet? Not only are they on trend, they're also very comfortable! Add a belt and pair with heels and a button down top to finish off the look.
Be bold and start dressing in spring colors throughout the winter months! You can always add winter pieces such as a black blazer to keep warm.
Style a pop of color with neutrals for a timeless and fun winter workwear look. This bright pink top can easily transition into spring. Pair it with cream pants and a blazer for a classic workwear look.
Yes, you can bring your leather pants into your workwear looks! This pair of leather pants is a good fit for winter workwear outfits because the wide leg fit keeps them office appropriate. Add a blazer to keep the look professional. The best part is that you can shed the blazer and you're ready for a dinner with friends!
Is Elle Woods still inspiring anyone else's workwear wardrobe years later? Because, same! Bold but professional, dresses like this one allow you to stand out in the best way.
SWEATER | BUTTON UP | SKIRT | NECKLACE | HEELS
Adding a tweed skirt to your closet can create more looks than you think! Consider layering your classic pieces such as a white button up and a crewneck sweater to complete the outfit.
When a maxi dress works as a workwear dress too, you know you've made a good investment! This one features a timeless pattern, giving it an effortless but professional office look.
TOP | PANTS | BELT | TOTE | HEELS
Adding a pair of neutral wide leg pants to your closet can allow you to get more use out of the tops you already own. Pull out other accessories, such as this belt, to tie in a pair of heels and round out the look.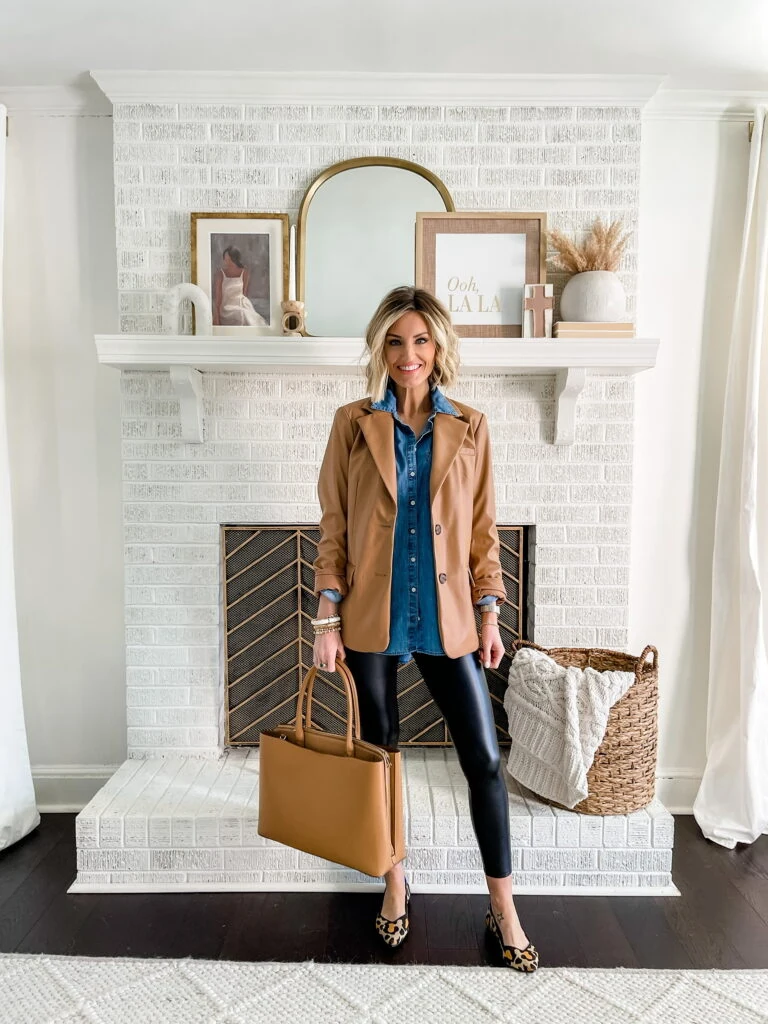 TOP | BLAZER | PANTS | HEELS | BAG
If faux leather leggings fit your work environment, go for it! Dress up your leggings with a button down and a blazer for a stylish and comfortable work appropriate look. This outfit would also be great for work travel, too!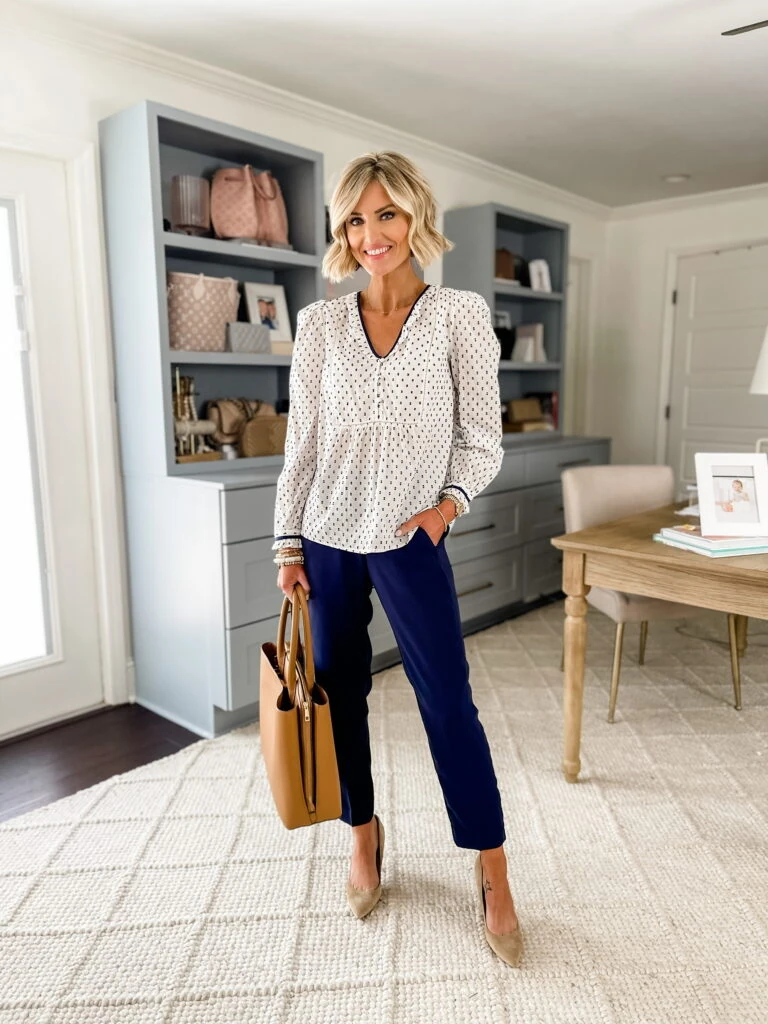 Get the most wear out of your spring tops by pairing them with darker pants and a nude heel for an easy and classic office look.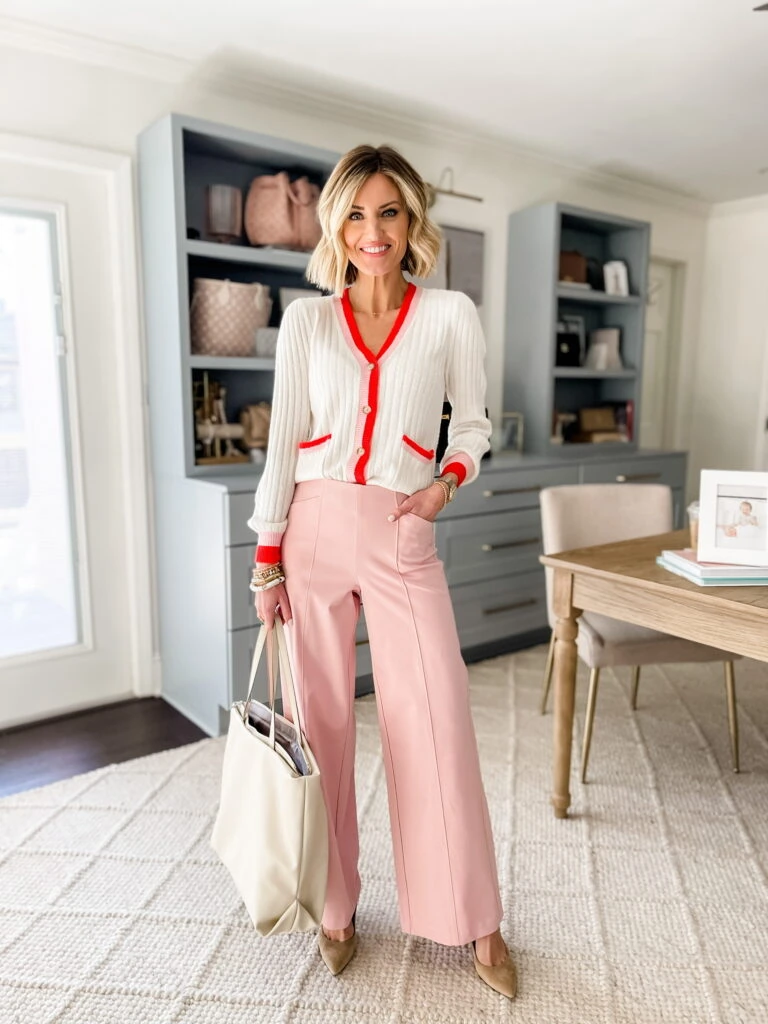 TOP (left) | TOP (right) | PANTS | HEELS | BAG
What if I told you these pink wide leg pants could be styled with several different pieces that you probably already have in your closet? I'll show you how to style them 6 ways! To start, consider pairing wide leg pants with a button down sweater or top for a classic workwear look.
The blush pink tone of these pants pair perfectly with blues, including this puff sleeve striped top. This outfit is perfect for warmer days ahead!
Consider adding a neutral trench coat to your workwear closet for those days where the weather is a little unpredictable! When you grab a neutral color, you can be sure that it will compliment just about any of your other pieces in your work wardrobe.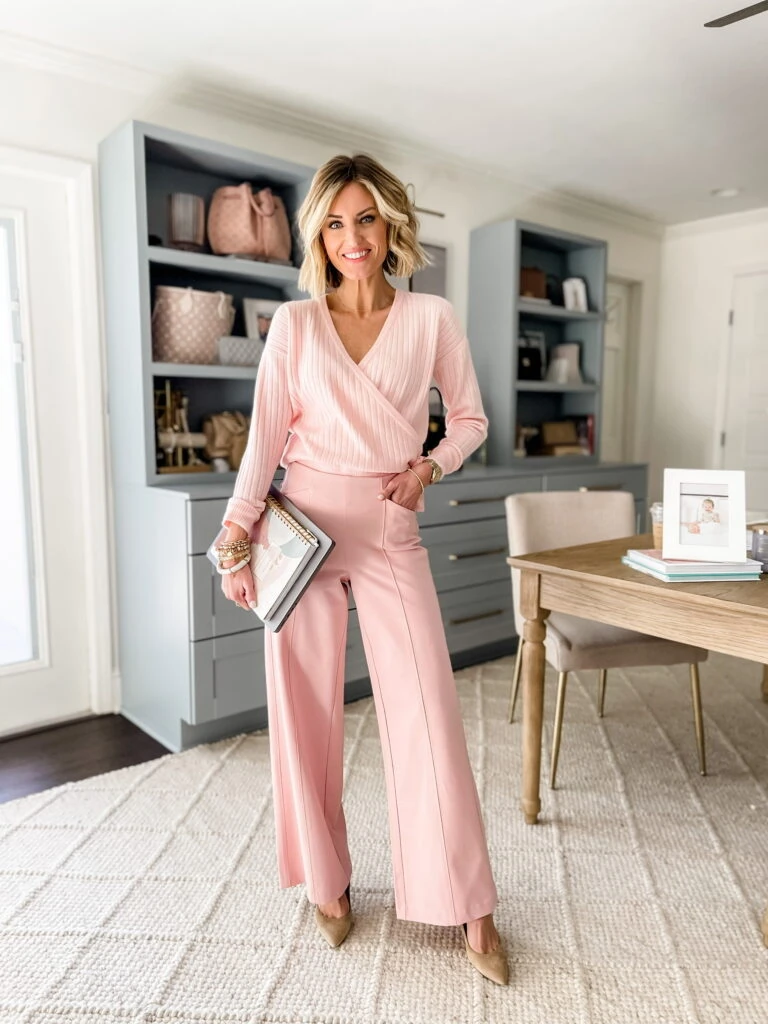 TOP (left) | TOP (right) | BLAZER | PANTS | HEELS
Tone on tone, or mix up the tones! Honestly, you can go either way while still keeping the look office friendly. Have I convinced you that a pair of blush pink pants is more versatile than you thought yet?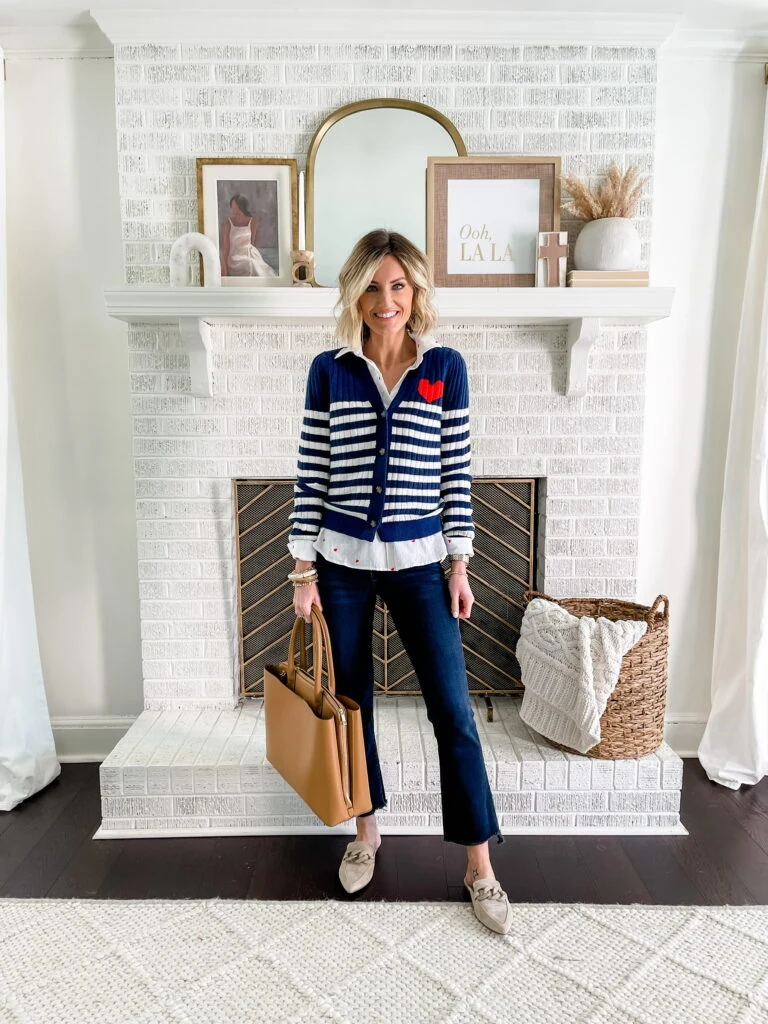 TOP | CARDIGAN | PANTS | FLATS | | BAG
Celebrate winter holidays such as Valentine's Day at the office in style! This subtle Valentine's Day office look allows you to be festive, without feeling over the top.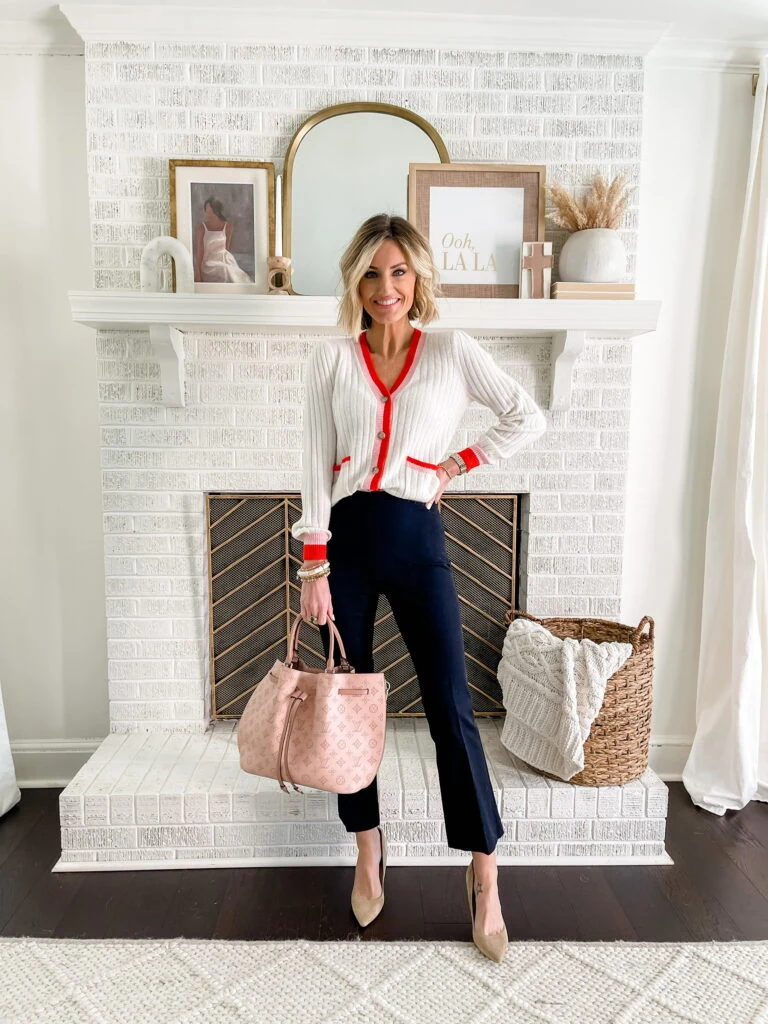 A statement sweater like this one can also be styled several different ways throughout the winter season! You can either wear this button down sweater with darker pants like I'm wearing here or a pair of brighter colored pants as seen above.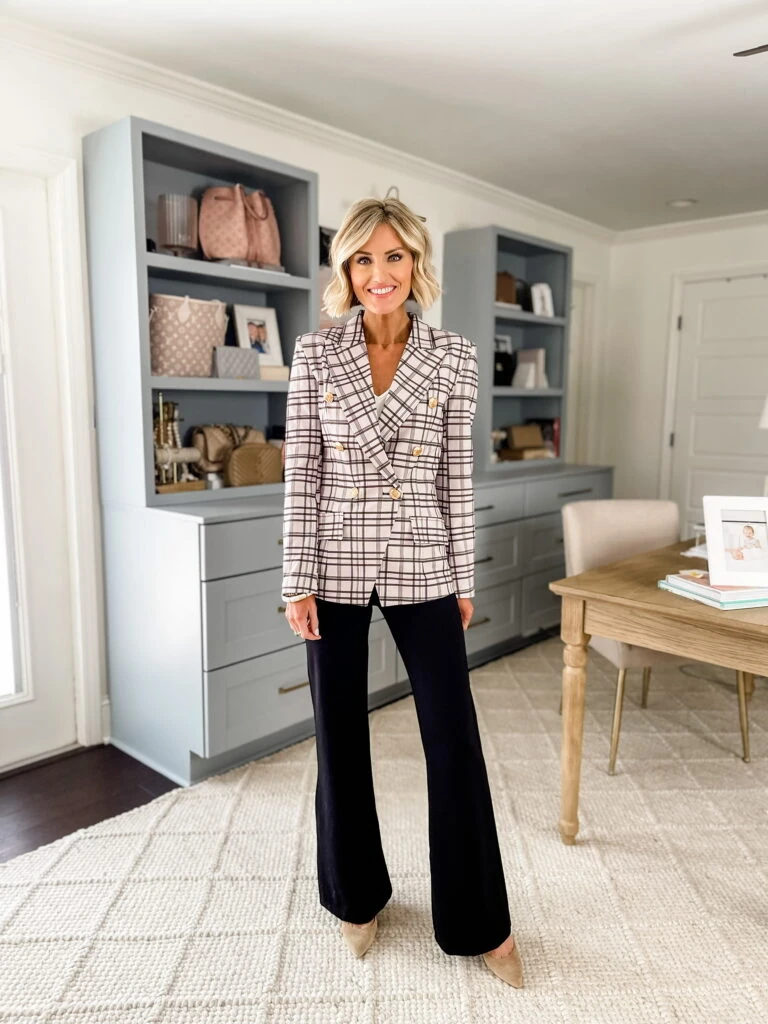 BLAZER | BLAZER (similar) | PANTS | HEELS
If you have your eye on a stand out blazer like this one, I encourage you to go for it! Bring out a pair of black wide leg pants like these and a neutral heel for a business professional feel.

SHOP WORKWEAR FAVORITES