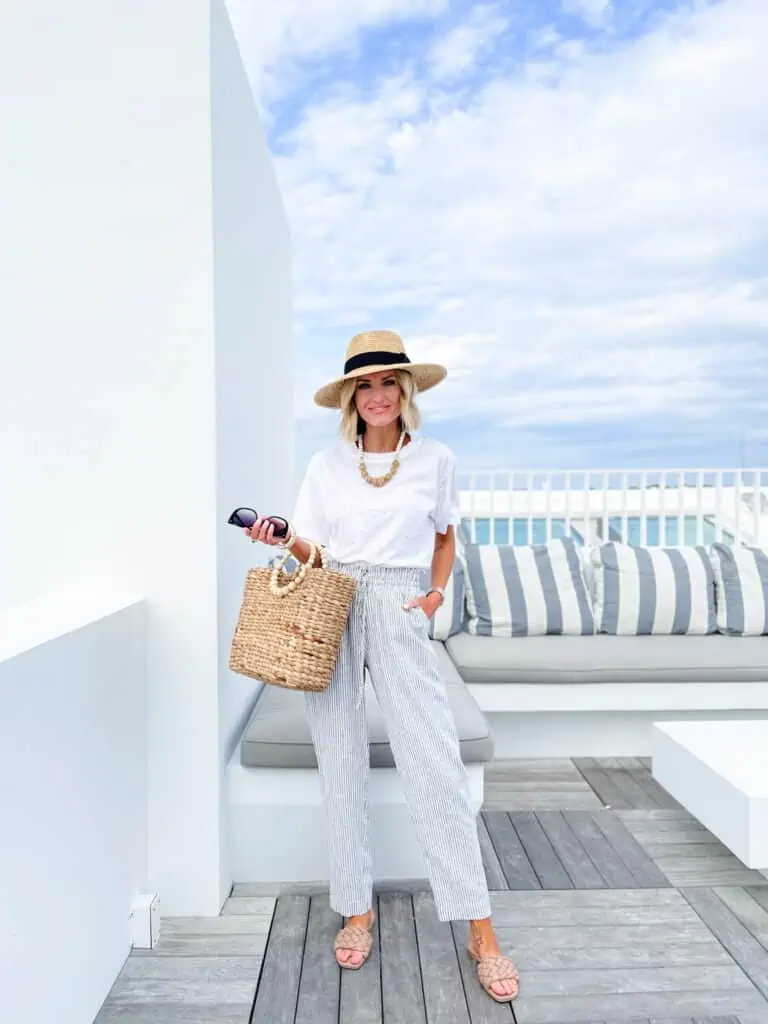 SHOP THE LOVERLY GREY LOOK

Team Loverly Grey recently took a team retreat to 30A, also known as Seaside, Florida. We went in the middle of February, and the weather was perfect! I thought it would be fun to recap all the beach vacation looks that I wore on 30A while we were there. If you are looking for outfit inspiration for your next vacation, this post is for you. I'm sharing 15 outfit ideas for your next beach vacation!
15 Outfit Ideas for Your Next Beach Vacation

WHAT TO WEAR TO BRUNCH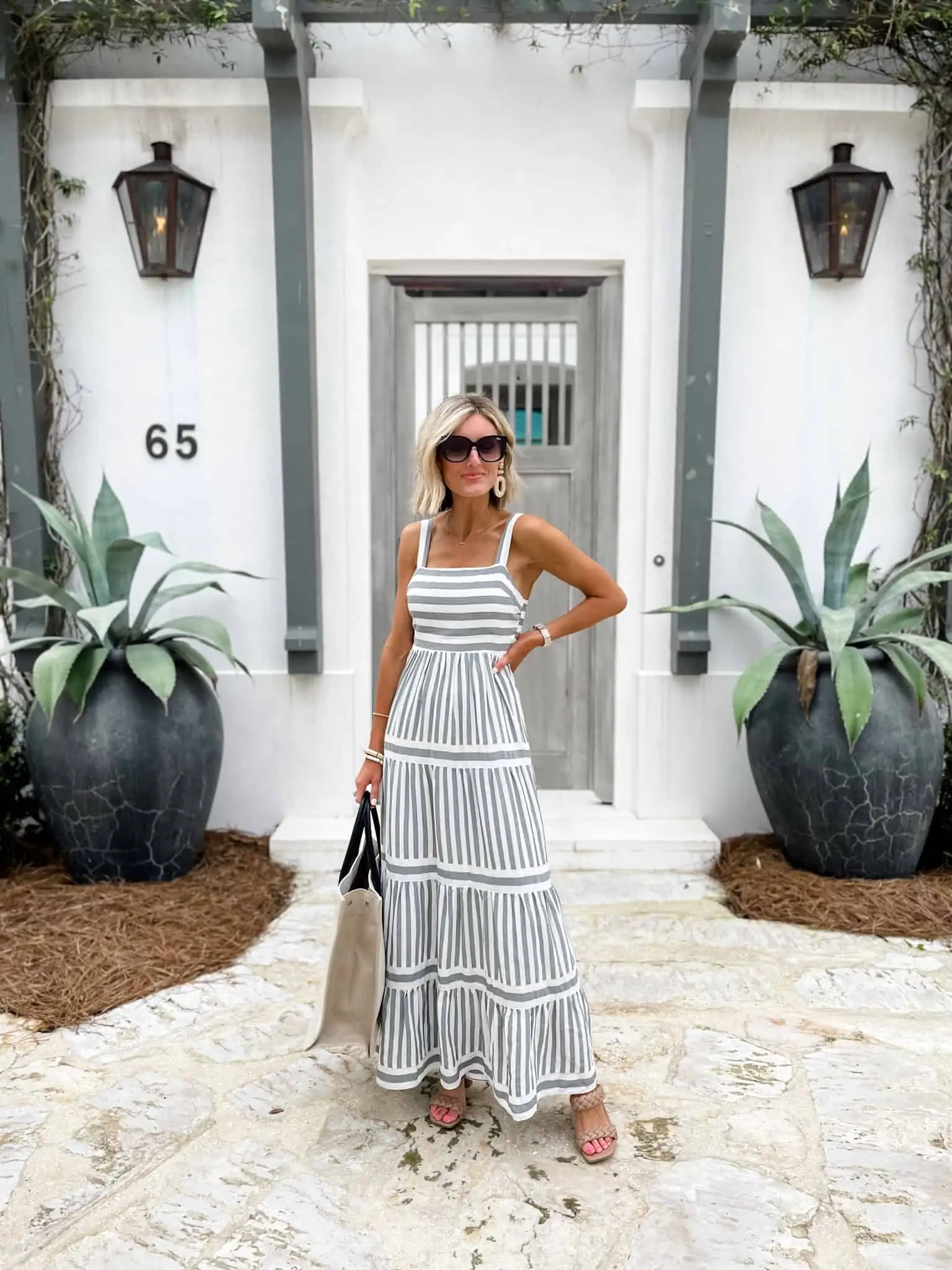 One of my favorite things to do when we are on vacation is to indulge in a big brunch! I can't think of a better way to start the day than with mimosas and anything that comes with bacon. It's also the perfect excuse to throw on an extra cute outfit. If you're wanting to go for maximum comfort, you can't go wrong with a maxi dress. This striped maxi is super comfortable, and can easily be dressed up with heels or down with sandals.
If there is still a chill in the air, you may want to consider opting for white jeans and a lightweight top. I love this chambray peplum top from Target. It comes in multiple colors and is less than $40. Add a straw bag and woven sandals to complete the look.
SHOP THE LOVERLY GREY LOOK

WHAT TO WEAR TO THE BEACH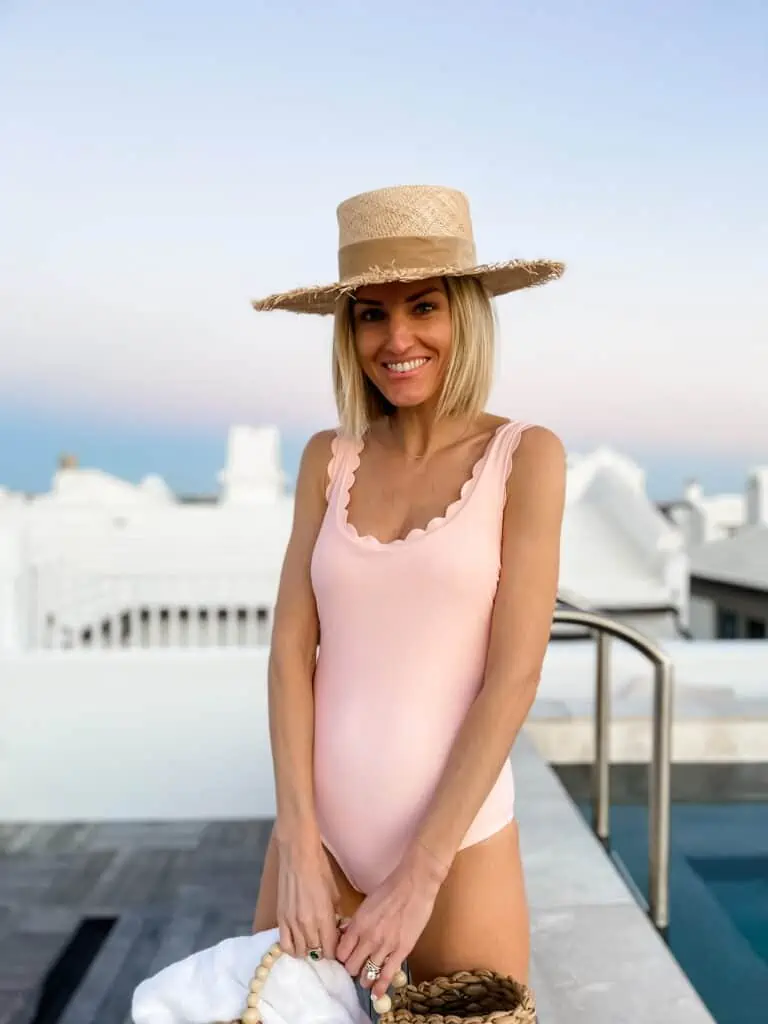 Whether you are planning to hit the beach or lay poolside, I've got you covered! If you're wanting a one piece that is supportive and flattering, I recommend this pink scalloped suit from Target. If you gravitate towards two pieces, this black triangle two piece offers full coverage and support! I paired it with this sheer maxi skirt coverup up from Amazon and my favorite woven sandals.
SHOP THE LOVERLY GREY LOOK

WHAT TO WEAR FOR A DAY OF SHOPPING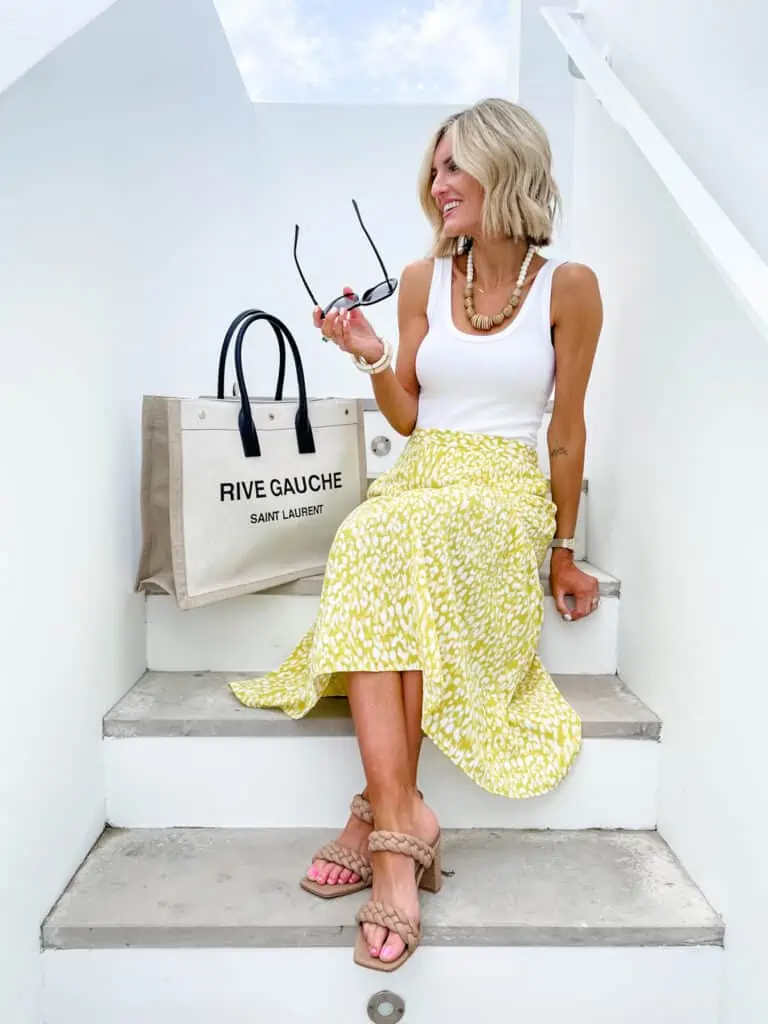 If you're heading out for a day of shopping, I recommend something that you can easily change in and out of. I usually opt for a tank and skirt combo, or a sundress that I can easily pull over my head. I love that both of these looks are great options if you pop into a restaurant for lunch or decide to do dinner after a long day of shopping with the girls!
The eyelet Target dress on the right is a vacation must-pack. It comes in three other colors, including a bright orange that would be a fun option if you're wanting to incorporate bolder colors into your beach vacation wardrobe.
SHOP THE LOVERLY GREY LOOK


WHAT TO WEAR TO DINNER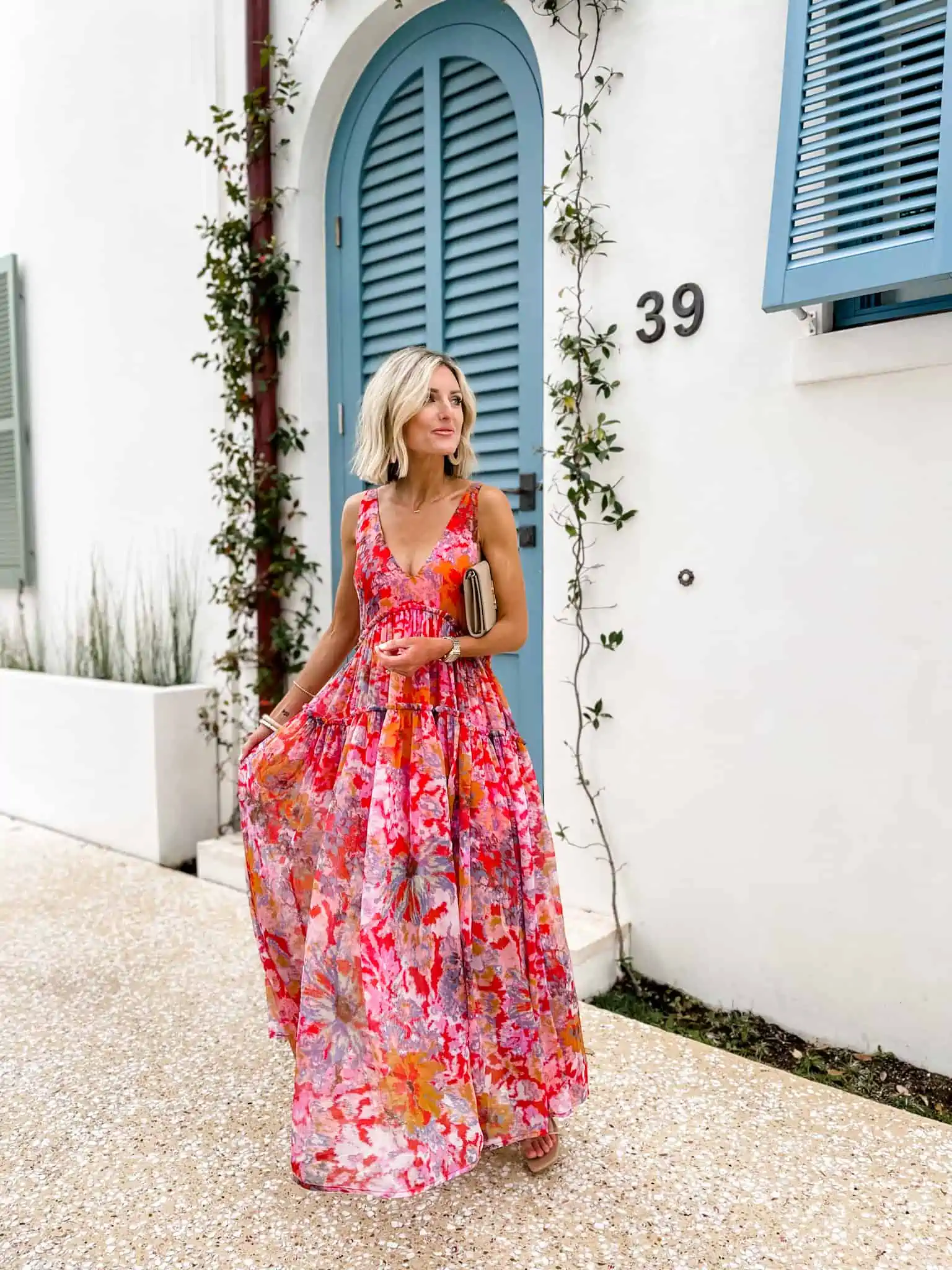 MAXI DRESS | EARRINGS | CLUTCH | PUFF SLEEVE DRESS | HEELS
Don't be afraid to go bold with your color palette when you're packing for your next beach vacation. I'm not sure if it's the margaritas or the salty air, but I love incorporating brighter colors into my wardrobe while I'm on vacation!
This Free People dress on the left is worth the investment. The pattern is even more pretty in person and it has great movement to it. If you have a spring wedding coming up, this is a piece that could double as a wedding guest dress! If you're wanting a more affordable option, the puff sleeve dress on the left is less than $25! It looks great with a statement necklace like this one from Anchor Beads.
WHAT TO WEAR WHEN EXPLORING THE TOWN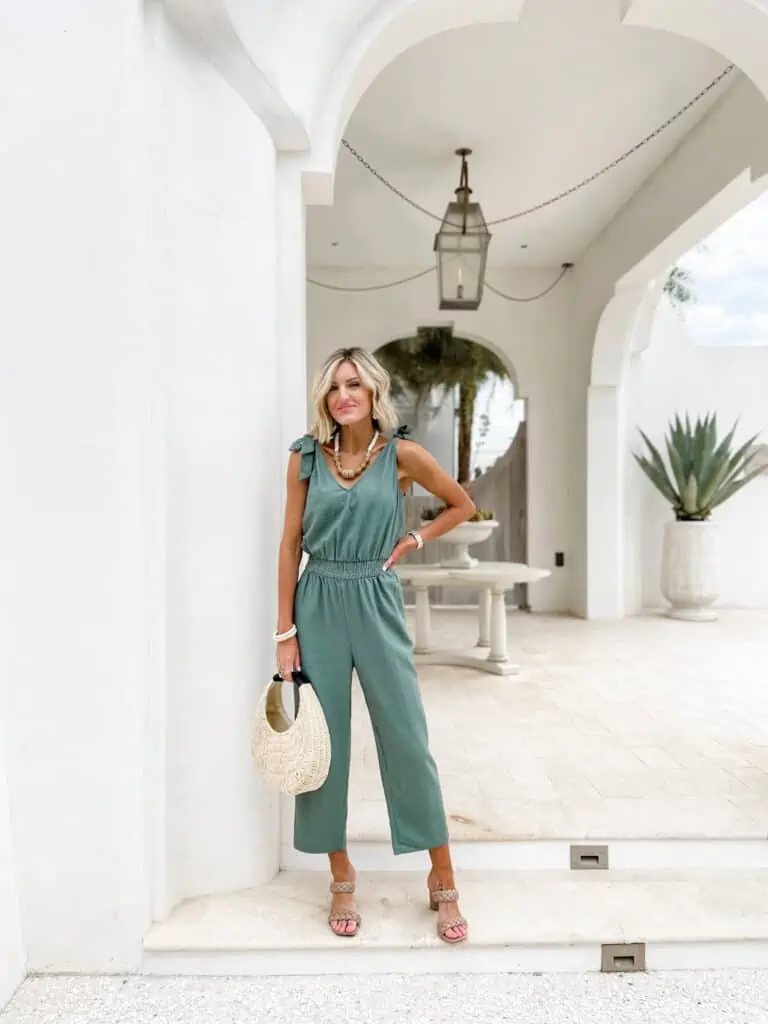 If you're exploring a new town while on vacation, I recommend an outfit that is going to be cool and comfortable, like a jumpsuit! Typically, exploring a new town means there is going to be a lot of walking involved. Both of these jumpsuits can be dressed up with heels or styled casually with sandals. Pair them with a straw bag and oversized statement earrings to complete the look.
SHOP THE LOVERLY GREY LOOK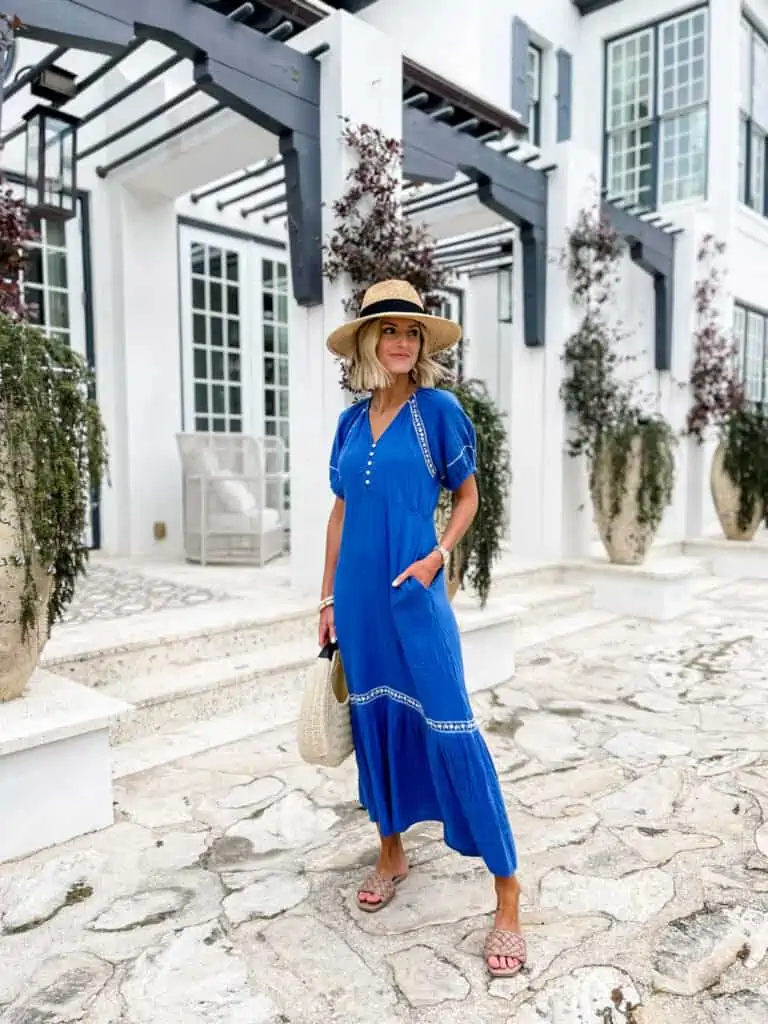 HAT | DRESS | SANDALS | STRAW BAG
Another comfortable option for exploring a new town, or doing a few day-time activities, is a maxi dress. I love this puff sleeve maxi from Old Navy! The embroidered detailing gives it an elevated look that is still casual enough to wear during the day. The fabric is a breathable gauze material, making it a great option if it's going to be a hot day. I also love that it has pockets! I styled it with neutral sandals and a straw hat for an effortless look.
WHAT TO WEAR TO TRAVEL HOME
My go-to travel day look is a cozy matching set! I love the tie-dye pattern in this Lou and Grey set from Loft. The shorts and sweatshirt are naturally oversized. I recommend going with your normal size, or if you're in between sizes, size down.
We always stop and grab coffee before hitting the road. Our favorite place to pick up a jolt of java on 30A is Raw and Juicy. If you're looking for a few more restaurant recommendations, check out this highlight on my instagram stories! It's full of restaurant recommendations, along with my favorite dishes to try.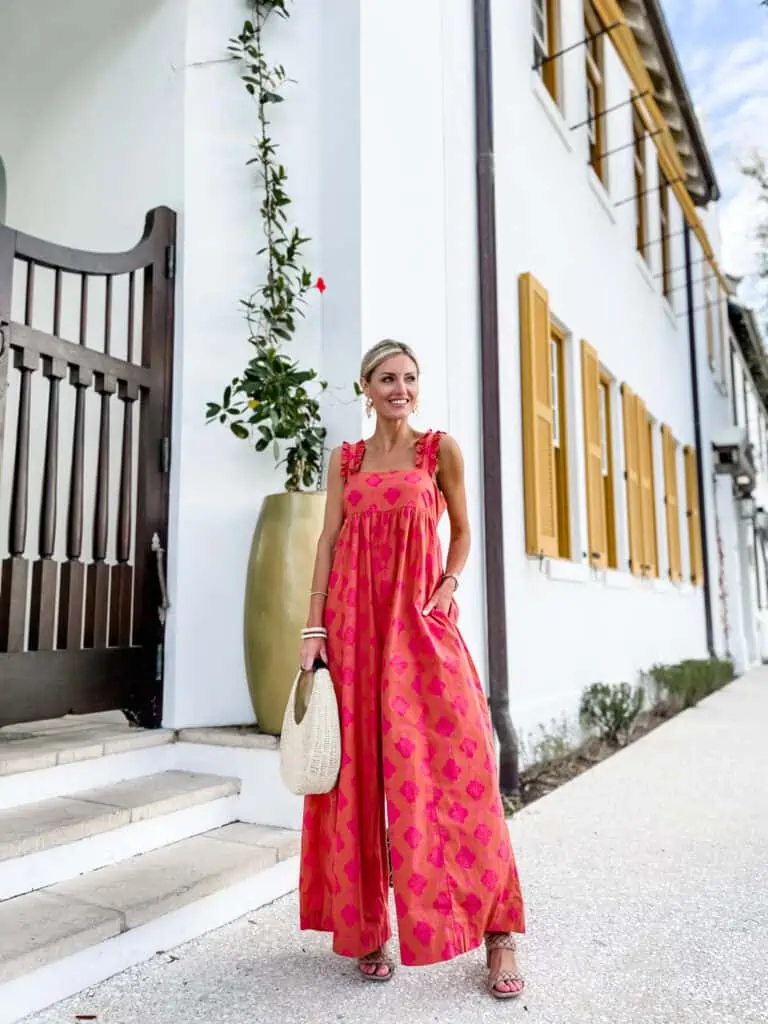 JUMPSUIT | EARRINGS | HEELS | STRAW BAG
COME STAY AT THE ISN'T SHE LOVERLY BEACH HOUSE
As a family, we've been going to Seaside for years. We love the area, all the cute restaurants, and the beaches are stunning. Chris and I own a beach vacation rental house on 30A. The team and I would have stayed there, but another family was renting our home, so we stayed at Alys Beach. It was the perfect setting to kick back, do some team planning and enjoy the sunshine.
To book a stay at the Isn't She Loverly House on 30A, click here.