Today, I'm sharing eight work-from-home outfit ideas. From cozy knit sweaters to ribbed sweater dresses, there's no shortage of options to choose from. The best part is that most of these outfits can easily transition from work to weekend with the swap of a few accessories. Whether you're logging on for a virtual meeting or want to feel put together while getting work done, these work-from-home outfit ideas are sure to inspire you!
If you're looking for a comfortable and stylish outfit, I recommend these high-waisted pants! Pair them with a cozy knit wrap sweater for the perfect fall work-from-home look. This outfit strikes the balance between comfortable and fashionable. Whether you're on a video call with coworkers or typing away on your computer, this work-from-home outfit is a great option.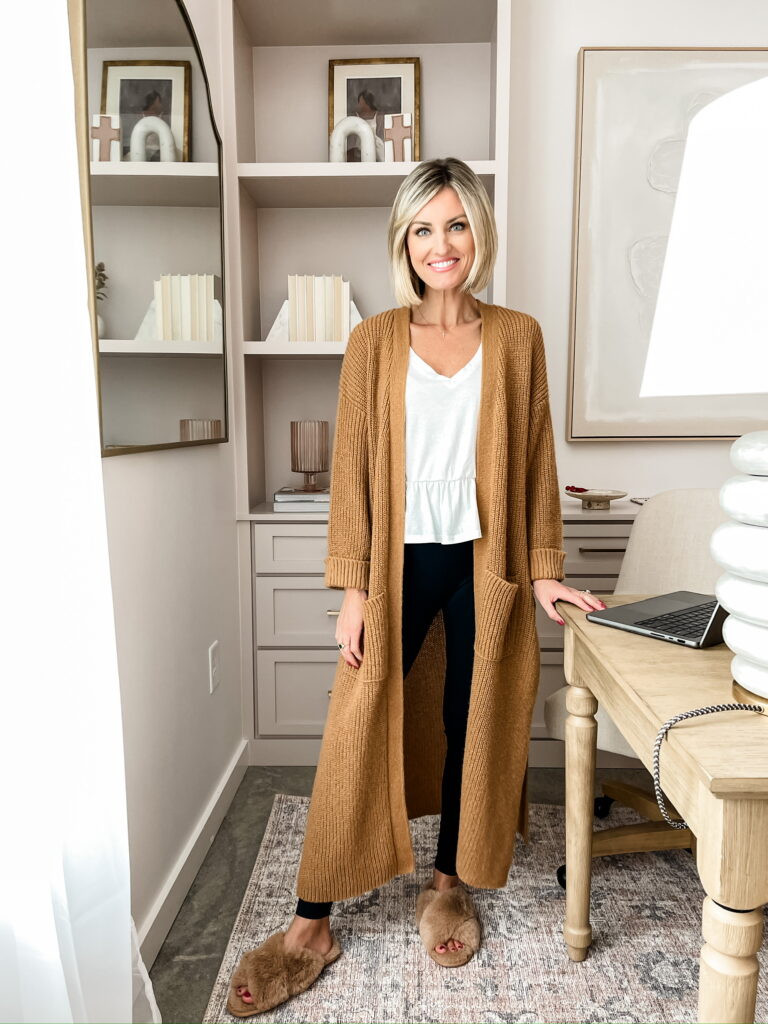 One of the benefits of working remotely is being able to dress comfortably without sacrificing style. An ideal work-from-home outfit is this V-neck peplum ruffle top paired with leggings and an oversized cardigan. This outfit combination is a perfect intersection of comfort meets style. Complete the look with a pair of cozy slippers.
TUNIC (left) | LEGGINGS | SLIPPERS | SWEATER (right) | MULES
Black leggings are a wardrobe staple when working from home. They provide lasting comfort while making you feel put together. I recommend styling them with a black tunic and slippers for a day of computer work. If you have a virtual meeting on the calendar, opt for a chic striped sweater and pointed-toe mules.
A striped cardigan and knit pants are the perfect outfit for those long days spent tucked away in front of a computer screen. The striped cardigan sweater is perfect for a chilly fall day, and the wide-legged knit pants allow you to sit for hours without feeling constricted. I recommend adding pointed-toe mules to complete the look.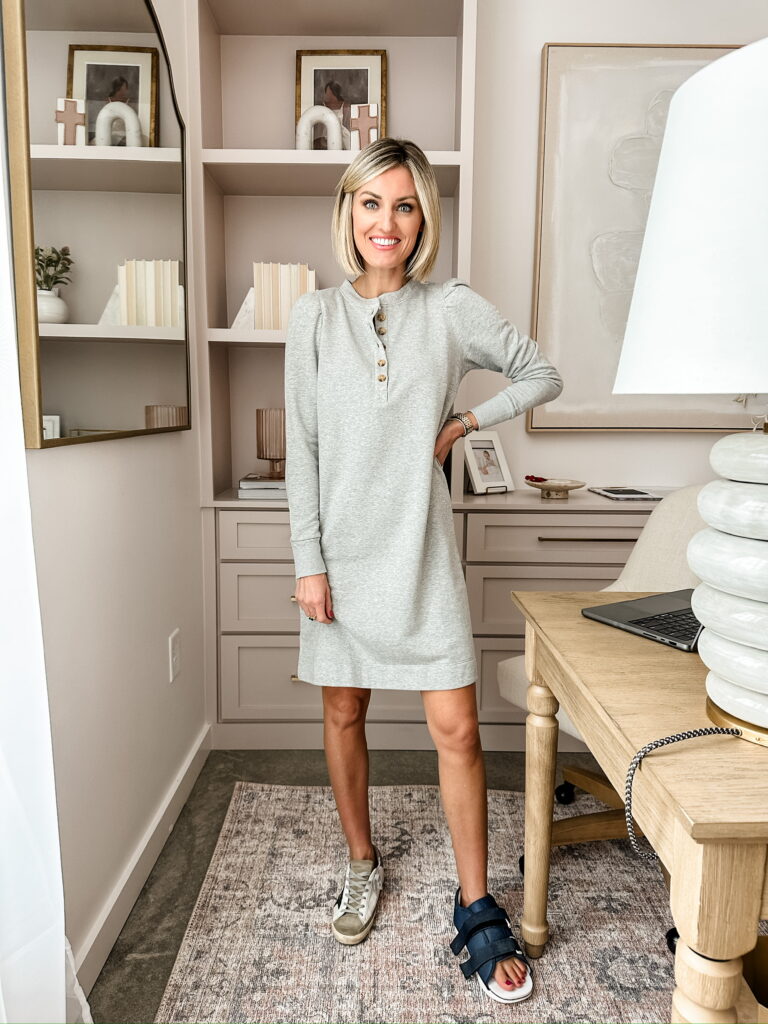 DRESS (left) | SNEAKERS | DRESS (right) | MULES | BAG
If you're looking for an easy outfit that can go from working at home to grabbing lunch with friends, I've got you covered! I recommend investing in a cozy sweater dress. They are perfect for those days when you want to be comfortable and still look put together. The midi-length rib-knit sweater dress is a great option if you're wanting a business professional look. Pair it with pointed-toe mules and a woven tote bag to complete the look. For a more casual look, opt for this button-front henley dress. I love that you can pair it with sneakers for a casual vibe. For an elevated look, swap the sneakers for knee-high boots and a blazer, and you're ready for a day in the office!
This cream turtleneck tunic is perfect for a day spent working from home. Pair it with printed leggings and sneakers for a casual fall look. To take this work-from-home look from day to night, swap the leggings for a pair of flare jeans and heels, and you're ready for a night on the town!

Which of these work-from-home looks are your favorite? Let me know in the comments below!