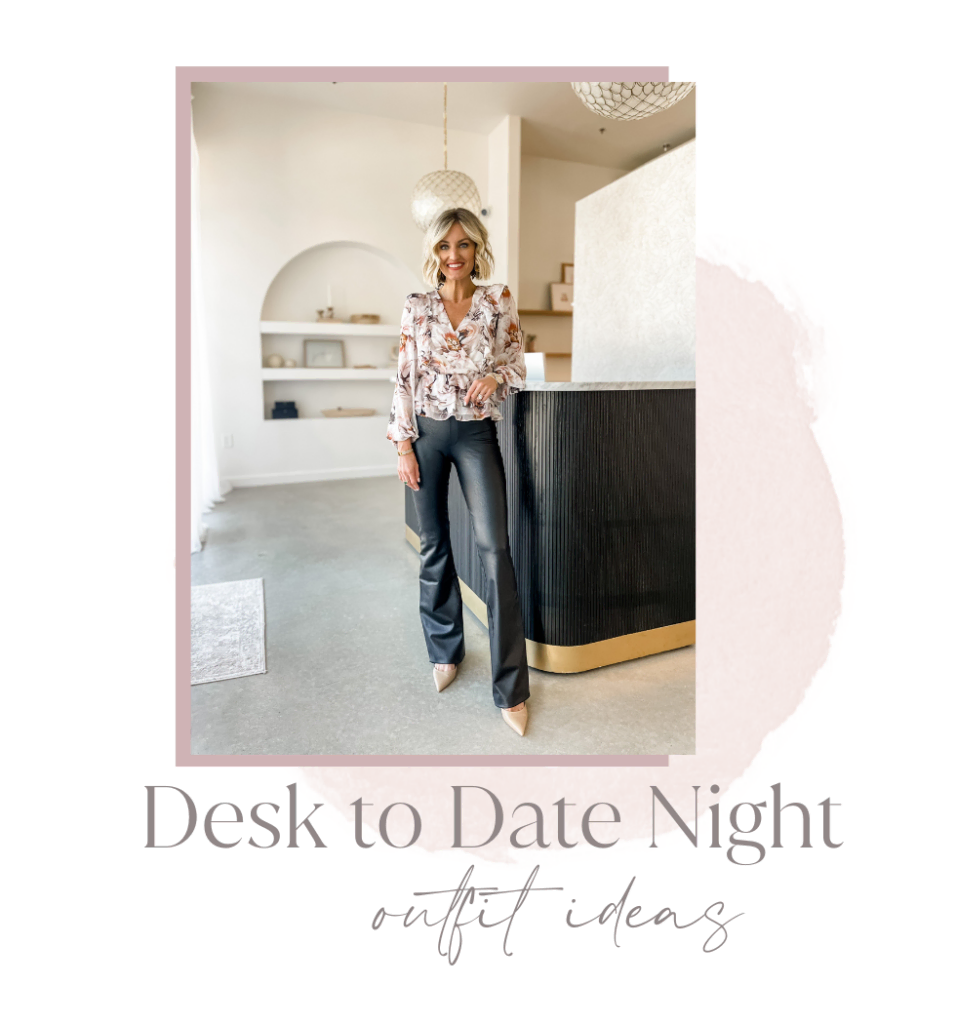 In today's post, I'm sharing how to transform your work outfit into a date night ensemble with ease! With these six looks, you can effortlessly take your desk attire from day to night without missing a beat. From a sleek faux suede dress to chic pants, these options will impress. Show off your personal style with these desk-to-date night outfit ideas.
What better way to spice up your fall wardrobe than with a pair of faux leather pants? These edgy yet versatile pants can easily transition from day to night, making them the perfect desk-to-date night outfit! Pair them with a ruffle v-neck top and heels for a chic and feminine look that is sure to turn heads!

DRESS | HEELS | JACKET | BOOTS | BAG | CARDIGAN
This faux suede dress is a must-have staple in any workwear wardrobe. This dress is not only versatile, but it's also comfortable enough to wear all day long. If you are in a business professional setting, I recommend pairing the dress with a classy tweed jacket and pointed-toe heels.
When the temperature drops, swap the heels for knee-high boots and throw on a cozy cardigan for a chic and comfortable workwear look. Complete the look with a stylish bag that can easily take you from the office to your after-work date night plans.
If you're looking for a desk-to-date night outfit that will turn heads, consider pairing faux leather pants with a peplum top and heels. This sleek and stylish look is the perfect blend of edginess and feminine elegance. Whether you're heading to work or a night out on the town, this outfit is perfect for those looking to balance professional and chic.
JEANS | BLOUSE | BAG (left) | HEELS | BAG (right) | SWEATER | BELT | BOOTS
Flare jeans are a timeless staple in any wardrobe. Pair them with an oversized button-down shirt and pointed-toe heels to create a chic and sophisticated look that is perfect for the office.
If you want to transition into a more romantic date night outfit, swap out the shirt for a cozy sweater, add a belt, and pair it with boots. This subtle alteration adds a touch of elegance and warmth while still keeping you comfortable and stylish all night long.
For even more workwear options, check out these 8 desk-to-date night outfit ideas!