Now that summer has arrived, I think we are all in need of a little sun and sand. I know I'm always ready for a beach trip! We recently got back from Seaside, Florida and it was amazing. While I was there I received so many questions on what I wore. I know so many of you are looking for ideas on what to pack for your next vacation. So, I decided to put it all together in one post for you! In case you've been wondering what to wear for your next beach vacation, here's a little inspiration for you!
LOVERLY GREY BEACH VACATION PICKS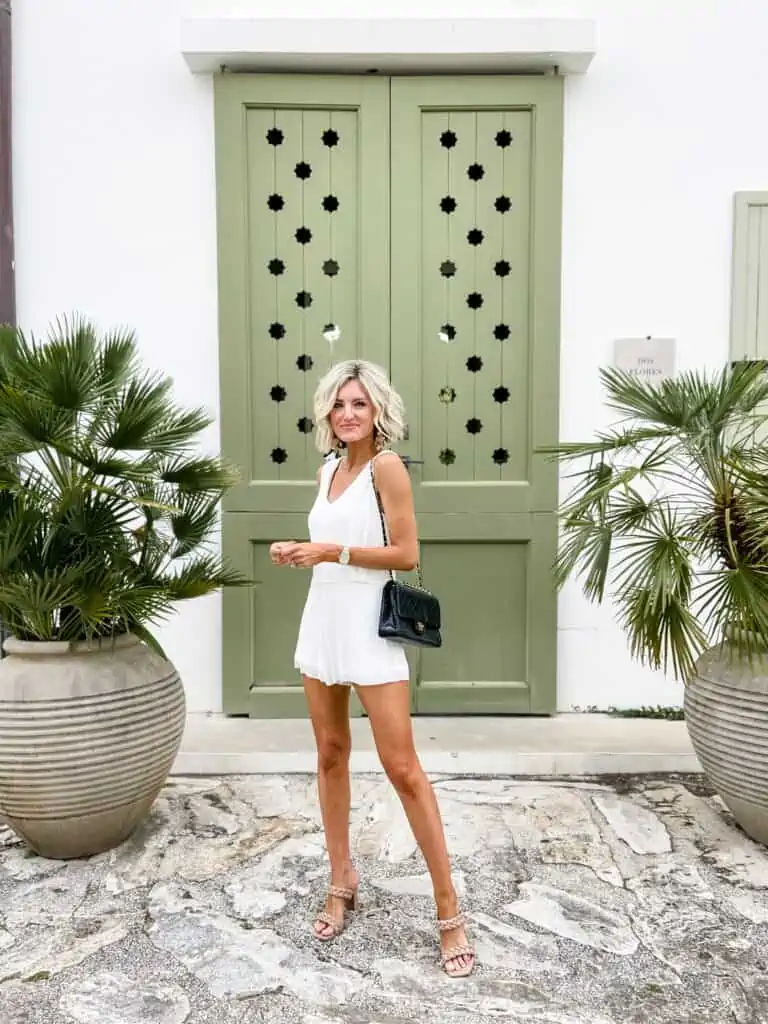 ROMPER | SIMILAR BAG | HEELS | EARRINGS

I love bringing a white dress or romper to the beach. After a day in the sun, the white always pops against tanned skin. This look would also be great if you are a bride on your bachelorette trip. You could wear this and have your bridesmaids where black or all of another color! It would definitely make for some cute photos. And if you're not a bride, simply rock this look for dinner and drinks!
FLORAL DRESS | SUNGLASSES | CLUTCH | PINK DRESS | HEELS

If you're going out to dinner at the beach, these two dresses are a must pack! Both are super comfortable and have plenty of give for a large meal. I am wearing my normal size small in both dresses. You could also easily wear these two dresses if you have a summer wedding you are attending or even a shower for a friend! I paired them with my favorite clutch that I've been loving and braided heels for a more elevated look. These two accessories are so good. They go with just about of of these outfits and makes for easy, light packing!
DRESS | EARRINGS | SUNGLASSES

I love the material on this dress. It has a naturally crinkled look to it, so it's perfect for travel. This way you don't have to worry about wrinkles! It's super light weight and flowy, which makes it great for those extra hot days. If you are going to be doing a lot of walking, exploring a new city, this would be a great option to wear. I threw it on here with sandals and a tote bag. You could also add a denim jacket and sneakers and wear this as a travel day look.
WHITE DRESS | SUNGLASSES | HANDBAG | RED DRESS | CLUTCH

Both of these dresses can easily go from day to night. You can throw them on with sandals and head to get coffee in the mornings. Another option would be to add a heel and a clutch for dinner out. The white one is thick enough where you don't have to worry about undergarments showing. However, I would still go with skin tone undergarments, just to be safe. The floral dress on the right is so sweet. I love the way it looks with white sneakers or styled here with my go-to braided heels!
DRESS | SANDALS | CLUTCH | BELT | SUNGLASSES

You'll never guess where this stunning maxi dress is from. Amazon! After Nichelle and my mom came walking in with their Amazon maxi dresses the other day I couldn't be the only one left out. I ordered this spaghetti strap one and it came just in time for our trip! I am wearing my normal size small. It also comes in a few other color options!

The back of this dress is stunning. I love the buckle detail. The straps are wide enough that you could wear a normal bra, depending on where it hits on your back. However, I would recommend opting for a sticky bra just in case. This one is great and less than $20. This dress also comes in a black and white option. It was so hard to choose just one color!
WHITE SWIMSUIT | BLACK SWIMSUIT | STRAW BAG | SANDALS | SUNGLASSES

These are just a few of the swimsuits that I took to the beach. To see a full roundup, check out my most recent post, The Ultimate Target Swimsuit Roundup, with all the suits I packed. But if you only choose two, I would go for this little black two piece and fun, tropical print one piece. I love that the back on the one piece. And the top on the two piece is very secure. Both would be great if you are going to be chasing littles around.
If you enjoyed this post, be sure to drop your email below. This will ensure you stay up to date on the latest from Loverly Grey!