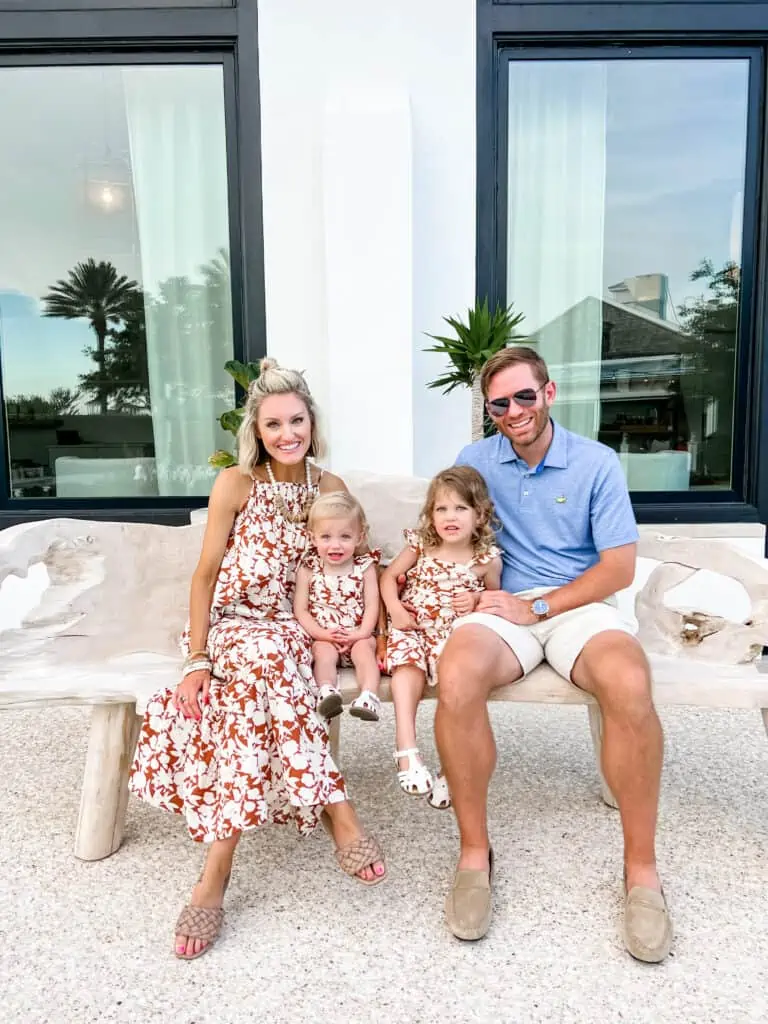 Hi Friends, Chris here, excited to be back! I am here to talk about Father's Day and some of my favorite gift options this year.
First though, let me tackle the elephant in the room. Yes, dads (and yes I am speaking for all dads, sorry I'm not sorry) do like the custom handmade gifts from the kids. I have kept a handful of the handprint drawings in my office and I do love them. However, the "World's Best Dad" mugs, hats, etc. usually just end up in the back of the drawer and don't get much use. My number one piece of advice is to avoid work wear. Back when I was wearing a suit to work everyday, the last thing I wanted was another tie or dress shirt. Instead, go for something that either suits a hobby or something they are interested in. 
Loverly Chris' father's day gift guide
SHOP THE GIFT GUIDE

GIFTS FOR THE GOLF LOVER
Lets get started with the golfer. Unless they have given you a specific brand/club, I would avoid the club route. Golf clubs are like bags for women. They might all look the same to y'all, but they are all very different to us. With that being said, here are a few items that I would target. First up is a new find that I have been really enjoying lately, Birdi Sunglasses! These glasses are unlike anything I have ever worn before and are actually specifically built for the golfer. They are polarized, but only 47%, which allows specific light into the frame which allows you to track the ball flight as well as read putts clearer. I have been wearing the Clarets and really like that style of frame. These are extremely well built and offer a premium product for the golfer in your life. Check out their site for other frames that will fit a variety of head shapes. Get the special dad in your life a pair of glasses unlike anything he has worn before. 
Use code: LoverlyGrey for 20% off Birdi Sunglasses
If glasses aren't your thing, I highly recommend the Bushnell Wingman Speaker. I love this speaker and use it all the time. Not only does it connect to Spotify and play music, it also connects to the Bushnell golf app and will provide distances to the front, middle, and back of green. It has a massive magnet on the side that connects easily to the cart and a battery life that lasts multiple rounds. 
ONE | TWO | THREE | FOUR | FIVE | SIX
Now, I get there are some purists out there who don't like music on the course and that is fine. Other options are the Wellputt mat for the guy who practices at home, the Orange Whip and Speed Sticks are other training tools that I use, and the safest bet of all is a box of balls. An easy trick is to sneak into his bag and see which balls he typically plays. I lean Titlelist but other options include, Bridgestone, TaylorMade, or Srixon. 
If you decide you would rather let him pick his gear, hats are always a safe option. I am a huge fan of this local hat/visor maker Waivol Stitched. My go to is the Tiger Green Jacket and regardless of head shape, there is an option for the dad in your life. 
SHOP GOLF GIFTS

GIFTS FOR THE FITNESS FAN

Now let's move from the golfer to the fitness fan. It could be running, cycling(indoor and outdoor), or the gym rat. Let's start with something that I legitimately use every single day, the Hyperice Venom Back. This heated massage tool is a lifesaver for me and something I can not recommend enough. If they don't deal with back pain or tightness, first off I am uber jealous, this Rabbit shirt has been my go to lately. I love the fit and the way the seams are built out. For a pair of shorts you really can't go wrong with the Lululemon Pacebreaker. They come in lined or unlined so depending on their preference they have an option. With the summer sun heating up I have been using Goodr sunglasses and Amphipod Soft Flask. If they prefer to wear a belt I love the Nathan Trail Mix. 

Golfing and running are the two hobbies that I talked about because those are the two that I know the most about. What about for the guys who aren't interested in those? If you are someone who likes to travel, Tumi Duffle Bags and Dopp kits are great because they last forever. If you want more of a garment style duffle I am a big fan of the Stitch UGB. If you love grilling and having people over, Yeti Coolers are always a safe bet. For the sport fan, football is right around the corner so a new polo, quarterzip, hat, or jacket is always a great option. I will also include some miscellaneous options in the bottom banner of different products that I love and would certainly not be upset if it was gifted to me.
ONE | TWO | THREE | FOUR | FIVE | SIX
Well friends, I hope I was able to give y'all a little help or at least point you in the right direction. I hope everyone has a great summer! Thanks Friends!
Chris  

SHOP ALL FATHER'S DAY GIFTS