White Maxi Dress \\ Printed Maxi Dress \\ Similar Nude Heels \\ Yellow Handbag

I'm so excited to finally share this post with you!! (I'm currently inside and have been for almost a week) BUT I'm partnering with Anthropologie to share my favorite dresses for spring from their New Arrivals. Anthropologie has always been the one store that will always have just the piece I'm looking for. I find myself shopping for staples and trendy pieces year and year from them. I especially love their new arrivals because a lot of the options are VERY bump friendly!
I have two dresses to share with you today that I know you will love. I fell in love with this brown and navy maxi dress and soon as I saw it hit Anthropologie's website. I feel like she can be worn several different ways but was a piece that would still make a statement with each wear. Bump friendly and has pockets, what's not to love about that? I am wearing a size XS and would suggest going with your normal size.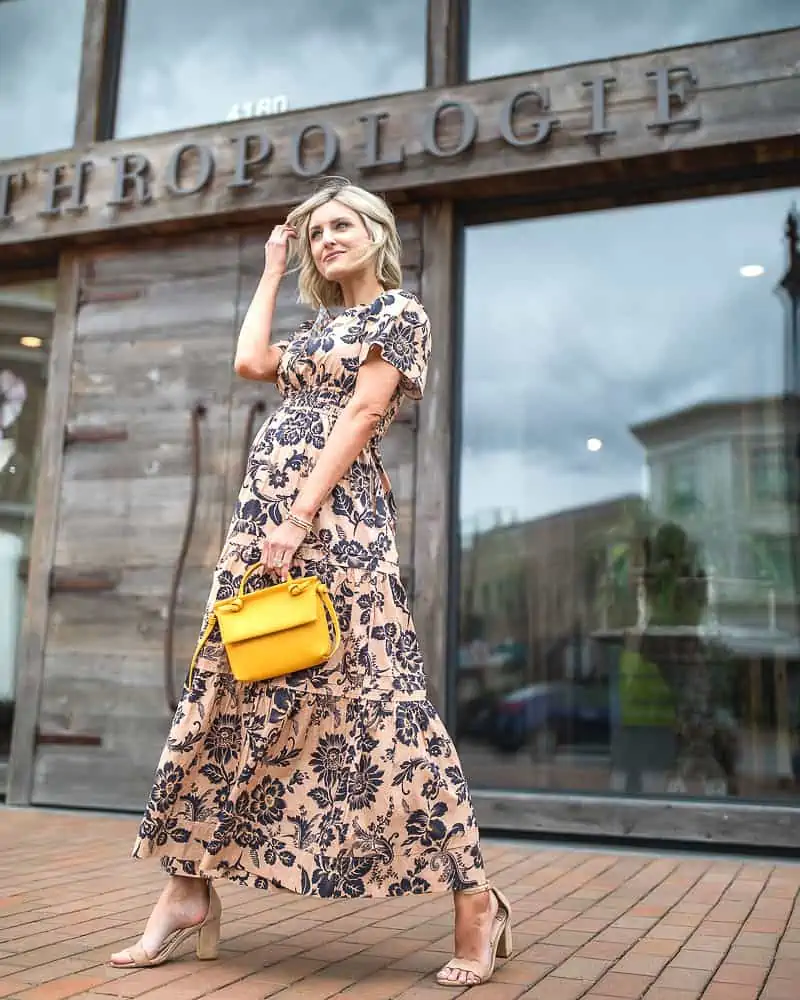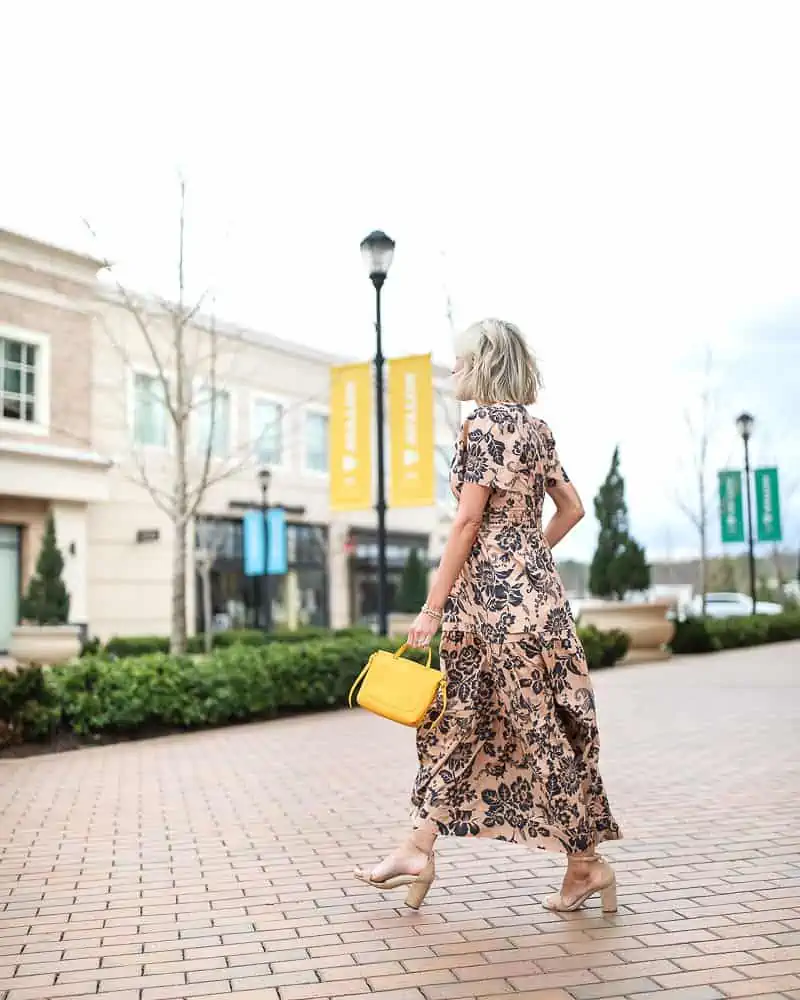 White Maxi Dress \\ Printed Maxi Dress \\ Similar Nude Heels \\ Yellow Handbag

I have styled this dress today with a bright yellow handbag and nude heel. There are small hints of yellow throughout the dress and love to way that yellow pops against the pattern. Plus, I figured we all need a little brightness right now!
Next is the perfect white maxi dress. Another dress I quickly fell in love with and couldn't wait to try. I mentioned this before, but their spring dress options that are bump friendly are amazing this season. Not only that, but they also offer extended sizes and both dresses I'm sharing are available in plus sizes. They have done a great job of designing pieces that work on several different body types and I really commend them for that!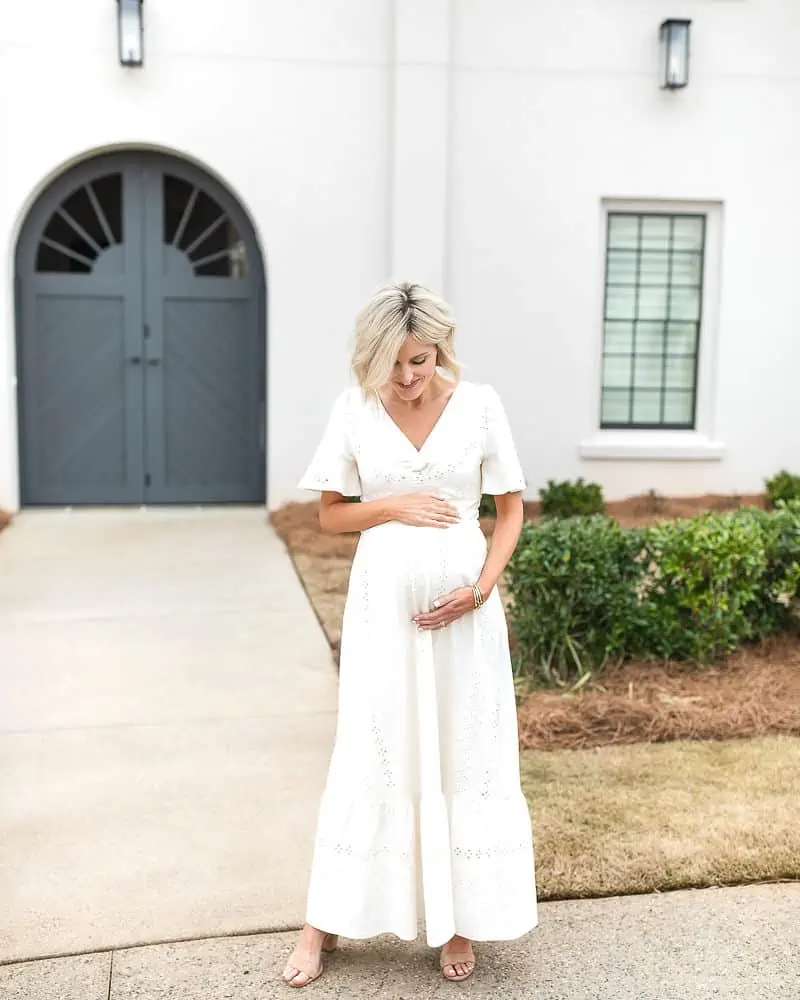 White Maxi Dress \\ Printed Maxi Dress \\ Similar Nude Heels \\ Yellow Handbag

Back to the white maxi…I'm really excited to wear this for maternity photos and/or newborn photos with Baby S arrives. A friend of mine just had a baby and she is doing a few family photos at their home. I suggested this dress as an option because it's great at providing shape in all the right places while giving just the right amount of flow. I did size up one to a small because I felt like it ran a little tight in the chest and arms.
Right now, Anthropologie is doing 25% OFF EVERYTHING (some exclusions)!!! They only run this type of sale around the holidays so it's definitely something to take advantage of if you can! Both dresses in this post are included (YAY!!!) I'm personally buying a few more candles – their's are my favorite! Also, if you have any friends who have birthdays in the month of March or April, send them a little something! Anthropologie has great gift, self care and under $25 sections on their website that are all included in the extra percentage off. Just because you can't go see a friend, doesn't mean you can't let them know you are think about them!!
I'm linking some of my favorite spring dresses in the collage below. I'll also add a few gift items that you could grab while things are on sale!!
Happy Shopping, friends!!

Today's post is sponsored by Anthropologie. As always, all opinions are my own. Photos by Naomi Hopkins Photography