Several Family Outfits Saved Here
Family Photo season is upon us and one of my most asked questions has been what to wear. I have put together a blog post with four styled outfits plus several other options that would be great for family photos. I will also include a few options for little boys and older girls so you can get a vision of what might work for your family.
Prep with your photographer beforehand
If you are working with a photographer, I would suggest that you set up a call beforehand to discuss location aesthetic. Once you have that nailed down, you can decide what colors you are going to wear and build the outfits from there. Some photographers have closets of clothes that they will loan you for your photos. Those clothing options can included mom, little boys and little girls. I personally work with Jessica Jane Photography for our family photos and she offers this to her clients (I wore a dress from her photo closet for our newborn photos) as does Naomi Hopkins Photography (who took these photos). Check with your photographer to see if this is an option!
These outfit options will also work great if you are planning to hand your iPhone over to a friend or family member to snap a few photos. I know that getting everyone dressed and ready can sometimes come with lots of complaining so I'm hoping these ideas will take the stress out of that for you!
Family Photos Outfit One: Modern\Boho\Casual
Free People Dress \\ Knee High Boots \\ Similar Knee High Boots \\ Kendra Scott Earrings \\ White Henley \\ Corduroy Pants \\ Cole Haan Shoes \\ Chambray Baby Dress \\ Bow \\ Baby Moccasins
I wouldn't really say that any of my outfits in this post are casual so I'm mostly going off of Chris's more casual outfit with this title. He has newly become interested in Henley tops and really wanted to incorporate one into our photos. This was the perfect casual look for your guy. Lighter color top with darker bottoms. Jeans or khakis would work great here too. Chris's corduroy's are from J.Crew Factory. We have loved their selection for men. You could honestly dress your entire family in J.Crew Factory for family photos and be fine!
I'm wearing a flowy/boho style Free People dress. I love this dress and I'm excited to dress it up a bit more for the holidays. I'm wearing XS and would say it's true to size and if you are in between sizes, you could easily go down one. Collins is wear a chambray dress with bloomers and bow from our favorite, A Little Lady Shop.

Family Photos Outfit Two: Sunday's Best Attire
Similar Floral Jumpsuit \\ Nude Heels \\ Collins' Jumper \\ Collins' Bow \\ Button Up Shirt \\ Half Zip Pullover \\ Dark Jeans \\ Cole Haan Shoes
For this look, I wanted something that was a little more dressy but also still functional. Chris is wearing a button up shirt with a half zip pullover on top. This is his go-to fall/winter look if we are getting dressed up for something. It's an easy outfit that any guy can wear.
I found this floral jumpsuit at Dillards recently and loved it! It's a new arrival but it's NOT online yet. The brand is June and Hudson. I'll let you know as soon as this jumpsuit is online! It's nursing friendly and can easily be opened and pulled to the side. Collins is in a linen blend jumper from H&M. They have great options for both girls and boys! I'll include a list of places below that I suggest looking for family outfits to make this process a little easier on you!

Family Photos Outfit Three: Formal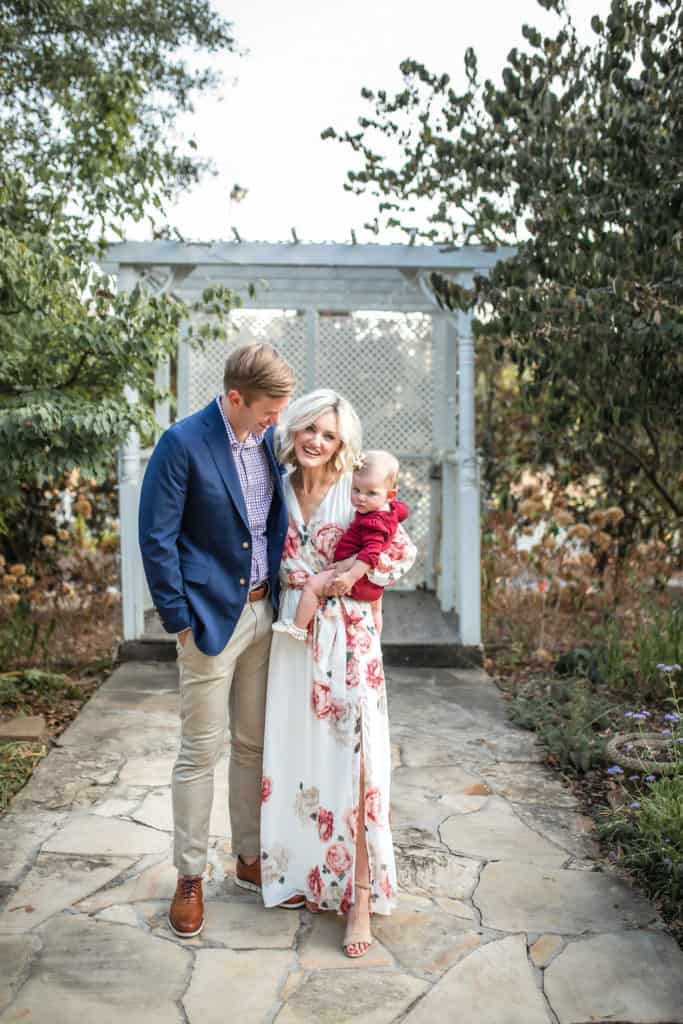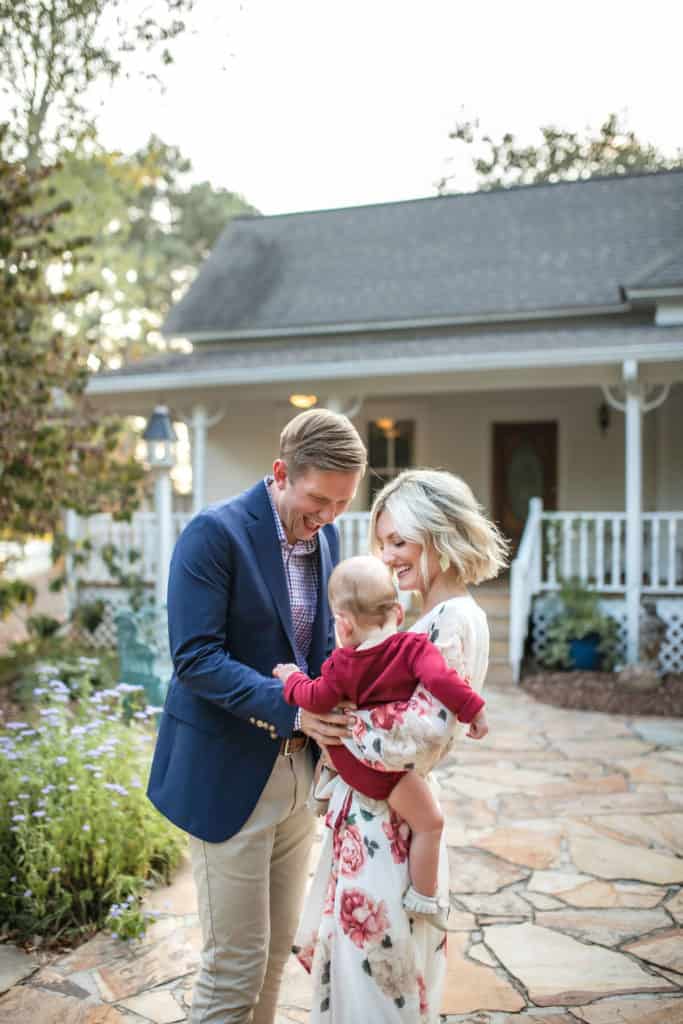 Chris's Blazer \\ Button Up Shirt \\ Khaki Pants \\ Collins' Onesie \\ Baby Moccasins \\ WeeOnes Bow \\ Similar Maxi Floral Dress \\ Nude Heels
I love Chris in a sports coat. He found this dry-fit one from Vineyard Vines and I have to say, the material and fit is amazing on him! He's also wearing a nicer button up shirt with his favorite khaki pants. For this more formal look, a suit would also be an option.
I wanted to wear a flowy dress and remembered I had this one in my closet. I purchased it earlier in the year from JCPenney. I'm going to share several similar options below as this dress is only available in one size now! Collins is wearing a burgundy onesie from H&M. This one comes in a pack of two, the second being a beautiful floral print. We just added a gold bow from Wee Ones and her gold Moccasins.

Family Photos Outfit Four: Mommy and Mini
White Sweater \\ Joyfolie Lace Skirt \\ Nude Heels \\ Tutu Dress \\ Pink Bow
The last set I wanted to share is perfect for Mommy and Mini. I was trying to think of everyone here and didn't want to leave single moms out. This is a great opportunity to get some really sweet photos with your kinds. I wanted Collins and I to both be in really girly options so I opted for a tutu dress for her. You could also order a tutu off Etsy or Amazon and add a white onesie and bow if you don't want to buy a dress.
I'm wearing an off the shoulder sweater by Z Supply and a lace midi skirt from Joyfolie. This skirt was actually something that Naomi had in her photo closet. I was really excited to wear it as a soft, feminine option to match Collins. Joyfolie has so many great options for dresses, especially if you want something a little more boho and whimsical!

Retailers to shop for family outfits:
LOFT \\ H&M \\ GAP \\ OLD NAVY \\ VICI \\ RED DRESS BOUTIQUE \\ J.CREW \\ J.CREW FACTORY \\ BANANA REPUBLIC \\ NORDSTROM \\ VINEYARD VINES \\ FREE PEOPLE \\ JOYFOLIE \\ ANTHROPOLOGIE \\ TARGET
I hope this info is helpful for you as your plan your family photos! I will be sharing a few more options in stories so stay tuned there for additional options for family photos! Photos by Naomi Hopkins Photography.