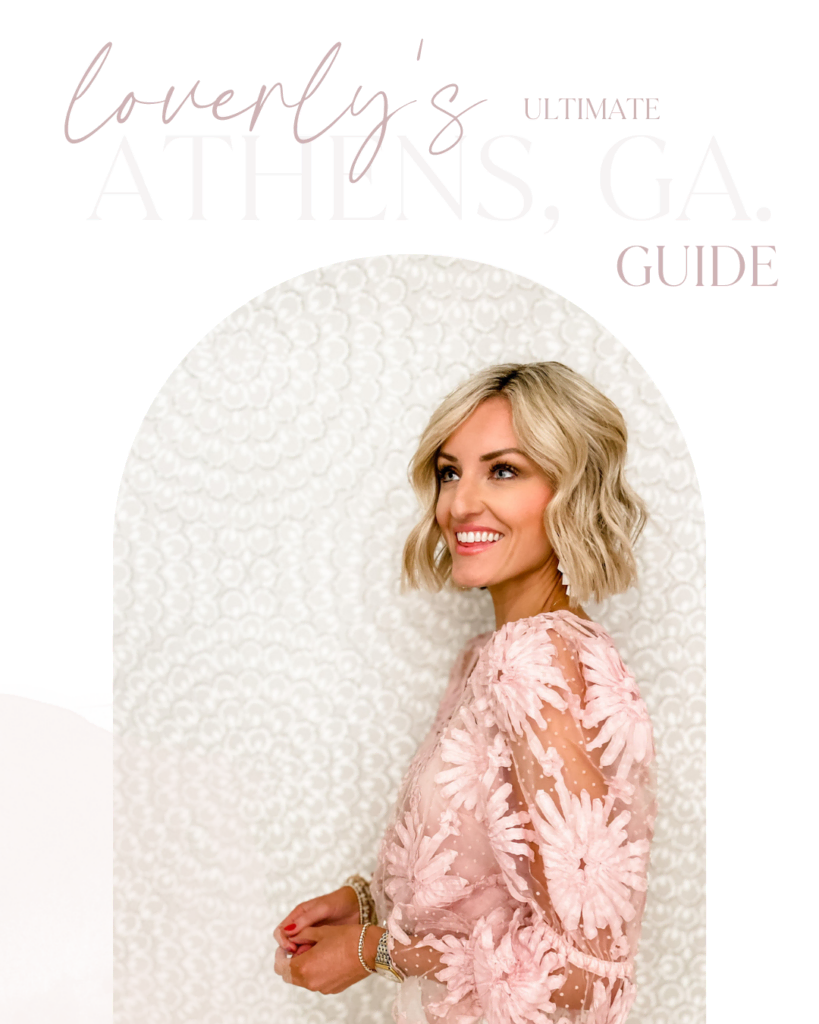 Athens, Georgia is a vibrant college town that seamlessly blends Southern charm with hometown feels! It also happens to be my very own hometown and where I currently reside with my husband and two little girls. With its thriving local scene, Athens offers a plethora of options for both shopping enthusiasts and food lovers. Whether you're in search of unique boutiques or delectable dining experiences, Athens has something for everyone. Grab your shopping bags and bring your appetite as we embark on a delightful journey through Loverly Grey's ultimate guide to Athens, GA!
In this guide, I'm breaking down the best places to eat, must-visit shops, and a few of my favorite things to do!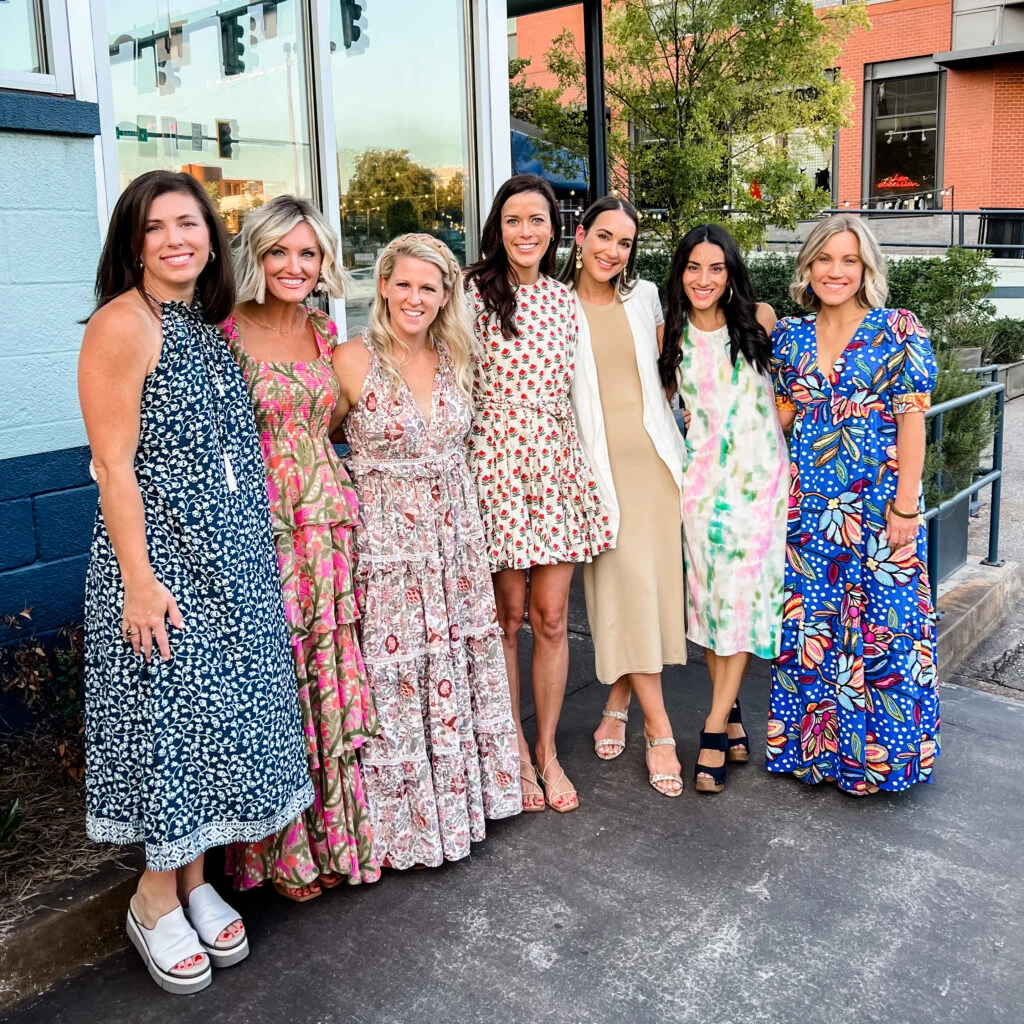 BEST PLACES TO EAT IN ATHENS, GA
If you are looking for a great time to visit Athens, GA, consider taking a trip during restaurant week! Spanning from July 10-16, this event brings together a diverse array of local restaurants offering special menus and exclusive deals. It's a fantastic time to visit because you can explore Athens' offerings at discounted prices. From fine dining establishments to cozy cafes, Athens has something for everyone's palate. Restaurant Week allows you to indulge in the city's culinary delights, discover new flavors, and support local businesses. Mark your calendars, come hungry, and experience the culinary magic of Athens, GA!
The Expat– This Italian restaurant definitely stands out from the rest with their mouth-watering pasta dishes and fresh salads. The real star of the show is their banana pudding Klondike bar dessert. It's so good, you won't want to share.
Five and Ten– If you're on the hunt for a classic brunch spot, you can't go wrong with Five and Ten. The quality and taste of the food are top-notch! I recommend ordering several dishes to truly indulge in their delicious menu.
Marker 7– With its prime location and inviting patio, it's perfect for summertime dining. However, the food is the real star here! This pub-style spot serves up some seriously tasty seafood, including a delicious ahi tuna dish. They also have fun drinks and weekly specials!
Earth Fare– This local grocery store is more than just a place to pick up groceries; it also has a hot bar that serves up some of the best breakfast and lunch options in the area. Plus, the indoor and outdoor seating makes it the perfect spot to grab a quick bite or sit down and enjoy your meal.
Add Drug– I have fond memories of going to this classic spot with my dad since I was a kid. It's always been a go-to for old-fashioned soda fountain drinks and comfort food favorites like grilled cheese, burgers, and fries. No visit is complete without indulging in one of their delicious milkshakes!
The Cafe on Lumpkin– With a reputation for serving up a great breakfast burrito, it's no surprise that this cozy cafe has become a local favorite. Their lunch menu and outdoor patio seating are equally impressive. We also love to have drinks here on a Saturday afternoon.
Independent Bakery– This local hot spot serves up some of the freshest loaves around, which is why so many local restaurants get their bread from them. You can always count on walking by this bakery at any time of day and finding a long line of people patiently waiting to get their hands on this delicious bread.
The Pine– This cozy restaurant features small plates and tapas that are perfect for sharing with friends and family. If you're looking for a wonderful brunch experience, The Pine has you covered on the weekends.
Sakurah Hibachi and Sushi Bar- Offering delicious takeout options, this Japanese restaurant offers some of the best sushi and hibachi in town. This is our go-to restaurant when we want a quick and delicious takeout meal.
The Farmcart– This local eatery serves up some of the best sandwiches around, all on Hawaiian buns that add a touch of sweetness to every bite. Whether you're grabbing breakfast on the go or sitting down for a quick lunch, the Farm Cart has options for every taste preference. I highly recommend trying the cheddar burger or the stimulus chick, which are my two favorites.
El Barrio– If you're looking for a family-friendly spot with an outdoor space for your little ones to play, El Barrio is the perfect place to go. Although the Mexican/Tex-Mex cuisine might not blow you away, the ambiance and drinks are the real show-stoppers.
Cali N Tito's– This Cuban-style restaurant offers not only great food but also a fantastic atmosphere for kids. With mostly outdoor seating, your little ones will be able to run and play while you enjoy a delicious meal with a Latin flair.
Last Resort– This classic restaurant is perfect for any occasion, from birthday celebrations to a leisurely weekend brunch. The real gem of Last Resort is they offer slices of Cecila's Cake Shop, which are undeniably delicious.
Chuck's Fish – This local hotspot is renowned for its delicious sushi, flown in fresh from Destin, Florida. Whether you're in the mood for classic rolls or something a little more adventurous, Chuck's Fish House has got you covered.
South Kitchen and Bar– This restaurant has quickly become a go-to for both locals and tourists alike. Whether you're in the mood for a delicious lunch or a satisfying dinner, South Kitchen and Bar has got you covered.
The National– Although I've only been there a handful of times, it has definitely left a mark on my mind. The cozy atmosphere, impeccable service, and delicious food are some of the reasons why I would love to go back.
Ted's Most Best– Not only do they serve up delicious pizza and Italian subs, but they also have a large sandpit outside that will keep the little ones entertained for hours. It's like having a built-in babysitter while you enjoy a meal and a cocktail at one of the many outdoor seating options.
Paloma Park– This spot is a great place to take the kids during the day, but it also transforms into a bustling bar at night, making it a fantastic choice for a night out with friends.
Mama's Boy– Their delicious breakfast options make it the best breakfast spot in town. We love Mama's Boy so much, we eat there every Saturday. My favorite menu item is the veggie scrambler with a side of grits. Try their giant cinnamon roll- it's a must-have appetizer that's worth every calorie!
ZZ & Simone's-This is another one of my favorite restaurants!

BEST PLACES TO SHOP IN ATHENS, GA
There's nothing quite like the charm of strolling through a vibrant downtown and popping into unique stores and boutiques. Athens, GA offers just that with 10-15 shops in their downtown area that are sure to satisfy any shopper's craving for something special.
Agora Vintage – Agora Vintage is the premier vintage and designer handbag store in town. Whether you're looking for a classic Berkin bag or a statement piece of jewelry, their incredible collection has something to offer for everyone. Not only is their inventory top-notch, but their quality customer service will make you feel like a VIP.
Heery's– For those looking to update their wardrobe or decorate their home while shopping in Athens, Heery's is a must-visit store. It's known for its great selection of women's clothing, while Heery's Too offers a wide variety of home decor items and stylish children's clothing.
Cheeky Peach– This fun local boutique offers clothing that will make you stand out from the crowd with its playful and trendy vibes.
Target– Target has introduced one of the new concept stores that carries just the essentials. We haven't been yet, but I hear it is perfect for the local college students.
Monkee's– This boutique is perfect if you're looking for one-of-a-kind statement pieces!
The Avenue– The Avenue takes the cakes when it comes to home decor and gifts. From candles to cheeky hand towels, they have it all!
MY FAVORITE THINGS TO DO IN ATHENS, GA
Ath BNB– Ath BNB is much more than just a cozy place to stay while exploring Athens, Georgia- it's an experience in itself! From the stunning decor to the welcoming vibes, this bed and breakfast is truly one-of-a-kind. Each room is a charming suite, providing plenty of space to relax and rejuvenate after a long day of exploring. Breakfast is catered each morning, making sure you start your day off on the right foot.
Georgia Theater– One of my favorite things to do is to catch a show at the Georgia Theater. Not only can you find a lineup of fantastic concerts coming up, but you can also enjoy the simple pleasures of watching a beautiful sunset from its rooftop bar.
North Campus– Taking a walk through North Campus is a great way to spend some time. It's the perfect destination for a day date, with its beautiful green landscapes and stunning historic buildings.
It's always fun to grab a drink at one of the many bars and breweries in Athens. One of our favorites is Creature Comforts.
If you know me, you know I love a good cup of coffee. I like to support our local coffee shops like Molly's, Jittery Joe's, and 1000 Faces.
The Classic Center– This versatile venue offers a variety of events, including concerts and shows, as well as conferences and conventions.
UGA Sports Events- Whether you're a die-hard football fan or prefer the fast-paced action of basketball and tennis, there's something for everyone at UGA. With a loyal fanbase and top-notch facilities, you can be sure that every game is a thrilling experience.
Botanical Gardens– One of my favorite things to do in Athens is to visit the botanical gardens. Not only does it have a great playground for kids, but it's also beautifully lit up at night. Walking through the gardens in the evening feels like a magical experience.
Bear Hollow Zoo– This quaint mini-zoo has a beautiful park located right next door. The playground is located right on the lake, perfect for picnics or a peaceful stroll. This area was a huge part of my childhood, and it's where I spent countless afternoons with my siblings and cousins.
Athens, GA is the perfect place to take a girls' trip, unwind with friends, or cheer on the DAWGS! If you're planning your visit be sure to check out visitathensga.com, get your shopping bags ready, and prepare to savor the flavors of Athens, Georgia.
For even more Athens, GA favorites, check out the Life with Loverly Podcast episode where I chat about why I decided to move to Athens, the story of how my parents met at The University of Georgia, and why Athens will forever have my heart!