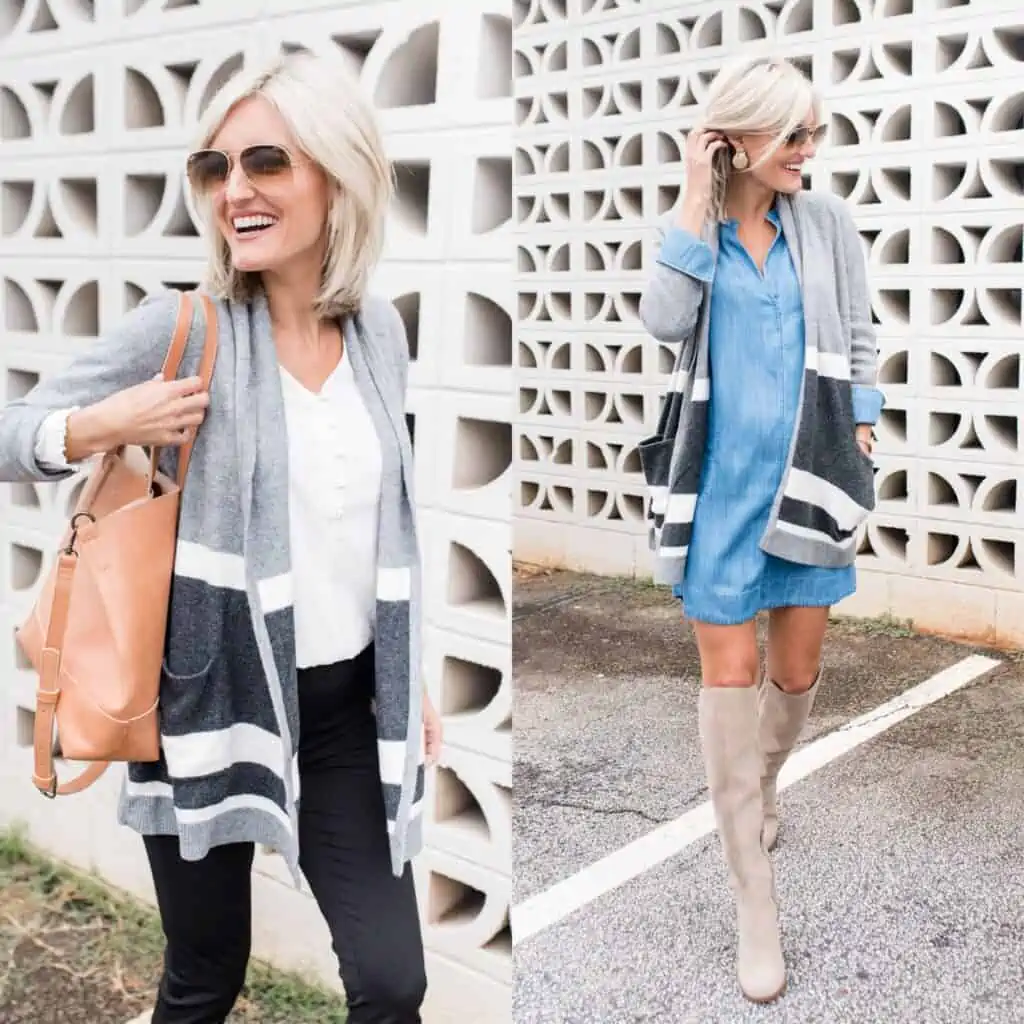 This is music to my ears! LOFT is having 50% OFF EVERYTHING for their Cyber fall event and OMG I'm sooo excited! It's no secret that I love a good sale and that I love the LOFT. I met a lady yesterday who told me it would have been her dream to meet me in a LOFT so we could shop together. I love how much you guys love LOFT and the suggestions I'm sharing with you!
Now is a great time to stock up on new arrivals, statement pieces for fall and work wear. LOFT has great options for all events and with this discount, you could easily knock out your shopping for this season.
A recent favorite LOFT purchase of mine includes this grey, striped cardigan from LOFT. The stripes give this cardigan some personality which allows it to be the statement piece of your outfit. I'm wearing the cardigan in size XS and would suggest that you get your normal size. Today I'm going to share two ways (one for work and one for play) that you can style this cardigan, all pieces coming from LOFT.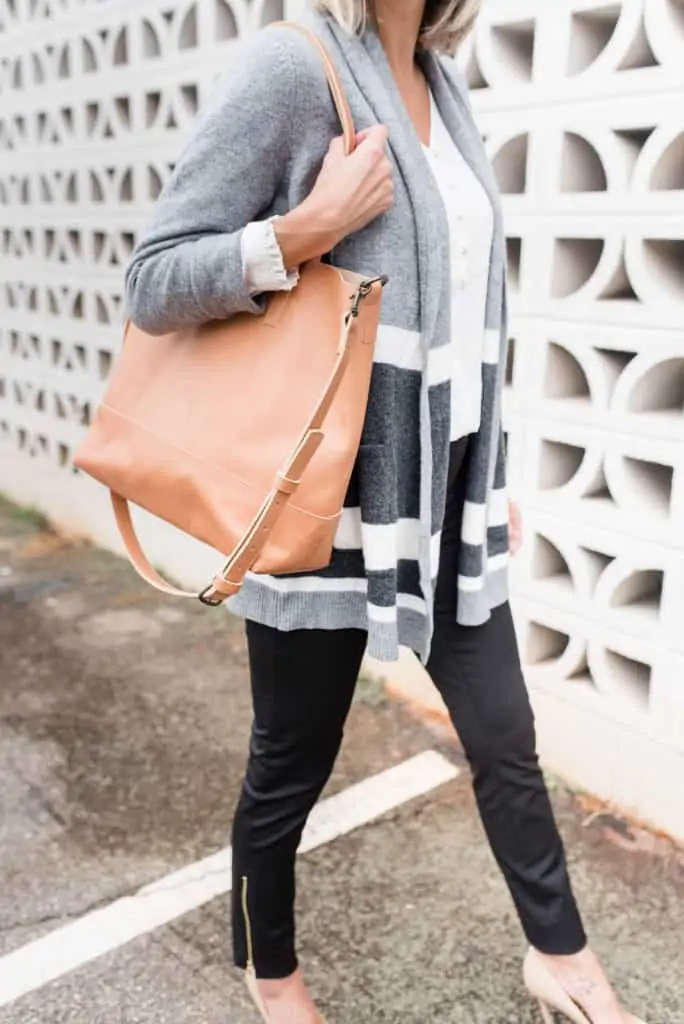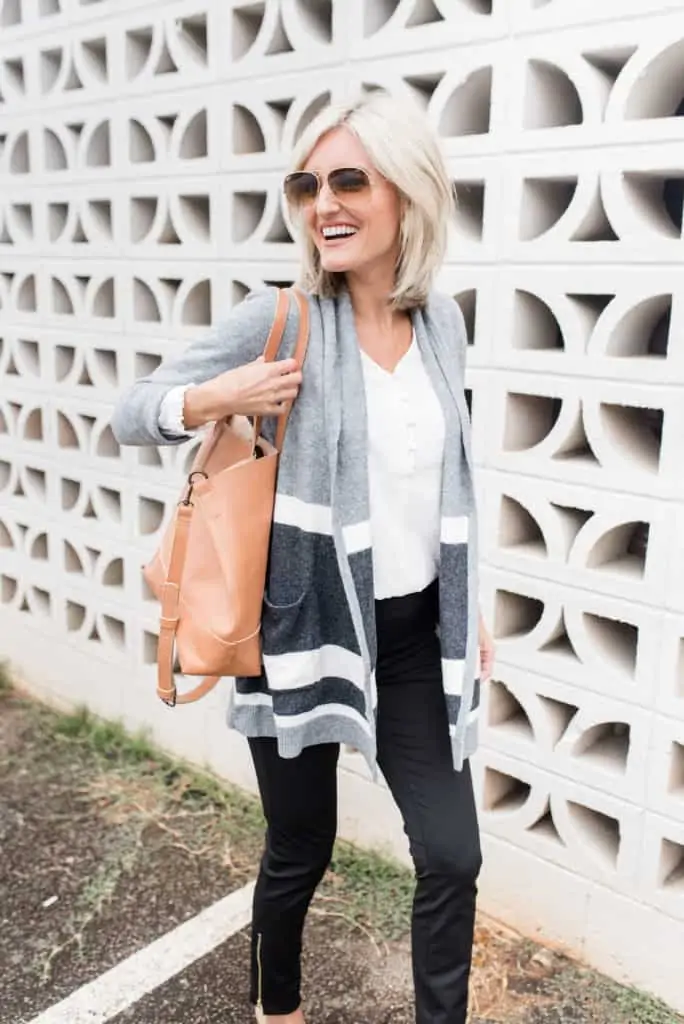 The first option is for work. As the days get a little cooler, some of my favorite outfits for work involve cardigans. Today I'm wearing a white long sleeve blouse (don't forget that everything is 50% OFF) with black leggings that are appropriate for work. I also wouldn't even call these pants leggings. They have a gold zipper on the bottom part of each leg that dress them up. They also have the best elastic waistband which is amazing but the material is what makes them look dressy and work appropriate! I suggest getting your normal size in the leggings. I would have bought a size 2 but since I'm pregnant I sized up one. Which was a great idea at the time but now that the bump is growing, I'll need actual maternity style pants to wear all day. If you are also looking for a good maternity pant for work, try this pair!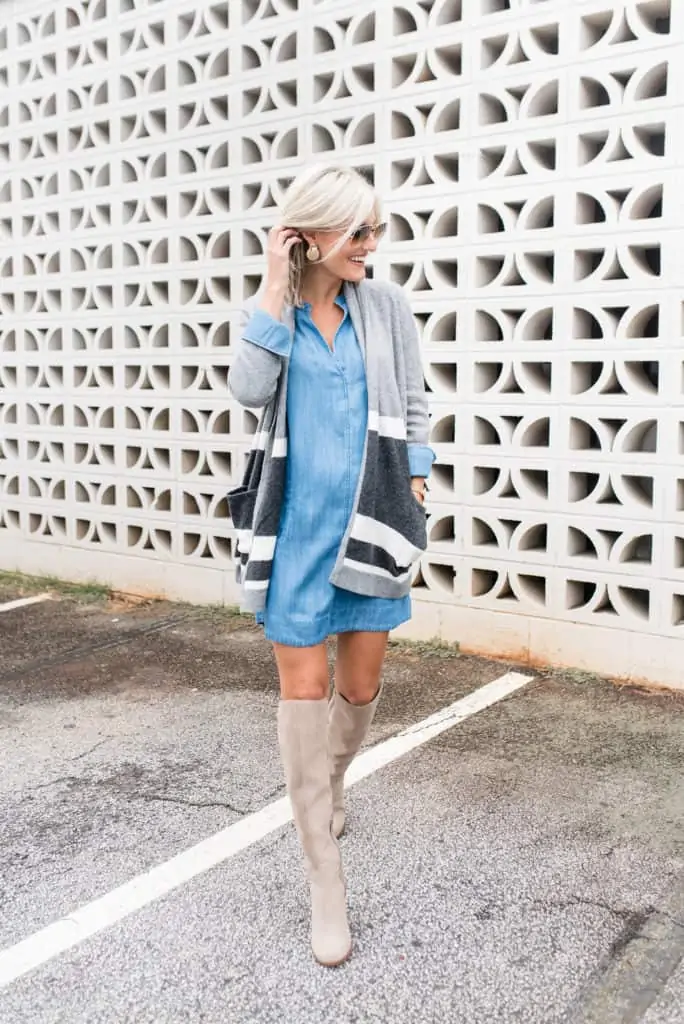 The next way to wear the grey cardigan is with a chambray dress and boots for a casual fall weekend look! I think this would be perfect for family pictures of exploring the pumpkin patch. The dress is a chambray material and is complete with pockets! It's great for layering or for wearing alone. I'm wearing a XS and would suggest sizing down one. If I wasn't pregnant, I would have gone with the XXS because it does run a little big.
Y'all know I love investing in pieces that I can wear more than one way! And right now is a great time to get those pieces on SALE!! I'm going to give you a breakdown of my favorites from the sale in the scrolling tabs below. I can't wait to see what fun things y'all find today! Happy Shopping!!
Sweaters

Pants

Skirts

Dresses

Tops

Casual

Outerwear

Maternity

Thank you so much for reading today's post! This post was sponsored by LOFT. As always, all opinions are my own!
Photos by KVC Photography