I'm excited to partner with Target today to share of my favorite beauty products! I think it's always good to have affordable skincare and makeup on hand. I mean, who doesn't love picking up a new lipstick on your weekly Target run? I'm going to share my tried and true favorites, along with a few new products I'm currently trying.
Target is currently running a promo on select beauty products where if you spend $25, you get a $5 gift card to use towards a future purchase. CLICK HERE to read more info about this current beauty promotion.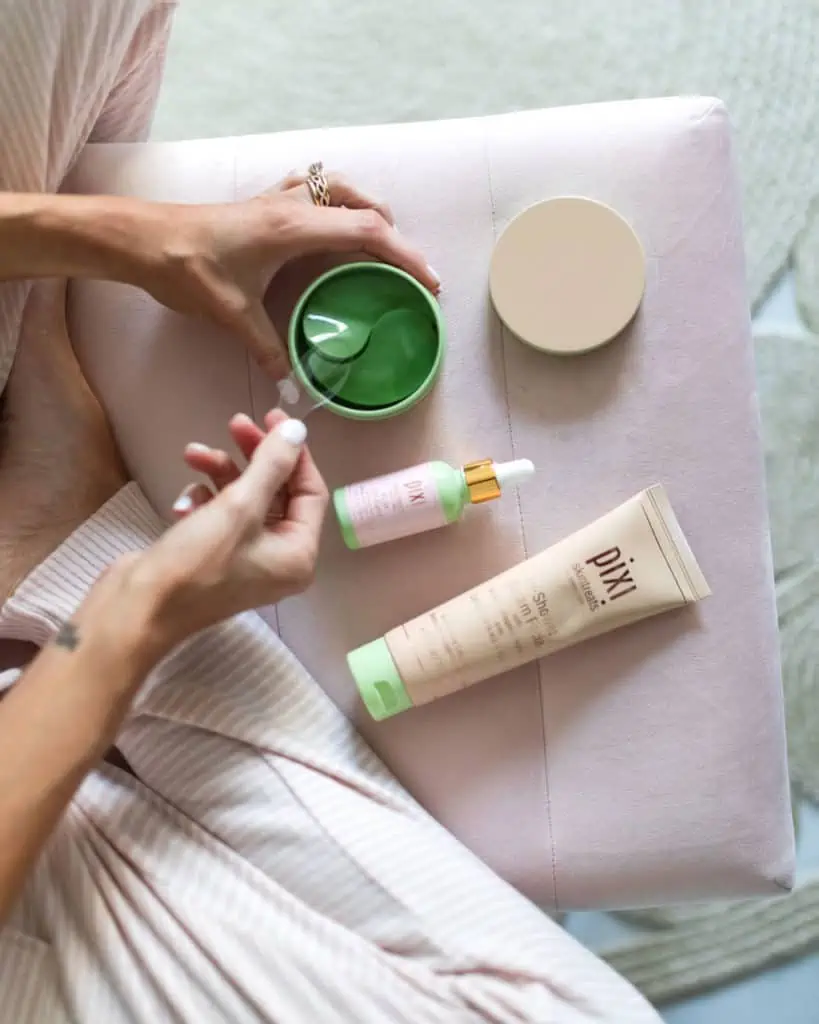 PIXI ROSE OIL \\ PIXI IN SHOWER STEAM FACIAL \\ PIXI FORTIFEYE FACIAL TREATMENT \\ PINK STRIPE PAJAMA BOTTOMS \\ WAITING FOR THE WEEKEND TEE – NOT ONLINE (check your local Target store)
NEW PRODUCTS I'M TRYING:
PIXI ROSE OIL: This oil has been a great addition to my nighttime skincare routine. (You can find all the skincare I use in THIS post) I mix it in with my night cream and love the way it's made my face feel. I've also tried it by itself applying directly on my skin, but finds it easier to use when it's mixed with a thicker cream. There are several Pixi Rose products that I have on my list to try!
PIXI IN-SHOWER STEAM FACIAL: This is a great product to use between actual spa facials. I've been using a few times a week and it's left my face feeling like I just left the spa. The best way to use it is to apply to your face and neck when you get in and then rinse off when you are through showering. You'll want it to soak in for a little while for best results.
PIXI FORTIFEYE FACIAL TREATMENT: I am really excited to try these under eye patches. Several reviews I've read said they saw a noticeable difference after one use…ONE USE! They should be a must try for anyone with dark circles. I'll keep you posted on what I think!
MAYBELLINE SENSATIONAL LIP \\ AVEENO WIPES \\ MAYBELLINE CONCEALER \\ LOREAL MASCARA \\ COVERGIRL MASCARA \\ BURTS BEES MAMA BEE BELLY BUTTER

OLD FAITHFULS:
AVEENO MAKEUP WIPES: I use these every night to remove my makeup and love how gentle they are on my skin. They actually remove the makeup which isn't always the case for some wipes.
ECOTOOLS EYE ENHANCING DUO BRUSH SET: I love these brushed for eyeshadow! They are a set of two brushes with four heads. They are great for creating the perfect shadow and are only $6!
SONIA KASHUK SQUARE CLUTCH MAKEUP BAG: This clear bag has been my makeup bag go-to for the last year. I love that it's clear so I can see everything and it's really sturdy. It also makes for a great gift. Just stuff with a few items like makeup, candles or gift cards for the perfect, easy gift!
LOREAL VOLUMINOUS MASCARA: This is my favorite drugstore mascara. I recently compared this mascara to my department store mascara and I think they come pretty close. Make sure you buy the one with the curved brush for more voluminous lashes!
COVERGIRL LASHBOOST MASCARA: I wear this mascara everyday on my bottom lashes. I'm not sure why I use two different mascaras but this is the only one I've found that doesn't flake or rub off under my eyes. I go with the orange tube!
NYX BUTTER GLOSS – CREME BRULEE: The best drugstore lipgloss! I love the colors Creme Brulee and Tiramisu! It stays on for a long time and doesn't feel sticky. I think I have a tube of this $6 gloss in every purse I own!
MAYBELLINE COLOR SENSATIONAL LIP COLOR: I've been wearing different shades of this lip color for a few years. Maybelline is always the brand I go to first at Target if I'm craving a new lip color. I just recently grabbed 015 and love the pink tones!
MAYBELLINE INSTANT AGE REWIND CONCEALER: This was a top hitter when I asked my readers for their drugstore concealer recommendation! I feel like for the money, it's a great option. This concealer gets the job done without feeling heavy or cakey on your skin!
VASELINE LIP TIN PINK BUBBLY: The lip treatment I use nightly. This is also something fun I like to gift my friends. It's so yummy smelling aside from being incredibly moisturizing.
QUIP ELECTRIC TOOTHBRUSH: I LOVE this toothbrush. I wanted an electric toothbrush but didn't want to pay an arm and a leg. Quip is affordable and incredibly convenient because once you register your toothbrush you sign up for refills that get mailed to you. One less thing you need to worry about getting while you are out and about. And it works really, really good!
IT'S A 10 MIRACLE LEAVE-IN FOR BLONDES: I use this before I blow dry my hair and it's one of my hair favorites! They make it in a non-blonde specific that's also great but I like to target brightness with my blonde. It's the best leave-in conditioner I've tried!
LIVING PROOF PERFECT HAIR DAY DRY SHAMPOO: Are people seriously still surviving without dry shampoo? How is that even possible? I can go a good 3-4 days between washes all thanks to my Living Proof Dry Shampoo. I love it even more knowing I can snag a can when I'm at Target!
CLAIROL PROFESSIONAL SHIMMER LIGHTS: This is my how-I-keep-my-hair-so-blonde secret! I've been using shimmer lights purple shampoo for YEARS! I used to buy at a beauty store but now just order online at Target.com! It's the BEST for keeping my hair bright and brass free!
KRISTIN ESS STYLE REVIVING DRY SHAMPOO: As an alternative to the Living Proof Dry Shampoo, I've been really impressed with the Kristin Ess version. They also have a good volumizing spray that works really well at an affordable price.
CONAIR DOUBLE CERAMIC CURLING IRON: The BEST curling iron! My favorite part is that it's under $20. I've used expensive, $100-200 curling irons and I honestly don't get what the hype is. This $16 option is what I use every time I curl my hair. Trust me when I say you need this iron!
TRESEMME HAIR SPRAY EXTRA FIRM CONTROL: I get lots of questions about the volume in my hair. No matter what other products I've used, I always finish with Tresemme hair spray. This has been my tried and true hair spray for years! I love that it holds my hair in place without being crunchy or hard.
NATIVE DEODORANT: This is the one natural deodorant that actually WORKS for me! I've been hooked on Native for about a year and a half now and honestly won't be changing anytime soon. They have several different flavors (the lavender and vanilla are my favorites). Native also makes a body wash that's also available at Target.
METHOD BODY WASH: Target's brand Method makes great body wash for both men and women. I love that they are available in travel sizes too. The Rose scent smells amazing!
BURT'S BEES MAMA BEE BELLY BUTTER: This is the stretch mark prevention cream that I used with Collins and what I've been using with this baby. I really found that it helped prevent stretch marks but also soothed my itchy pregnancy skin. Highly recommend if you are expecting.
OLLY PROBIOTIC: Target has a great vitamin selection. I really like the Olly gummies and have been taking their probiotic as part of my morning routine.

I hope this post is helpful and gives you ideas of what beauty items to grab next time you are browsing the aisles of Target! Thank you to Target for sponsoring today's post. As always, all opinions are my own! Photos by Naomi Hopkins Photography.