Faux Fur Moto Jacket \\ Sweater \\ Jeans \\ Jaguar Print Booties \\ Grey Jacket \\ Grey Boots \\ Jeans

I think Chris was as giddy as a school girl when I told him about this partnership with Cole Haan. He's not usually one to hop in front of the camera, unless it involves his favorite brand! Chris has been a long time supporter of Cole Haan and truly loves their shoes! He's even gotten me on board. Today, we are sharing a few gift ideas and talking about their current sale that you won't want to miss!
You can also shop directly from the Gift Guides on Cole Haan's website! So many great options for under $200!
Chris started his corporate job eight years ago and has been wearing Cole Haan shoes to work ever since. He raves about their loafers, drivers and boots on the daily and is always hunting for them on sale. Well ladies, now is the time to stock up on shoes for your husband. Regardless if he is working in an office or looking for a new casual boot, Cole Haan will have something for you!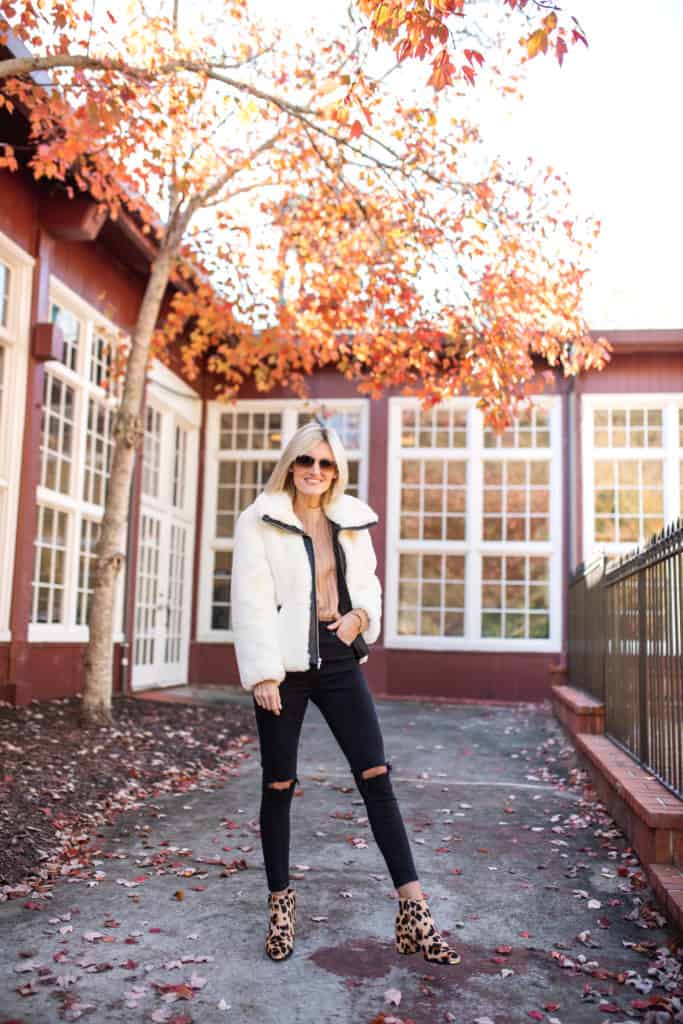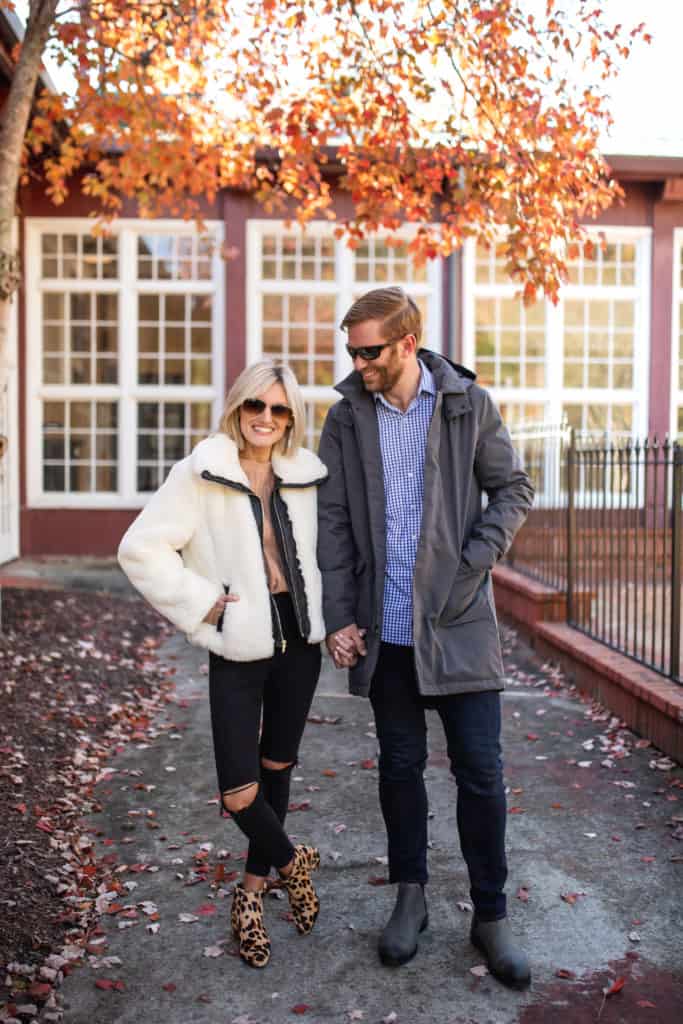 Faux Fur Moto Jacket \\ Sweater \\ Jeans \\ Leopard Print Booties \\ Grey Jacket \\ Grey Boots \\ Jeans

Chris is wearing the Wagner Grand Chelsea boots in the midnight grey. He usually sticks with browns and doesn't have anything like this boot. I am so glad he branched out because I love the way they look on him. Chris always goes down a half size from his sneaker size when wearing Cole Haans. GREAT NEWS – the boots are currently 50% OFF!! CLICK HERE to grab them now! His coat is also by Cole Haan and is a great jacket for cold, wet weather. He is from Massachusetts so he knows his way around a good cold-weather coat. He's 6'2 and he is wearing a medium – true to size.
As for the women's selection, these Jaguar print booties are the best I've found all season. They are next level comfortable and are sure to hold up over time. If you've been following for a while, you know I went on a hunt last year for the perfect leopard print bootie. I'm here to tell you that these have taken the cake! I'm wearing my true size and would only size up if you plan to wear thicker ankle socks with them. Another pieces I've been loving is this faux fur moto jacket. It's a heavier jacket and will be perfect for those of you in really cold temps. It's very well made and pairs perfectly with jeans a sweater. Both my jacket and shoes are currently 30% OFF!
Here is a list of our favorite items that would makes for great gifts this holiday season. If you grab any of these pieces, be sure to let us know what you think!
GIFTS FOR HER:

GIFTS FOR HIM:

Today's post is sponsored by Cole Haan. As always, all opinions are my own. Photos by Naomi Hopkins Photography.