I can't believe I was able to keep this a secret from Chris! All month, Anna and I have been planning a man cave update with Walmart for Chris and I couldn't be more excited to finally share it! On Thursday of this week, I showed Chris the room when he got home from work and he was SHOCKED!! The look on his face was priceless!!
A little back story for you…our house has a third floor bonus room. One of the selling points to Chris was that he could use this space as a man cave since the house doesn't have a basement. I was totally on board with the plan because he has been generous enough to let me pretty much take over every other room of the house. This room immediately got all the leftover furniture and never really took on the man cave vibes that Chris was originally hoping for. It became a room that we said "we will get to that room one day". We hardly ever go up there so it became an out of sight, out of mind situation.
When I had the opportunity to work with Walmart on a Home project, I figured it would be a really cool surprise for Chris to have a space of his own. He works really hard and deserves a space that he can come home to and chill in. Plus he has a TON of sports collectibles and memorabilia that he has always wanted to display. With this new room, now he can put all of his prized possessions on display for all to see!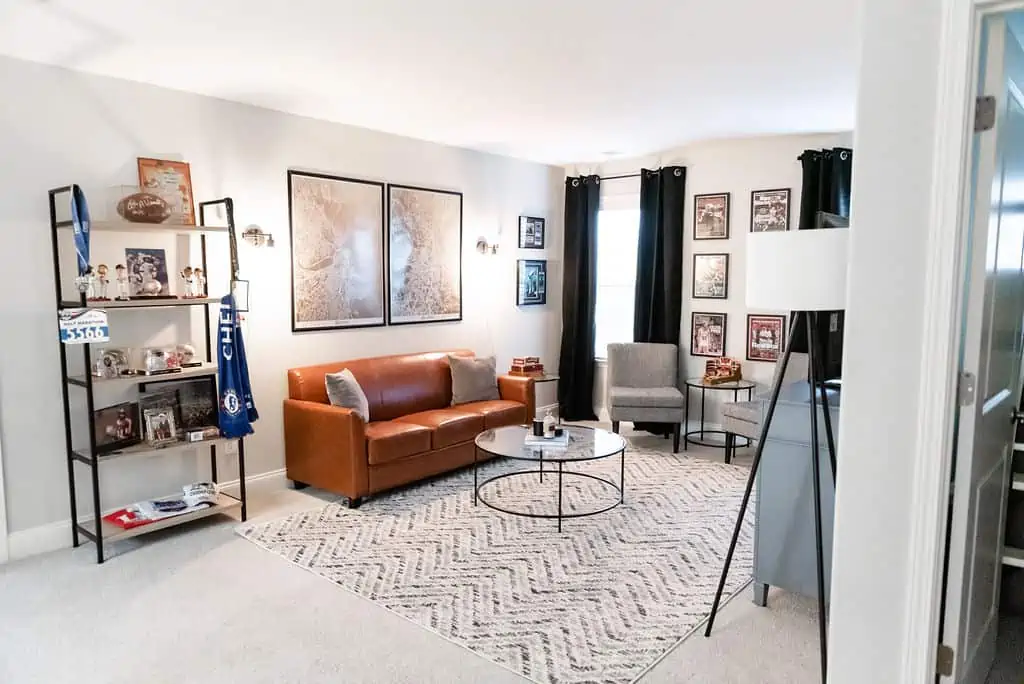 We worked from the ground up on this project. The only things that didn't get replaced was the TV and the console (from Homegoods but a similar is linked here) that the tv sits on. Those were both newer purchases and worked fine in the room. We needed a couch, coffee table, rug, curtains, chairs and additional lighting. We then added new frames and some art work for his walls.
All of the items we found and used for this project was from Walmart. They have a great online selection and the ordering process was incredibly easy. We also did a lot of ordering online, then picking it up in store. I couldn't chance a giant couch getting delivered to the house while Chris was home so we sent it to the store and picked it up there. Their new in-store pick up system is really easy to use and was kind of fun to see boxes come out of this giant tower!
Chris absolutely loves his new space! He is already talking about how he and Collins will watch football up there. Just melt my heart please! All the links for items we used and other items I really liked that are from Walmart are linked below!

Today's post is sponsored by Walmart. As always, all opinions are my own!
Photos by KVC Photography